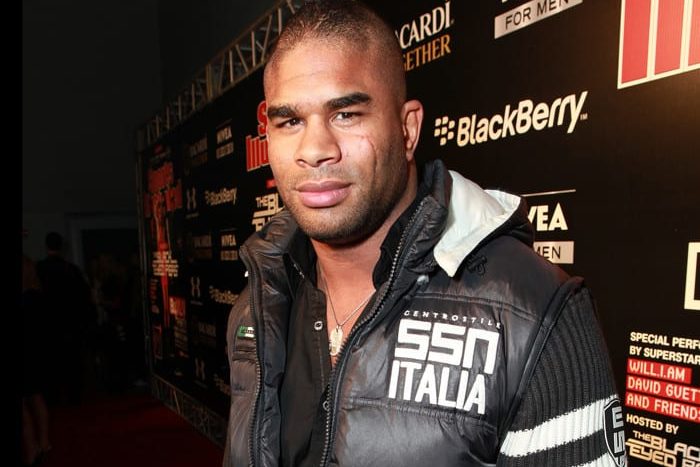 We head back to the UFC Apex this Saturday night as the promotion continues their ongoing residence in their home gym in Las Vegas. This week we get UFC Fight Night: Overeem vs Sakai – not the most explosive, on paper, fight lineup. The main event is a heavyweight tilt between Alistair Overeem, who's been a pro since the 1990s, and Augusto Sakai, who was born in the 1990s. However, the 40-year-old Demolition Man is the favorite here, and I just might be adding him to my DraftKings MMA Picks ….
Looking for a free shot at millions of dollars in prizes? Download the Draft King's app and use promo code SGP
Alistair Overeem – $8,800
I indeed am taking the Dutch kickboxer with my top purchase this week. Despite his advanced age (for an athlete) and serious mileage on his tires (65!! pro MMA fights plus extensive pro kickboxing experience), The Reem still seems to have life left in him. He's also in supreme shape every fight, and fights a much smarter defensive style than earlier in his career. Here's hoping for another 128 point explosion like Reem put up last fight.
Bartosz Fabinski – $8,600
'The Butcher' Bartosz Fabinski is a grappling machine coming off of a big win over the respected Darren Stewart (which, because of the pandemic, ended up taking place in Cage Warriors in England instead of the UFC event that ended up being cancelled). His opponent on Saturday night, Andre Muniz, struggles to stuff opponent's takedowns, which is good news for Fabinksi. Plus, Fabinski started his UFC career off with a string of fights scoring 122, 100 and 102 points (we'll ignore the 1 point he earned his last UFC fight).
Karol Rosa – $8,500
Karol Rosa has charged out of the gate in the UFC, going 2-0 and scoring 126 and 103 fantasy points in those fights. She'll go up against Sijara Eubanks this week, who hasn't exactly set the UFC world on fire after gaining entry from The Ultimate Fighter (she's 3-2). Rosa is such an active striker, I like her winning and getting lots of points this fight.
Alexander Romanov – $8,400
'King Kong' Alexander Romanov will be making his UFC debut this Saturday night, bringing in a perfect 11-0 record as well as serious wrestling credentials as a former competitor for his native Moldova. His wrestling has transferred well to the cage, as he has vicious ground and pound and sneaky chokes. It just so happens his first UFC opponent, Marcos Rogerio De Lima, struggles with wrestlers and has been choked out four times in his UFC career. Perfect.
Michel Pereira – $8,200
Michel Pereira started his UFC career off with a bang, scoring a spectacular knockout in his debut against veteran Danny Roberts. Unfortunately for him he's dropped his last fights since then. However, I expect the flashy, crazy striker to get it done Saturday against Zelim Imadaev, who's also lost his last two.
Cole Smith – $7,100
Reaching for a cheap fellow Canadian with my value pickup in Cole Smith. It's not just a biased, jingoistic pick, however, as the underdog Canuck matches up well with his opponent, Hunter Azure. Smith is very strong against wrestlers like Azure, and has the striking ability to finish him.
Looking for a free shot at millions of dollars in prizes? Download the Draft King's app and use promo code SGP