The NBA is back and so are DraftKings Showdown Lineups!
Looking for a free shot at millions of dollars in prizes? Download the Draft King's app and use promo code SGP
Orlando Magic vs. Milwaukee Bucks
Captain – Nikola Vucevic ($16,500)
I am all over Nikola Vucevic at the captain for this contest. The Magic have their back against the wall down 3-1 in the series, and any hopes they have will almost single-handedly rest on Vucevic's shoulders. He's now topped the 50 fantasy point mark in three of the four games in this series and you can make this play without worrying about it.
Giannis Antetokounmpo ($13,000)
He's a pricey option, but you definitely want Giannis in your lineup. It's become a regular occurrence for him to top the 60 fantasy point mark and you can expect the points to roll in. He could be worth a look at captain, but given his cost you're much better off rolling with Antetokounmpo in the utility slot.
Eric Bledsoe ($7,800)
Don't let Eric Bledsoe's last game scare you away. I'm expecting a nice bounce back after he had an unusually bad game, only shooting 3-11 from the floor. The most impressive thing about Bledsoe to me is that he still adds fantasy value on nights where his shooting isn't there, which is evident from his 24.5 fantasy points last game.
Markelle Fultz ($6,400)
The former number one draft pick Markelle Fultz hasn't had a pretty career, and he's a spotty shooter at best. However, he's fresh off a better game in which he shot 40% and registered 35.25 fantasy points. He's shooting 46.5% this year from the floor and I love playing him in this contest. He's finding his stroke and now his team has their back against the wall.
George Hill ($4,200)
George Hill hasn't been much of a factor this series, but I expect some good production from him in this one. Hill is an efficient shooter and he led the NBA in three point percentage this year. There's always great upside in a three shooter that can get hot at any minute. My favorite thing about Hill is that he holds fantasy value even when he isn't shooting many times.
Khem Birch ($2,000)
I don't have much money left in this lineup, but I love what I'm getting for this cheap price with Khem Birch. He's averaging 17.5 minutes per game this series and he can be very efficient in the paint despite limited action. I don't mind only getting 15 or so fantasy points from Birch given the supporting cast around him, and there's always that chance that he notches 25+ fantasy points.
ORL/MIL Lineup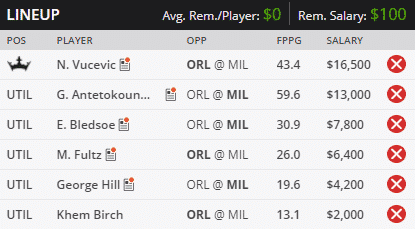 Oklahoma City Thunder vs. Houston Rockets
Captain – James Harden ($18,600)
Don't overthink this one, just play James Harden at the captain. It's going to be super chalky in terms of both ownership and pricing, but it will be worth it. As long as Westbrook remains out, the ceiling is unlimited for Harden. He averages an eye-popping 59.9 fantasy points per game, and you can expect another huge game from him here.
Shai Gilgeous-Alexander ($8,400)
I am loving me some SGA this contest, especially with the price tag he's carrying. He's now played 44+ minutes in the last two games and he's notched at least 44 fantasy points in each of his last three games. The Thunder don't have a ton of trusted scorers, but SGA is one of them and you can bet that he will continue to impress.
Danilo Gallinari ($7,200)
Speaking of trusted scorers for OKC, Danilo Gallinari is almost always good for double digits in points. He's struggled from the field the last two games and his fantasy production took a dip in the last game especially. It is an ultra-rare occasion that Gallinari pieces together back-to-back bad games, and I expect a nice rebound in this pivotal game five.
Danuel House Jr. ($6,400)
Danuel House Jr. has clearly been the man to benefit the most from the absence of Westbrook in the Houston offense. The playing time continues to be there for him, and he's played at least 38 minutes in three straight while registering at least 30.5 fantasy points in each of those as well. House is feeling himself and I look for him to keep the ball rolling in this game.
Steven Adams ($6,200)
It certainly hasn't been a pretty year for Steven Adams, but he continues to turn in decent stat lines. He's been efficient with his shooting, but most of his production is going to come from rebounds. Adams is one of the few "true centers" in the league and he's a great match-up against a Houston team that plays small ball. All we need is a few more shot attempts and a few less turnovers and we're cooking with Adams.
Austin Rivers ($3,200)
We're running a little low on cash, so we'll grab Mr. Boom Or Bust himself Austin Rivers to round out this lineup. We figured he would be the main beneficiary from the Westbrook injury, but the Rockets like to roll with the hot hand and his inconsistent shooting leaves him off the floor some nights. However, we've seen nights where Rivers can't miss and I'll take a shot with him to piece together a nice stat line.
OKC/HOU Lineup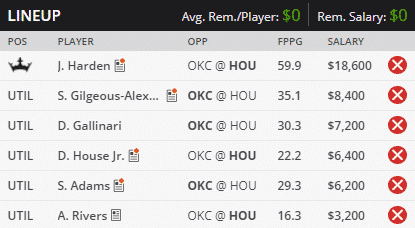 Portland Trail Blazers vs. Los Angeles Lakers
Captain – C.J. McCollum ($13,800)
In case you missed the news, Portland will be without Damian Lillard for this one so C.J. McCollum at the captain is an obvious play. He's certainly no stranger to big games and you can bet that he's going to give this one everything he has as his Trail Blazers face elimination with a loss. McCollum regularly tops the 40 fantasy point mark and I expect him to flirt with 50+ in this one.
LeBron James ($12,400)
I'm sure you guessed that you'd find LeBron James somewhere in this lineup. It doesn't look like Rajon Rondo will be back for game five of this series, so that means that LeBron will continue to facilitate the ball. It goes without saying that LeBron will fill up the stat sheet in almost every category. You can roster him with full confidence here in this contest.
Anthony Davis ($11,800)
This rounds out the classical stack and given how the money works out, you definitely want to play things this way as opposed to LeBron or AD at the captain. Anthony Davis has been the true driving force behind the Lakers offense this year, and this has continued into the playoffs for the most part. He's topped the 50 fantasy point mark in four of his last five games and you can guarantee that rostering Davis will bring you a ton of fantasy points.
Danny Green ($4,600)
I'm looking at the veteran three-and-d wing Danny Green as we continue through this lineup. KCP is carrying a questionable tag into this one, and given that Dame is out for Portland they may give him a short workload. This opens the door for Green who has been a regular in the rotation as is for LA. He's good for at least 15 fantasy points usually and there's always a potential for 25+ if he can get the three ball to fall.
Anfernee Simons ($4,400)
Don't miss on the opportunity to grab Anfernee Simons at this price for this game. He'll normally see a decent run from the bench when Portland is fully healthy, but Simons will almost always see an uptick in both playing time and usage when Dame is out. He's not quite the most reliable shooter by any means, but the playing time will be there and so should the shot opportunities. Simons is definitely worth a look for game five.
Alex Caruso ($3,000)
As long as Rondo remains out, I will continue to roster the low-priced gift that is Alex Caruso. The Lakers have been intent on getting him playing time and he's certainly not been scared to shoot the ball. Caruso's registered no less than 10 fantasy points in any game since the start of the NBA Bubble. He carries the upside potential of 20+ fantasy points and the playing time will most certainly be there as this one has the makings of a blowout.
POR/LAL Lineup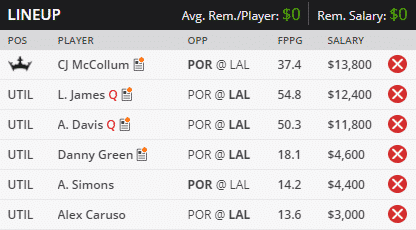 Looking for a free shot at millions of dollars in prizes? Download the Draft King's app and use promo code SGP