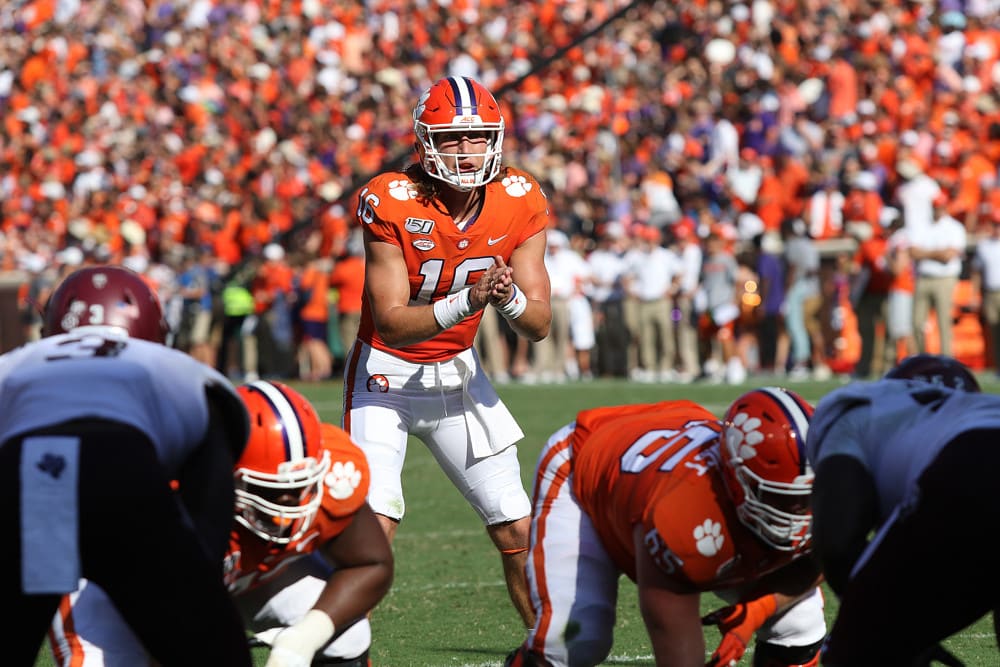 Don't hold your breathe college football fans, but we may actually kinda have somewhat of a season in 2020. Global pandemics be damned, we need our college football. While some major conferences have already bailed, at least the SEC, ACC, and Big 12 appear to be moving ahead (full list of conferences and their plans for the fall can be seen here)
Along with revised schedules being released, we're also seeing some Team Win Totals pop up on sportsbooks across the land. Giddyup! I have money burning a hole in online accounts and some sweet futures action is calling.
As a Tobacco Road resident, I'm an ACC guy and the big question around here is if anyone can beat Clemson? Let's look at who has the best chance to topple the Tigers as well as a few other juicy plays. It should be noted that only the 10 conference games are factored into these win totals (the ACC is also scheduling one out of conference game that won't apply).
Clemson (O/U 9.5)
Will Clemson run the table and go undefeated or will they slip up this year? With 10 conference games on the slate, their Team Total comes in at the expected 9.5. Win them all and the Over hits. Drop one and you'll be wishing you bet the Under.
QB Trevor Lawrence is the odds-on favorite to be the first pick in the 2021 NFL draft and stud RB Travis Etienne surprised many and returned for his senior year. The Tigers lose most of their pass catchers and offensive line but there's a plethora of blue chippers ready to step in and become stars. Defensively, a unit that was sixth in the nation in total D last year will be more experienced and perhaps even better in 2020.
Clemson hasn't lost an ACC game since 10/13/2017 (at Syracuse).  Will they this year?  Here's a look at their schedule and who might be able to dethrone the king:
Sept 12th: @ Wake Forest.
At home last year, Clemson walloped the Demon Deacons 52-3. The last time Clemson played at Wake (2018) they won 63-3. In fact, you have to go all the way back to 2008 for the last time the Tigers lost to Wake. The Deamon Deacons are a scrappy group of over-achievers led by a great head coach in Dave Clawson, but there's a reason why this series has been so lopsided. With such an enormous talent disparity between the programs, even excellent coaching and max effort doesn't stand a chance. There's no stopping Clemson here.  Clemson's chances of losing: 5%.
Sept 19th: vs The Citadel (out of conference game, doesn't apply)
Oct 3rd: vs Virginia
UVA had a nice regular season in 2019, going 9-3 and earning a birth in the ACC Title game. Unfortunately, they ran into Clemson and got bullied 62-17. The program is heading in the right direction under Bronco Mendenhall, but they lose do-it-all QB Bryce Perkins and top receivers Hasise Dubois and Joe Reed. With all five offensive lineman returning as well as eight starters on defense, the Wahoos are dangerous and should win their share of games. Just not here at Clemson.  Clemson's chances of losing: 10%.
Oct 10th: vs Miami
Look, as much as ESPN and the media try to hype up Miami every year, this isn't the 80's or 90's Hurricanes. The U went 6-7 last year which included losing 3 straight to the likes of Florida International, Duke, and Louisiana Tech to end the year . They have a new O.C coming over from SMU and a new QB in the talented D'Eriq King transferring in from Houston, but will it make a difference? They may be improved but not improved enough to go in to Death Valley and knock off the Tigers.  Clemson's chances of losing: 15%.
Oct 17th @ Georgia Tech
Clemson lost in 2017 at Syracuse and the prior year they lost a head-scratcher at home to Pittsburgh. Under Dabo, the Tigers have not been immune to concentration lapses against inferior ACC teams, especially on the road in the middle of the year. Under new coach Geoff Collins, in their first year transitioning from the option, the Yellow Jackets only went 3-9 but showed glimpses of promise. They beat USF, Miami, and NC State but lost to Clemson 52-14. Look for another beating to take place in Atlanta this year.  Clemson's chances of losing: 5%.
Oct 24th: vs Syracuse
Oct 31st: vs Boston College
Next up we have home games against two teams projected to be towards the bottom of the ACC. The Orange's Team Total for the year is 2.5 while BC's is just 1.5. Syracuse may have been the last team to beat the Tigers but it won't happen again in 2020. BC doesn't stand much of a chance either. Clemson will score over 100 combined points in these games while Syracuse and BC might only combine for 20. Clemson's chances of losing (either game): 5%.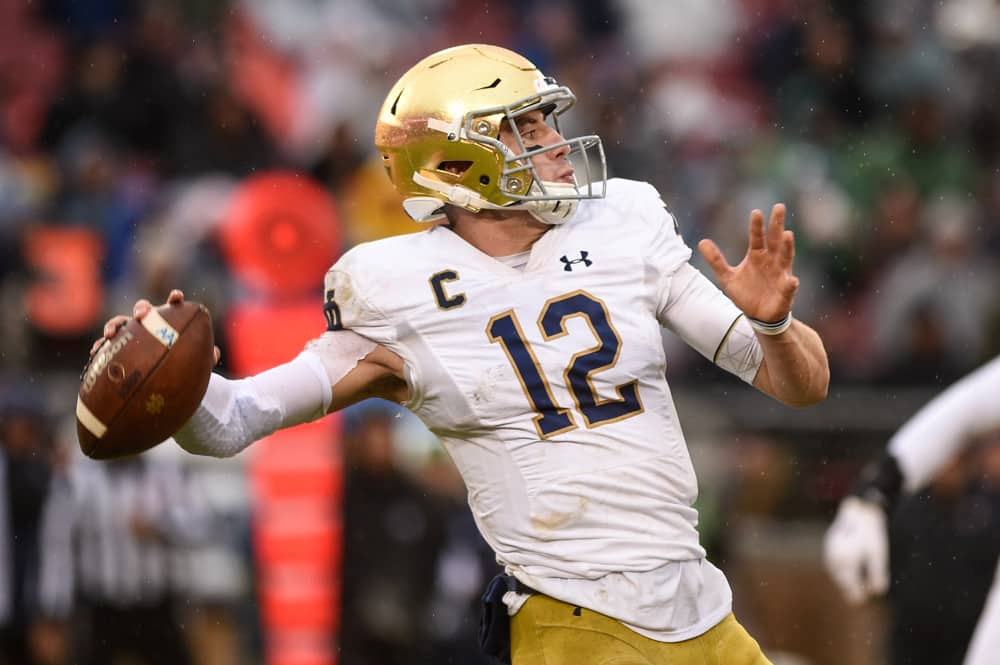 Nov 7th: @ Notre Dame
Ok, here's where things get interesting. With Notre Dame being (at least momentarily) a full-fledged member of the ACC, this is the conference's premier game of the season. With relatively soft schedules leading up, both teams should be undefeated. Plus, the game will feature two of the best QB's (Clemson's Trevor Lawrence and Notre Dame's Ian Book) in the nation.
In addition to Book, the Irish bring back four offensive lineman who will eventually be playing on Sundays and most of a defense that finished 18th in the country in 2019. While they should easily slide into the ACC as it's second best team, that doesn't mean there isn't a lot of separation between them and Clemson. ND's toughest opponents last year were Georgia and Michigan, and they dropped both games.
While I previously mentioned that Clemson is susceptible to the occasional poor performance against an inferior opponent, under Dabo they've almost always risen to the occasion in the biggest of games. I just don't see the oft-overrated Irish taking down Clemson here.  Clemson's chances of losing: 35%.
Nov 21st: @ Florida State
While Clemson's two toughest opponents are back to back and on the road, at least they have a bye week in between. Much like Miami, FSU isn't the program they were toward the middle of the previous decade. In fact, the Seminoles haven't been over .500 in regular season play since 2016. Bobby Bowden must be rolling over in his grave (wait, I think he's still alive)!
The new coach coming over from Memphis is Mike Norvell. While he had a great run in western Tennessee, the hire surely doesn't have Dabo Swinney shaking in his boots. Norvell will need to quickly improve a horrendous offensive line if the 'Noles are going to have any chance against Clemson. They return 10 starters on defense but it's a defense that finished 90th in the country in yards allowed. FSU needs a couple of years to right the ship. They aren't beating Clemson.  Clemson's chances of losing: 15%.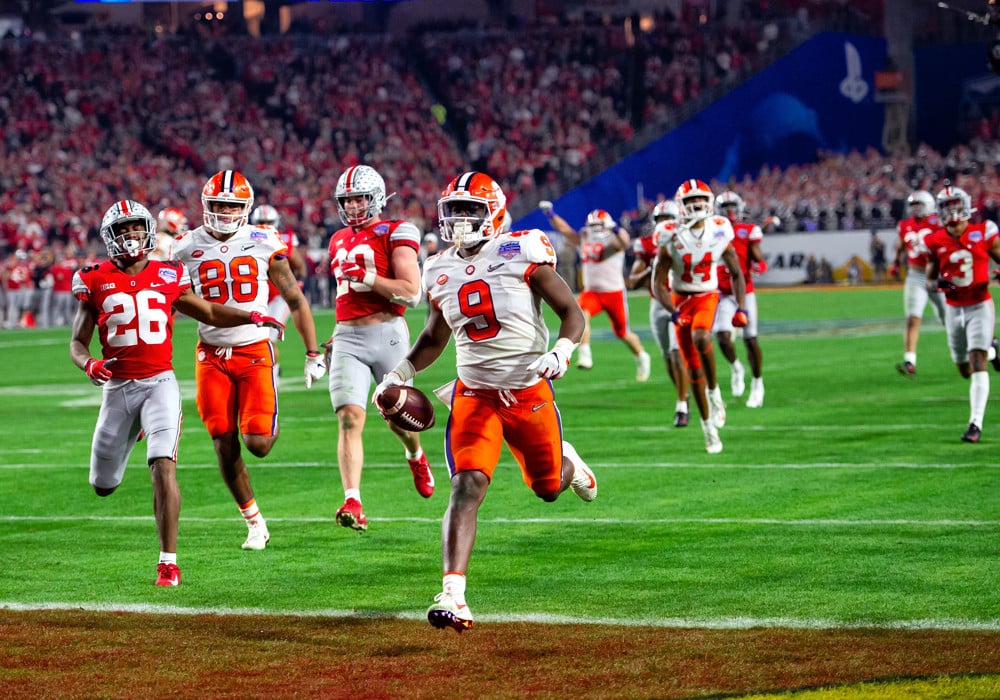 Nov 28th: vs Pittsburgh
Here's a game that you might want to circle. Over the last six years, Clemson has only lost one home game which was against Pitt (43-42) in 2016. The Panthers were led by Nathan Peterman (yes, 5 INT Nathan Peterman) who may have been really bad in the NFL but was good in college and all-star RB, and current Pittsburgh Steeler, James Conner.
Pitt might just be sneaky good this year. They bring back senior QB Kenny Picket, the O-Line returns all five starters, and the defense will have one of the best pass rushes in the nation. In a best of seven series, Clemson would probably win at least six but this is a one game scenario. After big wins on the road against Notre Dame and Florida State, I could see Clemson returning home and sleep walking thru this one. Upset alert Tigers. In reality, I don't see Clemson losing this one either but be careful.  Clemson's chances of losing: 20%.
Dec 5th: @ Virginia Tech
Usually an early December game in Blacksburg would be a daunting task. Weather can begin to play a factor and the crowd would be insane. However, this is 2020 and who knows how fan attendance will play out but we can assume playing at home won't be as big of an advantage. This is a big blow to the Hokies.
Justin Fuente is entering his 5th year as head coach for Va Tech and overall they have been solid yet unspectacular. With a national championship in their sights, I don't see Clemson stumbling here.  Clemson's chances of losing: 15%.
Pick:
There you go, folks. Clemson has a couple games of concern but they should be at least a TD favorite in every game, with the possible exception of at Notre Dame. This is the Trevor Lawrence revenge tour. Clemson goes undefeated in the ACC and on to the playoffs. Give me the Over.
Here's a couple other rapid fire plays I like:
Duke 1.5 – OVER: Cutcliffe is too good of a coach and Clemson transfer Chase Brice comes in at QB and should be excellent.
Miami 5.5 – Under: Prove it to me Miami. I have big question marks about Manny Diaz as HC.
Notre Dame 8.5 – Under: I have the Irish losing to Clemson. If that happens, you expect them to win the other nine ACC games including battles against FSU, Louisville, and road trips to Pitt and UNC? Nah.  They'll drop at least one more.