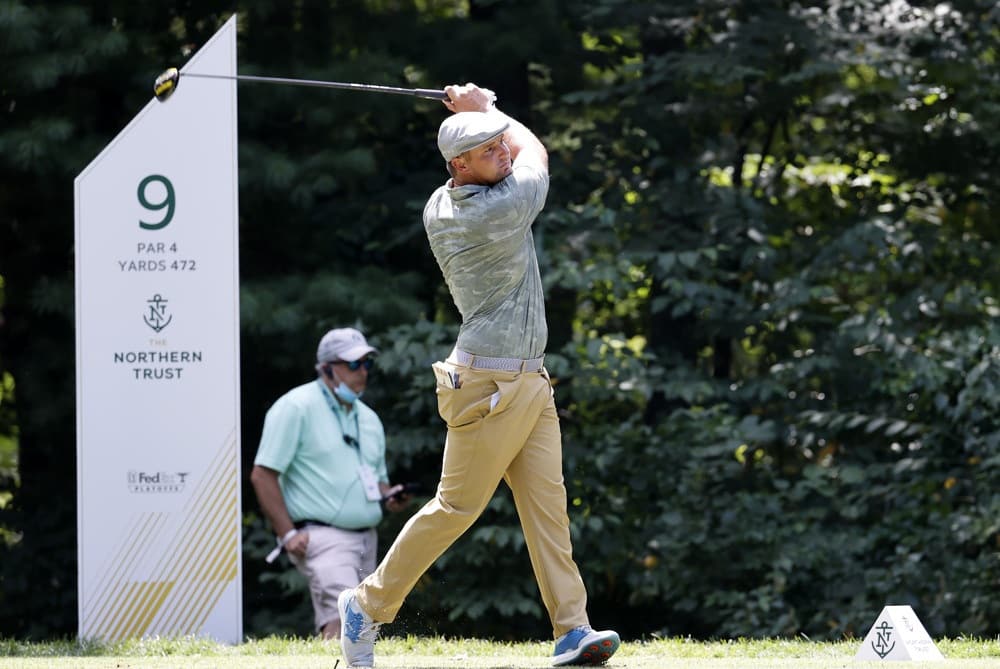 For those who missed it, please check out the 2020 BMW Championship Preview and Betting Strategies for the types of golfers you should look to target for your bets.
With that in mind, here's who I like this week at Olympia Fields (with odds courtesy of MyBookie.ag).
Outright Winners
Justin Thomas – 14/1: I'm not nearly as bullish about Justin Thomas winning this week at Olympia Fields as I was at TPC Boston. And admittedly, last week definitely raised some alarm bells for me. Nevertheless, I have a tough time thinking his mediocre ball striking from last week won't improve, and that he's so due for a good putting week at some point. He's now lost strokes putting in each of his last three tournaments, which is screaming for some positive regression. When he's on, Justin Thomas is much better than 14/1 to win a golf tournament, and I think this is the week he flips a switch.
Bryson DeChambeau – 14/1: On last week's episode of The Golf Gambling Podcast, Bryson DeChambeau was my "Big Short of the Week" because of completely unsustainable putting figures and poor iron play. And boy, was I spot on with that call. But I'm going to swing back the other way and like him to win this week for a variety of reasons. For starters, Olympia Fields is a golf course he should be able to pummel off the tee to gain a tremendous advantage over the field (something he couldn't do at TPC Boston). Second, his putting numbers last week were so bad they're now screaming for regression the other way. And third, while his iron play wasn't great it was an improvement on prior weeks. If he is able to overpower the golf course he won't have to rely on it as much as he needed to last week.
If anything, last week's poor performance was a blessing to not only knock down a lot of his popularity, but lower his outright win price as well. I'll take a bit on him this week with an expected bounce back.
Daniel Berger – 22/1: Do I love that I have to pay low 20's on Daniel Berger? No. Up until a few weeks ago he could be had in the 40-50/1 range. But his recent play is totally deserving of this price, and if anything it might even be underpriced. Daniel Berger continues to be rock solid in almost every statistical category on the PGA Tour. Over his last 16 rounds, he's gained 1.3 strokes ball-striking and 0.7 on/around the greens. At the clip he's on, a win is around the corner if he can sustain it.
Scottie Scheffler – 35/1: I was expecting there to be a lot more buzz on Scheffler this week, considering his near misses at the PGA Championship and the Northern Trust, as well as the fact he leads the PGA Tour in Strokes Gained Tee-to-Green per round over everyone's last four tournaments. But instead, I'm hearing excuses for people not to like him this week. "He'll regress soon". "His caddie is hurt". "He can't beat the more established players". Didn't a lot of people say the same thing about Collin Morikawa until just a few weeks ago (myself included)?
I've heard many of these rationales in the industry this week downplaying his chances, but the numbers say otherwise. If we replaced his name with, say, Patrick Cantlay, and he was putting up the stats Scheffler has over his last 4 tournaments, he'd be the chalkiest outright win pick this week. Plus, one thing we've come to realize about the FedEx Cup Playoffs is that momentum is a real thing, and that usually we can expect to see the same players towards the top of the leaderboard week after week. I expect Scheffler to once again be in the mix on Sunday, and at 35/1 I'm willing to take a chance he finally cashes in.
Matthew Wolff – 40/1: If we remove Wolff's Round 3 at TPC Boston, this is what he would have done on the week:
Strokes Gained Tee-to-Green – +2.5/round
Strokes Gained Off-the-Tee: +1.4/round
Strokes Gained Approach: +0.8/round
Strokes Gained Scrambling: +0.3/round
Strokes Gained Putting: +0.6/round
At +3.1 total strokes per round, that would have made him runner up to Dustin Johnson last week. Instead, a Round 3 where he lost 6 strokes tee-to-green and another 1.6 strokes putting dumped him all the way down to T44.
I'm willing to forgive Wolff and ride him again this week, albeit at a much worse price than the 70/1 for the Northern Trust. Even so, the recent ball-striking numbers encourage me (even with the poor Round 3 last week) and I know he has winning upside putting in his arsenal. Plus, he did win the 2018 Illini Invitational at Olympia Fields as an amateur, so I know he at least has winning upside at this golf course.
Other Positional Props
Rory McIlroy Top 10 – +150: For the record, I'm not going to bet this unless I see it inflate to +200 or worse, because that price is a much better justification than +150. But the reason why I'm including him here is that I finally saw some signs of encouragement from him last week. While almost every part of his performance at TPC Boston was terrible, the one silver lining was he had his best week with his irons since the restart as he gained 1.3 strokes/round. He was uncharacteristically awful off the tee, but that's an area that I have full faith that Rory can turn around week to week.
What's not encouraging is that the putting remains dreadful, but if he can scrape together just an average putting week, rebound off the tee and sustain his play with his irons then Olympia Fields is a golf course he could really tear up. I'm not totally all in on jumping on 18/1 to win the tournament, but I am starting to see signs of optimism that he should get a long overdue Top 10.
Tony Finau Top 10 – +300: Like Rory, there are some signs for optimism that Finau can bounce back this week. Finau ruined a very good ball striking performance with awful putting, something he's done more than a few times in his career. Olympia Fields sets up to favor a longer hitter and premium ball striker, so if he can regress to the mean with his putting he should once again find himself inside the Top 10.
Kevin Kisner Top 20 – +150: Kisner has been red hot, riding great iron play and putting recently. Over his last 16 rounds, Kisner has gained 0.8 strokes per round with his irons and 1.5 strokes per round with his putter, and Kisner is at his best when both areas are clicking for him. I have some small reservations that he might be in for a letdown this week because he's not long enough off the tee to take the fairway bunkers out of play, and he is overdue for a poor putting week. But Kisner has been so consistent that I'm willing to go in on a small bet on a Top 20 finish in case he can sustain his play one more week.
Others to Consider:
Jason Day – +125
Harris English – +150
Adam Scott – +175
Russell Henley – +200
Cameron Champ – +200
Ryan Palmer – +225
Louis Oosthuizen – +250
Jason Kokrak – +250
Bubba Watson – +250
Corey Conners – 275
Brendan Steele – +300
Adam Long – +350
Lanto Griffin – +400
Matchup Props
Tony Finau over Patrick Cantlay (+105): My affinity for Tony Finau is above. As for Patrick Cantlay, I can't understand what he's done recently that would warrant him being a favorite over Tony Finau in this matchup prop. Over his last 16 rounds, Cantlay has gained only 0.6 strokes ball striking and lost 0.3 strokes on and around the greens, which are far cries from the solid, all-around player we expect him to be. Unless he suddenly turns it on in one week's time, Finau should best him head to head.
Bubba Watson over Marc Leishman (-120): It's never a great proposition to back a boom-bust golfer like Bubba Watson in a matchup prop. Nevertheless, Marc Leishman's poor play since the restart is enough for me to side with Bubba, who at least has shown great ball striking over his last 4 rounds and could overpower the golf course. As for Leishman, he's lost over 0.8 strokes per round ball striking over his last 14 rounds, one of the worst clips in the field. There isn't much in his recent form to suggest a turnaround is coming, and he should be on the short end of this matchup this week.
Daniel Berger over Jason Day (-140): Admittedly, I think there's a little bit of value at betting Jason Day at +125 for a Top 20 given this is a no-cut, 70 person event and before last week he was on fire. But I also have to concede that he may have turned into a pumpkin. It's very possible he reverted back to the awful ball striker he had been for 2 years and that what he showed the prior 4 weeks was an outlier. At the Northern Trust, Day lost over six strokes with his approach shots before missing the cut by a mile. Even if Day does improve week to week, I like a more consistent and reliable Daniel Berger to beat him head to head anyways.