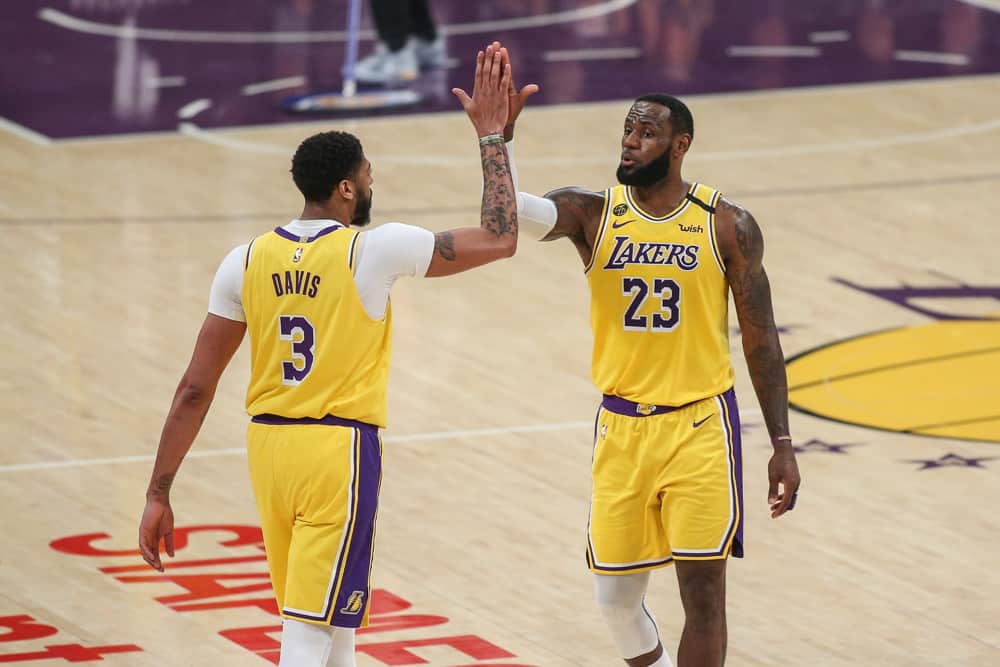 Greetings ladies and gentlemen! As long as there's sports being played, there's also DFS to add another element to our degeneracy. Approaching a DFS lineup can be challenging, and with only roughly 1/4 of the entries being paid, you need to know who the best plays are.
The difference between cashing for $5 and $5,000 can be as simple as finding a "diamond in the rough" (or your Tarik Cohen as Sean would call it). The beauty of the NBA is that there is always a low-ownership bench player that randomly decides to go off for 25 points which translates into a nice DFS score.
If you've been struggling to cash your NBA lineups, or if you're a DFS veteran and are just looking for a second opinion, either way you've come to the right place. I'm going to take a look at some must-play high-priced players, some middle-priced players and some cheaper players that you should have in your lineup for Friday's slate.
It's worth noting that today's slate is one of the more fun to play. With only ten players who are either questionable or active in the price range above $8,000, salary won't be much of an issue. This means that you will need to be more on point with who you place in your lineup, and I'm here to help you piece together that sweet $150,000 lineup.
Looking for a free shot at millions of dollars in prizes? Download the Draft King's app and use promo code SGP
Expensive Must-Plays ($8,000-$10,700)
LeBron James ($10,200)/Anthony Davis ($9,900)
Call me Captain Obvious, because these guys are kind of obvious must-plays. As is customary, these two are listed as questionable on the injury report so keep an eye on that. However, if these guys are playing, then you definitely want them in your lineups. LeBron and AD combine to average 105.2 fantasy points per game this year and they've showed little signs of slowing down in the restart. LeBron's scored no less than 42.25 fantasy points in any game since he's been back. AD did have one bad game where he only picked up 26 fantasy points against OKC, but this was following an outstanding 74 fantasy point night. Stack them together at your own risk, but you definitely need one of these two in your lineup.
Devin Booker ($8,700)/Deandre Ayton ($8,000)
I'm going to toss this two-man stack out, and this one will leave you in much better financial shape than the previous. The Suns are averaging 118.4 fantasy points per game since the restart, and much of this has come behind the sharp shooting of Devin Booker. Longtime DFS players already know this, but Booker is one of the most consistent hands and you can trust him basically in every game. Ayton hasn't been quite as sharp since the return, but Phoenix draws an OKC team who only had Mike Muscala active at the center position. I'm sure either Steven Adams or Nerlens Noel will be ready to roll on the back end of this back-to-back, but they will be banged up and I expect Ayton to have his way with them.
Looking to bet on elections check out the Presidential Odds.
T.J. Warren ($8,400)
I'm going to go with T.J. Warren as one of my late game anchors. He's listed as questionable, so keep an eye on that closer to tip. However, he's been listed as questionable before in the past including before last game against the Lakers in which he played and dropped 39 points on a 47.75 fantasy point night. The Pacers are tied with the Heat for the fourth seed in the East currently, and there are high stakes on the line which tells me Warren isn't going to miss this one. The Heat allowed 119 to Phoenix last game and 130 to Milwaukee the game before, and their defense isn't looking good. Warren is averaging 54.65 fantasy points per game since the NBA reboot, and you can trust that he will fill the stat sheet when he's on the floor.
Mid-Level Must-Plays ($5,000-$7,900)
Rudy Gobert ($7,600)
I'm making sure I have Patient Zero a.k.a. Rudy Gobert in any lineup that I am making. The currently sixth seeded Jazz would love to win this contest against the seventh seeded Dallas and put an insurmountable difference between them. All signs indicate that this game will be Utah's to lose too. The Mavericks have already announced that they will be without Luka Doncic, Kristaps Porzingis and Dorian Finney-Smith. This can only mean that Gobert will have a field day in the paint. Donovan Mitchell is the only other trusted scorer for the Jazz, and he's listed as questionable. I like Gobert to dominate regardless, but his value can only go up if Mitchell is unavailable too so keep an eye on that.
Jimmy Butler ($7,200)
All signs indicate that Jimmy Butler is going to be back on track to play against Indiana, and this only adds to the excitement. As I mentioned earlier, the Heat and the Pacers are tied for fourth in the East so this game already has high stakes. To add to this, Butler has a personal vengeance against Indiana as he and T.J. Warren got into it with each other when these teams last met back in January. Butler is one of those guys who plays with a fire under his ass, and he gives it 200% every time he's on the court. If Butler's ready to return from injury for this match, you can bet that he will have a great game.
Tim Hardaway Jr. ($5,600)
Please, don't let this extremely cheap pricing go to waste! With the absence of Luka Doncic and Kristaps Porzingis, this leaves Tim Hardaway Jr. as the most expensive Dallas player on the board. The Mavericks will be without Dorian Finney-Smith as well, and this leaves a HUGE workload for Hardaway. The starting five for Dallas will most likely be Trey Burke, Seth Curry, Hardaway Jr., Maxi Kleber and either Justin Jackson or Boban unless they start Delon Wright and play small-ball. Long story short, the Mavericks are extremely short-handed and Hardaway Jr. is way too cheaply priced for someone that will be relied on to carry the team.
Long-shots and Value Plays ($3,000-4,900)
Danny Green ($3,200)
Be sure to keep a close eye on the injury report and potentially save yourself around $500 or so in spare salary cap so so you can make a late swap if need be, but Danny Green is a must-play at this long-shot price if he's able to return from injury. The Lakers entered already somewhat thin on the wing without Avery Bradley, and it has already been announced that Kentavious Caldwell-Pope will be out for this match with the Nuggets. Green took a game off and will have had three full days of rest before tip so he should be good to go and will be in the starting five if he is active. You can guarantee that Green will be good for at least 20 fantasy points give or take if he's playing, and use that spare $500 to late swap to Alex Caruso if Green is ultimately announced as out.
Boban Marjanovic ($3,000)
This is truly my definition of a long-shot, but I can't pass this one up. Boban has shown us time and time against just how dominant he can be given his size when he gets the playing time. Dallas will be without Luka Doncic, Kristaps Porzingis and Dorian Finney-Smith, so this will be one of those games where Boban's services should be required. In the last game before the season came to a halt, Boban had 31 points and 17 rebounds in 31 minutes of playing time for a 57.75 fantasy point game. Anyone who can pick up more than 10 fantasy points in only five total minutes on the court is certainly worth playing in my book when their team is as short-handed as this Mavericks team.