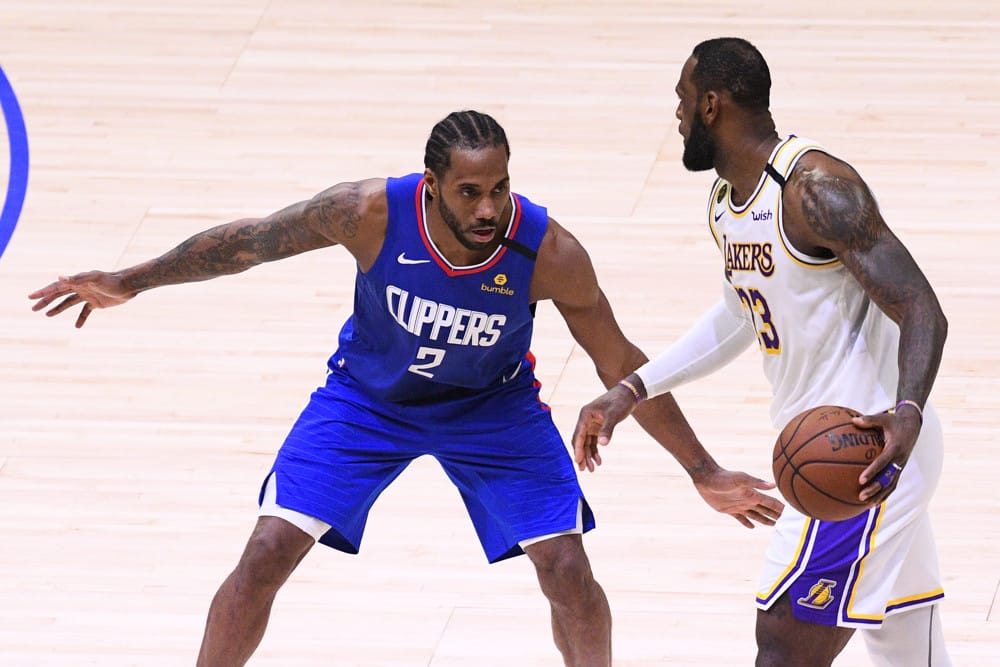 UPDATED: Wednesday 7/29, 8:48 PM
"When it rains, it pours." And for once in 2020, it's in a good way.
Following months of grasping at straws for sports entertainment while sheltered-in-place, we're being treated to a Christmas In July of sorts, with an avalanche of gifting coming in the forms of MLB and NBA returning seven days apart of each other.
On an early Thursday evening resurrection of the NBA, the Disney World Bubble Experience will be coming full swing as we're in for the first meaningful slate of basketball since the world was put on pause in early March due to the coronavirus outbreak. This means we get a very important piece of our degen lives back with NBA Daily Fantasy on DraftKings.
To kick things off, we've got a youthfully effervescent New Orleans Pelicans squad fighting for a playoff bid as they take on a Utah Jazz team currently seeded fourth in the Western Conference, in what should make for an interesting clash in game tempos.
And as the latter half of the double-header, an LA battle from the bubble will be underway between both powerhouses from out West when the two-seeded Los Angeles Clippers square off with the Western Conference top-seeded Los Angeles Lakers.
We've got NBA DFS, within a very unique frame of circumstances, and it's a long overdue feeling to repossess the joy of setting real sports lineups the last hour before slate locks.
WEDNESDAY, 7/29: 
With Zion Williamson listed now as a game-time decision, the DFS moves to be made around adjacent Pelicans players (Ingram, Ball, Melli) is going to come down to whether you are able to make the roster maneuvers leading up until lock. With the rookie big man eating into Brandon Ingram's usage while sharing the court, Ingram's value is slightly impacted, should Zion play, given his elevated price tag. If Zion plays, Lonzo Ball's stock also rises noticeably as well. Lonzo's fantasy points per 48 minutes with Zion on the court drastically jump, over five whole points, from 47.93 DKFP to 53.20 DKFP.
Patrick Beverley, Lou Williams, and Montrezl Harrell are all out for the Clippers, meaning load up on Reggie Jackson and Joakim Noah for dirt cheap. I love Dwight Howard in this spot too, if he's able to stay out of foul trouble and manage to secure a majority of the post minutes for the Lakers. Anthony Davis becomes a near-lock with Harrell out as well, with JaMychal Green and Ivica Zubac becoming the most ideal bodies on the Clippers roster to defend him (or simply try).
Guard
Reggie Jackson, Los Angeles Clippers
(PG, $4,600)
With Patrick Beverley and Lou Williams having to exit the bubble for family emergencies and being required to quarantine upon their return, Reggie Jackson should be in for an extensive amount of use at the point guard position for the Los Angeles Clippers, and he comes at a significant discount on DraftKings.
Traded mid-season (pre-COVID) from the Detroit Pistons to the Clippers, Jackson averaged 15.4 points, 4.2 assists, and 2.6 rebounds in his last full season with the Pistons in 2018-19. His minutes diminished after the trade to a guard-heavy Clippers squad intact (24.2 MPG in 2018-19 w/ Detroit; 19.4 MPG in nine games w/ LA).
However, the aforementioned quarantined teammates should certainly impact those very minutes for Jackson, along with an increased workload. Averaging 26.67 DraftKings Fantasy Points in 2018-19 playing all 82 games for Detroit, Jackson is a steady three-point shooter as well, with a sizeable 39.8% 3PM through his 2019-20 season with both Detroit and Los Angeles.
A player of his caliber priced down at $4,600 is already an intriguing play, and upon his starting consideration given the circumstances of Lou Williams and Pat Bev, Reggie Jackson becomes a no-brainer play in what should be an offensive back-and-forth battle of the top teams out West.
Donovan Mitchell, Utah Jazz
(PG/SG, $7,000)
As I have previously preached in NBA (and TBT) daily fantasy articles for Sports Gambling Podcast, usage and pace are your friends. When the Jazz meet with the Pelicans to tipoff the NBA's official return to action, Donovan Mitchell marries a combo of high-usage impact with a paced-up spot, and at a rather fair price.
Averaging a massive 30.5% usage rate through the 2019-20 season, Donovan Mitchell had his best scoring average of his three years in the NBA with 24.2 points per game and a sturdy 38.4 DraftKings Fantasy Point per game output. He's in the top 15 players across all positions in the NBA for usage percentage, which is crucial given the quality of opponent in New Orleans against the guard position.
Going against the second-highest paced team in the league in New Orleans (103.96 Pace) is a certainty to garner a high-scoring affair, and Mitchell priced at $7,000 is nearly criminal given his ability to put up top numbers on any slate. With an average of 38.38 DKFP per game in 63 games this season, the matchup and price here are a combo package with Donovan Mitchell.
Other Guards:
LeBron James, LAL ($10,700)
Jrue Holiday, NOP ($8,600)
Lonzo Ball, NOP ($7,400)
Mike Conley, UTA ($6,200)
Joe Ingles, UTA ($5,700)
Danny Green, LAL ($3,500)
Dion Waiters, LAL ($3,100)
Forward
Anthony Davis, Los Angeles Lakers
(PF/C, $10,000)
In 2019-20, the Los Angeles Lakers have done a 180 from recent years at the bottom of the Western Conference to skyrocketing to the top as a primary contender for the Championship as the current top seed. Anthony Davis has been a catalyst for their change-for-the-better on all fronts, and his fantasy numbers have been stellar along the way.
Entering the Playoff Bubble, Davis comes in averaging 26.7 PTS, 3.1 AST, 2.4 BLK, and 9.4 REB in his 55 games played in the purple and gold, on the wings of a solid 29.7% usage rate. The Brow's ability to put up double-doubles is uncanny, notching 27 of them in 2019-20 and adding to the DKFP bonus points in lieu of such.
Against a Clippers unit who could potentially be missing Montrezl Harrell in the post, Anthony Davis should put up significant numbers in the warring of top-seeded juggernauts, with his only cause for concern being the high price tag to pay off with fantasy production. If it's Ivica Zubac and Patrick Patterson handling post responsibilities, there will be little in terms of roster depth to guard Davis on behalf of the Clips.
Brandon Ingram, New Orleans Pelicans
(SF/PF, $8,300)
Since transitioning from the Los Angeles Lakers to the Pels, Brandon Ingram has flourished in his presence and produced some of his best fantasy numbers to date. With Zion Williamson in quarantine (that's become the commodity statement these days), that's just one less ball-dominant player to interfere with Ingram's fantasy upside.
With a 5% uptick in usage from LA to The Big Easy, Ingram rocks a 28.2% usage rate with the Pelicans this season and a six-point per game improvement on average as well, from 18.3 to 24.3 PPG. Having ceiling performances on DraftKings hitting his highest peaks in his three-year career, posting a 69.5 DKFP performance against Utah in January, the writing is on the wall should Zion miss time to start the Playoff Bubble run.
When Zion Williamson is off the court, Brandon Ingram averages a 3% increase in usage (from 25.9% to 28.9%), making his potential usage rate well over 30% at that rate (36.3% in the game against Utah). And ever-the-more ironically, he will be facing off with the very same Utah team he dominated back in January, with all the stars aligning for another massive fantasy performance from Brandon Ingram.
Other Forwards:
Kawhi Leonard, LAC ($9,200)
Paul George, LAC ($7,200)
*Zion Williamson, NOP ($7,500)
Royce O'Neale, UTA ($4,900)
Marcus Morris Sr, LAC ($4,700)
Kyle Kuzma, LAL ($4,500)
JaMychal Green, LAC ($3,500)
*Game Time Decision
Center
Rudy Gobert, Utah Jazz
(C, $7,100)
The elephant in the room of this entire article and the man universally recognized with the onset of the coronavirus, Rudy Gobert returns to action in a stellar matchup against a Derrick Favors-less Pelicans roster sans Zion Williamson, ensuring the post-dominance for Gobert by default.
The French Rejection averaged two blocks per game this season alongside his best rebounding numbers of his career, clearing a whopping average of 13.7 boards per game. Alongside 15.1 points per game, Gobert's stat column achieved a double-double performance in an astounding 45 games of 62 played this season (which garners a 1.5 point bonus per game on DraftKings as a cherry on top). Averaging 40.05 DKFP per game at a $7,100 price point, especially given the weakness at the position in the Pels, is practically robbery.
While you could opt to save some dollars by spending down at the Center position, the matchup and price tag for Gobert are all too evident to hammer this play as a primary roster option and could easily break the position for the slate. I will be getting to well over the field (or as close as possible) when it comes to rostering Rudy Gobert on the first night back to NBA action.
Other Centers:
Dwight Howard, LAL ($3,200)
Nicolo Melli, NOP ($4,000)
Joakim Noah, LAC ($3,100)