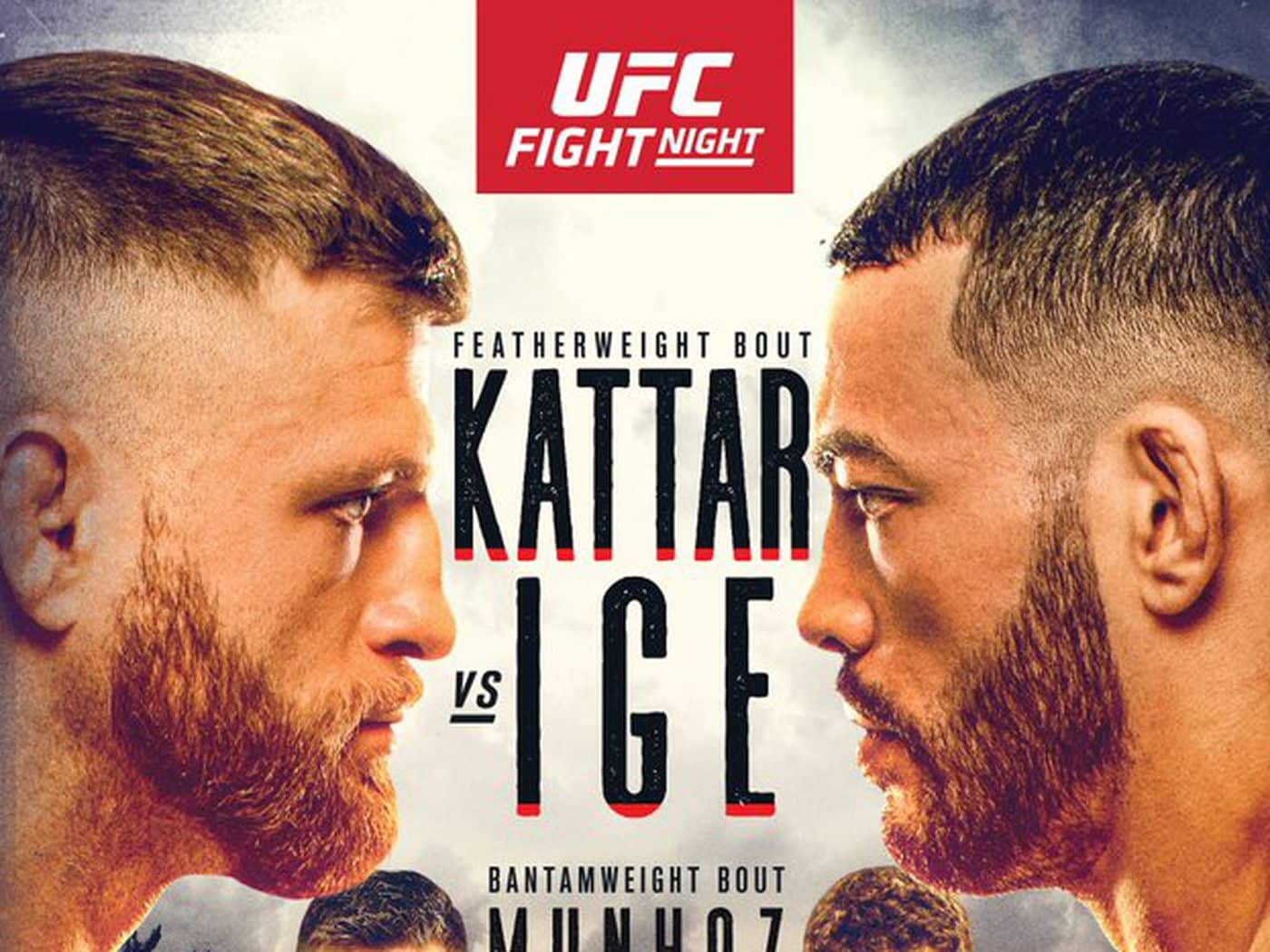 UFC Fight Island got off to an auspicious start for this column, as my picks for UFC 251 went 11-2, including hitting on a couple of dogs. This week brings us two more UFC events to bet on and propel my overall results farther out of the red and into the black.
Here are my picks for every fight on this Wednesday's UFC Fight Night: Kattar vs Ige.
(warning: past performance is no guarantee of future results)
All odds courtesy of MyBookie
Dan Ige (+250) vs Calvin Kattar
I'm coming out swinging at the opening bell this week and taking a huge dog in the main event. After dropping his UFC debut, Dan Ige has won six straight fights, including against top competitors Edson Barboza and Mirsad Bektic in his last two fights. While Calvin Kattar will be four inches taller, he'll only have an inch of reach on Ige, and he gets pieced up on his feet. Ige is also relentless on his takedown attempts, and I'm thinking he'll be able to land some on Kattar. Or I could be completely off base here – plus 250 is a mighty big number, and bookies are rarely off that much. So if I get the pick right, I'll totally own it, and if I'm wrong I'll say I told you so. Deal?
Tim Elliott (-120) vs Ryan Benoit
I'm not picking Tim Elliott based solely on his bitchin' mullet, but that surely isn't hurting his chances in my eyes. Not only does Ryan Benoit get hit more than he dishes out, he gets taken down a lot in his fights, while Elliott is a takedown machine. Might be worth a prop bet of Elliott via submission.
Cody Stamann (+115) vs Jimmie Rivera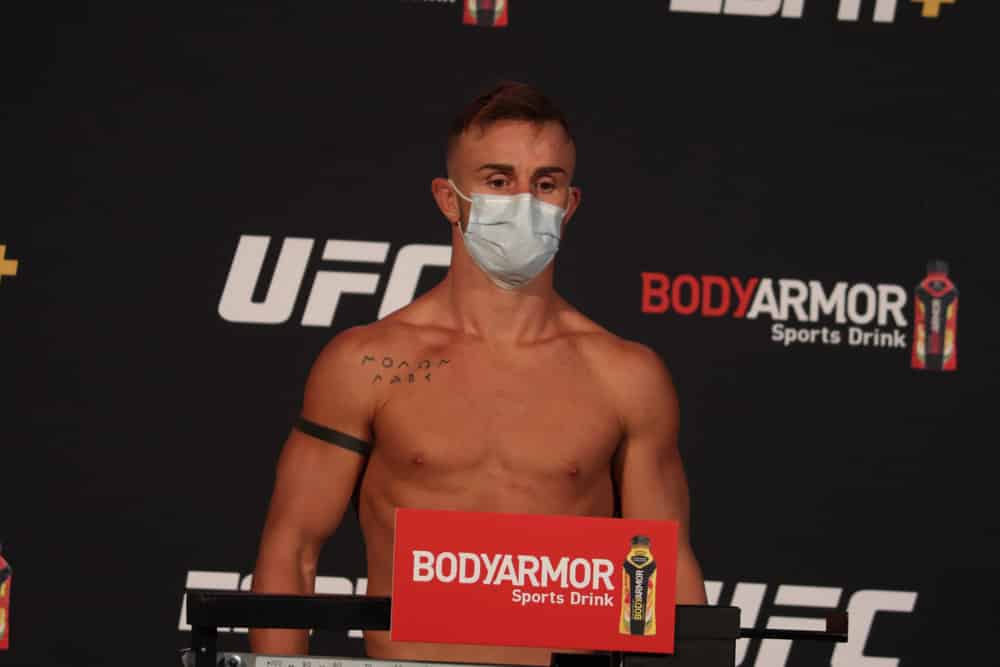 This will be Cody Stamann's second pandemic fight, as you can tell by the photo above, as he just beat Brian Kelleher last month (and that coming just a few short weeks after his younger brother suddenly passed away). He's a dog in this one, but a live one I think, as Jimmie Rivera is on a two-fight skid, and has only one win in his last four. He's a tough one to take down, which is Stamann's path to victory normally, but I think he can eek out a win here. Prop bet: it goes the distance, as neither man finishes many fights.
Molly McCann (-115) vs Taila Santos
This one is a toss up, both in my head and on the boards, where both ladies are -115 as of this writing. I'm leaning towards 'Meatball' Molly due to her high level experience edge and three-fight win streak. While Santos will have a distinct reach advantage, she hasn't proven she can win at the UFC level (0-1 thus far).
Abdul Razak Alhassan (-320) vs Mounir Lazzez
Abdul Razak Alhassan was on a knockout tear during his UFC run from 2016-18, finishing four of his five opponents (he lost the other fight), but a sexual assault charge has put him on the sidelines since then. He was found not guilty, and now I'm betting on him dusting off octagon newcomer Mounir Lazzez.
Khamzat Chimaev (-315) vs John Phillips
That's a massive number for a debuting UFC fighter, but "Borz" has the recipe to beat John Phillips – wrestling. Phillips stuffs a minuscule 14% of takedown attempts, which Chimaev will feast on.
Chris Fishgold (+115) vs Jared Gordon
Going with another live dog (I hope) in Chris Fishgold. First off, 'Flash' Gordon will be missing his normal cornermen as his coach tested positive for COVID-19. Fishgold's path to victory is also via wrestling, and Gordon has proven he isn't immune to the takedown,
Ricardo Ramos (-160) vs Lerone Murphy
Once again – wrestling. Ricardo Ramos lands lots of takedowns; Lerone Murphy gets taken down a lot (six times last fight). Plus Ramos lands some flashy, spinning KO's, which is always a bonus.
Modestas Bukauskas (-225) vs Andreas Michailidis
Two UFC newcomers collide in this light heavyweight battle (I sound like a UFC hype man – TWO MEN ENTER, ONE MAN LEAVES!!!). Cage Warriors light heavyweight champion Modestas Bukauskas is the pick due to the size advantage (Andreas Michailidis used to fight at middleweight), higher level of experience, and knockout power.
Diana Belbita (-165) vs Liana Jojua
Diana Belbita will have six inches of reach and three inches of height on Liana Jojua on Saturday night (or any time or day of the week, for that matter). This one could be a firefight as both ladies tend to get hit often.
Jack Shore (-600) vs Aaron Phillips
The -600 says it all – Jack Shore outclasses Aaron Phillips in all aspects of this matchup.
Overall Results 
Record: 66-41
Earnings: $177.74
Return on Investment: 2%