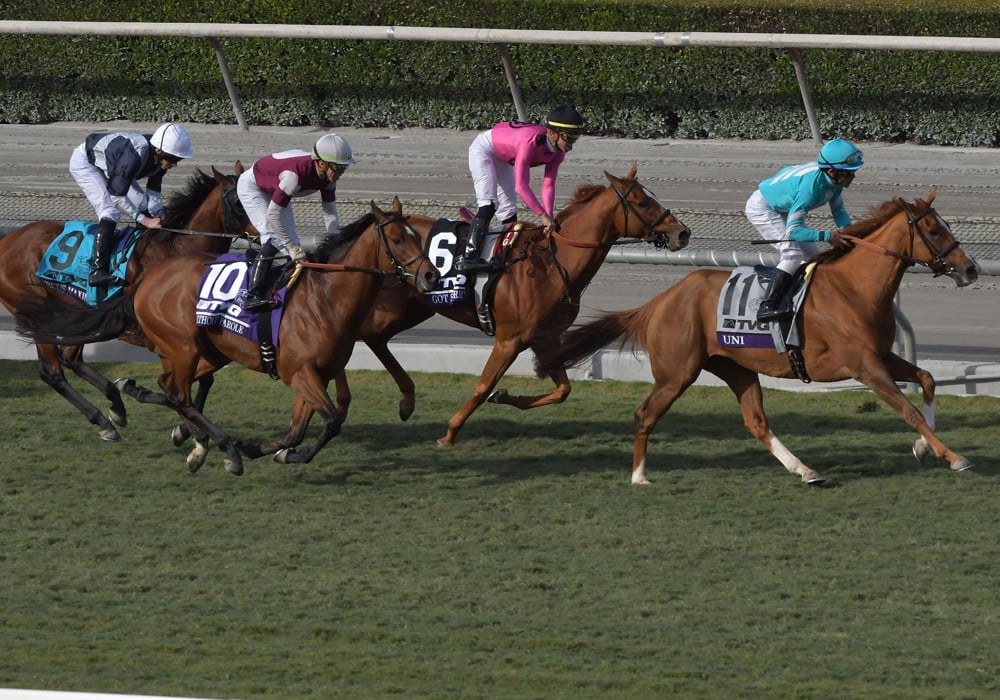 We've all been there. The final race of your big pick four, five or jackpot pick six with all your hopes and dreams riding on a ⅘ shot in the final leg. You're already counting your money. The only concern is which appetizers to get from Ruth's Chris. Pay no mind to that 23-1 shot getting an aggressive warm up from his jockey. Your horse has an outstanding edge in speed figs. There's no way he can lose. 
Except as the gates spring open, he lets the long-shot squirt away to an easy lead. Not a problem as long as someone challenges for the lead, but nobody does. "Go and get him!" you scream to no one in particular as the horse lopes along on the front end. Before the tears start falling, your horse starts to run their guts out, offering a glimmer of hope; only to fall half a length short at the wire.
RELATED
Horse Racing 101: Handicapping and Class Warfare
VICTIM OF PACE
Holding your head in your hands, you wonder what went wrong. The PACE of the race setup unfavorably for your horse but favorably for the long shot that won. Had you included that long shot in your play, you'd be buying a round for the whole block. So identifying paces like this are the key to big scores.  Understanding pace is quite possibly the most vital skill one can possess in handicapping. They say "pace makes the race." Once you understand the concept, I think you'll find parallels for every sport.
Pace can be best described as the time it takes the race leader to reach certain points in the race. Most races are timed with a quarter mile and half mile "point of call." From these two points, the educated horseplayer can determine if a pace fast, slow or on par. A fast pace can set it up for closers, a slow pace can set it up for the front runner. This stuff is easy! 
WHAT IS FAST
A general rule of thumb is your average racehorse can easily run a furlong in 12 seconds, two furlongs in 24 seconds and four furlongs in, you guessed it, 48 seconds. But this might be exceedingly fast given a long distance and low class level!  If the race were $5,000 claimers running 10 furlongs, you would be looking for the closers to annihilate the pace setters. However, for the Grade One, Alfred G Vanderbilt Handicap run at six furlongs, you would think there was something wrong with the timer. Horses of that quality, going much shorter, set the track on fire. The raw time that informs the pace is subject to the lens of class and distance.
One surefire way to determine if the pace was sizzling or tepid, is to watch a replay while knowing the results. Watch the horses find their position by the first quarter and then on to the half mile. Where is the winner positioned? If he's on the front end, setting the fractions, chances are it was a slow pace. If the second and third place finishers are there as well, you might call it a "Merry-go-round" race. Nobody made up any ground on the leaders and the horses stayed in position like a Merry-go-round. If every horse in the trifecta was off-screen for most of the race, the pace was most likely insanely fast.
FOUR DIFFERENT RUNNING STYLES
The quickest horses are what I call "Early" horses, meaning they exhibit their speed early. Some of these horses will fight for that early position, however many fade faster than my Motley Crüe t-shirts. I call these types "Early Only" meaning they have to be the lone speed with no pressure. Since these types don't fight, while they might look like they will supply pace for a race, typically they do not unless they inherit an uncontested lead.
Winners coming from just off the pace and getting first jump on that pacesetter are called "Pressers." Forcing the pacesetter to quicken their tempo with their mere presence. Horses are pack animals and respond to pack mentality. Think of it this way, if there were five guys breathing down your neck, wouldn't you run faster? Pressers are the most common winners at almost every class level at every track. Grinding down the horses on the front and swooping by to nab the spoils while fending off the closers is the shortest route to the winner's circle.
Sitting just behind the Earlies and Pressers you'll find the "Stalkers." Someone should call the cops on these bunch of creeps, waiting for the pack to tire and the pressers to unleash their run before they make their move. They are sometimes called mid-pack horses. Not quite up on the pace and not so far back as the closers, these horses can find some traffic if they're not careful.
A BREED APART
Horses possessing "Tactical Speed" are horses that can cut out fractions or drop back and track the pace. They are a rare breed and usually the best horses on the track. If a car is judged by its gearbox, these horses have a gear for all occasions. With a good jockey aboard, these types can break alertly from the gate and call an audible, so to speak, picking the best path to victory. 
Finally we bring ourselves to the lunch pail carrying "Closers." These horses are devoid of any early speed, merely galloping out of the gate and getting out run early before hitting top speed in the stretch. While their performances are subject to the pace setup, they almost always come with their one run, be it on time or a just a little late. Because they have to pass the whole field, they often find traffic, which can halt their bid. At big odds, these are the kind of horses to play should the pace look prime for a meltdown. At short odds, these are the best kind of horses to fade and look elsewhere for a price.
PROFITING FROM PACE
Now that we know how each horse likes to be positioned in a race, we have to find a way to make money off that knowledge! I look for a few different scenarios. One can be described at "Lone Speed," meaning there is but one horse looking to make the lead in the race. Sometimes they're obvious, every horse in a race is a closer or stalker except one horse with all one's in his running lines. Sometimes they can be hidden, such a sprinter stretching out to a route race. 
A little harder to find are races where everybody wants the lead, except one closer. Typically in these races, the speed of the speed proves superior. But if there's enough horses that battle for the lead, they will duel each other into submission, melting down for a closer to come and scoop up the spoils. 
Harder to find but even more profitable are races with one horse wanting the lead and with only one horse looking to close. Every other horse should be a pace presser or mid-pack stalker. If they let the pacesetter loose, the pressers and stalkers will chase in vain, leaving only the closer with gas in the tank. Box the pacesetter up with the closer in an exacta and you're sure to have a profitable day.
ACTIONABLE INFORMATION
As discussed above, possibly the most potent angle in horseracing is lone speed. It's no mystery, a horse running comfortably by himself in the front of the pack should win the race if good enough. While many lone speed types are short prices, you'd be surprised at how many can come in at a price. I think I've found such a specimen this Sunday, July 12 at Belmont Park.

Breaking from the five hole in the 1st race, Sadie Lady, will be our key to a profitable weekend. While a well beaten 6th last out against similar company, she just went way too fast for her first start off a four month layoff while going half a furlong longer than she will be today. As you can see her trainer, Rob Atras, excels with horses making their second start off a layoff with a 31% winning percentage. She consistently breaks well from the gate and should find herself all alone on the lead, able to set comfortable fractions and lead the others on a fruitless chase. Her jockey, Kendrick Carmouche, knows just what to do with her.
To sweeten the pot, I think she could find herself the fourth choice in a six horse field. I'll be trying crush an exacta using Into Chocolate, just to her inside, a talented late running sprinter who should close for place.