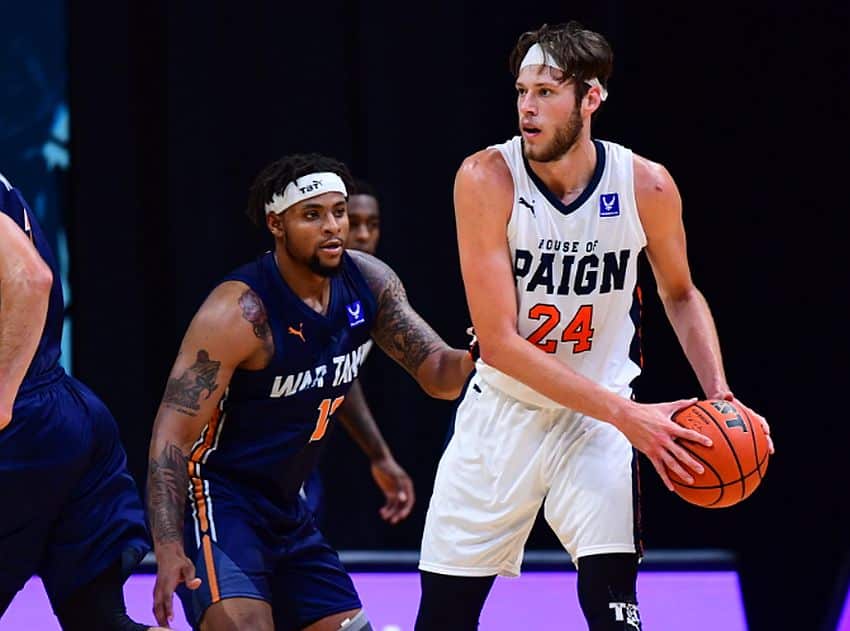 We unfortunately didn't get a March Madness this year, but thanks to the The Basketball Tournament, we do get an Elite Eight [of sorts]. Along with that, another round of daily fantasy basketball served on a two-game slate and getting to the best of the bunch.
First thing late morning/early afternoon (depending on your whereabouts) on Friday, we're given a matchup between white-hot House of 'Paign, fresh off their convincing win over the 2019 TBT Champion Carmen's Crew, and Red Scare, who won on an Elam Ending shot over team Big X by forward Ryan Mikesell (although the game was not close). 
Following just after that the dominant Golden Eagles will be battling the well-rested Brotherly Love squad, who has not played a game since July 4th and a second-round gimme when team Eberlein Drive was bounced from the tournament due to a positive COVID test.
Let's get to some Friday afternoon fantasy bucks for the weekend slates by smashing this slate! 
High/Mid
Mike Daum, House Of Paign
Forward ($9,500 DK/$23 FD)
Stating the obvious much? In the sake of The Dauminator, it's much-deserved.
And when you take out the reigning tournament champion, a now-former number one seed, I believe you deserve another mention at some point sooner than later. Which is precisely what I'm doing by paying homage to the ballerdom of Mike Daum.
Dauminating the court as if the days at South Dakota State never ended, Mike Daum found himself to be the top scorer once again as his team House Of 'Paign pounded out the top-seeded Carmen's Crew on Tuesday, 76-68. Daum's 23 points, eight rebounds, and one assist combined for a fantasy onslaught of 36.5 DraftKings Fantasy Points (34.1 on FanDuel ) and paved their way to a quarterfinal matchup with team Red Scare.
He will most certainly be chalk, so the question will remain up to you to answer as to whether you will fade or be heavy on Mike Daum ownership, but I would prefer the latter.
Ramone Moore, Brotherly Love
Guard ($7,800 DK/$21 FD)
Following a first-round 87-71 drubbing of team Stillwater Stars, Ramone Moore and his Brotherly Love unit were gifted a hall pass in the Round of 16, as Eberlein Drive was disqualified due to a late COVID test of a member of their roster. 
The Temple Owls alumni guard averaged over 17 points his senior year in college, along with a 25.8% usage rate over his four-year span. In the blowout of Stillwater Stars, Moore went 24/2/1 and netted a concrete 32 fantasy points on both sites [roughly]. 
Both Brotherly Love guards in tandem were the team's difference makers in the opening round, as Ramone Moore and Khalif Wyatt accounted for 51 total points and 58.6% of the Brotherly Love offensive output. Their Friday matchup is a stiff one, but should they contend with the Golden Eagles till the very end, Ramone Moore should very well be a fantasy factor.
Jamil Wilson, Golden Eagles
Forward ($8,500 DK/$22 FD)
While his college stat lines aren't the ball-dominant numbers we're used to seeing discussed here, Jamil Wilson's Swiss Army-esque talents were magnified on the court in the Golden Eagles' 76-63 thumping of Team CP3. 
Racking himself a double-double, and bonus points for Daily Fantasy owners, the ex-Oregon transferee facilitator soaked up the rebounds as well (apparently to the lengths of Darius Johnson-Odom being turned off from the thought while going 21-0-0-0) and had a versatile 14 points, 11 rebounds, 2 assists, and 2 blocks. 
Wilson's stuffed stat line on Monday provided DFS investors with 37.8 DraftKings Fantasy Points (36.2 on FanDuel) and was an impactful part of winning lineups. Considering team Brotherly Love hasn't played in nearly a week and in fact skipped a round they were to-be underdogs in to begin with, Wilson and his Golden Eagles may be a bit too deep for the shoo-in 12-seed.
Mid/Low
Trevor Thompson, Red Scare
Forward/Center ($5,100 DK/$15 FD)
Averaging a double-double in his senior year at Ohio State, Trevor Thompson nearly did just that in his Wednesday performance for team Red Scare. Thompson's 12 points, seven rebounds, and one block were quite on par with his 10.6 points and 9.2 rebound average in his final college season, and any evidence of consistency is virtue. 
Thompson's years at Ohio State weren't meek when it came to calling for the ball either, as he did average a 21.4 usage rate through his two latter years at Ohio State combined with his freshman year at Virginia Tech. 
Although his fantasy salary has jumped noticeably since his last game ($3,800 on DraftKings yesterday), Trevor Thompson's asking price is still more than manageable and his 22+ fantasy points last game serve evident as a frugal roster supplement.
Kyle Vinales, House Of 'Paign
Guard ($4,900 DK/$11 FD)
Since his mild opening round outing (14.0 DKFP, July 4), Kyle Vinales broke out as a shooting threat on-court, as House Of Paign's second-highest scorer behind The Dauminator, posting 16 points, one rebound, and one assist and tallying 25.3 DraftKings Fantasy Points (25.7 FDFP).
Based on his first game, one may assume it could be flukey, but looking back at his dominant 30.1% usage rate through his collegiate years at Central Connecticut, his shooting prominence is writing on the wall for the style of play he brings to the floor.
Given the hypothetical scenario of House Of 'Paign pulling off this victory, Kyle Vinales' shooting prowess will have to be in full effect, and should pay off his fantasy salary with simplicity should those shots fall.
Bargain
Jarvis Williams, Golden Eagles
Forward ($3,800 DK/$8 FD)
In his opening game for the Golden Eagles, Jarvis Williams flew in under the public fantasy radar (probably in part because he wasn't priced on DraftKings) and put up a modest 13.5 DraftKings Fantasy Points on the shoulders of a 9-point, 4-rebound performance. 
The thing that intrigues me is his recent productivity in the Luxembourg Total League from the 2019-20 season, where he averaged 23.13 points on a weighty 34.1 minutes per game for BBC Sparta Bertrange.
Williams is representative of the Golden Eagles' depth-of-talent,and coming in at a bargain bin price of $3,800 on DraftKings and $8 on FanDuel makes him a value flyer with some promising upside via international periscope.