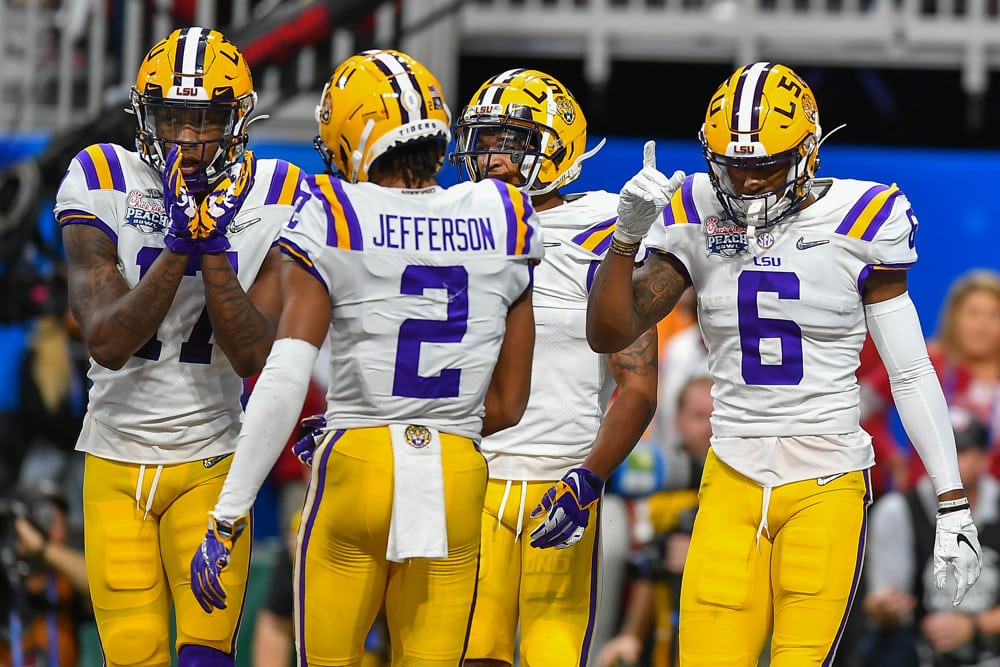 It's late in the week which means the next round of SGPN College Football tournament simulation games on NCAA Football 14 is right around the corner! It's also Elite 8 time. As always, we have two games Saturday evening followed by two games on Sunday with the winners advancing to the Final Four.
The first weekend was all about the favorites as they went 4-0 SU and 3-1 ATS while this past weekend was all about the dogs who went 2-2 SU and 3-1 ATS. This was headlined by the Florida Atlantic Owls who gave Ohio State (18 point favorite) a run for their money before ultimately losing by a field goal. Unders are also 5-2-1 so far.
By now, all the cute little underdog teams from small conferences have gone by the wayside. Put on your big boy pants because it's major college football sim time. Let's get to the previews.
Get your bets in exclusively at MyBookie!
All games can be viewed on Twitch, YouTube, Twitter (@GamblingPodcast), Twitter (@theSGPNetwork), Facebook, and Instagram
Utah Utes @ LSU Tigers
Line: LSU -6.5
Total: 54
Saturday 5pm PST
Although Joe Burrow threw a few picks in LSU's first round matchup against Miami-OH, the Tigers pulled away late and won comfortably, 51-29. It was a bit concerning how they allowed a fairly bad team to hang around for so long. The LSU running game went nowhere and the defense let up some big plays. Perhaps it was easy to look past a team from the MAC, but Coach O better get his guys ready to play against Utah.
A lot of people were picking the 8-pt underdog, Memphis Tigers, to cover or perhaps win outright against Utah a couple of weeks ago. Well, that didn't happen. This game was over shortly after the opening kick as the Utes went on to win 45-22. Most of the points Memphis scored were in garbage time. This was a complete and dominant win and Utah has to be brimming with confidence heading down to Baton Rouge.
Looking at the team rankings, LSU is in a tie with Clemson and Oklahoma with an overall team ranking of 99. Their offense is a 99 and their defense is a 97. Somewhat surprisingly, after the three top schools, Utah has the next highest ranking with a 97. This is comprised of an offense with a 95 and a defense with a 97. In real life LSU was a much better team but in Sim life the gap is much narrower. It may come down to the Utah defense being formidable enough to get some stops and keep the game close. If the Miami-OH Redhawks (with an 80 ranking for defense) could turn Joe Burrow over multiple times, Utah should be able to as well.
It'll be imperative that Utah RB Zack Moss gets things going on the ground so the Utes can control the clock and shorten the game. On defense, it would be wise to double team Justin Jefferson and force another wideout to beat you. LSU will look to get more going from their ground game but if things are sluggish to start, they may abandon it quickly. And, that may work in their favor. Spreading out the defense and letting Burrow pick apart the secondary may be the best way to move the ball against the Utah D.
Picks:
I'm going dog here. I came away unimpressed with LSU in the opening round. I expect them to be sharper in round 2 but this Utah team is no joke. The Utes have enough offense to keep pace with LSU and enough defense to get some stops. Final score, LSU 30 – Utah 27. Give me Utah and the Over.
Oklahoma Sooners @ Georgia Bulldogs
Line: Oklahoma -3
Total: 58
Saturday 7pm PST
Lincoln Riley and his Oklahoma Sooners blew the door off the Boise State Broncos in the opening round, winning 48-13, and exacting some revenge from that 2007 Fiesta Bowl defeat. It's all about the offense in Norman. Jalen Hurts is one of the best QB's in the country and he's got WR's CeeDee Lamb, Charleston Rambo, and Lee Morris at his disposal and RB Kennedy Brooks in the backfield. They're going to score some points so you better keep up.
Georgia was equally impressive in the opening round, beating Cincinnati 30-9. The nine points allowed by the UGA defense is the second lowest to date. Jake Fromm is a legit QB and he has weapons on the outside. As expected, the Bulldogs aren't lacking talent, especially in the backfield led by De'Andre Swift.
This is a rematch of the 2017 playoff matchup that saw Georgia beat Oklahoma in double O.T, 54-48. If you recall, Oklahoma was up 31-17 at the half before the Bulldogs stormed back in an amazing game to watch. In general, Oklahoma hasn't fared well when playing the SEC in the CFP playoffs. In addition to the 2017 defeat, they lost to Alabama 45-34 in 2018 and lost to LSU 63-28 this past year. Can they flip the script?
As evident by the scores of these games, Oklahoma has struggled defensively. Somehow, for this tournament their defense has been given a 95 ranking which is actually better than Georgia's, who only scored a 92. Offensively, Oklahoma is a 99 and Georgia is a 93. Therefore, it should come as no surprise why the Sooners are a road favorite.
Picks:
Oklahoma got revenge against Boise in the opening round and they'll get revenge against Georgia this weekend. I expect the home dog to get most of the public action, so I'll go contrarian and take Oklahoma. The Sooners win 34-27 and set up a rematch with LSU where they'll be looking for more revenge. Give me Oklahoma and the Over.