Madden Mayhem returns after another great night of games on Thursday. If there's anything we learned from last night it's that nothing is a for sure win in Madden Mayhem as Gardner Minshew and the Jacksonville Jaguars pulled off a big upset by taking down the Houston Texans and the ageless veteran Phillip Rivers and his new-look Indianapolis Colts took down last years cinderella in the Tennessee Titans.
I went 1-1 ATS in those games but I'm thinking I'll be 2-0 ATS with tonight's action. The games tonight are two games out of the NFC West and both games should be good ones. Get your bets in exclusively at MyBookie !
All games can be viewed on Twitch, YouTube, Twitter (@GamblingPodcast), Twitter (@theSGPNetwork), Facebook, and Instagram.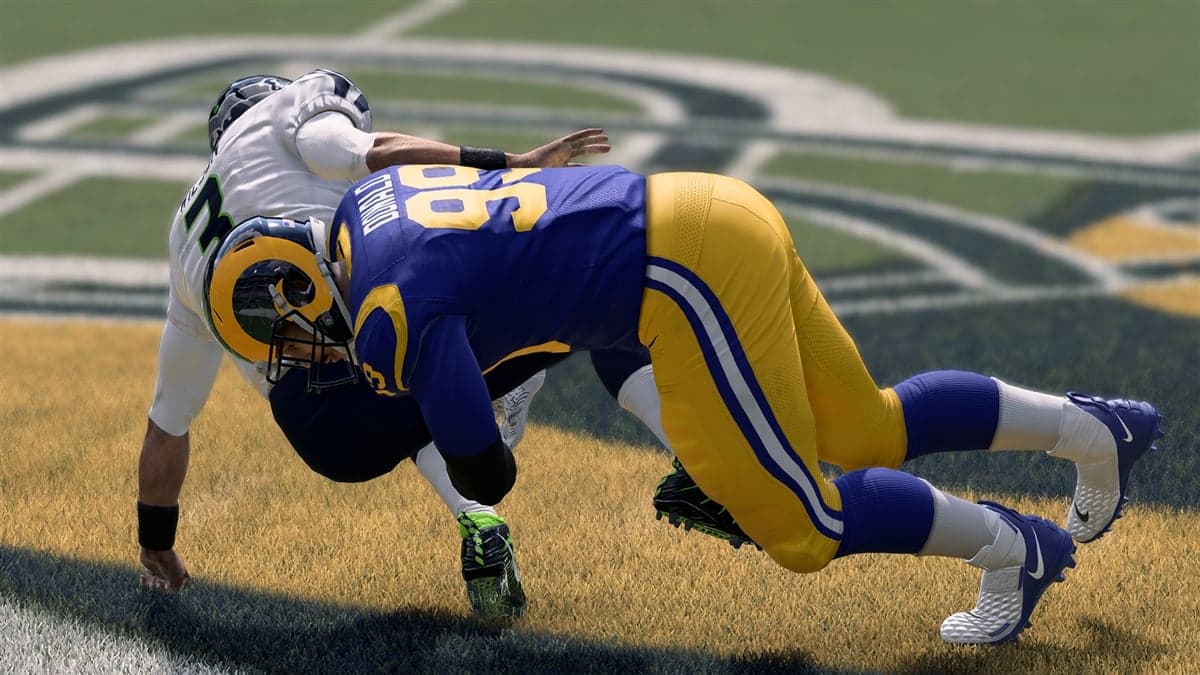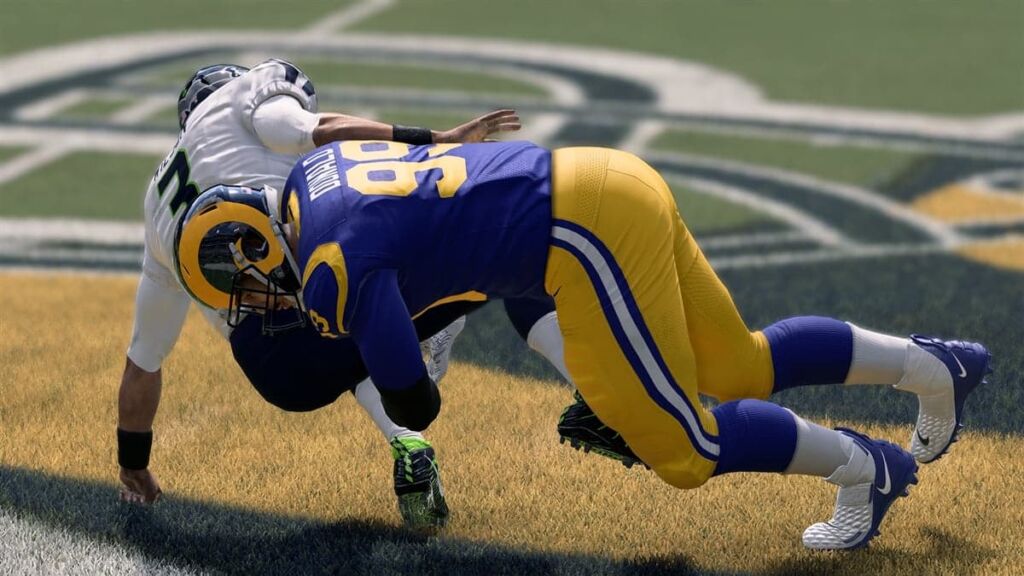 Los Angeles Rams @ Seattle Seahawks
Line: Seahawks -6
Total: 47.5
Friday 5pm PST
The Los Angeles Rams are coming off a disappointing year considering they were in the super bowl just two years ago. Cap wise the team had to make some big time decisions which included them cutting their star RB Todd Gurley. They also traded away starting wideout Brandon Cooks and lost key defensive players like Cory Littleton and Dante Fowler Jr. as well as kicker Greg Zuerlein.
Jared Goff is still the man under center and he's going to need a strong performance against Seattle since Gurley is no longer in the backfield. Goff still has some familiar targets like Cooper Kupp, Robert Woods & Tyler Higbee. He'll need to work all of them into the offensive game plan if they are going to beat the Seahawks in Seattle.
With Todd Gurley gone the Rams should have a running back by committee approach with Darrell Henderson, Malcolm Brown and rookie Cam Akers all getting some touches.
Defensively the Seahawks really just need to limit the amount of impact plays Rams defensive tackle Aaron Donald can make. Donald is potentially the best defensive player in all the NFL and in an instant can change the game.
The Seahawks are led by one of the best quarterbacks in all of football in Russell Wilson. Wilson is a nightmare matchup for any defense with his strong arm and amazing mobility. Wilson also has his top two targets back in DK Metcalf and Tyler Lockett. Seattle also added former Patriots wideout Phillip Dorsett and former Panthers tight end Greg Olsen. Look for Wilson to get both involved early especially the newly acquired tight end.
The running game has recently been a position of concern for Seattle. The opening day starter should be Chris Carson but I'd expect him to split carries with former first round pick Rashaad Penny. If the Seahawks can get just enough to keep the Rams respecting the run then Wilson and company should have a field day.
Defensively the Seahawks lost pass rusher Jadeveon Clowney which should impact them some. Seattle did draft a linebacker in the first round so expect to see Jordyn Brooks starting and making plays right away. The Brooks, Bobby Wagner & K.J. Wright tandem could be one of the best in the league.
Prediction:
After the dogs went barking last night with two upsets I think Russell Wilson and company get a late game cover over the Los Angeles Rams. Give me Seattle minus the points.
Arizona Cardinals @ San Francisco 49ers
Line: 49ers -9.5
Total: 51
Friday 7pm PST
The San Francisco 49ers are coming off a dominant season which got them all the way to the Super Bowl before losing a close one to the Kansas City Chiefs. Aside from the Chiefs one of the other teams that really gave the 49ers a tough game was the young Arizona Cardinals under first year head coach Kliff Kingsbury.
Kingsbury is a student of Mike Leach & Hal Mumme's Air Raid offense which worked out well in Kyler Murray's rookie season. Murray's offensive line needs to step it up a bit but boy did the Cardinals bring in some help with trading veteran running back David Johnson to the Texans for perhaps the leagues best wideout in DeAndre Hopkins. Hopkins joins what could be the best receiving core in all the NFL with Larry Fitzgerald, Christian Kirk, Andy Isabella and KeeSean Johnson. Sure, they lose Johnson in the backfield but they Kenyan Drake and Chase Edmonds should be enough for the Cardinals to get the production they need.
The offensive line wasn't amazing in year one for Kingsbury and he'll need to address that especially when facing the San Francisco 49ers front four. Defensively the Cardinals were bad last year but first round draft pick Isaiah Simmons out of Clemson should get fans excited. Simmons joins a linebacking core of Chandler Jones, Jordan Hicks and Devon Kennard. That could be a special unit. In the defensive backfield Patrick Peterson leads the way for the Cardinals him and young corner Byron Murphy could form one of the leagues better duos at cornerback.
The San Francisco 49ers have one of the best front offices in all of football so I'm just going to trust that they know what they are doing when they traded away star defensive lineman DeForest Buckner to the Indianapolis Colts. Buckner was an absolute animal for the Colts yesterday as they upset the Tennessee Titans in Madden Mayhem.
Sure, the defensive line should take a hit but as I evaluate this unit perhaps the hit won't be as bad as many will think. The Niners drafted defensive tackle Javon Kinlaw in the first round and the kid can flat out play. Mix Kinlaw with great players like Soloman Thomas, Arik Armstead and Nick Bosa and you have a defensive front that should cause problems. Kwon Alexander at linebacker and Richard Sherman and Jimmie Ward in the defensive backfield should make this defense as elite as any team in Madden Mayhem.
Offensively is the real question mark for the 49ers. You need to see growth in Jimmy Garoppolo if the 49ers are going to move on in Madden Mayhem. The Niners somewhat addressed this by adding rookie wideout Brandon Aiyuk and veteran offensive lineman Trent Williams to boost up the offense. Aiyuk joins Deebo Samuel, Kendrick Bourne & Dante Pettis in what could be an exciting wide receiving core. Mix them in with star tight end George Kittle and a strong run game and perhaps the Niners are the team to beat. Running back Raheem Mostert and Tevin Coleman make up a good backfield that should be as physical as they come.
Prediction:
The Cardinals played them tough last year and added perhaps the best wideout in the league so why should I fade them now? Give me the Cardinals to cover the 9.5.