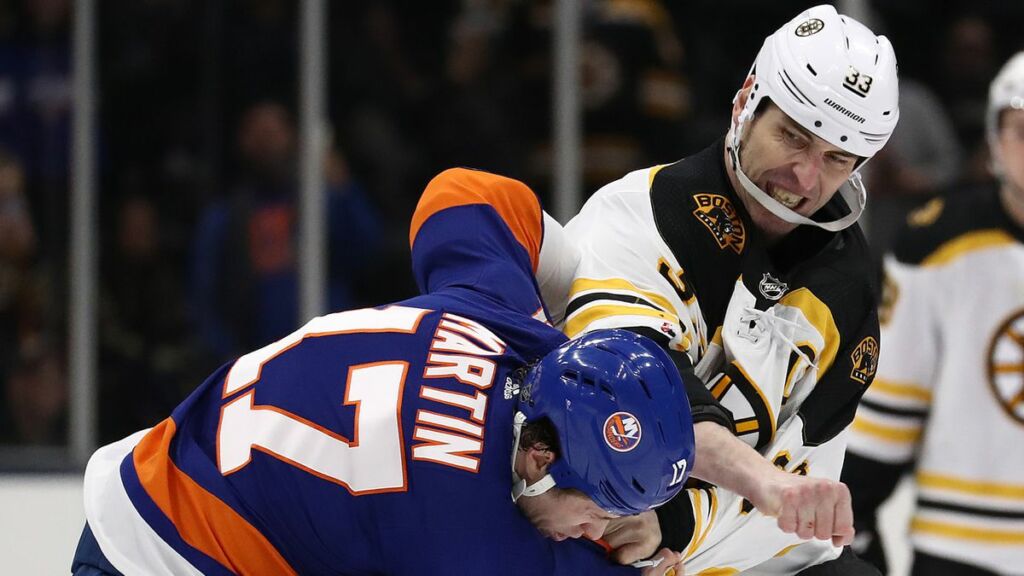 Watching the NHL game from the stands is always a special occasion. All the dynamic action on the ice is a joy to watch, but hockey fights became pretty rare nowadays. According to Hockey Fights, only four guys got into a fistfight more than five times through the 2019-20 season. Also, only Nicolas Deslauriers was involved in 10 or more fights.
While we're waiting to see what will happen with the National Hockey League in 2020, let's take a look at the toughest skaters out there who should join UFC. If you think we missed some of your favorites, feel free to mention them in comments.
5. Nicolas Deslauriers
One stat: 14 fights during the 2019-20 season! Nicolas Deslauriers is playing his first season with the Anaheim Ducks, and the 29-year-old forward obviously thinks he's playing for the Mighty Ducks. With 6'1'' and 216 lbs, Nicolas is not a brutal natural force, but he just loves to throw punches.
4. Patrick Maroon
After winning the 2019 Stanley Cup with the St. Louis Blues, Patrick Maroon decided to join the reigning Presidents' Trophy champions Tampa Bay Lighting.
In 64 games with the new club, the 31-year-old winger scored nine goals along with 14 assists, while he also got involved in five fights. Maroon is 6'3'' tall and 227 lbs weight and his right cross seems lethal.
3. Milan Lucic
It's a heavyweight scrap every time Milan Lucic gets involved. In six straight seasons, from 2014 to 2019, Lucic has had at least 200 hits and was on the pace to make it seven in a row before the Coronavirus pandemic suspended this past regular season. The Calgary Flames winger had just four fights this season, but it's always entertaining watching him throwing punches.
2. Tom Wilson
Tom Wilson is a bad boy who loves to fight. Although he doesn't get too many chances to scuffle, Wilson prefers to break monotony once in a while. Tom is a pure beast at 6'4'' and 220 lbs, looking pretty fast while throwing hooks and uppercuts. Wilson is a great winger, too, bagging 21 goals and 23 assists in 68 outings with the Washington Capitals this season.
1. Zdeno Chara
Zdeno Chara might be 43-year-old, but you don't want to mess up with this guy. Chara is 6'9'' with 250 lbs, so you can guess why he's rarely involved in fistfights. Obviously, Chara's appearance is often enough, while the Bruins' captain is always happy to appease opponents with a few punches. Zdeno fought four times during the 2019-20 NHL season, and I hope he'll battle a few more times before finishing his tremendous career. The seven-time All-Star is enjoying his 14th season with the Boston Bruins.
Last year, Evander Kane thought he had a chance against Chara. He was looking for trouble and found it. Zdeno needed only a few seconds to show Kane who's a true fighter.