Degen Madness keeps bringing the heat! Thursday night was more of the same: exciting sim basketball, excellent and entertaining broadcasting by the SGP crew, and the Dogs and the Over still slaying it. While two more games are on the slate Friday night, here are the previews for Saturdays games (the last of the opening round).
As always, all betting (spreads, totals, odd/even, etc) on MyBookie.AG. Remember all games can be viewed on Twitch, YouTube, Twitter (@GamblingPodcast), Twitter (@theSGPNetwork), Facebook, and Instagram.  Let's get to it.
West Virginia Mountaineers @ Duke Blue Devils
Spread: Duke -3
Total: 85
April 4th 6pm PST
I hear tickets to get into Cameron Indoor Stadium for the first ever Degen Madness tournament game in Durham are going for over $1K/e so expect a rowdy crowd Saturday evening. It's been almost exactly 10 years to the day since these two great head coaches (Coach K and Bob Huggins) have squared off against each other and that previous meeting just happened to be in the Final Four (Duke won 78-57). The winner of this much anticipated matchup will surely have a Degen Madness final four in their sights as well.
The Mountaineers enter this contest with a 21-10 record with impressive wins over Ohio State, Texas Tech, Wichita State and Baylor on their resume. In early February, WVU had an 18-4 record and were looking like a top seed until they closed out the season on a 3-6 skid. However, a home win against Baylor to end the year has restored some confidence and has Bob Huggins and gang thinking upset.
Like most of his teams throughout his almost 40 years as a collegiate head coach, West Virginia plays a hard-nosed brand of basketball that emphasizes physicality and tough defense. Ranked 3rd in the country in Adjusted Defensive Efficiency (kenpom.com) and 16th in the country in field goal percentage defense, WVU only allows 62.4 points per game. A deep and well-balanced team, ten players average over ten minutes per game while only two players average over ten points, (F) Oscar Tshiebwe at 11.2 PPG and (F) Derek Culver at 10.4 PPG. I get the feeling Coach Huggins relishes in the fact that the average college basketball fan may not be able to name a single player on the WVU roster and he'll surely use it as a motivator against the name brand Duke Blue Devils.
Public familiarity won't be the only contrast come Saturday in Durham. While WVU slows the pace and limits opposing offenses, Duke likes to push tempo and get out in transition. The Blue Devils average 82.5 points per game which is 2nd best in the country. Point Guard and ACC Player of the Year, Tre Jones leads Duke and teams up with (C) Vernon Carey for a great inside-out duo. Other players worth noting are high-flying (G) Cassius Stanley, (F's) Matthew Hurt, Wendell Moore, and defensive stopper (G) Jordan Goldwire.
Over the course of a 25-6 season, Duke notched wins against Kansas in the season opener, Michigan State in East Lansing, Florida State, and two against rival North Carolina. They have only lost two home games on the season: the shocker to Stephen F Austin back in November and a January game to Louisville. At home, the young Blue Devils feed off the Cameron Crazies, ratchet up the intensity on defense, and seem to shoot much more precisely, all of which may spell trouble for WVU.
Prediction: The contrast in styles will be exciting to watch but Duke is more of a complete team. WVU will struggle to score enough to top Duke in Cameron. I feel like this line is a little low. Almost a little fishy low but I'll go with my gut and my Duke Blue Devils as well as the Over.
Final Score: Duke 48 – WVU 44.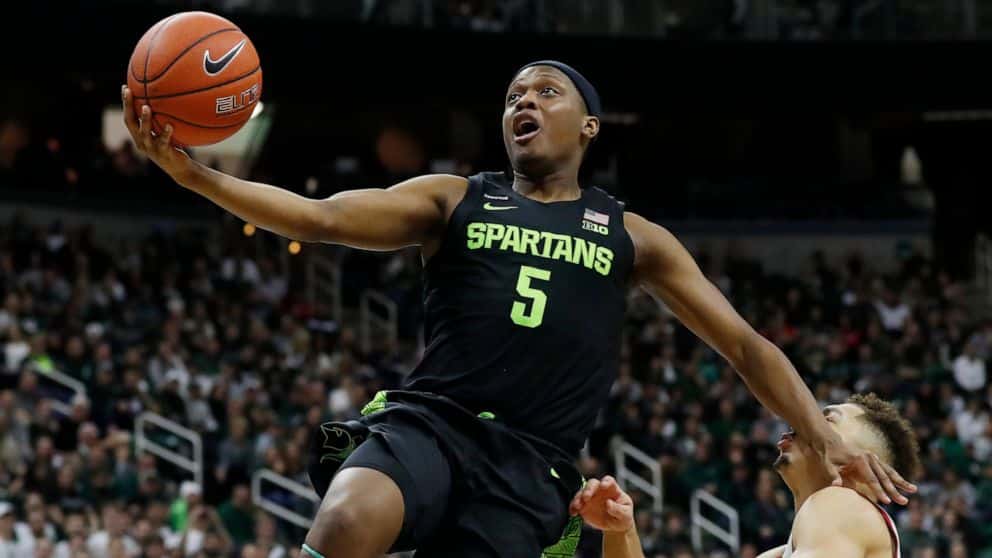 Arizona Wildcats @ Michigan State Spartans
Spread: Arizona -1.5
Total: 95
April 4th 7pm PST
Alert Alert – we got a home dog here and home dogs usually bite. The Arizona Wildcats come into the Breslin Center in East Lansing as somewhat of a surprising slight favorite over the underdog Michigan State Spartans. While it's rare that an 11 seed is a favorite over a 6 seed, this is Degen Madness Baby (Dick Vitale voice) anything can happen…"it'll be totally awesome with a capital A"!
The Wildcats have a 21-11 overall record but have lost 4 of their last 6. Additionally, they are a less than impressive 4-6 on the road which means this matchup Saturday night will certainly be a challenge. The team from Tucson is led by star Freshman (G) Nico Mannion who has already declared for the NBA draft. Joining Mannion in the backcourt is (G) Josh Green while (F) Zeke Nnaji is the top frontcourt option. Arizona is formidable team on both sides of the ball and their overall depth and talent will serve them well in this game and possibly beyond.
Ranked #1 in the country in the preseason, Michigan State hasn't quite had the regular season that was expected and currently sit at 16th. They have won six in a row and similar to most Tom Izzo teams, they seem to be playing their best ball come Spring. Senior (PG) Cassius Winston runs the show and is not ready for his collegiate career to come to an end. Sparty also has an above average frontcourt that consists of (F) Xavier Tillman, (F) Aaron Henry, and (F) Gabe Brown.
The wildcard may be Freshman (G) Rocket Watts. Like most freshman, his first year in college has been up and down but he has been playing better of late. While only averaging 9 points per game on the year, he's been in double digits each of the last 4 games including dropping 21 vs Iowa. He's the second option on the perimeter MSU desperately needed and it's no coincidence that the Spartans win streak has coincided with Watt's improved playing. Lastly, coaching Sparty is Tom freaking Izzo and in general, betting against him come tourney time is usually not wise.
Prediction: the matchup to keep an eye on here is at the Point Guard position. The veteran senior vs the hotshot freshman and I'm leaning in favor of Cassius Winston. Not only will he facilitate things on the offensive end but he'll slow down Nico Mannion which will have a domino affect on the rest of the Wildcats. Being a home dog is down right disrespectful and the Spartans will come out and play like their hair is on fire. Give me Michigan State and the Under.
Final score: MSU 89 – Arizona 85.