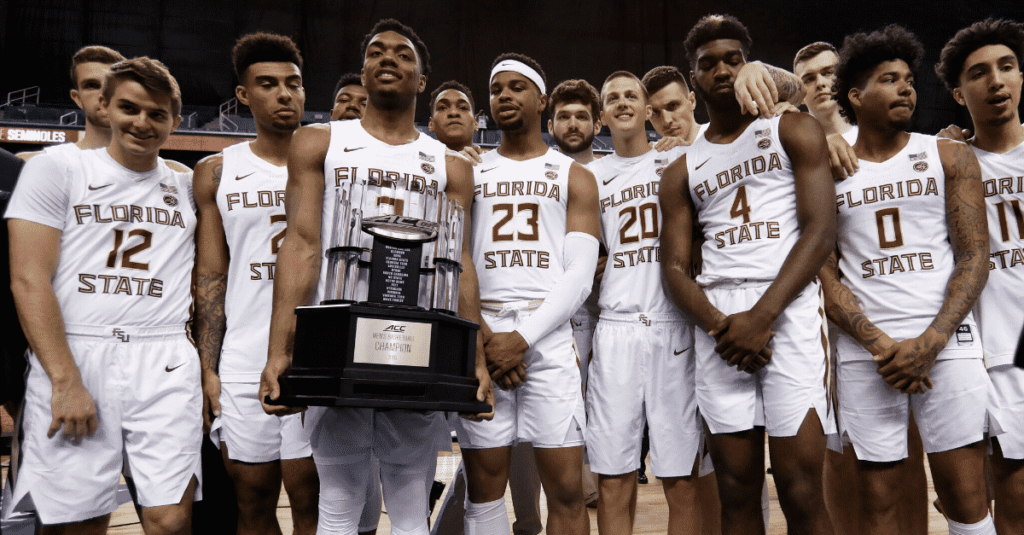 Degen Madness is in full effect! It's been a crazy tournament so far with underdogs going 9-1 ATS. If that wasn't enough for you, the game total has fell on odd 9 out of 10 games as well.
Remember all games can be viewed on Twitch, YouTube, Twitter (@GamblingPodcast), Twitter (@theSGPNetwork), Facebook, and Instagram. Spreads, Over/Unders and live betting is all available at MyBookie.Ag. The games have been solid with maybe the exception of a game or two and tomorrow should be no different.
Texas Tech @ Florida State
Spread: FSU -3
Total: 77.5
April 3rd 6pm PST
The Texas Tech Red Raiders were last years cinderella by going all the way to the National Championship only to lose in overtime to Virginia. Red Raiders head coach Chris Beard is building Texas Tech into a household basketball name. Sure, Texas Tech lost a ton a year ago but you could argue they could be just as dangerous as a season ago.
Texas Tech is led by freshman guard Jahmi'us Ramsey and a big time player from last years roster in guard Davide Moretti. Together the backcourt averages 28 points per game. So the guards really are the heart of this Red Raider team. Texas Tech is 148th in the nation in scoring which isn't amazing but when they are on they are on. The Red Raiders are a top 40 free throw shooting team which could come up big if the game is a close one in the final minutes. Texas Tech is also a top 40 team in assist as they are 33rd in the nation in passing the rock. For being such a young team that's a great stat to have in their favor.
Defensively is where Texas Tech really wins. The Red Raiders are 30th best defense in the nation and at times they can really make you turn the ball over with their tough full court defense. Forward T.J. Holyfield is one to watch on the defensive side of the ball. Aside from Holyfields 9 points and 5 boards per game it's his shot blocking that he makes his name on. Holyfield averages 1.6 blocks per game and his athleticism works perfectly mixed with Beard's defensive gameplan.
Florida State actually won the ACC championship. That's never happened before so need I say more? Leonard Hamilton led the Seminoles to a 26-5 record this year. Hamilton has been a staple as he leads FSU in his 18th year as the head coach.
This Florida State team isn't your typical Hamilton team. This team can score better than most Hamilton's teams of the past. The Seminoles are led by a really good 3 guard lineup. Guards David Vassell, Trent Forrest & M.J. Walker combine to average 35 points per game. As they go the Seminoles go. Good guard play is also something that is good against a team that presses and plays relentless defense.
Defensively Florida State is more than legit. They are one of the nations top defensive teams averaging in the top 20 in both blocks and steals. Forward Patrick Williams is a nice shot blocker who also happens to average 9 points per game on the offensive side of the ball. Can Leonard Hamilton have a magical degen tournament run?
Prediction:
I know, I know why would I think that a team that is favored to win the game could actually cover despite underdogs going 9-1 in the tournament thus far? Well it's because Leonard Hamilton and Florida State matchup well against this Texas Tech team. Good guard play can beat the Red Raiders stifling defense. Take FSU -3
Houston @ Seton Hall
Spread: Seton Hall -4
Total: 83.5
April 3rd 7pm PST
This game is one that I've had circled since first seeing the Degen Madness bracket. Yes, Seton Hall might have the best player in the country in Myles Powell but this Houston team came on late under f0rmer Oklahoma Sooner head coach Kelvin Sampson.
The Cougars are led by three guards who can light it up. Caleb Mills, Quintin Grimes & Nate Hinton combine for 36 points per game. That's not it though forward Fabian White Jr. can play ball too averaging 9 points per game and 6 boards. Off the bench they have another guard who can score in DeJon Jarreau who also averages 9 points per game.
The Cougars are also the 7th best team in the nation at grabbing offensive rebounds. Seton Hall will need to box out and limit the quality three point shots. As a whole the Cougars a top 30 team in rebounding and blocks. Those are the little things that can certainly lift a underdog to a big time win.
Seton Hall has been one of the best teams in the nation the entire 2019-20 season. They won a share of the Big East title and have maybe the best player in all the land in guard Myles Powell and Kevin Willard knows how to use him. Powell averages 21 a game and is a big game ballplayer. He's hit countless game winners and big shots in his four years with the Pirates.
Powell isn't the only good scorer's on Seton Hall. Fellow guard Quincy McKnight and forward Sandro Mamukelashviki combine for 24 points per game and and nearly 10 boards. Don't sleep on guard Jared Rhoden as well. Rhoden is a key Pirate player averaging 9 points per game and almost 7 boards a game. Together their offense is a defensive nightmare for any team in the country. If Houston can somehow force Powell to show a low percentage than the Cougars will have a shot to pull the upset.
Prediction:
Seton Hall just has too many horses. Houston should fight till the final minutes but the Pirates will prove to be too tough at home. Seton Hall sinks a couple late free throws to give the Pirates the cover.