Successful professional golfers have some of the most lavish and lucrative lives of anyone. Not only do they play golf for a living, but they receive and exorbitant amount of money to do so. And with that tremendous wealth come purchases of large, luxurious items to make their homes and life as comfortable as possible.
But like billions of people around the world, their lives have been put on hold as well. Barred from the golf course, they're forced to seek out all their happiness at home. The difference between them and us, however, is they have many more extravagant toys and activities at their disposal. They're not just rewatching Breaking Bad on Netflix like many of us are left with.
So who's living their best life under quarantine? Here's a handful of golfers you'd most want to be stuck in quarantine with.
Tiger Woods
Who better to be holed up with during a quarantine than not only the most rich and famous golfer, but one of the most powerful athletes in the world. The amount of golf related activities that would be available to you at Tiger Woods' mansion are endless, complete with an indoor golf simulator and a four hole practice facility in his backyard.
He also has a world class gym, indoor and outdoor pools, a large yacht he can take out on the inter coastal and a large home theater system.
But for any of you that also happens to be a video game junkie, Tiger Woods shares your passion! In an interview with Stephen Colbert in 2016, Tiger said that one of the only things he was left to do while rehabbing from back surgery was playing Call of Duty for 8 hours a day. You and him can team up to ruin dozens of 10 year old's nights over and over again, and he's surprisingly a good trash talker to give you a good chuckle at their expense.
With all the activities at his disposal, it'll be quite difficult to be bored while holed up at Tiger Woods' abode.
Phil Mickelson
If you're a degenerate gambler who's crestfallen in a world with only pencil necked dweebs playing RPG games to bet on, you'll find comfort to know that Phil Mickelson shares your misery.
You're probably already aware of how big of a degenerate gambler he is, but if not here's a reminder of nine infamous gambling stories from Lefty.  Not only can you revel in many of the same luxuries at the Tiger Woods estate as you can at Phil's, quarantined with him for months on end would give you the opportunity to scratch that gambling itch in bizarre ways.
He'd come up with all sorts of things to bet on with you, and he probably would bankroll you with a hefty sum of cash just to make it worth this time. Maybe he pulls out a deck of card and plays a $500 game of war with you. Or bets you $1,000 that you can't drink a gallon of milk in an hour. Or sets the over/under on number of overnight coronavirus deaths at 750.5. For those of you who can't stand to go through life without action on something, Phil is the perfect partner in crime.
Jim Nantz
Nantz isn't a professional golfer, but he's by far the most notable golf play-by-play announcer in the game. Jim Nantz is as synonymous with The Masters as the Azaleas on the 13th hole at Augusta. But Jim Nantz still makes this list based on a special feature he has in his backyard:
I don't know about you, but I sure wouldn't get tired of having Jim Nantz do play by play of me attempting to stuff it close on an exact replica of the infamous 7th at Pebble Beach. Or, hell, just having him do play by play of all my daily activities while quarantined at his house.
As an added bonus, Nantz's home is just a short golf cart ride to the actual Pebble Beach Golf Links. While the club is currently closed due to the coronavirus outbreak, I'm sure his well placed connections could get you two on there at a moment's notice for a proper social distancing round of golf at one of the most famous golf courses in America.
Miguel Angel Jimenez
How could one not want to be quarantined with the self-titled "Most Interesting Man In Golf"? Jimenez has a very underrated golf career, but what he'll most be remembered for is his love for all the consumable vices in life.
On his website, he lists one of his favorite wines as a bottle of Roda I, a Spanish red with an average price of $99 and depending on the vintage as high as $1,000. His favorite cigar is a Cohlba Siglo VI, one of the finest Cuban cigars in the world that goes for just under $1,000 for a box of 25. And he enjoys both over dining on some of the most decadent cuisines imaginable.
Fine wine. Fine food. Fine cigars. All will be at your disposal when quarantined with Miguel Angel Jimenez.
Ian Poulter
For most American golf fans, the name Ian Poulter is synonymous with Ryder Cup failures for the stars and stripes. While Poulter is a solid player on both the PGA and European Tour, his most famous on-course feats have come at the Ryder Cup where he holds a career record of 14-6-2. Between his propensity to stick it to American golfers, his obnoxious attire and the arrogant way he carries himself through life, Poulter may wear on you very quickly should you find yourself in quarantine with him.
But for those of you who happen to love fancy sports cars, you may be able to look past his grating personality with his large collection of Ferrari's. While it's encouraged to avoid large groups of people, driving past them in an Italian Sports Car Bubble at 140 MPH is certainly a great way to practice social distancing.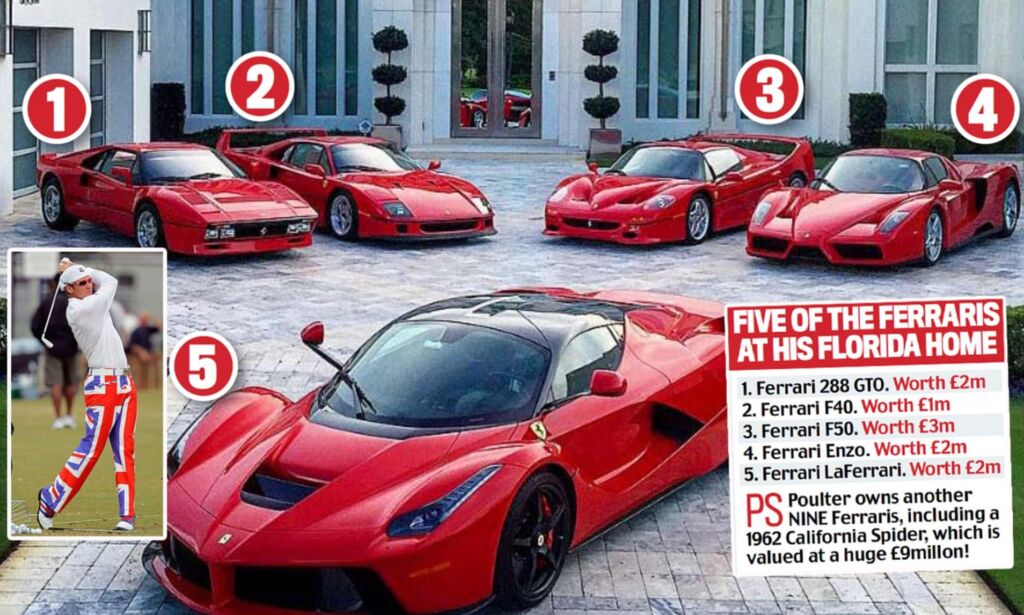 In case Poulter doesn't have a set of rain tires to take the Ferrari's out for a spin when the weather is bad, Poulter also has a state of the art driving simulator in his home to satisfy your need for speed.
And In Case Things Go Really Bad…
Patrick Reed – Given Reed's propensity to cheat and steal, he's the perfect comrade to go scavenging for supplies in whatever means necessary should the coronavirus turn society into all out anarchy.
Bryson DeChambeau – Though there are questions about how much of a scientist he truly is, I'm sure he could fashion together a gas mask out of spare parts around his house should the coronavirus render our atmosphere inhospitable for breathing.
Jason Day – While many criticize him for being a bit of a drama queen for all the illnesses and injuries he claims to have, you can bet this likely germaphobe and hypochondriac has an endless supply of medical masks, Clorex Wipes and disinfectants for years to come.