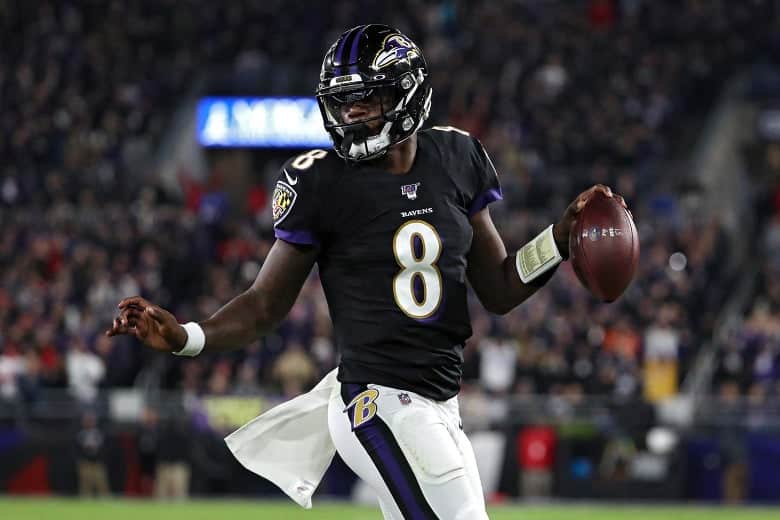 To put it mildly, it's been quite the active week for NFL teams in search of new quarterbacks. A quick recap: Tom Brady is now a Buccaneer, Phillip Rivers is an Indianapolis Colt, Teddy Bridgewater is a Carolina Panther, Marcus Mariota is a Raider, and Nick Foles is a Chicago Bear. Some QB's still in limbo are Cam Newton, Jameis Winston, Derek Carr, Andy Dalton, and Joe Flacco. So how does this affect us? Well, it's pretty cute if you still root for your favorite NFL team, but if you are anything like me, all you care about is the impact this will have on Fantasy Football. With about 6 months until opening week, here are my way too early fantasy football quarterback rankings:
The Top Tier (Cream):
1. Lamar Jackson (Balt) – this dual threat dynamo burst onto the scene last year and carried many a fantasy football teams to championships. If you were lucky enough to get him cheap last year, don't expect it again. He'll be a first round pick in most leagues. He averaged 6 more points per game than the second highest QB last year.
2. Patrick Mahomes (KC) – ShowTime Mahomes missed a couple of games last year due to injury and didn't quite provide the return on investment many fantasy owners were expecting. Now a Super Bowl MVP, Mahomes is once again expected to put up huge #'s in 2020 and shouldn't disappoint. The opportunity to play a full season with star WR Tyreek Hill, who was suspended for a portion of 2019, will help the process.
The 2nd Tier (Studs):
3. DeShaun Watson (Hou) – In 2019, DeShaun Watson averaged the second highest amount of fantasy points per game from the quarterback position. If it wasn't for the mind-boggling trade of his best weapon (and one of the top WR's in the NFL) DeAndre Hopkins, Watson would be the third QB in the top tier. Losing a receiver of that caliber will drop Watson's average by a point or two and slides him down into tier 2.
4. Russell Wilson (Sea) – While Russ isn't a sexy pick anymore, if you want a top 10 quarterback year in and year out, he's your guy. With a solid supporting cast and a stable organization, Wilson should do what he always does – put up lots of fantasy points.
5. Kyler Murray (AZ) – Welcome to Arizona, DeAndre Hopkins. Last year in his rookie season, Kyler Murray, put up the 7th most fantasy points for the quarterback position. With a year under his belt, and one of the best WR's in the league now on his side, expect his numbers to increase and possibly break into the top 5. He'll be a hot commodity come draft time so just make sure you aren't reaching up too high for him.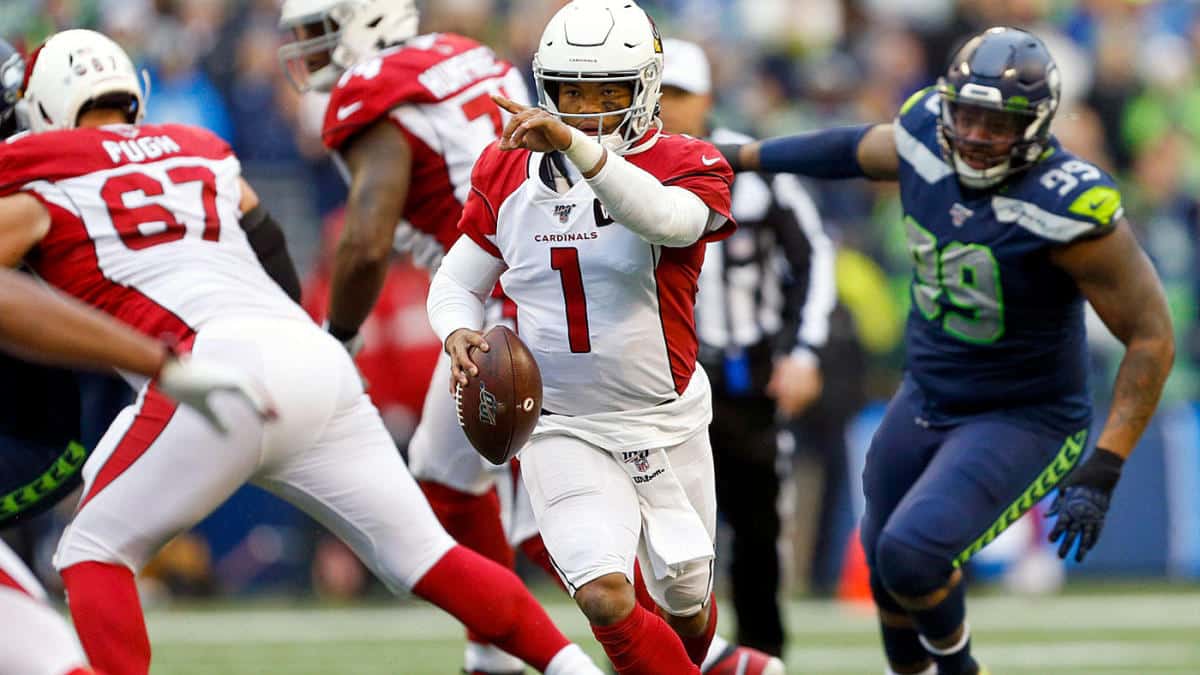 The 3rd Tier (Rock-Solid Guys):
6. Dak Prescott (Dal) – Even with having the full name of Dakota Rain Prescott, the Cowboys QB made significant strides in his 4th year in the league. With Amari Cooper re-signing, Ezekiel Elliott not holding out, and a solid offensive line returning, there isn't any reason why Prescott can't duplicate his 2019 numbers. Chances are some of the quarterbacks listed beneath Dak on this list will be drafted ahead of him, so there's some value here.
7. Josh Allen (Buf) – A poor man's Lamar Jackson, Josh Allen is a dual threat QB who picks up fantasy points on the ground and through the air. I'm not sure that he's all that good of a quarterback but the man puts up numbers. He finished last year with the 6th highest amount of points for the position and the Bills have added Stefon Diggs who provides a legitimate threat to take it to the house on any play. Allen is probably still somewhat underrated by the fantasy community, but I'd certainly expect another top 10 finish in 2020.
8. Aaron Rodgers (GB) – With the exception of one monster game against the Raiders where Rodgers threw for over 400 yards and 5 TD's, 2019 was a pretty ho hum year for A-Rod's fantasy production. Without DeVante Adams for a good chunk of the year, the Packers options on the outside were almost laughable. Plus, new coach Matt LaFleur seemed more interested in building a strong running game than tossing the ball all over the field. Bottom line – Rodgers is no longer an elite fantasy quarterback but he's a reliable starter year in and year out.
9. Matt Ryan (Atl) – 2019 was another strong year from the veteran quarterback from Boston College. At this point in his career, we can safely assume Ryan will fluctuate anywhere between 5 and 15 in annual fantasy football quarterback rankings. He's a safe pick to produce dependable results.
10. Carson Wentz (Phi ) – After a slow start to the year dealing with nagging injuries, Wentz turned things around over the last few weeks while spearheading Philly's playoff push. Although he still needs more weapons around him, he ended up finishing tenth in total points and should be able to at least replicate last year's numbers, if not improve upon them.
The 4th Tier (Last of the Starters):
11. Drew Brees (NO) – Old reliable here. While Brees missed a handful of games last year, his per game average was still top 10 for the position. His arm isn't what it once was but he has weapons at his disposal and plays in a system he knows like the back of his hand. Although at his current age he may lack upside, he's a steady quarterback and a safe option. He's also been falling down draft boards year after year so you should be able to snag him on the cheap. One of these years he'll fall off the cliff, but my bet is he has another productive season or two in him.
12. Tom Brady (TB) – The brand new Tampa Bay Buccaneer. While it'll be strange to see #12 in red, orange and pewter, he'll enjoy arguably the best set of skilled position guys in the league. In addition, he'll be playing in the QB friendly offense designed by Head Coach, Bruce Arians. The only question is if the Goat has anything left in that right arm of his. Overall, I expect a solid year. He won't throw for the amount of yards or TD's that Winston did last year, but the amount of interceptions thrown will obviously be much lower.
13. Phillip Rivers (Ind) – Old Man Rivers has been Mr. Steady having started over 200 consecutive games. However, towards the end of 2019, it had become apparent that his run with the Chargers was coming to an end. Some fresh scenery in Indianapolis should serve Rivers well. To begin with, the Colts offensive line is leaps and bounds better than what the Chargers were putting out on the field each week. Indy also has a much-improved defense, a solid group of talent for Rivers to distribute the ball to, and a coaching staff that will put him into better situations. I believe Rivers still has a couple years left in him and all things are pointing to a solid year in 2020.

The 5th Tier (Quality Backups):
14. Matt Stafford (Det) – Look, the Lions are a mess. The organization, the coaching staff, the defense, you name it. While that may be the case, Stafford still averaged over 21 fantasy points a game which was the 4th highest in the league. He missed the second half of the year due to injury but should now be fully healed. I don't like Stafford as a fantasy starter, but the Lions will be playing from behind in most games which should afford him the opportunity to throw often and put up some production.
15. Baker Mayfield (Cle) – Who else got burned by Baker last year? Yea, I listened to all these so-called "experts" that were touting him as a potential top QB and unfortunately, I grabbed him early in one league. I feel like I could make some money selling "Burned by Baker" t-shirts. Anywho, thankfully for Browns fans, the Freddie Kitchens experience as head coach is over which can only be viewed as a positive for Mr. Mayfield. While it remains to be seen just how good of a quarterback he is, I believe his production improves in 2020. He's got weapons all around him so it's now or never.
16. Ben Roethlisberger (Pit) – Over the last five years, Big Ben has only played one full season. At this age, and with his injury concerns, he should no longer be a starting fantasy quarterback. However, that doesn't mean he is without value. Roethlisberger can still be used in spot situations based on matchups and preferably when the Steelers are playing at home. No other QB's fantasy #'s fluctuate between at home and on the road more than #7.
17. Ryan Tannehill (Ten) – Mr. Game Manager, Ryan Tannehill, just signed a nice contract to keep him around Nashville for the foreseeable future. Much of the Titan's success last year can be contributed to Tannehill coming off the bench and playing good football. However, that doesn't always translate into fantasy production. At this point, he's nothing more than a steady fantasy backup with a low ceiling.
18. Jared Goff (LAR) – In 2019, Goff finished as the 15th best fantasy quarterback. While he may not be all that good, he is locked in as a starter on a decent offense that will put up some points. As a backup he has some value and can be played based on the matchup.
19. Tyrod Taylor (LAC) – I've always been a Tyrod Taylor fan and I believe he'll reward the Chargers with a quality season. To date, LAC has not added any other veteran quarterbacks to the roster which should be viewed as a vote of confidence for Tyrod. On a team with a shaky offensive line, his mobility will be a better fit then the statue-like Phillip Rivers was. I'll be targeting Taylor as a backup this year.
20. Kirk Cousins (Min) – While terms like overpaid, the epitome of average, and uninspiring are all used to describe Kirk Cousins, he is a starting quarterback that isn't facing competition for his job. He finished up 2019 with the 13th highest fantasy points and while the loss of Stefon Diggs will hurt, he should have another solid year placing him anywhere between the 10th and 20th QB. I'm betting it's closer to 20th than 10th.
The 6th Tier (I Hope My Starting QB Doesn't Get Hurt Guys):
21. Sam Darnold (NYJ)
22. Teddy Bridegwater (Car)
23. Daniel Jones (NYG)
24. Jimmy Garrappolo (SF)
25. Gardner Minshew (Jax)
26. Jarret Stidham (NE)
27. Josh Rosen/Ryan Fitzpatrick (Mia)
28. Derek Carr / Marcus Mariota (Raiders)
29. Nick Foles / Mitch Tribisky (Chi)
30. Andy Dalton/Joe Burrow (Cin)
31. Dwayne Haskins (Wash)
32. Drew Lock (Den)
The players in this final tier are either young and unproven, currently facing competition, in bad fantasy situations, and/or some combination of any of the three. That doesn't mean some of these guys don't have promise. Can Daniel Jones build off a rocky rookie season and become a relevant fantasy option? How will Teddy B do down in Carolina? If Stidham gets the start in New England, what kind of production can we expect? Also, not on the list above is Jameis Winston and Cam Newton. While we wait to see where they land and learn more during mini-camp and the preseason, expect these ranking to be shuffled some.