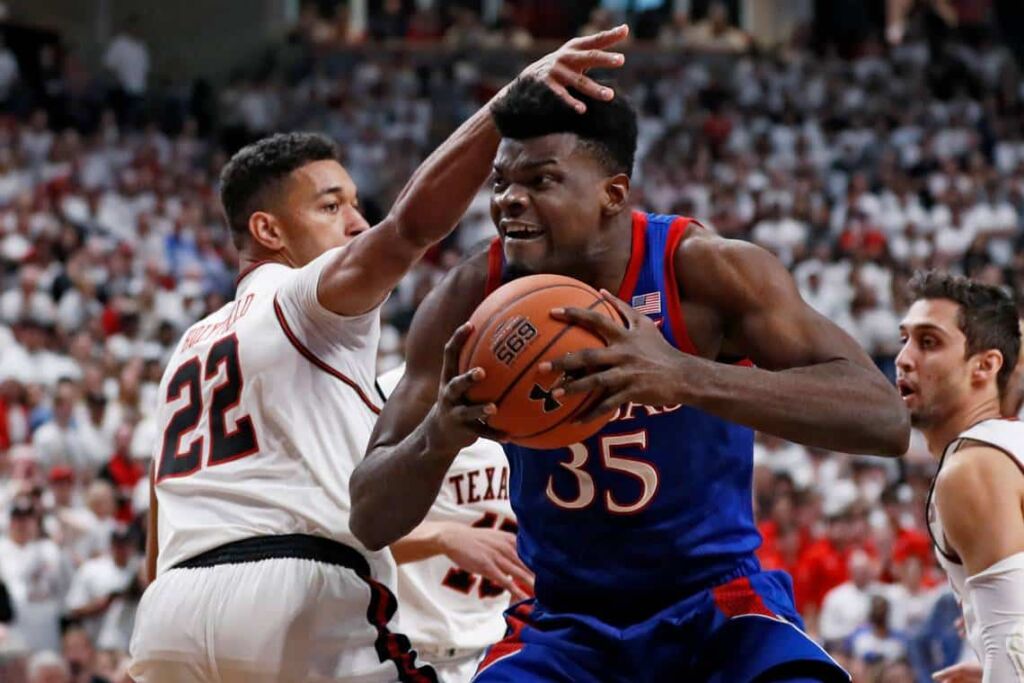 The Big 12 Conference still only has 10 schools but when it comes to a quality basketball conference they certainly fit that mold. The tournament will be held in Kansas City, Missouri so the Jayhawks may just have a slight home court advantage since their fans travel so well.
Reason to watch…
Kansas and Baylor have been the top two teams in the country for almost the entire college basketball season and just the thought of these two matching up one more time after having split the regular season should be enough for you to tune in. Both of these teams are talented enough to win this years national championship. Then there's last years national champion runner up Texas Tech who's fighting for their tournament lives but still appear to be a dangerous tournament team. Oklahoma & Texas have been playing good basketball to end the season. West Virginia is trying to re-establish itself after a terrible past couple weeks. Then you have the long shots like TCU, Kansas State, Iowa State & Oklahoma State who are dreaming of a magic Big 12 run.
The Bracket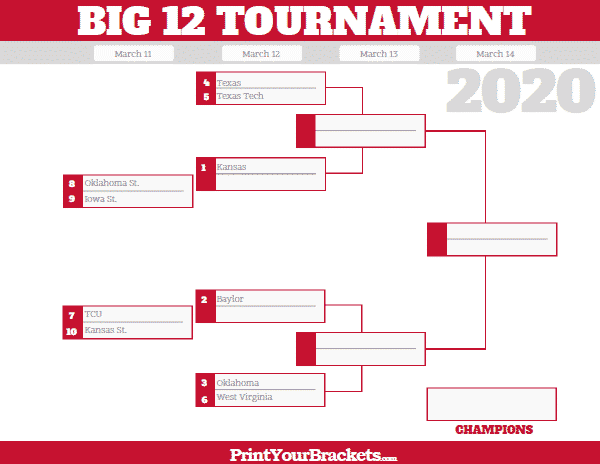 Favorite
Kansas -150
The Jayhawks are really the team to beat in all of College Basketball. Kansas is ranked in the top 10 in both offense and defense efficiency and if they win out the Jayhawks should lock up the number 1 seed in the field of 68. At -150 the value isn't great especially considering Baylor has already beat them once this year. Baylor seems to be headed in the wrong direction lately though so perhaps the Jayhawks don't even play Baylor if they get to the Big 12 Championship.
Contenders
Baylor + 260
The Bears were College Basketball's team to beat for a while there but the past couple weeks haven't treated Baylor great with losses to Kansas, TCU & West Virginia. Even when they won it wasn't super pretty with a overtime win against Texas Tech. They do still however have the talent to win this tournament.
West Virginia +600
West Virginia head coach Bob Huggins will have his Mountaineers playing some of the best defense in the country that we will always know. It's the offensive side of the ball that really sparks concern. West Virginia is currently 228th in offense and well defense may win championships but at the same time you got to score the ball if you want to win the game. The Mountaineers have been known to have long scoring droughts that they'll certainly need to avoid if they want to advance.
Texas Tech +800
The Red Raiders made it all the way to the national championship last year before losing in overtime to Virginia. While most of that team is gone the mindset and approach will still be the same. Texas Tech has a terrible overall record against quad 1 opponents but that stat can be misleading. There were plenty of close losses in there and well Texas Tech is young and improving with almost every game. The Red Raiders will need to learn how to win some of these close games at some point.
Darkhorse
Oklahoma +1500
Lon Kruger and the Sooners have been playing much better ball of late and short of their last second loss to Texas you could argue they have been playing the 2nd best ball in the conference (Kansas being at the top). Kruger is a underrated coach who gets the most out of his teams. Plus they spread the ball around well. Forwards Kristian Doolittle and Brady Manek complemented by guard Austin Reaves make it tough for any opposing defense.
Pretenders
Texas, TCU, Oklahoma State, Iowa State & Kansas State.
Prediction
I hate to say it but I think your best play is going chalk and taking the Kansas Jayhawks. Kansas is the one team I think is far and above the rest in college basketball. Sure, Texas Tech gave them a scare a few days ago and maybe the Red Raiders could do that again in the 2nd round but with the crowd being in Kansas's favor I'd say it's a good bet to ride the Jayhawks despite the odds.