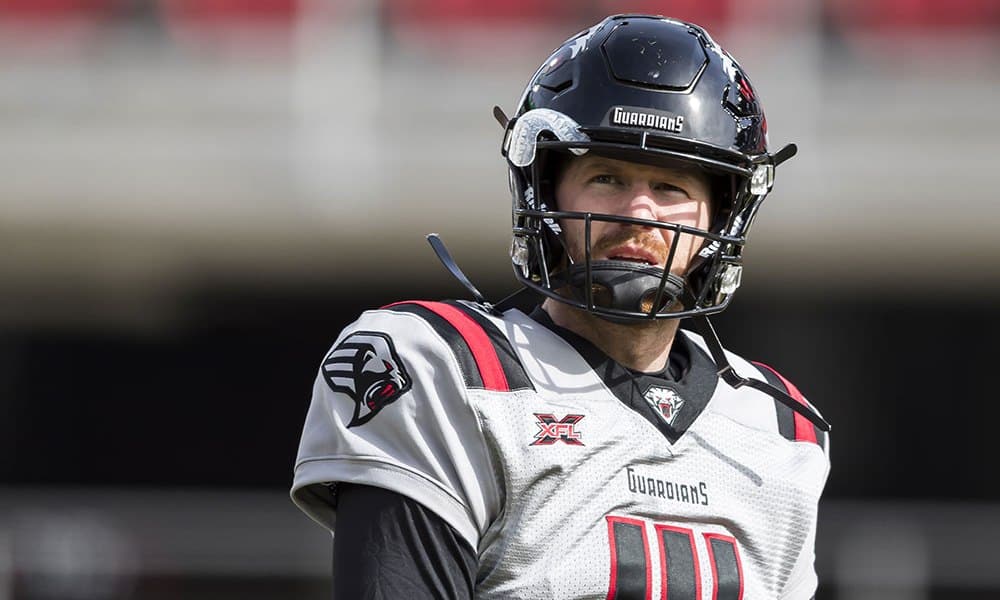 I enjoy statistics as much as the next guy, but sometimes as a bettor, I'm concerned that with all the advanced data, algorithms and projection models we're forgetting that betting on sports should be fun. Honestly, that's my favorite part of NFL Sundays: having a few beers at 9:30 am (it's not problematic if pre-game show is on) and tossing out a few long shot prop bets or crazy parlays that really help scratch the itch in my degenerate brain. The NFL is gone, but that doesn't mean the fun has to be. Welcome to Sunday Funday.
1. Four Team XFL Parlay (Guardians +10, NYG vs STL U40, Wildcats +290, DC vs LA U40)
Why It's Fun: I mean, it's a four team parlay in the XFL. What more do I need to say? If it doesn't hit, there's also something really fun about saying "I got screwed by the Wildcats!" Normally unders wouldn't qualify as a "fun" bet but these totals have been comically high, and I continue to captain the Team All Unders in the XFL. Plus, Matt McGloin gave us the funniest moment in the XFL so far, and hard not to root for that guy, who is still starting even after giving this sideline interview.
Matt McGloin is…not happy

📺 @ABCNetwork
🖥 https://t.co/P39leRxPZY pic.twitter.com/nsON8nPoJK

— XFL (@xfl2020) February 15, 2020
Why You Should Bet It: The Guardians are coming off a shut out, and I always like taking a dog catching a big number after getting blown out. The DC defenders played two home games, and now have to travel to L.A. for their first road game. Josh Johnson looked pretty good in the second half, and I can confirm that L.A. has Wildcats fever after my recent trip to Dick's Sporting Goods where they were selling Lakers, Clippers, Rams and Wildcats gear. (No Chargers gear was for sale R.I.P.)
Payout: +2600
2. Indiana (-1)
Why It's Fun: Penn State basketball is ranked in the top ten for only the second time ever, and you know Indiana is going to enjoy taking down a top seated conference rival. Rooting for home dogs is always a real joy in college sports and this year in basketball has been full of them. Plus, I'm genuinely curious to see if upsetting a 9th ranked team is "storming the court worthy" which would be hilarious as they're a one point favorite.
Why You Should Bet It: Indiana has won two of their last three, including a road win against Minnesota and a twelve point win against 20th ranked Iowa. Maybe burying the hatchet, or folding chair, with former head coach Bob Knight was just the thing this Hoosiers team needed to get their home mojo going.
Payout: (-110)
3. Unions Six Nations Rugby – Ireland ML
Why It's Fun: This game kicks off (tips off? scrums off?) at 7am PST which means I get to set an alarm for gambling. Much like the World Cup or the NFL games in England, there is just another level of comical degeneracy waking up pre 7am to watch your bet. Since I'm rooting for Ireland, only fitting to pair it with some Irish coffee. There's also no other rush that compares to the rush of betting on a completely random sport thousands of miles away where you're not really clear on the rules.
Why You Should Bet It: England has been solid at home in Twickenham however one of the teams that has given them trouble is this Ireland squad. Ireland won 24-15 in 2018 and more recently they're coming off back to back wins against Scotland and Wales. Motivation shouldn't be a factor, as any Irish man relishes an opportunity to take out a Brit.
Payout: (+225)
4. WGC Round Four Matchup – Justin Harding defeat Tommy Fleetwood
Why It's Fun: Maybe you forgot to put in your DFS lineup for WGC, or maybe all of your to win prop bets have been eliminated. Either way, the Masters is fast approaching, and you need to get your golf gambling muscles properly warmed up for Augusta and the long summer ahead.
Why You Should Bet It: This bet is just based about value, Harding is coming off of a 67 and Fleetwood is coming off a 70 for their third round in the WGC. It's not just a one round fluke either. Harding has the same number of birdies 12 as does Fleetwood, and is getting disrespected as a nearly 2:1 dog at this price.
Payout: (+180)