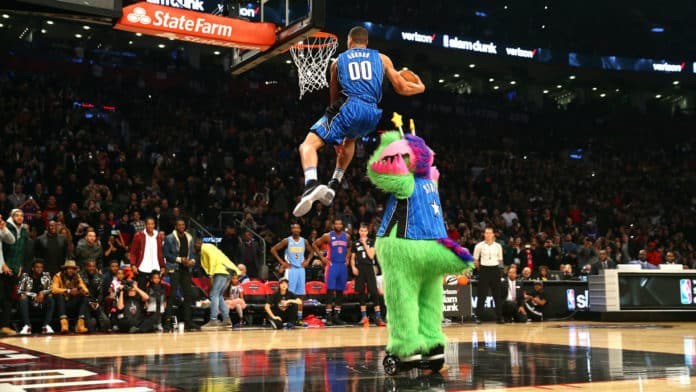 Right when you think you get a wagering break coinciding with the NBA's time off, The 35th AT&T Slam Dunk Contest gives us gambling degenerates, another opportunity to bet.
This year brings us a mixture of old faces with some new dunkers in a contest which many believe has a wide-open field. US-based books aren't allowing any bets on the contest so the offshore odds will vary.
Here is a list of winners since we last saw "Superman" Howard take the trophy home.
2008 – Dwight Howard
2009 – Nate Robinson
2010 – Nate Robinson
2011 – Blake Griffin
2012 – Jeremy Evans
2013 – Terrence Ross
2014 – (George/Ross/Wall)
2015 – Zach LaVine
2016 – Zach LaVine
2017 – Glenn Robinson III
2018 – Donovan Mitchell
2019 – Hamidou Diallo
The Favorite: Aaron Gordon +150
The contestant with the shortest odds and the fan favorite is the 2016 runner up of what many call the greatest Dunk contest of all time, arguably.
Now the Orlando Magic's forward makes his return in search for what he missed and believes is his. In the insane Head to head matchup with eventual winner Zach Lavine, Gordon threw down three 50 Point scores and still, it wasn't enough after Lavine defined gravity leaving judges in amazement.
While many have him penciled in as the winner in his 3rd appearance, he followed up the runner up performance with not making it out of the first round the following dunk contest. In what I'm predicting is his last chance to get the honors, the fans seem to agree with the odds.
"Hopefully I can make it to the big game on Sunday eventually," he told TNT. "I'm saving all of these dunks after this. This is it because I do want to get out of that, just being known as a dunker. My focus after this one is going to be trying to make it to [the All-Star game]."
Derrick Jones  +150 
Another familiar face to the AT&T Slam dunk competition is the 2017 runner up. Looking to become the first Heat player to win it since "Baby Jordan" Harold Miner in 1995, the 6'9 forward knows what it takes to win a dunk contest. In 2015 he won the High School Dunk Contest with this crazy performance.
From G League to Dunk Contest, the first to ever do it in the same season, "Airplane Mode" looks to take flight in the United Center.
Pat Connaughton +400
The Great White Hope or Hype, whatever the case, the Bucks version of a white man can jump gets the call after Ja Morant declined to be in the event. If you go back to his days at Notre Dame, Connaughton has been throwing down jams for years and he might fly under the radar with the other 3 names being more common in dunk discussions.
"I know, if I don't show out, I'm kind of letting people down," said Connaughton on his recent dunk contest support. "I wouldn't say it's pressure; it's fun. I've always took pride in my ability to dunk, so it's fun that my athleticism is getting noticed, it's fun that people are starting to see it, it's fun that the dunks are getting some recognition finally."
Connaughton holds the second-highest max vertical  NBA draft combine history at 44 inches in 2015. Check it out
Dwight Howard  +500
The underdog, Old yeller to be exact, and if that deems to be the case I pray for his health come Saturday night. Superman will need more than some superpowers to get back to his 2008 form. Can he still be explosive after all the back injuries? What does he have planned new that he hasn't done before as a big man? These are things that leave me in doubt about his chances come Saturday night.
Does this look like a man that's prepared for war? I'll leave that decision to you.
"This is Dwight Howard aka Superman and we back in the dunk contest!" pic.twitter.com/Om8x34aDgq

— Ballislife.com (@Ballislife) January 22, 2020
Davis Bertans wins 3-Point Contest  +360
Derrick Jones  +150  Dunk winner
---
Check back for my official picks before Saturday night. Find me @jerryboknowz on twitter