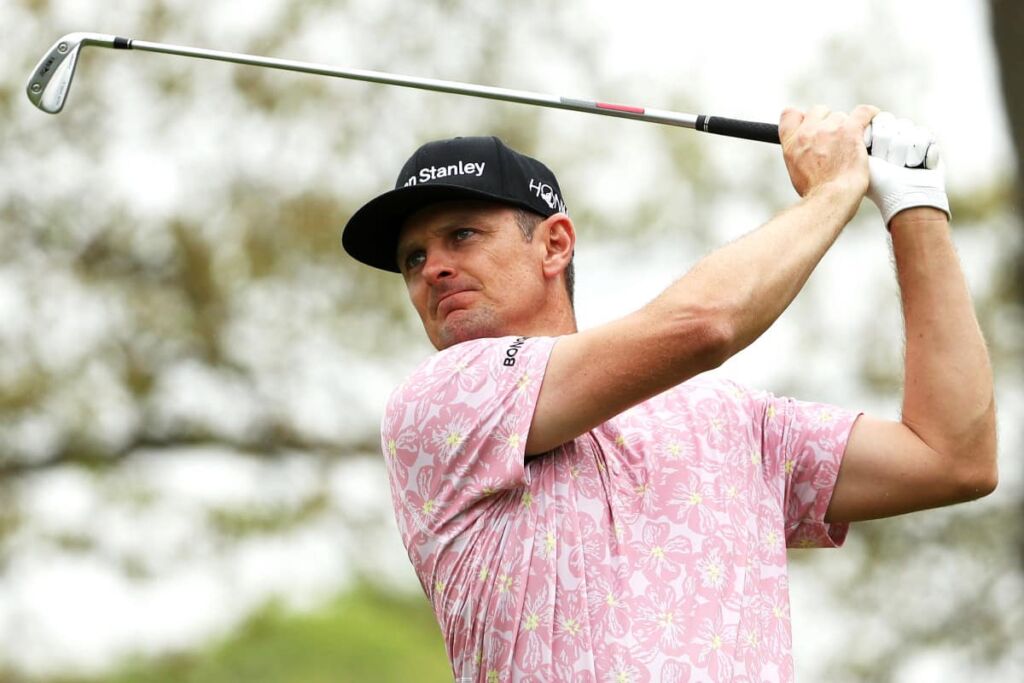 For those who missed it, please check out the 2020 Genesis Invitational Preview and Betting Strategies on what types of golfers to target this week for your bets.
With that in mind, here's who I like this week at Riviera Country Club (with odds courtesy of MyBookie.ag):
Pre-Tournament Futures Bets (with Top 10 Prop Odds)
Tiger Woods – 17/1 (+150): A few weeks back our very own Sean Green put out a video on tips for how to bet golf, and the first thing he said was betting on Tiger Woods is normally a fool's errand. The public bets so much on him and the books are so scared of the massive liability that his odds are always higher than what it should be. Often there's very little value in betting on him. This is a take I 100% endorse
So when I opened up MyBookie this week I was expecting Tiger's odds to be around 10/1 or 12/1, even despite some shaky history at Riviera. He's playing excellent right now and he's hitting his irons the best of anyone in the world. That should be enough to scare the books to price him a lot higher than he should.
So when to my surprise I saw he was 17/1 to win this week, well, it's time to break a rule.
Why is he priced like this? It's probably because arguably the three hottest players in the world right now are all in the field. Jon Rahm, Justin Thomas and Rory McIlroy are all priced under 10/1 this week to make them very heavy favorites. And even though Dustin Johnson isn't playing all that great lately, he owns Riviera and is a higher favorite than Tiger is. Riviera also is one of the last remaining white whales for Tiger Woods, as he's never won there in thirteen career tries.
Given the state of his game right now, I don't see a reason why Tiger can't finally win at Riviera. His ball striking is great, his scrambling and putting is in good form, and he knows he doesn't have many chances left to get that elusive victory on one of the finest golf course in the world. The priorities for Tiger seems to be checking off unfinished business on his resume before his career is done, and winning at Riviera should be towards the top of that list. This is also one of the rare times you're going to get more than 15/1 on him when he's playing great. Take advantage of the price.
Patrick Cantlay – 20/1 (+185): Last week's T11 finish at the AT&T Pebble Beach Pro-Am was a little disappointing for Cantlay given his start to the tournament. Cantlay shot 66 at Spyglass Hill in his opening round of the tournament, which is a golf course that played the toughest all week and averaged about a shot over par for everyone who played it. That should have put him at a huge advantage to play the rest of the tournament on the much easier Monterey Peninsula and Pebble Beach, but he was only -1 for the remainder of the week.
Nevertheless, I still am bullish about his prospects for 2020 and his fit for this golf course. He's similar to Justin Thomas in that he does a little bit of everything well, and Riviera is one of those places that is a firm test of every aspect of the game. In addition, outside the majors this is going to be some of the lowest odds offered on him this year. It's a good price this week for the combination of his talent, his current form and his ceiling.
Xander Schauffele – 22/1 (+200): Xander should have two wins in 2020. He should have won the Sentry TOC but gagged it away on the 18th. He also probably should have won the Waste Management Phoenix Open as well. He was in a great spot after three rounds sitting three back of Finau and two back of Webb, and neither were very sharp on Sunday. But a final round 74 sunk Xander as he struggled with pretty much everything. That's one that got away from him as well.
He once again comes to a golf course that suits his game and has a great history at. In eight career rounds he's gained more than two strokes on the field per round. He has the length off the tee to have an advantage over the field as past champions have been. He excels on firm and fast conditions and he's a great ball striker. It's probably going to come down to his putting, which has been pretty shaky this year. I think he's overdue for a good putting week and if that matches up with his efficiency tee-to-green he could finally collect a long overdue win.
Adam Scott – 33/1 (+330): This is the first time we've seen Adam Scott in 2020, so there's some risk of rust negatively affecting his performance. With that said, Adam Scott crushes these West Coast Poa golf courses, including Riviera where he's gained over two strokes per round on the field in 40 career rounds. He's struggled on the greens since the anchor ban, but for whatever reason he feels right at home with his broomstick putter on these surfaces.
If he were coming into this tournament in so-so form I could understand why he's priced this way, but he played well over in Asia and Australia at the tail end of 2019 including his first victory in nearly four years at the Australian PGA Championship. He did struggle a bit with a squirrelly driver and hit some ugly duck hooks off the tee, but if that's worked out he's a legit threat to capture his second career win at Riviera.
Justin Rose – 40/1 (+400): Rose had a quick exit from Torrey Pines one year after winning there. He couldn't get things going on the tough South Course where he carded an opening 75 to put him out contention immediately. He played better on Friday on an easier North Course with a two-under 70, but he still missed the cut by two.
Despite that, his form heading into Torrey Pines was pretty good, and it's possible he was just jet lagged after playing in the Singapore Open where he finished 2nd to Matt Kuchar. He's still one of the most complete players in the game and has sneaky long length, and frankly his odds this week are a little disrespectful for him. He also has played Riviera well in the past as he's gained 1.23 strokes per round on the field in 40 career rounds and finished T4 in his last appearance in the event in 2017. I think Rose is primed for a bounce back and presents some nice long shot value to come away with the win.
Others to Consider (with Top 20 Prop Odds):
Collin Morikawa – 50/1 (+220): While not the longest player out there, one of these weeks he's going to fall into a victory with how good his ball striking numbers are. Morikawa has never played this tournament but I expect him to be in the mix towards the top of the leaderboard.
Cameron Champ – 110/1 & Matthew Wolff – 125/1 (+400 & +450): Given this stacked field I don't really expect a crazy long shot to win this week at Riviera. But if you were going to throw a dart on players 100/1+ it should be on players with elite length off the tee and can run hot with the putter. Both Champ and Wolff have this elite length and each have demonstrated big ceilings in their game when their putter cooperates.
Other Props and Matchups
Rory McIlroy Top 10 (-165) & Jon Rahm Top 10 (-120): Their pre-tournament odds are a little rich for my blood given the abundance of talent in this field. But both have been Top 10 machines and have all the shots and putts to put up a great performance at Riviera. Both of them have also gained more than two strokes per round on the field in their career at Riviera. Some books will only let you bet these individually, but if your book can let you parlay each I'd try and do that. That parlay would pay out close to +190 if each finishes inside the Top 10, which given their form and recent results seem like a pretty good bet.
Bubba Watson Top 10 (+200): He's getting a lot of buzz to win this tournament because it's an even numbered year and Bubba has won this tournament in each of the last three even numbered years (2014, 2016, 2018). I'm not going to go that far, but his recent form has me buying into a Top 10 finish at 2/1. Bubba's gained over 15.5 shots tee-to-green and close to 7.5 shots on the greens over his last two tournaments. All signs point to another great finish in Riviera.
Jordan Spieth Top 20 (+220): I'm not ready to call Spieth fully back, but I'm encouraged by what I've seen. Spieth has seen big improvements in his ball-striking numbers in 2020, as over his last seven ShotLink measured rounds he's gained 10 strokes on the field tee-to-green. He still is a wild card off the tee, but he's shown big improvements with his iron play. Amazingly, it's his putter that hasn't been firing on all cylinders, as over that same stretch he's actually lost three strokes to the field. It's not perfect, but it's a start. For now, I think I'm ready to go out on a limb and back him at +220 to finish in the Top 20 at Riviera.
J.B. Holmes Top 20 (+280): Another decent finish for J.B. on a poa annua golf course last week, and he still can't get much respect from the odds makers even coming into a tournament where he's the defending champion! Since coming back to his favorite putting surface to plum bob on he's gained 7.8 strokes on the field on the greens and returns to yet another golf course with poa annua that favors long hitters. Ride him with the Top 20 props until he lets you down.
Branden Grace Top 20 (+330): I was high on Branden Grace for Pebble Beach and he delivered a big stinker. I'll scale back my expectations for him at Riviera but still like him at this golf course. I like what I've seen out of his ball striking since last fall and he has above average length off the tee to have an edge at Riviera. His career high finish there is a T22 back in 2017, but given the resurgence in his form I think he can top that.
Paul Casey +1.5 Strokes over Bryson DeChambeau (-120): The results from last week look a lot worse for Paul Casey than what actually transpired. Casey was actually pretty good for the first three rounds before completely bombing out on Sunday with a final round 81. Casey has a decent track record at Riviera and I expect him to bounce back. As for DeChambeau, I gave him a chance in Phoenix to see how his body transformation translated to his game and didn't like what I saw, particularly with the decay of his iron play. While length does provide an advantage at Riviera, it is approach shots, scrambling and putting that creates the most dispersion of scores on the leaderboard and those aren't clicking for the new and improved Bryson. Give me Casey and 1.5 strokes head to head against him.
Charles Howell III +1.5 Strokes over Nick Taylor (-135): Hats off to Nick Taylor, who was in the biggest pressure packed situation of his career (save for his Mario Kart career) and was nails in tough scoring conditions at Pebble Beach for his second career win. Nevertheless, I think he's going to have a bit of a letdown after an emotionally and physically draining slog across Pebble Beach last Sunday. I wish he was paired up against a better ball striker in this matchup than Charles Howell III, but beggars can't be choosers. I'll take Howell and 1.5 strokes against Nick Taylor and hope Howell's ball striking can match his normally stellar short game and putting at Riviera.
READ ALSO
2020 Genesis Invitational Preview and Betting Strategies
2020 NBA All-Star Weekend: Saturday Betting Odds and Picks for Dunk Contest, Three-Point Contest, Skills Challenge