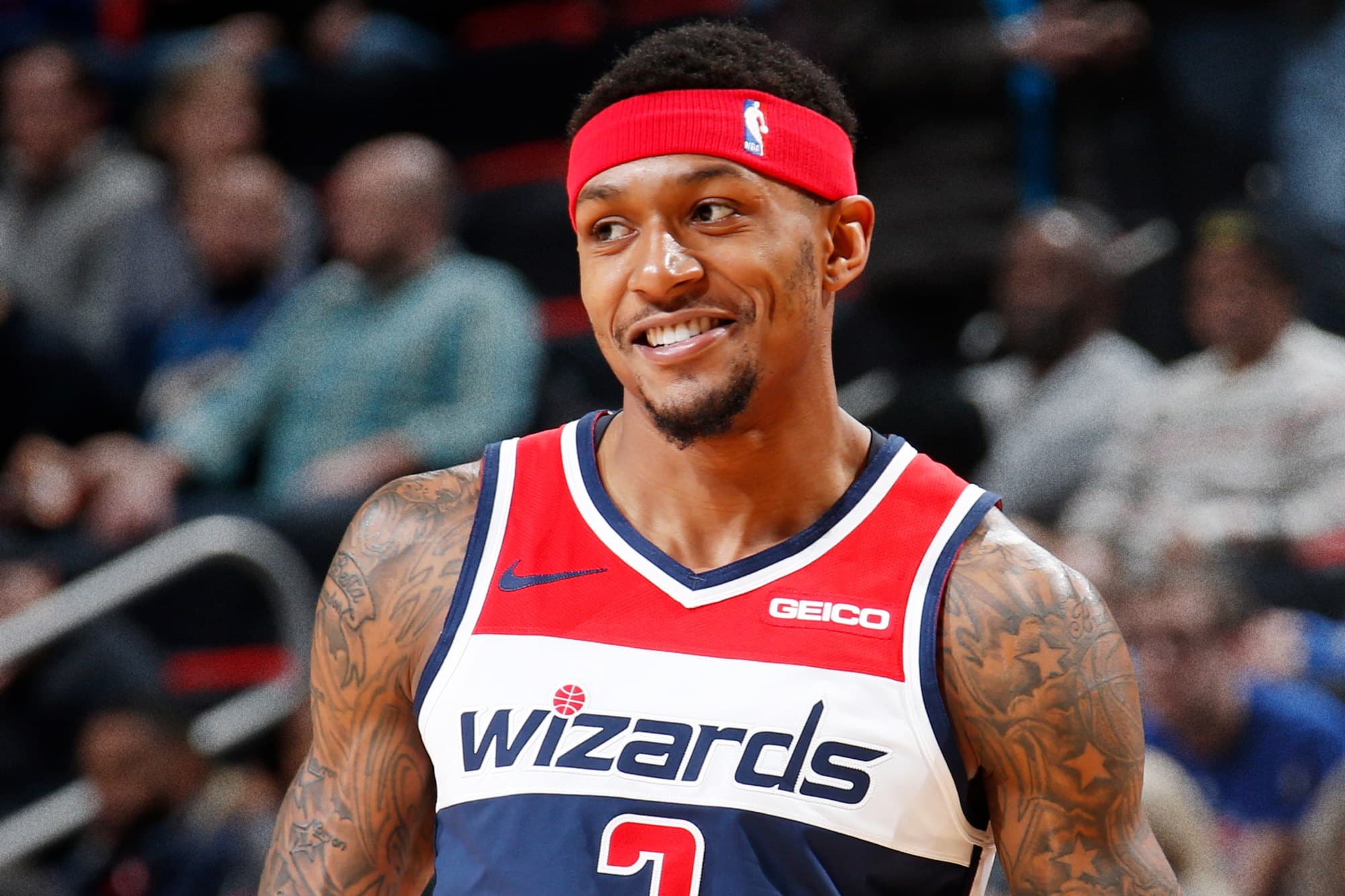 With a little over one month to make some fantasy player negotiations, season-long rotisserie NBA owners face the eleventh hour of the trade deadline with some instrumental decisions to make. And if you're among the playoff-hopefuls, you may be overlooking an abundance you possess at one category while having the assets to acquire the player package needed to fill your other categorical void(s).
Find The Right Match
Trades are an awkward proposition at times, in any fantasy sport, which is why it's best to preface any offer with a conversation if possible (as goofy as that may seem).
For example: if what you need in specific categories is locked down in one stud player on someone's roster, chances are they're rather fond of them too and you'll want to make sure it's even worth your time to begin with. If you don't hold a substantial piece to a category in need for a potential trade suitor, you're best spinning your gears elsewhere.
However, if you do discover an owner in your league who happens to be a fair enough "match" in value with pieces to exchange for, distinguish their untouchables first and proceed to gauge their barometer for fair trade among the attainable players.
Trade Targets Per Category (and Subcategory)
Points:
Points are the biproduct of a number of these first three major and Usage-related categories. The more players you have covering those three categories soundly, the likelihood that your Points category will follow suit. Onto the first of those metrics…
Field Goals (FG Made/Attempts, FG%):
FGM/FGA: Bradley Beal, Devin Booker, Donovan Mitchell
This trade approach is in pursuit if the high-Usage shooters, as this category directly correlates with Usage percentage. Prime candidates that cover this category would be Bradley Beal, Devin Booker, and Donovan Mitchell.
All three are in the top 20 players in Field Goal Attempts per game, all being 18.0 and above, with Beal having 21.3 FGA per game. In addition to this, each of their Field Goals Made per game averages are also in the top twelve in the league with 9.1 FGM per game and above (Beal 9.5 FGM/G). Points are also covered here by these three players, with 24.7 Points Per Game and above, and ranking them in the league's top 16 players in PPG average through this point in the season.
Since these guys get fouled often and are also great Free Throw % shooters, and naturally covering the Points category as well with all of these above stat categories, you'll want to ensure trade packages you make may include more than just one or two stat categories.
FG%: Rudy Gobert, Clint Capela, Bam Adebayo
This category will be often dominated by efficient Centers due to the obvious reason that they're [in most cases] directly within a few feet of the basket, along with the fact that many of them are not encouraged to take long-range jump shots. While some of these leading players don't specifically put up the number of raw points you may gain through a shooter, they should be dominators in other categories in order to compensate for the lack of production in the Points category.
Cases in point would be Rudy Gobert, Clint Capela, and Bam Adebayo (along with being among the tops in Rebound and Block categories as well). Rudy Gobert has a league-leading 68.3% Field Goal Percentage, where Capela follows closely with a 62.9% and Bam rocking a 58.6% for the season. They don't shoot nearly as often (therefore lacking in the FGM/A volume), but as stated,
Considering these guys cover multiple categories (Blocks, Rebounds included), you'll want to potentially propose a fellow stud player who covers several bases as well to bolster the surface-level appeal, but make sure that the categories this player covers are ones you can afford to lose.
Free Throw Percentage (FTM/FTA):
Devin Booker, Kyrie Irving, Chris Paul
My thoughts on the Free Throw Percentage category are that I want to also get the parallel benefit of another category that may or may not correlate directly with Free Throws. In this instance, I went with Assists as the accompanying category to use as example of trade focus.
With Devin Booker, Kyrie Irving, or Chris Paul, you get an 89.4 FT% and above while solidifying top 20 producers in the Assist category (by per game average). Now that Kyrie is healthier, you may be able to buy low on him, and possibly bargain him packaged with another player covering a need of yours (although Irving is a risky investment).
While you may be able to target a James Harden-type raw point dominator for the Free Throw Category (which would then cover your Points category), owners of that caliber of player may be more reluctant to negotiate based on namesake alone. A bargain may be slightly more achievable with one of the above players who may carry a blemish in one way or another in some owners' mindsets.
Three-Pointers Made (3PTM):
Zach LaVine, Kemba Walker, Buddy Hield
With the Three-Pointers Made category, I want to cover the correlating base category of raw Points along with this as much as possible. In the cases specifically of Zach LaVine, Kemba Walker, and Buddy Hield, you're looking at three similar tiers of high point production whom all rank in the top ten in the 3PTM category with 129 three-pointers made and above.
Along with this in parallel comes the natural benefit of raw point totals that rank them in the top 24 in Points Per Game for the season, and all three players providing high-ceiling games on a fairly regular basis.
Rebounds (REB):
Nikola Vucevic, Deandre Ayton, Hassan Whiteside
While the three previously mentioned players in the Field Goal Percentage category all blanket the Rebounds category line as compound value players, there are three others among the tops of the board-clearing measurement in Nikola Vucevic, Deandre Ayton, and Hassan Whiteside, who average between 11.1 and 14.0 Rebounds Per Game, which ranks top nine and above in the league currently.
At the same time the FG% strengths of post-masters Gobert and Capela are slightly higher, the FT% of these latter three candidates of note is a considerable improvement, from 74.3% up to 83.3% of Ayton (in contrast to 61.8% of Gobert). Also, the Blocks category is every bit as comparable (and more so in the sake for Whiteside, averaging 3.0 BLK per game).
Assists (AST):
LeBron James, Kyle Lowry, Bradley Beal
While the first two players in LeBron James and Kyle Lowry in this category would be no surprise to many, Bradley Beal may be viewed as simply a Usage-heavy stat line. But much like James Harden, this is a public misconception since Beal has been averaging 6.4 Assists Per Game (tied for 20th with Lonzo Ball).
Angling for Lowry and Beal would help in the Free Throw Percentage metric as compound value, but where LeBron lacks in FT% he more than makes up for in Rebounds (along with other categories.) With that in mind, when packaging a deal for the owner(s) of these players you'll at least want to make the effort to match in FT% while being inclusive of another dominant category in the first place.
Blocks (BLK):
Kristaps Porzingis, Brook Lopez, LaMarcus Aldridge
Although I covered several Blocking leaders who are leaders among other categories, these three in Kristaps Porzingis, Brook Lopez, and LaMarcus Aldridge may be much more attainable from their owners in your league. Everyone here ranks in the top twelve in the Blocks Per Game metric, with all three versatile post players averaging 1.8 BLK per game or higher.
Each of the three possesses considerable talent in other categories respectively (FT%, REB), with all three candidates being capable of shooting the three-ball as an added bonus (though not by a substantial margin compared to those thriving in that category).
Steals (STL):
Chris Paul, Jimmy Butler, Marcus Smart
The elusive category of Steals stems from every player position, from Andre Drummond to Jrue Holiday. But the three players in Chris Paul, Jimmy Butler, and Marcus Smart are all multi-talented at their positions, carrying potential for Points and Assists, along with Free Throw Percentage.
All three players currently rank in the top 14 in the Steals category with 1.6 STL per game or higher and should be reasonably attainable in standard size ten-team leagues (or should be depending on the owner).