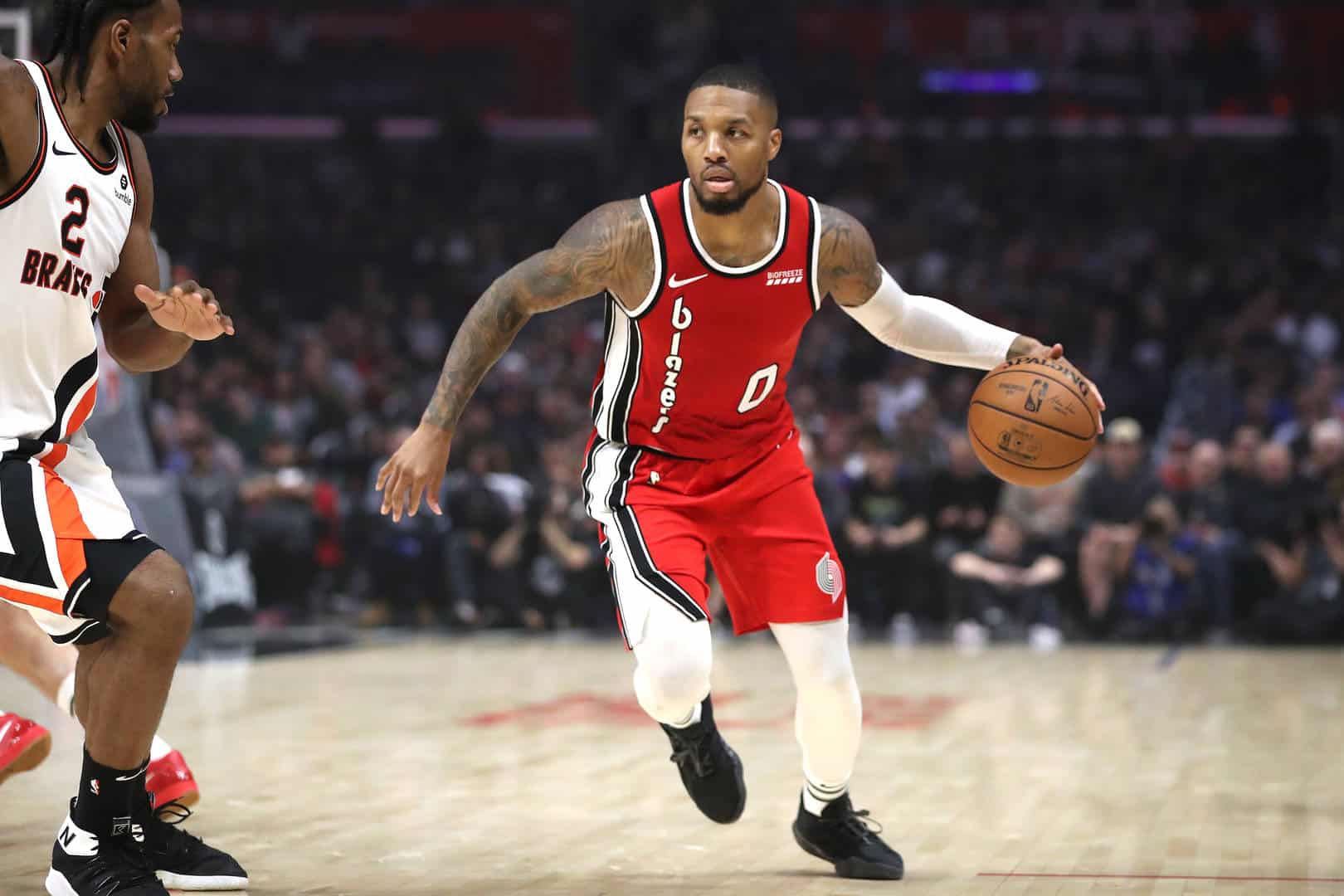 Happy Martin Luther King Jr Day!
There are some specific weekly-recurring slates across major Daily Fantasy Sports, like Monday NBA, which I emphatically look forward to (in the case of Monday NBA, particularly during the NFL season due to the dramatic tilting) and I wish we would implement the lengthier offering found on Martin Luther King Day on the regular. A full slate of NBA games starting early on a Monday, and finishing out with the standard 7pm-ish evening games, is like a cup of coffee (or caffeine of your choice) that gets an all-day fill-up and ends with a smooth dessert.
[And while I'm on the subject, I'd like to propose that on Monday Night Football going forward we have the two-game slate which begins at 4:30pm PDT and concludes with the 7:00pm West Coast game, every Monday. My most Bill Lumburgh-y "That would be greeeeaaat…"]
Since today is split into two major slates, with the 4:30 pm slate being the Main, I'm going to give my favorites for the early slate first and then detail some players for the Main slate serving (along with listing others).
The early slate has more games, so keep in mind while this list is lengthy, I wanted to include everyone who will be in my player pool to some degree. (Others may make it in via FantasyCruncher as outliers using high randomness; a personal preference)
EARLY Slate Guards:
James Harden, HOU ($11,000)
Russell Westbrook, HOU ($9,800)
Zach LaVine, CHI ($8,700)
De'Aaron Fox, SAC ($8,600)
Jimmy Butler, MIA ($8,300)
Kyle Lowry, TOR ($8,000)
Kyrie Irving, BKN ($7,800)
Shai Gilgeous-Alexander, OKC ($7,400)
Bradley Beal, WAS ($7,300)
Derrick Rose, DET ($7,200)
Devonte' Graham, CHA ($7,100)
Terry Rozier, CHA ($7,000)
Lonzo Ball, MEM ($7,000)
Chris Paul, OKC ($6,800)
Fred VanVleet, TOR ($6,700)
Markelle Fultz, ORL ($6,300)
Eric Bledsoe, MIL ($6,200)
Collin Sexton, CLE ($6,100)
Norman Powell, TOR ($6,100)
Kendrick Nunn, MIA ($5,800)
Evan Fournier, ORL ($5,600)
Terrence Ross, ORL ($5,400)
Goran Dragic, MIA ($5,300)
Elfrid Payton, NY ($5,300)
Ish Smith, WAS ($5,200)
Jeff Teague, ATL ($4,700)
Josh Hart, NO ($4,400)
Reggie Bullock, NY ($4,400)
Donte DiVincenzo, MIL ($4,100)
EARLY Slate Forwards:
Giannis Antetokounmpo, MIL ($11,200)
Brandon Ingram, NO ($8,800)
Kevin Love, CLE ($7,900)
Julius Randle, NY ($7,700)
Tobias Harris, PHI ($7,600)
Pascal Siakam, TOR ($7,500)
Khris Middleton, MIL ($6,800)
Danilo Gallinari, OKC ($6,600)
Jaren Jackson Jr, MEM ($6,200)
Aaron Gordon, ORL ($6,000)
Dillon Brooks, MEM ($5,800)
Marcus Morris Sr, NY ($5,600)
Svi Mykhailuk, DET ($5,500)
OG Anunoby, TOR ($5,500)
Sekou Doumbouya, DET ($5,300)
Jae Crowder, MEM ($4,900)
Brandon Clarke, MEM ($4,900)
Markieff Morris, WAS ($4,700)
Christian Wood, DET ($4,300)
Larry Nance, CLE ($3,900)
EARLY Slate Centers:
Andre Drummond, DET ($9,600)
Bam Adebayo, MIA ($8,500)
Nikola Vucevic, ORL ($8,400)
Jonas Valanciunas, MEM ($7,100)
Steven Adams, OKC ($6,500)
Tristan Thompson, CLE ($6,400)
Marc Gasol, TOR ($5,900)
Brook Lopez, MIL ($4,600)
Now that we got that out of the way, let's delve into the Main five-game slate!
Guard
Damian Lillard, POR ($8,400)
With backcourt-mate CJ McCollum sidelined with an ankle injury, Damian Lillard will be dominating the usage, along with conducting it for others on the Portland Trailblazers. Against a Golden State Warriors team that's been obliterated by the Point Guard position, Lillard is priced at a bargain considering I've seen him much more expensive with McCollum healthy.
Golden State is surrendering an average 60.14 DraftKings Fantasy Points per game to Point Guards this season, and Lillard is averaging nearly 50 DKFP and 37.5 minutes per game over his last four games played (49.19 DKFP/G), carrying a 32.75% Usage Rate as well in that span (in the most recent 1 3/4th games without McCollum, Lillard averaged 37%).
Short slate, and a late hammer added bonus to have the last action in play, and Damian Lillard seems like the answer at solidifying one of the Guard positions on today's rosters.
D'Angelo Russell, GS ($7,600)
And on the other side of the coin, we've got D'Angelo Russell to combat the Blazers at the Point Guard position. Since returning from injury he's been phenomenal, averaging 43.31 DKFP over his last four games coming back and playing a solid 35 minutes per game.
Facing a Portland Trailblazers team that allows the most DKFP per game to Point Guards (62.06 DKFP/G), D'Angelo Russell is playing great ball at just as good a time as any with this matchup. With CJ McCollum out, Russell should see some additional opportunities to take advantage of the opposing defense in rotation.
Averaging nearly 30% Usage in his stint back to action, D'Angelo Russell is a stellar Cash Game play with significant GPP upside (especially depending on where ownership ends up).
Other Guards:
LeBron James, LAL ($10,800)
Devin Booker, PHO ($8,600)
DeMar DeRozan, SA ($8,200)
Ricky Rubio, PHO ($8,000)
Will Barton, DEN ($7,800)
Donovan Mitchell, UTA ($7,300)
Andrew Wiggins, MIN ($6,600)
Marcus Smart, BOS ($5,800)
Alec Burks, GS ($5,700)
Jarrett Culver, MIN ($5,400)
Dejounte Murray, SA ($5,300)
Anfernee Simons, POR ($3,900)
Patty Mills, SA ($3,700)
Forward
Jayson Tatum, BOS ($6,900)
The matchup isn't the most desirable, but between his recent production and salary cost, Jayson Tatum makes for very flexible roster construction with a high ceiling to boot. Averaging 44.95 DKFP over his past five games, along with a questionable Kemba Walker, makes it hard to argue against getting Tatum into your lineups somewhere.
Averaging 35 minutes and a 27.76% Usage rate in that five-game time span has been a slight uptick from what we've seen of him through recent parts of the season, and this could be in part due to the injury of Kemba Walker. This makes Tatum a player to monitor through the day leading up until 4:30 pm lock time if you should be on the fence about him in any of your entries.
The Lakers prove to be a difficult draw for Tatum and the Celtics, with the Lakers averaging the sixth-fewest DraftKings Fantasy Points allowed to Power Forwards (37.85 DKFP/G). This makes Jayson Tatum much more of a Cash Game play given his lower price tag but a bit lesser likelihood to hit his ceiling.
Dario Saric, PHO ($4,700)
His minutes have been in fluctuation but Dario Saric is looking like he's getting back to a more effective role in the Phoenix Suns' rotation, posting 37 minutes in their most recent victory against the Boston Celtics on the road.
Averaging 30 DKFP in his last two games since his seeing his minutes significantly increase, Saric serves as a frugal tournament play with an achievable ceiling against a San Antonio Spurs team who's been mediocre-at-best against Power Forwards. The Spurs have been the third-worst team against Power Forwards in the measure of fantasy points allowed, giving up 47.72 DKFP/G to the position.
He's not whatsoever reliable, making him nearly impossible to suggest in Cash Games, but given his 40+ fantasy point upside, Dario Saric fits into tournament rosters with some ease.
Other Forwards:
Anthony Davis, LAL ($10,200)
Domantas Sabonis, IND ($7,900)
Kelly Oubre Jr, PHO ($7,100)
Carmelo Anthony, POR ($6,100)
Robert Covington, MIN ($6,000)
Draymond Green, GS ($5,700)
Mikal Bridges, PHX ($5,200)
Omari Spellman, GS ($4,600)
Danny Green, LAL ($4,100)
Center
Rudy Gobert, UTA ($8,100)
He's been playing fantastic basketball, isn't impacted by Mike Conley's return, and the matchup is one of the best on paper, so I have no idea why Rudy Gobert is priced down quite so low, especially on such a short slate.
Rudy Gobert has been averaging a massive 51.08 DKFP per game in his past six games, driven by monster rebounding (14.5/G) and solid minutes throughout the season (34.4 MPG). His Usage has never been on the high side, where he finds his dominance in the rebounding game and achieving double-doubles with his eyes closed.
Squaring-off with an Indiana Pacers frontcourt who ranks third-worst by metric of Fantasy Points Per Game Allowed, averaging 43.68 DKFP per game surrendered to the position this season. Considering Rudy Gobert may wind up being chalk in tournaments, I may try running it back with Domantas Sabonis on my rosters with Robert to differentiate from some of the field as well as hoping for a competitive game.
Other Centers
Nikola Jokic, DEN ($9,400)
Deantre Ayton, PHX ($8,300)
Hassan Whiteside, POR ($7,500)
Dwight Howard, LAL ($5,400)
JaVale McGee, LAL ($5,100)
Willie Cauley-Stein, GS ($4,200)