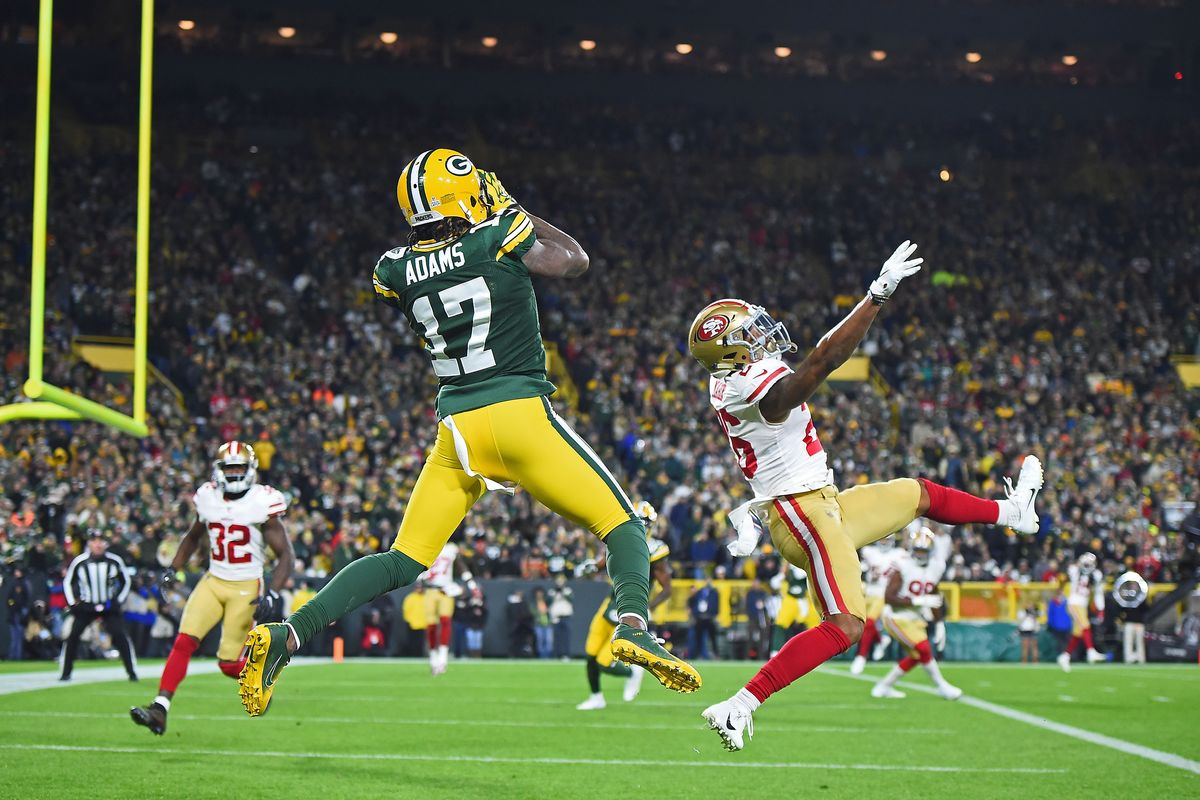 Just when we conclude the David vs. Goliath matchup between the Tennessee Titans and Kansas City Chiefs to decide the American Football Conference, we're treated to a regular season rematch of the first-seeded San Francisco 49ers hosting Aaron Rodgers' Green Bay Packers for all the marbles in the NFC.
The narratives surrounding the seemingly-dull surrounding cast members of Rodgers have been voiced aplenty in recent days by the talking heads and general public alike, with a plethora of John Doe receivers (or so people make it sound like on the air) outside of the obvious go-to for Rodgers in star wide-out Davante Adams.
Oddly enough, the opposing team is loaded with lesser-known name brand talents as well, except one may argue that the inverse of the Packers' situation is going on in San Francisco: where the [receiver] pieces around San Francisco quarterback Jimmy Garoppolo are actually helping him win every week.
Regardless of which side of that argument you tend to lean, one lingering suspicion I can't ignore is the feeling that one of these diamonds in the rough from either (or both) sides is going to swoop in out of nowhere to steal the slate. I'm not stamping a guarantee on anything, but this game has that sort of feel the same way in which George Costanza insists "Tuesday has a feel".
Enough out of me; let's get to it.
Davante Adams (GB), WR ($11,400/$17,100 Capt.)
If there's ever been a constant for this Green Bay offense this season, it's most certainly been Davante Adams. He's amassed eight games with double-digit targets through twelve games played in the regular season and finished 21st overall at the Wide Receiver position in total DraftKings Fantasy Points (228.7 DKFP).
Adams will assuredly be one of the top-owned plays at the Captain position, in a game where the Packers will be assumed to be down a majority of the time and will have to be throwing the ball often. Regardless of the game flow, it's a fairly safe assumption to make that Adams will be the lead beneficiary in this target distribution nearly regardless of coverage.
In their Week 12 meeting where the Packers got decimated by the 49ers, Adams posted seven receptions on twelve targets, 43 receiving yards and a touchdown. While the receiving yards leave much to be desired, his sheer number of targets and freakish ability to outplay the opposition is what forges the lofty price tag.
As chalky a play as it is, the opportunity cost in fading what could easily become a slate prerequisite is a dangerous decision to make. San Francisco isn't the greatest against the WR #1 per DVOA Defense Vs. Position (tenth overall, via Football Outsiders), and Davante Adams will need to be necessary if the Packers steal this one.
George Kittle (SF), TE ($9,400/$14,100 Capt.)
He's been solid for most of the 2019 season, and facing a Green Bay defense that ranks 24th overall against opposing Tight Ends, George Kittle looks ready to roll for Sunday. Averaging nine targets per game in his past five games, Kittle should have little problem sustaining that against these Packers who he's proven himself against before.
Kittle posted six receptions on six targets, generating 129 receiving yards and a touchdown in the Niners' Week 12 romp against the Packers, and no surprise to once again be the team's leading target by volume.
Since Emmanuel Sanders was acquired in Week 8 by the 49ers, Kittle has only been out-targeted by him three times (by merely one and two targets), and is by far the top option in the red zone garnering over 26% of the target share for the Niners in the area.
Although he will be in the realm of chalky, George Kittle is another potential slate-breaker who is a volatile fade should you elect to go that risky route of avoiding him.
Jamaal Williams (GB), RB ($4,200/$6,300 Capt.)
Another game-flow-anticipatory play in the presumed direction of playing from behind, Jamaal Williams not only excels under said narrative but has a testimony by track record from his success against the Niners earlier this season.
Priced at a modest $4,300, Williams not only makes for an excellent pairing with Aaron Rodgers but also allowing for roster construction flexibility with game script in mind. By this I mean if you're one to factor in which direction the game is moving when building your lineups (with feasible expectations), Williams fits nicely into a variety of roster constructions.
In their previous matchup with San Francisco, Williams manufactured 35 yards on seven receptions, and his eight targets were the second-highest on the team behind Davante Adams. His additional eleven carries in the rushing game were only two behind Aaron Jones, and added another 45 yards to his total.
He's been disappointing for the past five weeks but with his proven ceiling over 26 DKFP and in a Packers offense where he's thrived when used properly, Jamaal Williams makes for an interesting option.
Deebo Samuel (SF), WR ($7,400/$11,100 Capt.)
Among the vast array of sharpened tools in this Niners arsenal, Deebo Samuel carries the potential added value of factoring into the running game on random snaps as well.
While only posting two receptions for 50 yards in his last meeting with the Packers, Deebo made it count with one of them going for a 42-yard touchdown. His big boom/bust factor clearly makes him a much better option in Guaranteed Prize Pool tournaments, especially given his pricier salary cost.
In 20-max entry endeavors, I won't be getting to a ton of him at Captain but will ensure that I at least achieve one roster with Deebo Samuel in the designated spot.
Raheem Mostert (SF), RB ($6,400/$9,600 Capt.)
Falling back a bit beneath the radar since a small sample size of fantasy performances as of late, Raheem Mostert is still a fantastic play at Utility or Captain…should Coach Kyle Shanahan not make a drastic decision otherwise.
And despite the fact that his most recent performance in a win against the Minnesota Vikings saw him posting a very subpar fantasy day, he still out-touched the rest of the Niners offense with twelve carries total. The Packers defense ranks 23rd against the rush per DVOA Defensive Efficiency Ratings, making for a smash matchup for Mostert should he continue to get the majority of the touches.
His low floor is only represented by the uncertainty of his workload, and Raheem Mostert should be a goal line factor as well, further adding to the argument of adding him to your roster(s).