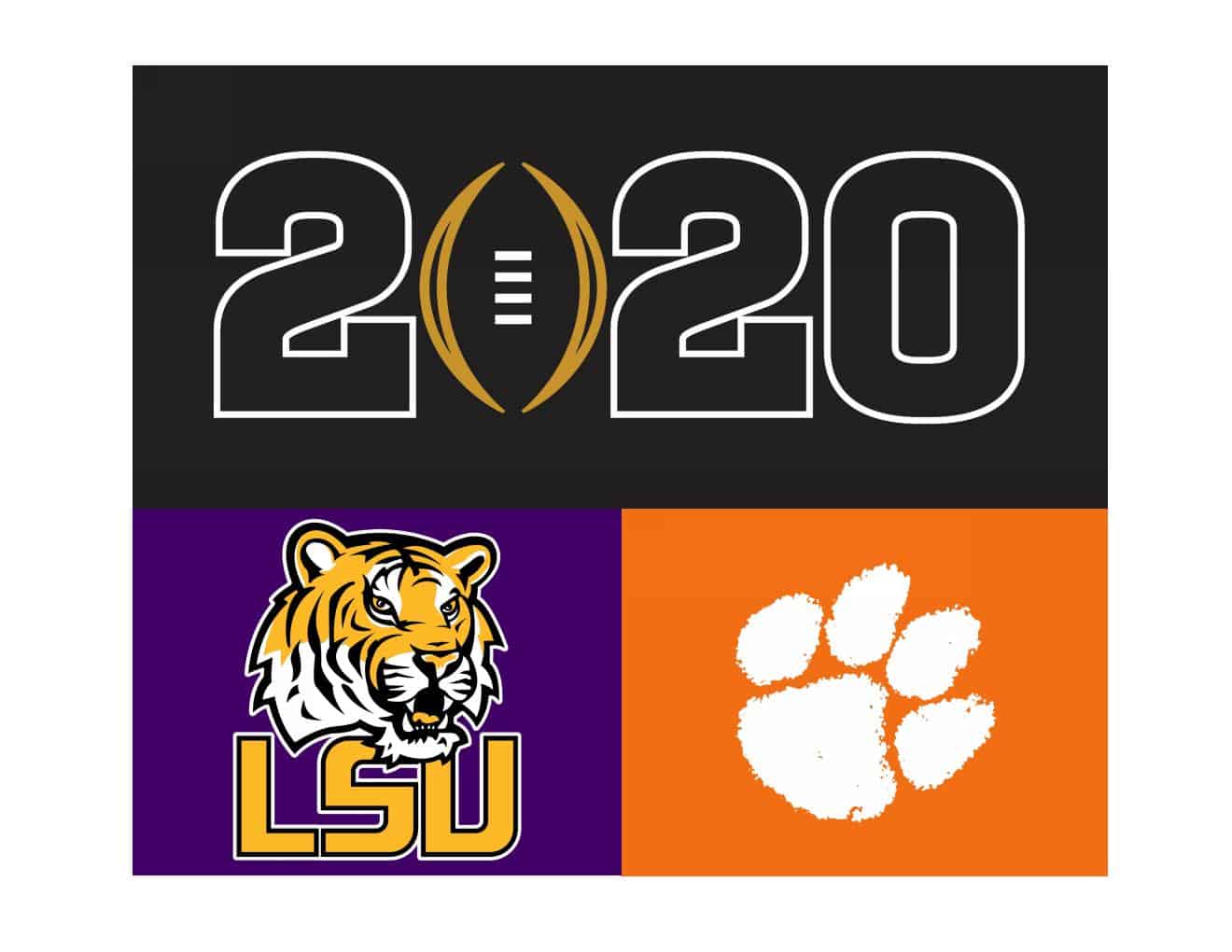 We are in for an absolute heavyweight title fight in the College Football Playoff Championship on Monday night. As if the Mahomes/Watson & Rodgers/Wilson matchups weren't enough for this electrifying football weekend, we now get a showdown between the inevitable #1 picks in the 2020 (Joe Burrow) & 2021 (Trevor Lawrence) NFL Drafts. The consensus line for this game is LSU -6 with the Over/Under set at 69. Vegas thinks this game is going to be a high scoring one, and history agrees with them as the average number of points in the championship game is 64.4 since the CFP started in 2014. Let's work our way through a DraftKings Showdown lineup for the big game!
CAPTAIN: Trevor Lawrence (Clemson), QB ($16,200 Capt.)
The decision at Captain is a tough one. With the rate that these offenses are rolling at coming into Monday night, you can't afford to get cute with this pick and you have to plug in one of the QBs. Lawrence is the right choice here and it's really a perfect storm when it comes to this pick. First, Joe Burrow just threw for 7 TDs against Oklahoma a few weeks ago, so he is most likely going to be the higher owned QB, and Lawrence has a contrarian feel to him. Second, Lawrence saves you $3000 over Burrow at this position and while he is averaging about 7 pts per game less than his LSU counterpart, he still has 40-45 point potential in this one. And finally, a successful Lawrence fits into both potential game scripts. If Clemson gets out to a big lead, it will most likely be because of Lawrence. If they fall down early, they will be leaning on Lawrence to bring them back into the game.
FLEX: LSU Wide Receivers – Ja'Marr Chase ($8,600) & Thaddeus Moss ($4,200)
After a huge semifinal game by Justin Jefferson, I believe that the recency bias will make people pay up for him again in the championship. Enter Ja'Marr Chase, your 2019 Biletnikoff Award winner (best WR in the country) who comes in at a cool $1,200 less than his teammate. Chase has 6 games this year of over 140 yards receiving and has 5 games of multiple touchdowns. Compare that to 3 games of each for Jefferson, and Chase looks like a huge value play in this game. If we are going to skip out on Burrow, let's at least load up with his most explosive and consistent WR threat. Thaddeus Moss is a low budget guy that will hit his value if he sneaks in a TD like we saw in the semifinal game. He has not been a model of consistency (3 weeks of no-shows on the stat sheet), but with the amount of star power in this matchup, we are going to need some dart throws. 3 catches for 50 yards and we are over the top happy about this pick.
FLEX: Clemson Offensive Weapons – Travis Etienne ($9,400) & Justyn Ross ($7,400)
If you are nervous about the Lawrence pick, don't worry because we are loading up on his teammate Etienne who is truly a special talent out of the backfield. Lawrence & Etienne were responsible for 62 of the 82 Clemson Touchdowns this year, so you have to feel good about one of these guys getting you points every time the Tigers score. To top it off, Etienne is coming off his best receiving game of the season against Ohio State where he went for 4 catches for 98 yards and 2 scores. You have to love the potential for him to get the double yardage bonus in this game! Similar to Chase, Justyn Ross is not the most expensive receiver on his team, but there is true potential for him to be the highest scorer at the end of the night. Look no further than his breakout game in last year's Championship Game against Alabama where Ross blew up for 153 yards and a TD. Ross is averaging 5 catches a game this year and I like his big play ability to set him up as a high-floor player to plug into the lineups.
FLEX: Dart Throw – Chris Curry (LSU), RB ($4,000)
Here's a guy who was technically the 4th string running back on the LSU roster this season, and with Clyde Edwards-Helaire back fully healthy for this game I don't expect Curry to get a lions share of carries. However, there is something about this guy that tells me he is going to have an impact in this game. He's a redshirt Junior that saw two freshman running backs come in and jump him in the depth chart this season. He never wavered, kept his head down and played hard and he was called on to be the top guy in the Semifinal last month. If we are going to root for a dart throw, might as well throw in some feel-good vibes into it as well.