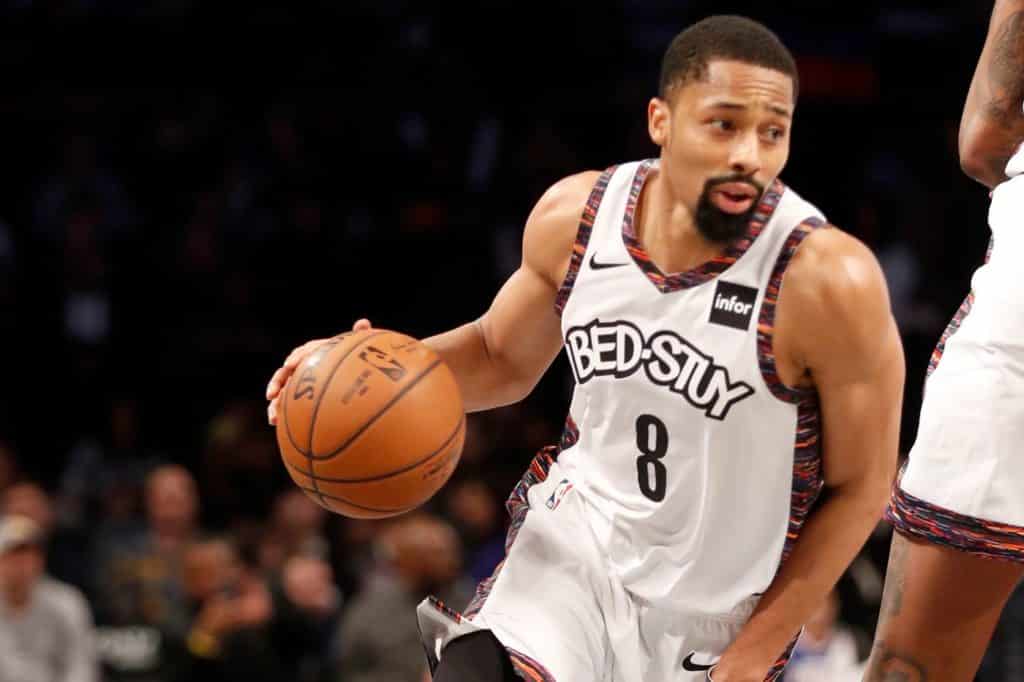 It's that time: the not-so-Hump-Day edition (aka: Tuesday) of the NBA main slate!
Today we've got a six-game serving with several interesting matchups to try to get to players from (along with one I wouldn't mind avoiding). We've got some LeBron, Vuc is back (shout-out to the SGP League), a slop-fest that can go either way on the over/under (ATL@NY), and a Suns/Clippers game that's more intriguing than it would've been in recent years (although Devin Booker may still be out).
Let's take a gander…
Guard
Spencer Dinwiddie, BKN ($7,500 DK/$8,300 FD)
With Kyrie Irving's timetable for return unaccounted for in the time being, Spencer Dinwiddie has been dominating the usage in Brooklyn, rocking a Usage rate well above the thirty percent mark. Dinwiddie is also averaging 35.1 DraftKings Fantasy Points per game for the season, and a 60-point ceiling to boot.
The New Orleans Pelicans are the weakest team in the league against the Point Guard position, run at the league's sixth-fastest pace, and have the second-worst Defensive Rating in the NBA (114.9). At his price point, Dinwiddie is a Cash Game no-brainer with solid GPP upside.
RJ Barrett, NYK ($4,500 DK/$6,300 FD)
CAUTION: this play is intended for Guaranteed Prize Pools and large-tournaments only! But with the recent firing of David Fizdale, rotations actually look less like they were selected by a game of roulette and more of that of a coaching standpoint. This means minutes you can look forward to more consistent minutes that can be relied upon in fantasy (to some extent).
The Atlanta Hawks are the second-worst team in the league against the Shooting Guard position, allowing 70 DKFP per game to the position (most in the league), and run at the tenth-highest pace in the league, which means more scoring opportunities for Barrett.
Averaging 30.5 minutes in his last ten games played (consistency!), at a sub-$5k price tag on DraftKings, he's every bit as much a steal as he has been all season in Daily Fantasy.
Forward
Aaron Gordon, ORL ($6,100 DK/$6,200 FD)
While the Utah Jazz remain a daunting thought as a fantasy matchup in the minds of many, the Small Forward position has put up its share of points against them this season, paving some promise for the likes of Aaron Gordon.
The Jazz may tout an 11th-overall league defensive rating (105.5), but they happen to run right at the league average in Pace at 15th overall and a 100.73 rating. This is paced-up for the Magic, and Gordon may go overlooked (too early to tell), which is huge for GPP value.
Sporting a flat 20% Usage rate, averaging 31.4 minutes per game, and donning a very modest price tag given his more recent fantasy performances, Gordon is stellar value in all formats.
Royce O'Neale, UTA ($3,700 DK/$3,900 FD)
With Jeff Green coming off the bench now, Royce O'Neale finds himself in the Jazz starting lineup and picking up steam in fantasy production as his minutes have since stabilized just over 27 minutes per game over his last ten games.
O'Neale won't stuff a stat sheet by any means, nor does he receive much usage (9%). But he gets sound production on the fantasy scoreboard when given the minutes, and given his price on a small slate, beggars can't be choosers to the fullest extent.
O'Neale also maintains a 30+ fantasy point ceiling and is facing an Orlando Magic team surrendering the most fantasy points to Power Forwards per game (58.15 DKFP per game to the position). In order to get to such top options as LeBron James, Trae Young, and Anthony Davis, you'll have to find some place to punt and Royce O'Neale feels like a good spot to do so.
Center
Alex Len, ATL ($4,600 DK/$4,900 FD)
"What in the hell are all these Hawks and Knicks doing in his article?!"
Hussshhh. Value.
Rarely do we get a moment to relish in getting away sloppily with discount pricing that has high fantasy scoring potential, and this would be one of those daft moments of roster construction glory.
Given his consistent fantasy production as of late, along with a sub-$5k price tag, Alex Len has already proven himself to be a stellar salary relief with major upside at his salary tier.
He's averaging close to 27 DraftKings Fantasy Points per game in his past nine games, with a 40+ fantasy point ceiling very much in a doable spot against this lowly Knicks team allowing a 53.3 Field Goal Percentage to the Center position. Roster Len for that additional wallet flexibility to roster the top spend-up options in tandem.