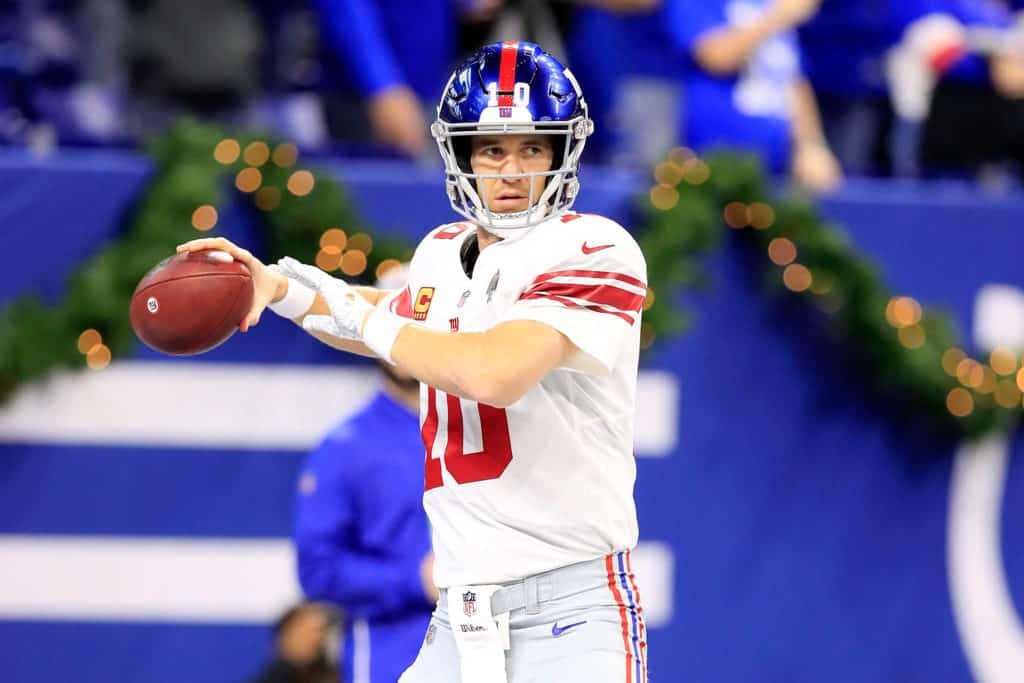 As the fantasy football season winds down as the [actual] regular season plays out its final three games to decide playoff seeding, we're caught in a whirlwind of turbulent player shakeup across the league and the Injury Plague strikes again before the conclusion of the season for an unfortunate select few standout players.
Mike Evans and Calvin Ridley top the list of recently injured talent (bless their season-long, playoff-relevant fantasy owners), paving the way for punt-worthy Daily Fantasy value players who would've otherwise been unknown to many. The beauty of this is that the pay-down options are aplenty on this 13-game slate, with many playoff seeding implications as added weight to the equation.
We're also granted one last gasp effort at breaking even on the career-long regular season for Eli Manning. And I don't know about you, but I'm here all day for it. Especially when he's $5,200 on DraftKings and I've been clamoring on about Darius Slayton all season long (in both season-long and DFS formats) who I can pair him with now.
When it comes to having a large variety of roster options on a given slate, it certainly feels like a happy holiday around here and hopefully we can cash some tickets this weekend to lighten the load of yuletide cheer provided on our behalves.
Quarterback
Eli Manning, NYG ($5,200 DK/$6,800 FD)
Consideration: GPP (All Entry Field Sizes)
More so the value play on DraftKings (and I cannot believe I'm advocating this), but Eli Manning's last hoorah gets an extension and we are also treated to the nerfed combination of the Miami Dolphins being the next final opportunity for Eli to achieve a lifetime .500 record.
Allow me to establish a few tipping points within this suggested play of Manning:
The Dolphins, while touting a recently improved offense, are still allowing 32.75 points per game in their last four games, and surrendering an average of three passing touchdowns per game in that time span.
Eli has apparently established a rapport with rookie receiver Darius Slayton as well, which makes for a solid pitch/catch scoring tandem against this porous Miami secondary. Speaking of rapport, Manning has been known to have been able to get Saquon Barkley working in rhythm with the offense better than he has in recent games alongside Daniel Jones, which also makes for an additional piece in a very affordable Giants stack.
I'm not saying I'm going to go nuts with the the play, but I will definitely be over the field here, which won't be hard to accomplish on such a vastly embodied slate. Eli Manning allows for a variety of spend-up construction on your rosters, and his opponent couldn't get too much more favorable, so I'm sold on this play whether he gets the final W or not.
Other Cash Game QB:
Dak Prescott, DAL ($6,300 DK/$7,800 FD)
*Kyler Murray, ARI ($5,600 DK/$7,600 FD)
Jameis Winston, TB ($6,900 DK/$8,200 FD)
Russell Wilson, SEA ($7,000 DK/$8,100 FD)
Other GPP QB:
Ryan Tannehill, TEN ($6,500 DK/$7,600 FD)
Ryan Fitzpatrick, MIA ($6,200 DK/$7,300 FD)
Jimmy Garoppolo, SF ($6,100 DK/$8,400 FD)
Patrick Mahomes, KC ($7,100 DK/$8,300 FD)
Dart-Throw GPP QB:
David Blough, DET ($5,300 DK/$7,300 FD)
*This price tag is absolutely ludicrous and Kyler Murray would have been my positional write-up had this not been Eli's going away party.
Running Back
Chris Carson, SEA ($7,500 DK/$7,400 FD)
Consideration: Cash Games, GPP (All Entry Field Sizes)
With the best matchup on paper per DVOA Defensive Efficiency Rankings of Football Outsiders, Chris Carson also no longer has Rashaad Penny meddling with his workload, meaning his usage should be even higher than his usual 34% of combined involvement on the season (passing and rushing). At his price point, the benefits should stop here but they're abundantly more inclusive (must be the holidays).
The Carolina Panthers defense has allowed an average of 139.2 yards per game via the rush, and Coach Pete Carroll loves nothing more than an opportunity to harness the running game and beat it into the opponent for four quarters if possible. Carson's fumble problems have now fallen lower on the Seahawks list of concerns, and I believe C.J. Prosise will certainly get his share of touches in lieu of Penny's absence due to an ACL injury last weekend against the Los Angeles Rams.
At the same time I can see Prosise vulturing a touchdown from the talons of Carson, I believe the matchup in combination with the sheer volume that will be coming to Chris Carson at his price point make him an excellent play in both Cash Games and Guaranteed Prize Pools.
Other Cash Game RB:
Saquon Barkley, NYG ($7,700 DK/$8,300 FD)
Todd Gurley, LAR ($6,000 DK/$7,600 FD)
Aaron Jones, GB ($7,300 DK/$7,800 FD)
Dalvin Cook, MIN ($8,900 DK/$8,500 FD)
Other GPP RB:
Phillip Lindsay, DEN ($5,600 DK/$6,400 FD)
**Josh Jacobs, OAK ($7,000 DK/$7,700 FD)
Joe Mixon, CIN ($6,100 DK/$6,700 FD)
Kareem Hunt, CLE ($6,300 DK/$6,700 FD)
Dart-Throw GPP RB:
Patrick Laird, MIA ($4,500 DK/$5,500 FD)
**Should Jacobs sit, DeAndre Washington is immediately a stellar value play.
Wide Receiver
Danny Amendola, DET ($4,100 DK/$5,400 FD)
Consideration: Cash Games, GPP (All Entry Field Sizes)
With Marvin Jones Jr. sidelined for the remainder of the season, the targets will have to go somewhere and Kenny Golladay is merely all but one man.
I know the addition by subtraction model would be an oddly implied one in this circumstance due to the raw talent of Marvin Jones (and in no way am I trying to dig him either). But Amendola is next in line for targets to Golladay and is facing a Tampa Bay secondary who's averaging the second-most receiving yards per game in the league (299.2 REC YPG).
Amendola is also already garnering eight targets per game in his past two outings and I believe this number could even increase come Sunday at Ford Field. At such a minimal hit to your salary cap, Danny Amendola is the salary relief needed to afford the top spend-up options without sacrificing a position for the sake of savings.
Other Cash Game WR:
A.J. Brown, TEN ($6,000 DK/$6,200 FD)
DJ Moore, CAR ($6,600 DK/$6,900 FD)
Chris Godwin, TB ($7,700 DK/$8,400 FD)
Kenny Golladay, DET ($7,200 DK/$7,900 FD)
Other GPP WR:
Emmanuel Sanders, SF ($6,600 DK/$6,900 FD)
Robert Woods, LAR ($6,200 DK/$7,500 FD)
Darius Slayton, NYG ($4,700 DK/$6,300 FD)
Breshad Perriman, TB ($4,500 DK/$6,400 FD)
Dart-Throw GPP WR:
Justin Watson, TB ($3,700 DK/$4,500 FD)
Tight End
Zach Ertz, PHI ($6,000 DK/$6,700 FD)
Consideration: Cash Games, GPP (All Entry Field Sizes)
If I could write this up as a tandem positional highlight I just may have, as Dallas Goedert [nearly] equally belongs in this conversation. These were the Philadelphia Eagles tight ends that Sean "Stacking The Money" Green foresaw as the staples of this offense before the season began, and they're coming through as the only consistent pieces of this Eagles offense (and have saved their asses, to put it bluntly).
Zach Ertz is averaging 11 targets per game over his last five outings (13, 6, 14, 11, 11 are the target counts from said games), and a massive 21.83 DraftKings Fantasy Points per game in that span. Ertz gets a gift of his own on Sunday, facing the second-worst defense against the tight end position in the Washington Redskins, and this Eagles receiving corps is beyond the likes of decimated.
Zach Ertz, along with Goedert, should be staples of many fantasy rosters come Sunday, and I wouldn't be opposed to rostering both in the same lineup to differentiate yourself in large-field GPPs.
Other Cash Game TE:
Dallas Goedert, PHI ($4,300 DK/$5,700 FD)
Tyler Higbee, LAR ($3,900 DK/$5,700 FD)
Jacob Hollister, SEA ($3,800 DK/$5,700 FD)
George Kittle, SF ($6,200 DK/$7,200 FD)
Other GPP TE:
Travis Kelce, KC ($6,500 DK/$7,300 FD)
O.J. Howard, TB ($3,500 DK/$5,700 FD)
Mike Gesicki, MIA ($4,000 DK/$5,200 FD)
Ian Thomas, CAR ($3,100 DK/$5,300 FD)
Dart-Throw GPP TE:
Logan Thomas, DET ($2,600 DK/$4,700 FD)
Defense/Special Teams
Cash Game D/ST:
49ers ($3,800 DK/$4,500 FD)
Vikings ($3,100 DK/$4,800 FD)
Patriots ($4,000 DK/$5,000 FD)
GPP D/ST:
Titans ($2,800 DK/$4,100 FD)
Giants ($2,700 DK/$3,900 FD)
Raiders ($3,200 DK/$4,400 FD)
Dart-Throw GPP D/ST:
Cardinals ($2,200 DK/$3,500 FD)