It's a sleepy Tuesday night in the NBA with four games, but that's no excuse to take a night off DFS! Champions get up for every occasion. No nights off! This is a great night to put some credit back in your accounts.
Here are the best DraftKings and FanDuel picks for Tuesday, December 10.
Guards
Ish Smith – PG, WAS @ CHA ($5,200 DK, $5,200 FD)
After hitting the game-winner versus the Pelicans, Derrick Rose said, "I was born to do this shit." Well, the last three games is the shit that Ish Smith was born to do: putting up solid stats while filling in for the injured starting PG and then sucking once everyone's excited.
Lucky for DFS players, he's still in the "putting up solid stats" phase while Isaiah Thomas is down with a calf injury. Ish played over 30 minutes in each of his last three games and his usage last game was 27.1%.
Neither the Hornets or Wizards play any defense, which is why Vegas has the game total over/under at 232.5. There will be tons of offense, so Smith is a great value at his current price tag.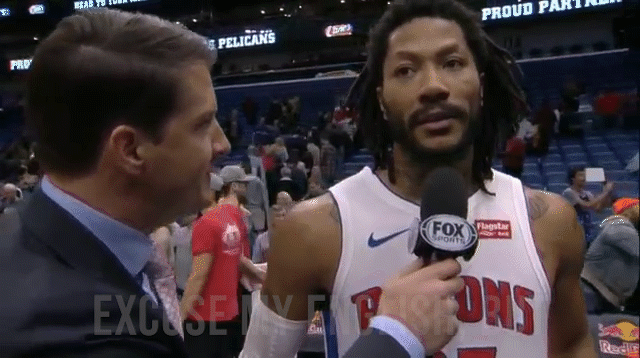 inspired by @nbaleave pic.twitter.com/TLzMdDFePD

— Ryan McKee (@TheRyanMcKee) December 10, 2019
Bradley Beal – SG, WAS @ CHA ($9,300 DK, $9,700 FD)
Call me uninspired, but I'm going right back to the same game for SG. Beal's FG percentage is the lowest it's been in four seasons, but that hasn't slowed him down. He's attempting over 20 FGs a game and his usage rate is 30.5%. The Wizards don't seem to be scared about overplaying their star either, averaging 37 minutes a game. With the team's injuries, he can easily see 40 minutest tonight.
Forwards
Jimmy Butler –  SG/SF, ATL @ MIA  ($9100 DK, $9600 FD)
With both Justice Winslow and Goran Dragic out, lot's of folks will be playing Butler. That's okay, with the short slate, you still want to get him in your lineups. He's dropped triple-doubles in two of the last four games and should be playing monster minutes with all the team injuries. Also, Atlanta is the 26th-rakes defense this season AND play a top-10 pace.
Wouldn't be a bad idea to look at Kendrick Nunn ($5,400 DK, $4,900 FD) and Tyler Herro ($5,900 DK, $5,400 FD) in this spot too.
Davis Bertans – SF/PF, WAS @ CHA ($6,300 DK, $6,200 FD)
I know, it feels weird paying over $6k for the Latvian Laser, but since Thomas Bryant has been out, Bertans has kinda been a stud. He hasn't scored under 31 fantasy points since December 1.
As mentioned above, this is going to be a high-scoring, fast-paced game with a ton of shots available. Bertans seems to have the green-light to shoot whenever he gets the ball on the behind-the-arch, attempting at least 12 threes in each of his last four games. Charlotte also gives up 7.6 threes on 37.8 percent shooting to opposing forwards. So, it's time to pay up for him.
Center
Hassan Whiteside – C, NYK @ POR ($8,000 DK, $8,600 FD)
The narrative around Whiteside has been pretty negative the last few seasons. He's bee pretty much flying under the radar on a struggling Trail Blazers team while quietly having his best season in three years.  And the sad Knicks traveling across the country to the West Coast is the exact match-up Whiteside likes to feast on. Hassan predicted before the season that he would have some triple-doubles this season, trying to bring up his assists totals. Well, he hasn't gotten there yet, but a couple games ago, he had a career-high 7 dimes. No doubt he'll keep trying and you'll want him in your lineup when he does.