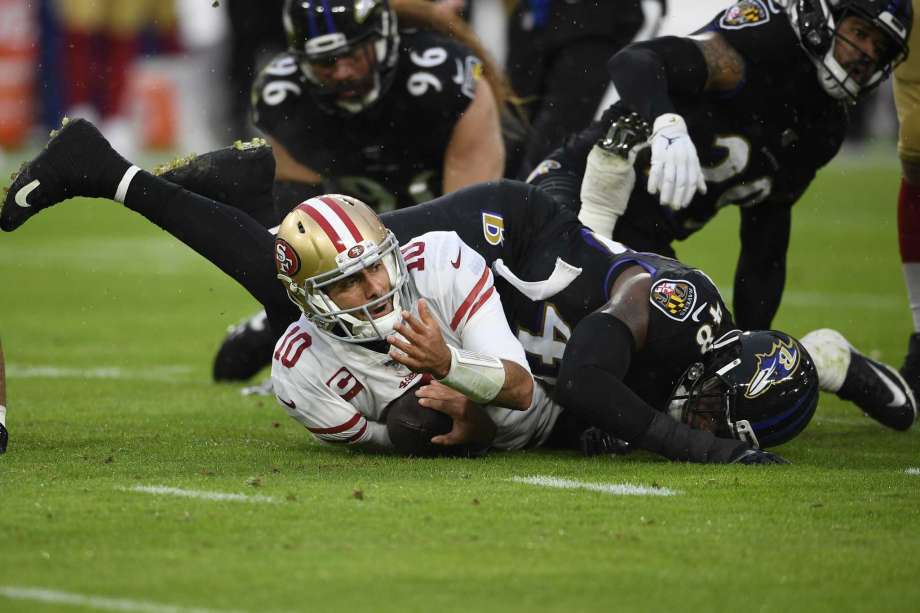 1. Super Bowl Preview?
The highly anticipated possible Super Bowl preview kicked off on Sunday when the San Francisco 49ers traveled to Baltimore to take on the electric Lamar Jackson and the rest of the Ravens. Lamar was once again spectacular for his team as he racked up the rushing yards yet again. Jackson rushed for 100+ for the 4th time this season and rushed for a touchdown. He also added over 100 yards through the air and a passing touchdown. 
Garoppolo played also played well throwing for 165 and a touchdown, neither signal caller threw an interception. The home team came away with the victory but I am sure I am not the only one who was left wanting more after the Ravens were able to squeak out a 20-17 win on the leg of Justin Tucker from 49 yards out. We may just get a rematch as these two teams seem destined to meet yet again in Miami for all the marbles. San Fran has a pretty tough stretch going to New Orleans this week before facing the Falcons, Rams, and Seahawks. While the Ravens will travel to Buffalo which is never easy before hosting the Jets, traveling to Cleveland and then home to face the Steelers.
The Ravens and 49ers are trolling each other with each other's celebration dances #SFvsBAL pic.twitter.com/sckhZmyk8f

— NOTSportsCenter (@NOTSportsCenter) December 1, 2019
2. Titans Stock Rising
I feel like Ryan Tannehill has done this before but perhaps not in this fashion. He has the Titans playing some seriously good football, and had an impressive win on the road in Indy on Sunday. Tannehill has been really impressive but will it last? Only time will tell. For now the number do not lie and like I said they are impressive, Tannehill has completed 71.9% of his passes for 9.1 yards per attempt. He has tossed twelve touchdowns and just three interceptions and a 117.1 passer rating. 
Mike Vrabel has done a great job coaching this team with how much of an up and down season it has been for Tennessee. That's no easy feat for any coach, nevermind one who does not have a whole lot of experience coaching at the NFL level.  Getting contributions from running back Derrick Henry has really given a boost to this offense, and their defense has played much more solidly the last few weeks. This team is in a good position to play spoiler for some teams.
Ryan Tannehill goes 21 YARDS for the @Titans TD! #TitanUp #JAXvsTEN

📺: CBS
📱: NFL app // Yahoo Sports app
Watch free on mobile: https://t.co/YLI9jW8U5W pic.twitter.com/rJz7vwmrbu

— NFL (@NFL) November 24, 2019
3. Bengals Get A Dub
Andy Dalton was injected back into this Bengals team and it worked for this week, be it against the Jets. Although AJ Green has not seen the field so far this year Cincy was able to get their first win of the season and get the dreaded winless monkey off their back. In what will likely be the end of the line for Dalton in Cincy, he was able to pass Ken Anderson for the most touchdown passes in Franchise history with 198. 
Another disappointing game for the Jets and the fanbase on Sunday as they gave the Bengals their first win in a game that was never really close much past the first quarter. What is worse was the Jets were held to just 6 points which they have not been held to since their game against New England earlier in the year. Darnold did not play all that poorly but 28 of 48 for 239 and getting sacked four times is not going to get the job done.
This might be one of the better plays of Andy Dalton's career. He wasn't creating like this earlier in the year. pic.twitter.com/63KLeB5y5k

— Anthony Cosenza (@CJAnthonyCUI) December 1, 2019
4. Foles Is Out
Foles was relieved for Gardner Minshew after fumbling twice, one of which went for a score, and completing just 7 of 14 passes with an interception. In general, Foles has not looked great since returning from a broken collarbone but with the financial commitment this organization has made with Foles, it is no surprise to see him injected back into the line despite the strong play of rookie Garnder Minshew. 
It will be interesting to see how the QB situation is handled in Jacksonville as they have quite a bit of time and money already invested in Foles and they may have found themselves in yet another sticky QB situation. Luckily for the Jags they do not have the stiffest of competition on the slate ahead of them as they take on the Raiders and Falcons before hosting the Colts. 
#Jaguars QB Nick Foles with an interception on the first drive of the game. pic.twitter.com/F0uS2Svihe

— Big Minshew Country (@BigCatCountry) December 1, 2019
5. No One Wants The NFC East Crown
The NFC East has been an absolute dumpster fire this season and I am not sure that's describing it accurately enough. If you do not believe me, there is a path for the 3-9 Washington Redskins to win the division. Yes, you read that correctly besides the Giants this is technically a three turd, I mean team, race to the finish. Is it highly unlikely? Of course, but the Eagles just lost to the Dolphins as ten point favorites, and Dallas has lost to the Jets and Bill already this season. What is the opposite of an exciting race to the finish? That is the best way to describe this division, it feels like someone will be forced to win it and likely get blown out in the wild card game. 
Nobody wants to win the NFC East pic.twitter.com/r1jyaP3wS2

— #DearBabyYoda (@ringer) December 1, 2019