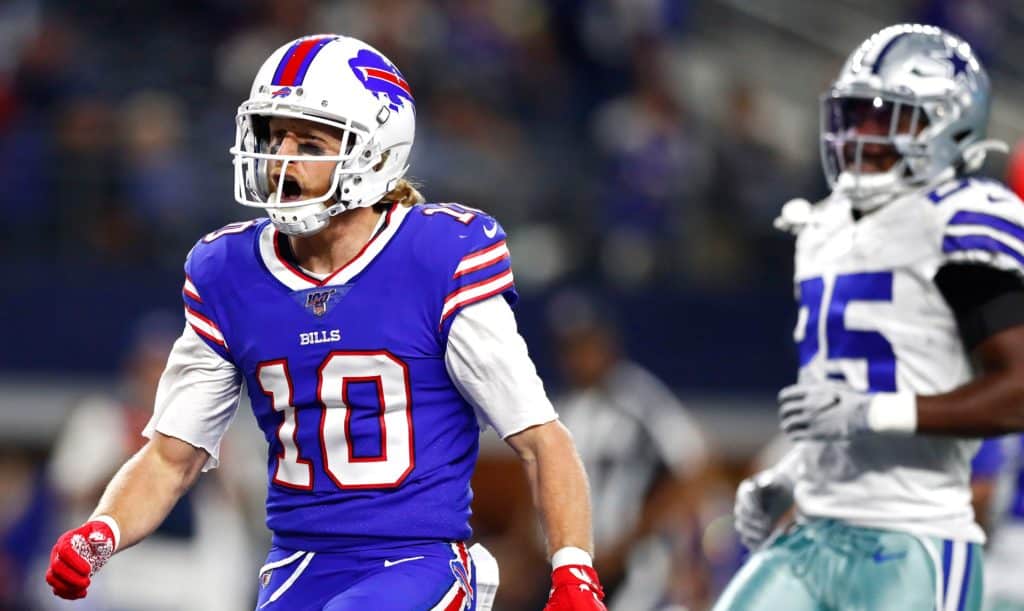 In all likelihood of your reading this right now, you've managed to claw your way through thirteen gritty, relentless weeks of injuries, short-comings, and outlandish outlier performances from opponents to find yourself in the Fantasy Football Playoffs. Congratulations.
Now the real season begins, and it's clearly not going to be as forgiving from week-to-week because there won't be a next week if you're on the wrong side of some unfortunate decisions/luck/beats (take your pick). Working the Waiver Wire from here on out is a different beast in that you can play the flyer route at some positions depending on what's available in what matchup each week throughout.
There are some considerable candidates at each position who are all under 55 percent owned in all of Yahoo Fantasy Football leagues. Their specific matchups in Week 14 heading into the first round of the Fantasy Football Playoffs may provide the edge you need, or potentially to pigeonhole your opponent if their handcuff is necessary this week, if available.
It's time for the next step toward cashing your league(s) this season…
Cole Beasley, WR (BUF, 32% Ownership)
After coming out with the best fantasy football revenge game in recent memory, Cole Beasley has finally begun catching the attention of the common player. However, for many of them it's too late to even have to give a damn any longer, as their fantasy teams have been floundered for good as of the conclusion of Monday Night Football (or potentially weeks sooner). Beasley is anything but washed, and he may provide some relief at wide receiver for you to reach the semi-finals.
In his "revenge game" narrative in Dallas on Thanksgiving, Beasley provided a helping of reminders to the Dallas Cowboys in the form of six receptions for 110 yards and a touchdown. Over the past four weeks, Beasley has also accumulated a total 20 receptions on 26 targets, 298 yards, and two touchdowns.
Although he draws a tougher matchup at home against the Baltimore Ravens this week, Beasley is by far the second-most targeted player on the Bills with 80 total targets for the season; second to only John Brown with 93, and the next being Dawson Knox with 41. Beasley is also the second-highest targeted Bills player in the red zone at 21.21% of their target shares when Buffalo is in that area.
Volume is volume and that's what creates fantasy points (in part). Cole Beasley provides such with high-ceiling potential.
Patrick Laird, RB (MIA, 1% Ownership)
With the carousel of running backs in Miami seeming to never come to a halt in rotation (for a variety of reasons), Patrick Laird finds himself now to be the lead ball-carrier on a Dolphins offense finding a late-season resurgence under the veteran field guidance of Ryan Fitz-MAGIC (aka: Ryan Fitzpatrick).
Since the suspension of Mark Walton, Kalen Ballage had appeared to briefly solidify the lead role in the Dolphins backfield, until a left leg injury caused him to leave the game and never return in Sunday's 37-31 victory against the Philadelphia Eagles. And since that, Patrick Laird scored his first NFL touchdown by means of a four-yard rushing attempt, along with the majority share of carries for the Dolphins (ten out of the Dolphins' 20 rushing attempts).
Next week Laird and the Dolphins are on the road to play a divisional matchup with the New York Jets, and with all things considered he should be the lead ball-carrier for Miami. The Jets rank second overall against the rush per DVOA Defensive Efficiency Rankings (per Football Outsiders) but are 20th against running backs as receivers, which is where Laird excels. I would spend a fair share of any remaining FAAB dollars on Patrick Laird if I were in need of a running back in any shape or form.
Gardner Minshew, QB (JAC, 8% Ownership)
It's Minshew Mania, Part Deux! Apparently the Nick Foles Project didn't particularly work out as planned (at least certainly till this point), ever more the reminder that deals like Blake Bortles' extension in 2018 don't only happen more than once, and in this instance, more than once to the same team. I digress.
Point being everyone should be excited for more Minshew Mania, especially Jaguars fanatics but not exclusively them of course. Degenerates like myself have fantasy football leagues to conquer, and Minshew provides far more spark and personality to the Jacksonville Jaguars than Foles ever could have. While not having the biggest bang in terms of consistency, he provides the stability of a fifteen fantasy point per game average, and has a fantastic matchup with the reeling Los Angeles Chargers in Week 14.
Suddenly the likes of D.J. Chark, Dede Westbrook, and Chris Conley have much more promise in their signs of life for the remainder of the season (should Coach Doug Marrone not have a mental lapse), so there's certainly a multi-pronged approach to this should you happen to own any of the above Jacksonville weapons as well.
What was likely second-rate consideration for you (Chark, Westbrook, Conley) since the incumbent Foles stepped back into the starting role in Jacksonville, now has the potential to be stacked up with Minshew on your season-long rosters to forge the path to the Championship. While I don't expect everyone to have any of those pieces, it's an interesting angle for those who happen to.
Regardless, Gardner Minshew should be considered by any who have a weakness in their playoff rosters at quarterback, and he's highly available since Foles came back into the picture.
Mike Gesicki, TE (MIA, 19% Ownership)
This wouldn't be a Fantasy Playoff article without featuring two Dolphins players, am I right?!
Mike Gesicki not only has been the most consistent player as of late for Miami through their recent uptick in promising productivity and on-field integrity, and getting in the second-most targets for the Dolphins of active players with 50 (Preston Williams on IR has 60 targets). Gesicki hauled in five catches for 79 yards and a touchdown on seven targets against Philadelphia, and he doesn't seem to be going anywhere soon.
Gesicki will get a Jets defense who ranks 22nd against the tight end position per DVOA Defense vs. Receiver Rankings, and should be a relatively pivotal part of the Dolphins offense in a grind with the Jets at the Meadowlands. If you have a flat tire at tight end going into the playoffs, Gesicki should be able to service more than sufficiently until and through the Championship weeks.
Other Waiver Wire Pickups:
Ryan Fitzpatrick, QB (MIA, 10%)
Derrius Guice, RB (WAS, 50%)
Kyle Allen, QB (CAR, 19%)
Raheem Mostert, RB (SF, 13%)
James Washington, WR (PIT, 22%)
Adrian Peterson, RB (WAS, 39%)
Anthony Miller, WR (CHI, 14%)
Jacoby Brissett, QB (IND, 38%)
Ryan Tannehill, QB (TEN, 39%)
Jason Witten, TE (DAL, 50%)
Zach Pascal, WR (IND, 17%)
Russell Gage, WR (ATl, 11%)