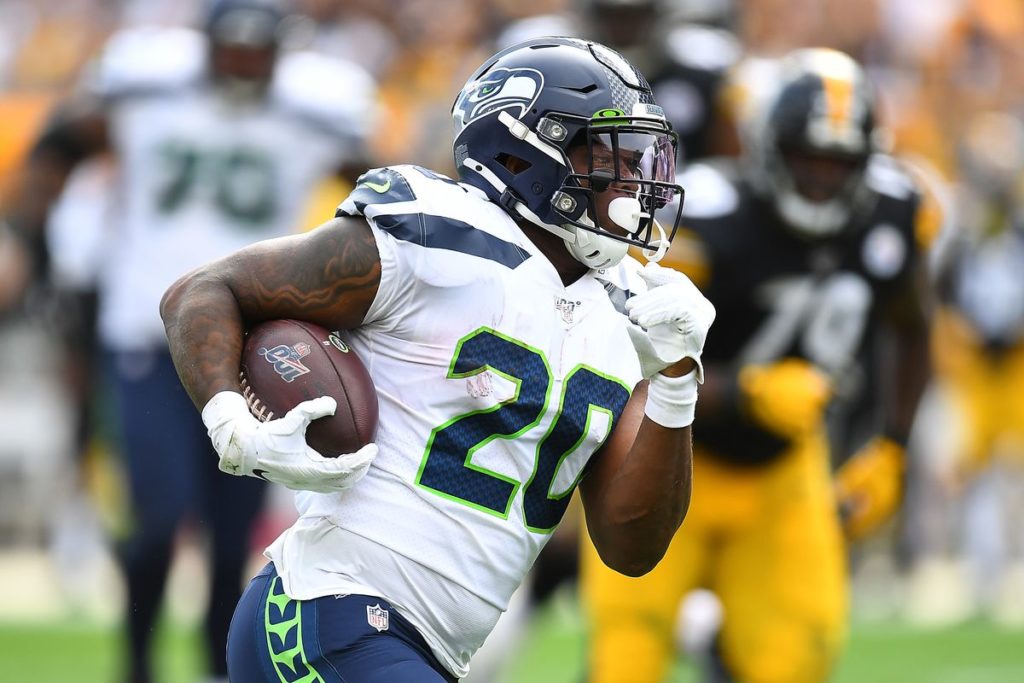 This is it. For many of us, this week holds the last rites to our fantasy football squads for the 2019 season (how in the hell am I already writing this?!) and these rosters will go down in our portfolios as the condemnable "Forgotten Ones" forever more. Then again, things aren't always as dreary on the other side of the fence.
In all hopes for your sake (unless you just so happen to be in a league I'm in), you're either playing for a first-round playoff bye week or, for the more dramatic type such as myself, are playing for the determination to either make the playoffs or wind up wedged in between the above folder mentioned.
Either way, this is going to make for one interesting Thanksgiving Week. And with some unfortunate and wacky circumstances in the past couple of weeks (particularly at an already thinned out running back position), some of us are faced with some do-or-die decisions to make for a number of our positional players this week, and have some early triggers to pull considering the allotment of Thanksgiving Thursday games.
So, before this week kicks off: don't overthink it (although I'm every bit as guilty of such annually), don't bench raw talent, look for potential holes on your remaining starting roster, and don't be afraid to stash players your opponent for the week will happen to be in need of, should you have the roster space to do so. This is war, and if need be, eliminate those that could pose as threats in your matchup these remaining weeks (e.g: the direct backup to an opponent's recently injured starter is on waivers).
Everyone mentioned here is under 55 percent owned in all Yahoo Fantasy Football leagues, so if you've seen a player mentioned previously it's because they've either remained in that ownership threshold or have dropped back below it from higher ownership prior.
Rashaad Penny, RB (SEA, 18% Ownership)
If you're a Chris Carson owner like myself, you'll be thankful if you've stashed Penny all year until this point (I literally just dropped him this past week after hanging onto him all year, but FAAB dollars will save me there). Because despite the fact that Carson appeared to have rid himself of his notoriety for Fumbleitis, the prayers were not quite answered with longevity in mind apparently, as he has fumbled twice in the past two weeks and Rashaad Penny has finally staked his claim in the Seattle backfield majority share.
Out-touching Chris Carson on carries fourteen to eight, Rashaad Penny erupted as the only bright spot on the Seattle Seahawks offense in their gritty 17-9 victory over the host Philadelphia Eagles on Sunday. Smashing out an efficient 129 yards rushing along with a touchdown, Penny emerged as the only Seahawks player besides Russell Wilson with over 40 yards in the game (Lockett, 38 yds).
With a waiver wire that's stripped of most (if not all) talent worth rostering (at this point) in most standard-size twelve team leagues, although he's no guarantee to get the nod over Carson this week, Penny faces: the Vikings at home, Rams away, Panthers away, and Cardinals at home for the remainder of the Fantasy Football season (where most leagues end in Week 16).
Pete Carroll has given much leeway to Carson and I think, at worst, Penny will end up splitting carries with him. You can even simply stash Penny from the Carson-owner in your league should that team be a playoff contender in your way of the title.
A.J. Brown, WR (TEN, 16% Ownership)
Here we are heading into the Do-Or-Die week before the Fantasy Football Playoffs and I find myself once again (for I believe the sixth time or so now) advocating you pickup A.J. Brown. And not for the sake of recency bias, nor sake of hot-take content, but now more than ever I am suggesting a waiver claim for Brown should you be that fantasy player of need I suggested.
Finally cementing himself as the top target, after a season that began bleak at quarterback for the Tennesee Titans (obviously a crucial element to a wide receiver), Brown has maintained more continuity at wide receiver for the Titans than any player at the position in recent memory. In Week 12 in the Titans 42-20 thrashing of the Jacksonville Jaguars, Brown provided a solid four receptions on five targets for 135 yards and a touchdown (that accounted for 65 of those yards).
If you're in need of aid at wide receiver, A.J. Brown is certainly among my strongest advised to roster (under 55% ownership).
Dallas Goedert, TE (PHI, 51% Ownership)
With a Philadelphia offense plagued with injuries, one silver lining is the rapid development of tight end Dallas Goedert, emerging as every bit the promising target that Sean "Stackin' The Money" Green and Eagles fans alike had hoped for. And with a lame-duck Miami Dolphins defense that's ripe for the beating, fantasy playoff hopefuls in need at the tight end position have a player to spend some FAAB dollars on.
While he didn't have the most outstanding week in consideration to fantasy production, Goedert proved to be the second-highest targeted pass-catcher for the hobbled Eagles offense during their hard-fought losing effort at home against the Seahawks. He snagged seven receptions on eight targets, and remains a top favorite target of Carson Wentz in the end zone as well.
And considering Carson Wentz's hand isn't in great condition after x-rays came back negative following the injury he sustained during Sunday's game, checking-down to his tight ends will likely be a favorite in Miami next Sunday.
If Goedert is available in your league, with any question about your tight ends currently rostered, I would highly recommend placing a claim for him as soon as you can in hopes to have through the Fantasy Playoffs.
Ryan Tannehill, QB (TEN, 26% Ownership)
In a renaissance season more surprising than any I recall (considering the proverbial gutter this guy had to climb out of in the mindset of the public), Ryan Tannehill is playing out of his mind right now and putting up some well-rounded numbers that are out there for the taking in many leagues. And with the Colts, Raiders, Texans, and Saints in the waiting, you may have some more-than-decent starts in those matchups, especially with playoff hopes for the Titans on the line.
Putting up an incredible 33.36 fantasy points in Week 12 as result of going 14/18 passing, 299 total yards (159 passing and 40 rushing) and a four touchdowns (two passing and two rushing), Tannehill led a Titans beatdown of the Jaguars and I don't believe he's stopped there. And if you happen to need a quarterback, especially if yours are facing stiff matchups in the coming weeks, I would at least stash Tannehill to my bench to be able to consider each week for the remainder of the season and hopefully through to the Championship round.
Don't be afraid of the Ryan Tannehill of the now based on the Ryan Tannehill of the [not-so-distant] past.
Other Waiver Wire Priorities:
Sam Darnold, QB (NYJ, 39%)
James Washington, WR (PIT, 20%)
Robby Anderson, WR (NYJ, 53%)
Cole Beasley, WR (BUF, 29%)
Jacoby Brissett, QB (IND, 45%)
Russell Gage, WR (ATL, 7%)
Ryan Fitzpatrick, QB (MIA, 10%)
Jakobi Meyers, WR (NE, 1%)
Darius Slayton, WR (NYG, 25%)
Benny Snell, RB (PIT, 5%)
Qadree Ollison, RB (ATL, 0%)
Frank Gore, RB (BUF, 30%)
Allen Hurns, WR (MIA, 0%)
Anthony Miller, WR (CHI, 12%)
Kenny Stills, WR (HOU, 18%)
Diontae Johnson, QB (PIT, 14%)
Demaryius Thomas, WR (NYJ, 8%)