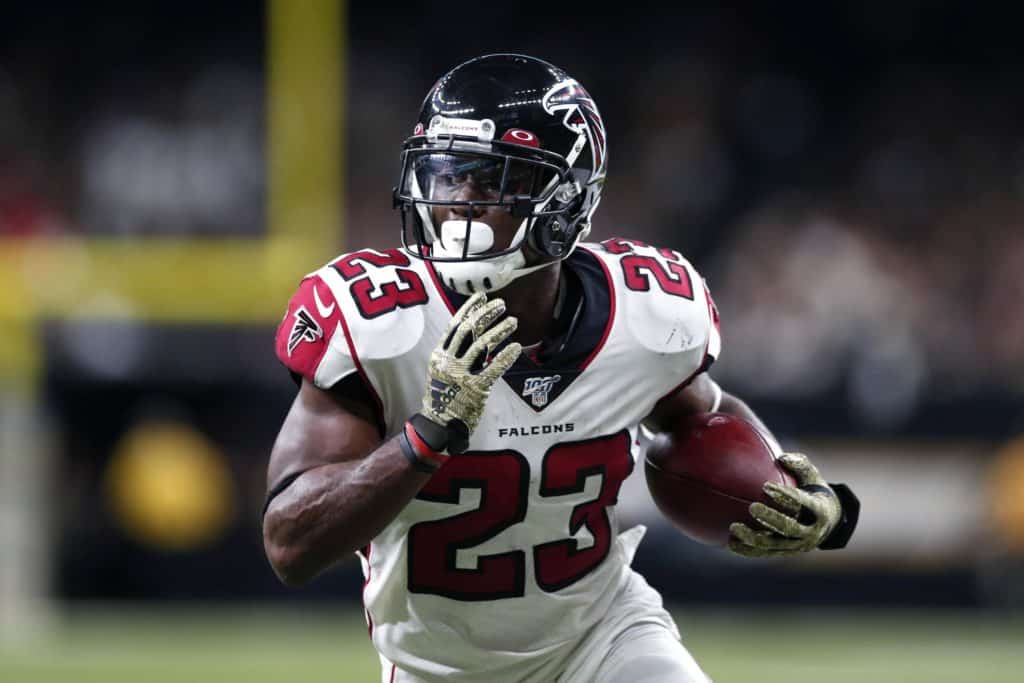 It's not every week that we're, in essence, given a free-square on any positional player, let alone a running back (ala: Week 9 Jaylen Samuels). Yet when we happen to be granted this luxury, it typically isn't bacon-wrapped in low field ownership (or what initially appears to be looking like it).
Welcome to Brian Hill.
As lead beneficiary to the workload absence by Devonta Freeman, despite being on the Atlanta Falcons (who happen to have a very good offense, which just happens to be layered with a terrible defense), should be in line for a vast majority of carries and could still see a role in passing downs as well. All of this coming in at the fraction of the cost of any other every-down back.
There's always the possibility of Kenjon Barner or Qadree Ollison thieving some relief work alongside goal line touches at random, but for the most part we're looking at a starting running back on a top-16 offense in DVOA rankings (per Football Outsiders). And while we can suspect the public ownership to skyrocket through the week as well, one thing is certain: against the league's worst rushing defense in the Carolina Panthers, you're going to want to get to this guy.
Let's tackle Week 11's fortuitous Main slate…
Quarterback
Derek Carr, OAK ($6,100 DK/$7,400 FD)
Consideration: Cash Games, GPP (All Entry Field Sizes)
Speaking of positional free squares in daily fantasy, I'd have to say a close runner-up for this week's unofficial title of such would be found in egregiously-priced Oakland quarterback Derek Carr. Serving a sizeable dose of déjà vu in terms of writing-up this position (considering Carr was the cover boy of this article merely two weeks ago), Carr is somehow priced similarly as if he were having a year like Andy Dalton, as opposed to something more identical to the brief renaissance of Teddy Bridgewater's 2019.
Carr's offensive line in 2019 currently ranks fourth-overall in Adjusted Sack Rate (per Football Outsiders), having surrendered the third-fewest sacks in the league with twelve (and technically, second-fewest considering two teams are tied for the least surrendered with eleven). Parallel to such is that Carr has only turned the ball over once since Week 7.
The Bengals' defensive line, on the far other hand, ranks 30th overall in the very same statistical metric and has the league's fewest number of sacks to date with ten sacks through ten weeks of action. And by rule of thumb, I generally think a defense should have more sacks accounted for than 'number of weeks played', especially when it's mid-November.
Finally, while the Cincinnati Bengals are right in the middle of the league rankings for Passing Touchdowns Allowed (16th), having allowed fourteen touchdowns through ten weeks, they rank dead last against the Pass per DVOA Rankings (Football Outsiders). You can't get every stat to be stridently in your favor, especially at a massively discounted price on both sites. But Derek Carr is an overall bargain and has the ability to crack the top five quarterback fantasy point totals on this week's main slate.
Other Cash QBs:
Jimmy Garoppolo, SF ($6,700 DK/$8,000 FD)
Matt Ryan, ATL ($6,200 DK/$7,600 FD)
Josh Allen, BUF ($6,600 DK/$7,800 FD)
Kyle Allen, CAR ($5,300 DK/$7,200 FD)
Other GPP QBs:
Drew Brees, NO ($6,900 DK/$8,300 FD)
Tom Brady, NE ($6,400 DK/$7,800 FD)
Dak Prescott, DAL ($6,700 DK/$8,100 FD)
Deshaun Watson, HOU ($6,800 DK/$8,200 FD)
DART-THROW GPP QB:
Brandon Allen, DEN ($4,700 DK/$6,800 FD)
Running Back
Brian Hill, ATL ($4,800 DK/$5,900 FD)
Consideration: Cash Games, GPP (Small-Med Entry Field Sizes)
Say what you will about recency bias, but when it comes down to sheer volume of opportunity for fantasy points, I will be guilty just about every time. And this is precisely what a discounted Brian Hill provides to the Week 11 Main slate.
With the foot injury occurring to Devonta Freeman during the latter part of the second quarter in Atlanta's Week 10 26-9 victory in New Orleans, Brian Hill stepped in to fill the role with what's actually an impressive performance against a stout Saints rush defense (7th in DVOA rankings against the run). Carrying the ball on 20 attempts for 61 yards and one reception for ten yards and a touchdown, Hill served as evidence to my argument of volume breaking free despite a difficult matchup (and impromptu appearance at that).
If this were a week squaring off with the Saints again, I would likely still be writing about Brian Hill in this very space because when it comes to value in daily fantasy, volume of opportunity will nearly always outweigh difficulty of matchups. But being granted a matchup against the worst defensive unit against the rush according to DVOA rankings, I don't see a reason not to be overweight on rostering Hill, especially in Cash Game lineups.
While I don't see massive large-field tournament upside for him, I also wouldn't be surprised to see him light up the stat sheet in the touchdown department. Just be advised, as mentioned during the intro: Kenjon Barner or Qadree Ollison could prove to be vulturous around the goal line, but this does not mean I would ever roster them over Hill given the circumstances of the scenario (although I am very mildly interested in Barner on DK in large-field GPP).
Other Cash RBs:
Leonard Fournette, JAC ($7,900 DK/$7,200 FD)
Josh Jacobs, OAK ($6,900 DK/$8,000 FD)
Carlos Hyde, HOU ($4,600 DK/$6,300 FD)
Tevin Coleman, SF ($6,100 DK/$6,700 FD)
Marlon Mack, IND ($6,400 DK/$7,300 FD)
Other GPP RBs:
J.D. McKissic, DET ($4,600 DK/$5,800 FD)
Jordan Howard, PHI ($4,700 DK/$6,100 FD)
Miles Sanders, PHI ($4,100 DK/$5,600 FD)
Christian McCaffrey, CAR ($10,500 DK/$10,500 FD)
Ezekiel Elliott, DAL ($9,000 DK/$8,400 FD)
DART-THROW GPP RB:
Kenjon Barner, ATL ($3,700 DK/$5,100 FD)
Wide Receiver
John Brown, BUF ($6,400 DK/5,900 FD)
Consideration: Cash Games, GPP (All Entry Field Sizes)
Being a Buffalo wide receiver and flying under the public radar? Understandable, I suppose. But coming in at next-to-no ownership when facing a defense ranking in the bottom three teams against the pass, along with averaging 14.5 DraftKings Fantasy Points per game through this season, seems to be a bit insulting considering we all know Josh Allen isn't going to run for every touchdown the Bills account for on Sunday against Miami (or is he?). This makes John Brown an excellent Cash Game play at his price, and an even better GPP investment at his projected ownership across the industry (under 5%).
In Week 7 against Miami, Brown cashed in for 19.30 DKFP via 5/6 receptions, 83 receiving yards and a touchdown, more than paying off his $5,500 price tag for that outing. And what's better is that Brown has since seen an increase in targets from week-to-week following their 31-21 victory against the Dolphins, averaging 8.66 targets per game in that recent span.
Don't get me wrong: I'll be getting to plenty of Cole Beasley as well, as he stands to be every bit as promising in his entire 2019 season as well, but I anticipate nearly twice the ownership in comparison and I will always "spend-up to be contrarian" in the case of equal likelihoods to payoff value with half the field popularity attached to it. I will assuredly be over the field on John Brown (as well as Beasley) against this deteriorated Dolphins pass defense that's coughed up the fourth-most touchdowns to the passing game in the league (20 touchdowns).
Other Cash WRs:
Michael Thomas, NO ($9,900 DK/$9,000 FD)
DeAndre Hopkins, HOU ($8,100 DK/$8,300 FD)
Amari Cooper, DAL ($7,700 DK/$8,100 FD)
Julian Edelman, NE ($7,600 DK/$7,400 FD)
D.J. Moore, CAR ($5,900 DK/$6,000 FD)
Tyrell Williams, OAK ($5,400 DK/$6,200 FD)
Other GPP WRs:
Mohamed Sanu, NE ($5,100 DK/$5,800 FD)
Deebo Samuel, SF ($4,000 DK/$5,600 FD)
Hunter Renfrow, OAK ($4,000 DK/$5,700 FD)
Stefon Diggs, MIN ($6,900 DK/$7,300 FD)
Tyler Boyd, CIN ($5,200 DK/$5,900 FD)
Demaryius Thomas, NYJ ($3,900 DK/$5,200 FD)
DART-THROW GPP WR:
Keke Coutee, HOU ($3,500 DK/$4,800 FD)
Tight End
Dallas Goedert, PHI ($3,900 DK/$5,000 FD)
Consideration: GPP (All Entry Field Sizes)
As certain as I am that Sean Green is stoked for this pick, I'm every bit as mystified that Dallas Goedert's price tag is still so insanely low after consistently exceeding value week after week.
He's by no means the most targeted player on the Philadelphia offense (nor should he be at his fantasy cost), but with DeSean Jackson being shipped to the Injured Reserve list and Ertz often drawing excessive coverage, Goedert stands in line to continue his pace of besting his fantasy salary with ease despite the difficulty in the opposition of the Patriots secondary.
He accounts for 20% of the Eagles passing red zone touchdowns, with two of his three scores coming from being targeted in that area. While New England ranks ninth overall against the tight end position per DVOA Positional Rankings (ala Football Outsiders), the Patriots were exploited against the Ravens in the red zone with double tight end sets and Nick Boyle picked up the score in one drive while Hayden Hurst drew the additional coverage on the play. This is exactly how I could see Goedert coming into play with Zach Ertz this Sunday at Lincoln Financial Field.
I would nearly consider him in Cash Games as well, but it's hard to entirely lock in any player against a New England secondary still ranked second overall against the pass in DVOA rankings. But I will definitely be opting in on Dallas Goedert in several of my tournament lineups.
Other Cash TEs:
Darren Waller, OAK ($5,500 DK/$6,700 FD)
Jared Cook, NO ($4,400 DK/$6,00 FD)
Tyler Eifert, CIN ($3,200 DK/$5,000 FD)
Jack Doyle, IND ($4,000 DK/$5,400 FD)
Other GPP TE:
Zach Ertz, PHI ($5,000 DK/$6,200 FD)
Mark Andrews, BAL ($6,100 DK/$6,900 FD)
T.J. Hockenson, DET ($3,600 DK/$5,300 FD)
Noah Fant, MIN ($3,700 DK/$5,100 FD)
DART-THROW GPP TE:
Ross Dwelley, SF ($3,400 DK/$4,900 FD)
Defense/Special Teams
Cash Game D/STs:
Vikings ($3,400 DK/$4,700 FD)
Bills ($3,800 DK/$5,000 FD)
Patriots ($3,500 DK/$5,000 FD)
Niners ($4,000 DK/$4,900 FD)
GPP D/STs:
Raiders ($3,300 DK/$5,000 FD)
Jets ($3,100 DK/$4,500 FD)
Cowboys ($3,600 DK/$4,100 FD)
Saints ($2,900 DK/$4,800 FD)
DART-THROW GPP D/ST:
Cardinals ($1,500 DK/$3,500 FD)