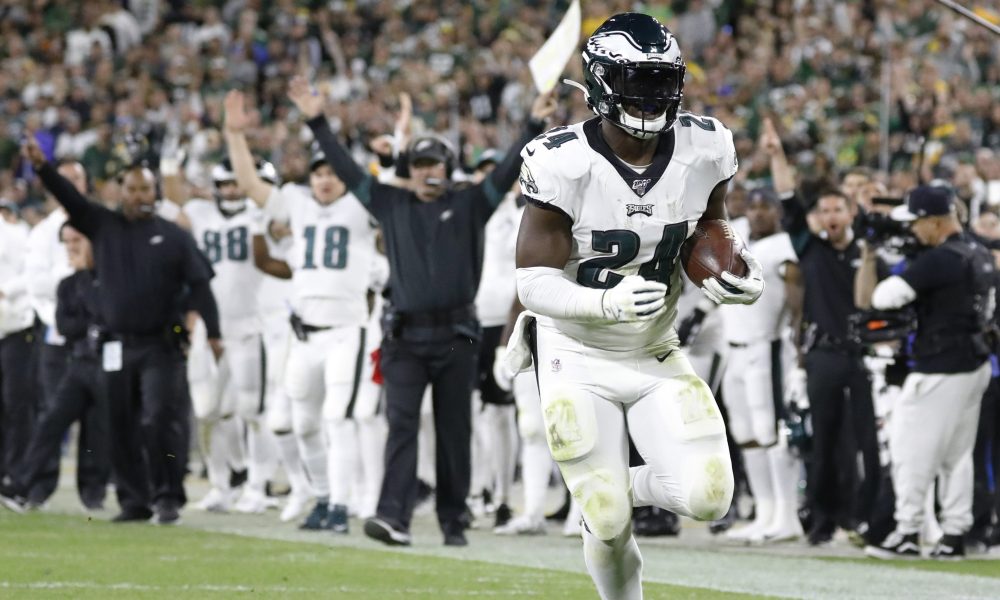 1. Eagles Statement Win
The Philadelphia Eagles made quite the statement on Sunday afternoon in Orchard Park, New York dismantling a great defense at home in the Buffalo Bills. Philly needed a serious bounce-back after they were handled by Dallas last week on the road and they did just that in what is typically a very tough spot for a team going on the road in back to back weeks. 
There were serious questions surrounding this Eagles team after that big loss to division rival Dallas, where they gave the ball away four times. Rookie Miles Sanders really led the way for Philly on Sunday totaling 118 yards. This Eagles team now returns home for a three game stretch and they have to feel good about the way they performed against a defense like the Bills. 
With games coming up against New England and Seattle this Philly team will need to demonstrate their ability to move the ball against the Bills on the ground was not a fluke or a mere egg laid by a Bills team at home. The NFC East is still very much a two horse race and Dallas still has to play New England themselves. Should be another exciting finish in the NFC East this year.
With bad weather in Buffalo, the Eagles went to smashmouth football and Jordan Howard played more than any RB in the last three years.@DZangaroNBCS has more in this week's snap counts. https://t.co/2KVocT5UB2

— NBC Sports Philadelphia (@NBCSPhilly) October 28, 2019
2. Bears Kicking Issues
Well this was certainly a weird one, and the questions/doubts begin to swirl even more rapidly around head coach Matt Nagy after some questionable game management choices on Sunday afternoon hosting the LA Chargers. A struggling Mitch Trubisky took his team down but missed what was a wide open Taylor Gabriel for what should have iced the game by walking in for a touchdown. 
Trubisky has been struggling for most of this season, sometimes hard to watch. What was very telling was a play from the goal line on third and goal from the nine when the Bears actually ran the ball. This echoes the lack of confidence the Bears have in Mitch to make a play for them in crucial spot. Something you might want to have from what is supposed to be your franchise quarterback. Back to the drive, after missing Gabriel, Mitch then fumbled which left the door very much wide open for the Chargers. Mitch was able to somehow get out of his own way just long enough to get Chicago in field goal range for a potential game winner. This is when head coach Matt Nagy stepped in and left everyone scratching their heads. Nagy instructed his team to kneel the ball and was very stern in defending his position saying, "Running the ball never crossed my mind." The fear of making mistakes is handicapping this team and made the FG longer for Eddie Pinero who as you can probably guess shanked it. Another disappointing day for Bears fans everywhere and changes seem inevitable at this point for multiple Bears employees.
.@earlbbennett joined @tweetjhood to discuss the Bears loss on Sunday.
Do you believe Coach Nagy and his full support of Mitch Trubisky? Is the season over?#UTHPOD on the loss vs. Chargers here:https://t.co/cif7QMsLCb pic.twitter.com/Cx0EpGPVUH

— ESPN 1000 (@ESPN1000) October 29, 2019
3. This Saints Squad Wasn't Supposed to Be Good
Drew Brees is back in a big way as he had himself quite the day on Sunday to remind Saints fans, "Hey, remember me?" The veteran signal called completed 34 of 43 passes on Sunday for 373 yards and three touchdowns. The Saints have handled losing their franchise QB better than anyone could have possibly imagined. New Orleans managed to win all five of their games missed by Drew Brees with dominant defensive performances and guys like Teddy Bridgewater and Taysom Hill really picking up the slack. 
This Saints team has a bye in week nine and are now a serious threat at 7-1 with some serious momentum and oh yeah did I mention they have their future Hall of Fame signal caller back behind center? This Saints team still gets to face the lowly Falcons twice, as well as the Titans and Buccaneers. This team has a serious chance to compete with San Fran for home field throughout and I am not sure there is a place teams would like to travel to for a playoff game less, than a New Orleans city who deservedly feels shorted from last year to put it lightly. 
🙌@DrewBrees targeted @Cantguardmike 11 times today

Thomas caught all 11 targets for 112 yards and a touchdown!#Saints pic.twitter.com/KegDgz3XKx

— New Orleans Saints (@Saints) October 27, 2019
4. QB Controversy in Jacksonville
Nick Foles is back at practice for the Jacksonville Jaguars but given the play of rookie quarterback Garnder Minshew the starting job may not be his anymore to go back to. Going into Sunday's game against the Jets he had thrown for 10 touchdowns and just two interceptions. 
Minshew had another solid outing against the Jets completing 22 of 34 of his passes for 279 and another Jacksonville victory. Minshew has now thrown for 1,976 yards since being thrust into action and has a chance to be a game over .500 heading into their week 10 BYE with a win at home against Houston on Sunday. This would have sounded absurd to any Jacksonville supporter at the time of Nick Foles injury but Minshew has made the most of his opportunity in Jacksonville and the Jaguars have really benefited from his play thus far. 
This team will have some serious questions to answer during the BYE week as after they come out of it, it is not exactly the easiest stretch to end the season. The Jags will play three key division games that will play a huge roll in their chances of getting in as a wild card team. It should be interesting to see what this direction goes in, in terms of quarterback and how the team responds to any potential change or non-change at quarterback specifically. 
FILM ROOM: #Jaguars QB Gardner Minshew leads his most impressive drive of the season vs. #Jets https://t.co/dhPK2U3OHm pic.twitter.com/guVotzW2C8

— Big Cat Country (@BigCatCountry) October 28, 2019
5. San Francisco Super Bowl Bound?
The San Francisco 49ers had yet another dominating performance on Sunday in which the game felt over before halftime even came. The Niners did a lot to silence some of the critics who point to the Rams as their only "quality win" of the season so far, dismantling a Panthers team 51-13, who had been playing well coming into the game. Nick Bosa was a PROBLEM on defense all day recording three sacks and a wild interception. 
The 49ers have used a combination of a potent pass rush and an ability to run the football to make life easier for Jimmy G. This team is filled with talent on both sides of the football and have proven to be a tough task for teams to try and gameplan for. This team still has the pleasure of seeing the lowly Arizona Cardinals twice as well as the now Ryan Tannehill led Titans in what could be more ugly scoreboard material. This San Fran team seems destined to meet New England in the Super Bowl, now wouldn't that be fun?
Bosa, bored with racking up sacks, picks off Allen and takes it back 46 yards. #49ers #CARvsSF #49wz pic.twitter.com/Z6tqWki74T

— Chris Wilson (@cgawilson) October 27, 2019