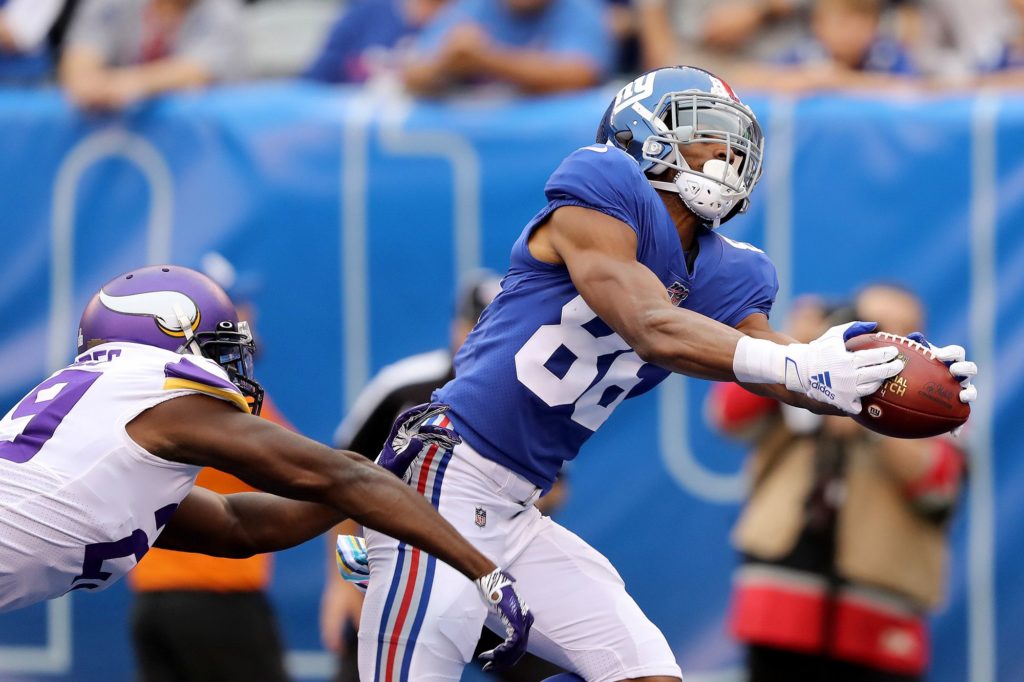 In the aftermath of a week which saw a slew of fantasy production to the tight end, we're faced with a waiver wire in Week 9 that's been pilfered at running back in weeks past, while seeming ripe for the picking considering the availability of several pieces at the receiving corps and tight end position.
Although the pickings may be rather slim in the backfield across all Yahoo Fantasy Football leagues (from players under 55% public ownership), if it is the running back situation that finds you ill, at this time you may want to consider combing the waivers at another position in hopes to pickup and package with another piece on your roster. This would be to propose a trade to a league member whose roster you find any weaknesses that you would then have a marketable solution to offer.
And with that specific situation being recognized (should it apply to you), there is plenty to offer at all other position, along with a few consistent pass-catchers who've slid under the radar as of recently. Let's take a look at a few of the available players who could be potential game-changers for you going forward…
Darius Slayton, WR (NYG, 4% Ownership)
While the return of Golden Tate seems to have stolen the spotlight in recent weeks, Darius Slayton has been every bit as potent in this Giants offense and, if anything, it is Tate's return to the field which has positively impacted Slayton's ceiling potential.
Since Week 6 (Tate came back in Week 5), Slayton has seen his offensive snaps jump from 65% to 98% of the Giants plays called from scrimmage, and his targets haven't fluctuated much either. He's scored three touchdowns in three weeks, and two coming most recently in Week 8 against the Lions, along with 50 yards receiving (on two receptions, 5 targets).
He's not the lead target-getter and somewhat touchdown-contingent, but Darius Slayton is worthy of a flex-play or WR3 during desperate times (in the thick of bye weeks), and provides a moderate/high-upside potential. He has Dallas in the Meadowlands next Monday night.
Derek Carr, QB (OAK, 26% Ownership)
Seeming to be socially stigmatized by a sort of post-AB meltdown/post-Hard Knocks hangover, Derek Carr was cast away in all formats (Daily Fantasy included) and all the while posting some middling numbers every week. He hasn't been any sort of outstanding by any means, but Carr has hardly had any weapons besides Darren Waller to really work with to this point (until the recent return of Tyrell Williams).
The thing is, if you're reeling at quarterback, you shouldn't necessarily walk with the sheep in entirely avoiding Carr. Besides his one difficult matchup with the Bears in Week 5 [before the Raiders bye week], he's averaged 20.56 fantasy points in his last two matchups since the bye and has averaged 18.06 excluding the blunder with Chicago. He's only thrown one interception since Week 4, and against the Texans threw 18 completions on 30 attempts, 285 yards, and three touchdowns through the air as well. Now he's established further rapport with Hunter Renfrow and Foster Moreau, to include as a cherry on top with Ty Williams' return.
He isn't the most awe-inspiring fantasy play but Derek Carr has a somewhat solid floor on a weekly basis, and now possesses further upside in the passing game with some more consistent pieces in the receiving corps. If you're in need, he's worth your attention.
Go here for more info on online sports betting.
Jonnu Smith, TE (TEN, 19% Ownership)
With Delanie Walker having become the injury hazard we all feared he would, rushing to Jonnu Smith has been a fantasy trend in hibernation since last season and has finally come to fruition alongside the risen phoenix in Ryan Tannehill.
Since supplanting Marcus Mariota at the quarterback position, Tannehill has surprisingly made the life as a pass-catcher in Tennessee a doable one, and Jonnu Smith has been among the beneficiaries from the switcheroo at QB. Smith is currently the top red zone target for the Titans (after Week 8's performance), which is where he thrives despite his number of overall targets to this point per game being low.
Following his six reception performance (on seven targets) churning out 78 yards and a touchdown, Smith will now be on nearly everyone's radar with a remote need at the tight end position, and unless you're dialed-in with a top tier TE already, Jonnu Smith is worth every bit of your waiver wire attention as a potential weekly fantasy starter going forward.
Chris Conley, WR (JAC, 2% Ownership)
Clearly another candidate who's flown well off the list of consideration (based on his ownership), Chris Conley has recently begun to solidify himself as one of the top options for Gardner Minshew, particularly in his past two outings.
After a very promising performance in Week 1, Conley's performance fell off a cliff (possibly due in part to the emergence of D.J. Chark at the time), and nobody ever remotely considered him again. In back-to-back seven target games, Chark has managed seven total receptions for a touchdown, a 2-pt conversion, and 186 yards (83 & 103 yds in each game respectively). Also in these past two weeks, Conley has been the second-highest target shareholder in Jacksonville and hovers around the 80-percentile in regards to snap counts for the Jags offense.
In the fantasy sports world, volume and opportunity are gospel, and it appears Chris Conley is beginning to garner an uptick in both. Wide receiver starved? Give Conley a look to fill the void.
Adrian Peterson, RB (WAS, 54% Ownership)
Just riding the fringe of the sub-55% ownership benchmark (set for purposes of universal relevance when writing this), Adrian Peterson is certainly more than worth mentioning as the lead ball-carrier in an offense grasping for answers and with very few consistencies outside of bad ones.
Against the Vikings offense this past Thursday night, Peterson led the team in carries by far (14 carries to Wendell Smallwood's 2) and amassed 76 yards on the ground, which isn't shabby considering the opposition and how linear the play-calling on offense in Washington currently is.
With very few viable options available on the waiver wire at the moment at running back, if you happen to be in one of the roughly 45% of leagues where he is somehow available (most likely smaller leagues), I would make room for Adrian Peterson on your bench if you happen to have any dead weight there to do so. (And if you have an IR slot available in your league that you aren't currently utilizing, I would stash Derrius Guice there for when/if he returns to fill AP's role)
Other Waiver Wire Considerations:
Daniel Jones, QB (NYG, 23% Ownership)
Ryan Griffin, TE (NYJ, 0% Ownership)
Darren Fells, TE (HOU, 18% Ownership)
Matt Schaub, QB (ATL, 1% Ownership)
Ryan Tannehill, QB (TEN, 30% Ownership)
Hunter Renfrow, WR (OAK, 1% Ownership)
Andy Dalton, QB (CIN, 20% Ownership)
Danny Amendola, WR (DET, 9 % Ownership)
Josh Reynolds, WR (LAR, 0% Ownership)
Alex Erickson, WR (CIN, 7% Ownership)
Tyler Eifert, TE (CIN, 9% Ownership)
Deebo Samuel, WR (SF, 12% Ownership)
Cole Beasley, WR (BUF, 24% Ownership)
Russell Gage, WR (ATL, 0% Ownership)
Raheem Mostert, RB (SF, 6% Ownership)
Auden Tate, WR (CIN, 28% Ownership)
Jack Doyle, TE (IND, 15% Ownership)
Darrell Henderson, RB (LAR, 27% Ownership)
Garnder Minshew, QB (JAC, 54% Ownership)