The fall season of the PGA Tour changes gears, as the tour heads across the Pacific to Asia for three star studded international events. First up on the Asian Swing is the third annual CJ Cup at Nine Bridges on Jeju Island, South Korea.
If you were one of the dozen people who tuned into the Houston Open last week and wondered where all the star power was, they were approximately 35,000 feet above the Pacific Ocean and flying over for this tournament. On the surface, it's a tough sell to ask the top players to spend three weeks on the other side of the world, but they're over there for one purpose only – money. The purse for this week's CJ Cup and next week's ZOZO Championship is $9.75 million, and the purse for the WGC – HSBC Champions in two weeks is $10.25 million. Those are some of the largest purses that'll be on the line on the PGA Tour all year, and given they're all no-cut events everyone is assured of bringing home some bacon with a guaranteed check.
Unfortunately for gamblers and DFS players, the PGA Tour doesn't capture any ShotLink data at the CJ Cup, which means there isn't any coveted Strokes Gained data to parse through. Picking golfers over the next three weeks is going to come down identifying players in good form and matching that up with a detailed analysis of how each golf course will play.
Here's everything to know about the CJ Cup @ Nine Bridges before gambling on it.
The Field
Money talks, and that's exactly what's driving a fantastic field on Jeju Island this week. Headlining the tournament are former champions Brooks Koepka and Justin Thomas, who look to add another CJ Cup to the mantle (which, ironically enough, is actually a plaque). Other notables in the field are Hideki Matsuyama, Phil Mickelson, Tommy Fleetwood, Sergio Garcia, Jason Day, and Gary Woodland. This field also features the trio of talented young guns on the PGA Tour in Viktor Hovland, Matthew Wolff and Collin Morikawa, and I wouldn't mind at all waking up in the middle of the night and seeing those three paired together in the opening two rounds.
A player who I have my eye on the most this weekend is Jordan Spieth, who had just an awful 2019 season in which he finished 157th in Strokes Gained – Tee-to-Green and hasn't won a tournament since the 2017 Open Championship. This is his first start of the 2019-2020 season, and he hasn't played a competitive round of golf in two months. While he showed very little during the FedEx Cup Playoffs that his ball striking woes were behind him, no one truly knows what the state of his game is. A lot can change in two months, especially for a world class player like him. Anyone who looks to bet him, fade him, or use him in DFS is certainly playing with fire.
The Golf Course
Nine Bridges Golf Club opened in 2001 and is widely considered as the best golf course in South Korea. It's located on the island of Jeju, which is south of the Korean Peninsula and is considered the Hawaii of the nation (though the temperatures are much cooler than that of the Pineapple state). The island is full of luxury resorts featuring some of the best golf courses in South Korea, with Nine Bridges serving as the crown jewel.
The golf course was designed by Ronald Fream and David Dale, who are not household names but own a company called Golf Plan that has a particular emphasis on horticulture. They spared absolutely no expense importing non-native plant species to the property, including dozens of Japanese maples, Korean Azaleas and evergreens. The golf course is lush with bentgrass surfaces tee to green. It's also called "Nine Bridges" because golfers will traverse across eight physical bridges over the course of 18 holes, with the ninth bridge representing the metaphorical link between the club and the golfer.
The club is essentially the Augusta National of South Korea in more ways than it's impeccable condition – it is also highly exclusive. It's so exclusive that K.J. Choi, who is widely considered as the greatest South Korean golfer and grew up on Jeju Island, didn't play Nine Bridges until a practice round of the 2017 CJ Cup. Some writers this week might try and play up the narrative that one of the several South Korean golfers in the field this week are playing a home game, but the reality is none of them have a lot of experience playing the golf course.
Front Nine
Back Nine
Nine Bridges has two distinct nines. The front nine plays much like a typical Scottish Highland golf course, which includes plateau greens, a redan styled  Par 3 2nd, and a principal nosed centerline bunker complex on Hole #6. This is also a nine where players should have a good mix of hitting a driver or 3 Wood off the tee, as some holes require a more strategic positional shot instead of blasting it as far down the hole as possible.
The back nine, however, is very driver heavy and is much more akin to an American style golf course. This side features large swaths of fairway bunkers and numerous water hazards the players must navigate around, but with generously wide fairways the players should hit driver plenty throughout the inward nine. Ironically enough, it's the back nine that the members consider more of the Scottish style, but it's definitely the front nine that's more resembles the golf played by Old Tom Morris. The front nine is a little more quirky in style, while the back nine is much more of a test of execution.
The final hole of the golf course is the Par 5 544 yard 18th, which for members is usually a three shot hole into an island green. But it has a very serious design flaw that allows today's professionals to completely overpower it and make it more of a long Par 4:

The traditional route for the members is to play down the middle and avoid the two bunkers flanking each side of the fairway. A large tree should obstruct their view from the green, so the next play is to lay up short of the water and have a short pitch across the lake onto the green. But for the professionals, it is very easy to cut the corner from an elevated tee box to a landing zone down the left side of the hole. That cuts off about 75 yards off the hole, making it play more like a 477 yard Par 5. Players who successfully cut the corner will have only a mid iron into the green and a very easy opportunity to secure a birdie on the final hole of the day.
Despite a bit of overabundance of hazards and bunkers, especially on the back nine, this is a very solid golf course and will show great on television. There are some great scenic views to be had and lots of dramatic elevation changes, as the golf course sits on the base of the volcano at the middle of the island. It's fitting that Jeju Island is the Hawaii of South Korea because its overall layout tee-to-green of Nine Bridges reminds me of another Hawaiian golf course played on the PGA Tour – Kapalua. Like Kapalua, the difficulty of back to back holes could be extreme depending on both the wind and the change in elevation from tee to green.
Unfortunately for American fans, most of the live coverage (especially for those on the East Coast) will be while we're all sleeping. But if you're an insomniac or just an overall golf nut, it'll be worth foregoing a few REM cycles to catch the action live.
Betting Strategies
Last week at the Houston Open, bettors were plagued with a weak field and picking amongst a group of golfers who were overall very inconsistent. While this week's field is much stronger and bettors will be more familiar with the types of player they'll back or fade, this week's tournament presents a whole different set of problems. They include the following:
1. There is no ShotLink data available for the CJ Cup. That means we have no way of knowing where and how players gained strokes over the first two events at the golf course. While there is limited data available, it only includes more binary items like Driving Accuracy, Greens In Regulation % and Putts/Round. There isn't even driving distance stats available (at least any that I can find)! Bettors this week will get a taste of what it was like for our fathers and grandfathers to try and bet on a golf tournament.
2. While many of the top players are more well known commodities, they haven't played much golf over the last two months. For example, this is the first tournament that Jason Day and Jordan Spieth have played since the FedEx Cup. Both have struggled with their ball striking throughout the year, but could they have fixed their woes over these last two months? Maybe? No way? I don't know! And there's no way anyone but them know either. We've also only seen World #1 Golfer Brooks Koepka play two lackluster rounds in Las Vegas as the only form bettors can rely on. And though European Players like Tommy Fleetwood, Sergio Garcia and Danny Willett have several European Tour performances under their belts, none of them have measured tournament by tournament strokes gained data available. Without watching every shot, it's difficult to tell where they're excelling and where they're struggling.
What this means for bettors is that, at least for the players with very little recent form to rely on, they'll have to figure out how the golf course plays, what types of golfers theoretically should perform well there, and then pair that up with the types of player each professional in the field is. It's going to be a little more of a philosophical approach to picking players this week. This is definitely a much more difficult task than looking up recent strokes gained trends and relying on the spreadsheet.
First, let's discuss the golf course itself. Most holes offer very generous landing zones off the tee, and almost everyone will have excellent driving accuracy percentages on the week. For example, last year's winner Brooks Koepka only finished T42 in fairway accuracy in the event, but he hit 73% of his fairways (which if sustained for an entire season would rank 5th on the PGA Tour). While there are a few holes on the front nine that do require accuracy, most longer players can get away with using a 3 Wood without sacrificing too much distance, particularly on downhill holes. Because of how easy it is to hit the fairways, those who typically rank highly in driving categories should take advantage of it better than those who are average or below average. Therefore, bettors should focus on golfers who historically rank highly on Strokes Gained – Off the Tee and Good Drive %. This should cover both long and short hitters, as each have demonstrated success at Nine Bridges.
Next, let's take a look at the distances of the approach shots into most hole locations at Nine Bridges. Here's a chart of the approximate approach shot distances into each hole, based on yardage, positions of hazards that may force players to take less club off the tee, and elevation changes tee to green: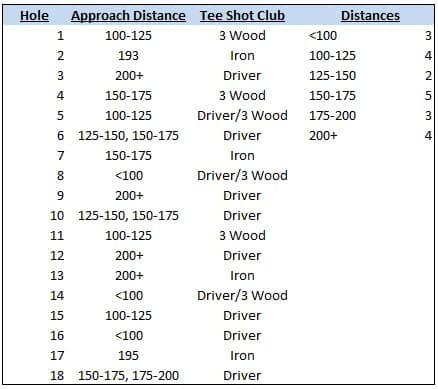 Overall, the most frequent approach shot distances this week will come between 100-125 yards, 150-175 yards and 200+ yards. Bettors can consult PGATour.com for proximity to the hole statistics to see how golfers fare from these distances.
Lastly, the weather is going to dictate where scores will be at the end of the tournament, as mother nature caused scoring to be wildly different in each CJ Cup. Cold, damp and windy conditions in 2017 saw Justin Thomas win the tournament at -9, in which he had 19 birdies and 10 bogeys. In 2018, the weather was much more benign and warm, and Koepka carded 23 birdies, 2 eagles and only 6 bogeys to a winning score of -21.
The forecast this week calls for temperatures in the high 60's and low 70's, with light to moderate winds and the threat of significant rainfall on Friday. That could create some challenging conditions on Friday, particularly for a wave with a tee time during the heaviest precipitation, but for the most part the scoring conditions should be ideal. That means premium ball strikers should be able to take advantage and go flag hunting, and players will have to drain their share of putts if they want to have a good finish on the leaderboard. Anyone struggling with their putter will have their ceiling capped more so this year than they would in a year like 2017. While strong historical performance on bentgrass greens is a bonus, don't overvalue those stats too much this week. Focus more on solid ball-strikers tee-to-green with putting metrics as the cherry on top.