1. Oklahoma vs Texas
Ah. The Red River Shootout. It's one of the best games in College Football each and every year and there's a decent chance this is the first of two meetings. Last year they played twice splitting the series at one win for each school.
2. Florida @ LSU
The Gators may be undefeated but I think the world knows they seem to be a bit flawed. LSU and Coach O have looked like the best team or 2nd best team in College Football all season long. Do the Gators finally meet their fate?
3. Penn State @ Iowa
Penn State going into one of the biggest trap city college football environments. Last time PSU played in Iowa City they needed a 4th down conversion on the final play of the game to escape with a win. Iowa is coming off a loss at Michigan and if they want any chance of winning the West this is a must win for the Hawkeyes.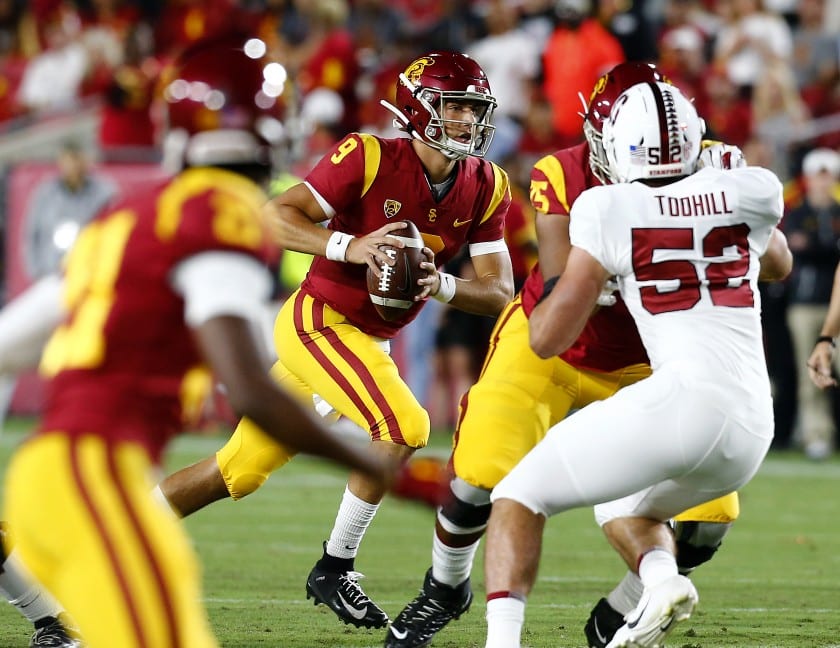 4. USC @ Notre Dame
USC is beaten up with injuries but this is still one of those rivalry games where you know this could end up being the best game of the weekend. Notre Dame destroyed Bowling Green last week while USC had the week off trying to get healthy for this.
5. Michigan State @ Wisconsin
Michigan State fumbled away any chance of the Ohio State game being close right out of the gate. If the Spartans want any chance of somehow playing for the Big Ten Championship they'll have to find a way to get a win in Camp Randle. Wisconsin hasn't left Madison in what seems like a year.
6. Alabama @ Texas A&M
Texas A&M has been one of the biggest disappointments in the College Football season. Alabama really hasn't been tested much this year. Can the Aggies find a way to keep this game close in a hostile College Station?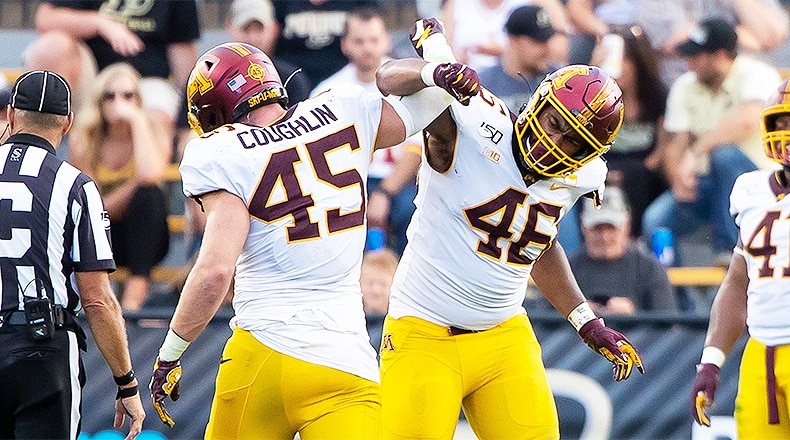 7. Nebraska @ Minnesota
Row the boat. Row the boat. Don't look now but Minnesota is flying under the radar in the Big Ten and now they'll get their first real test in the Big Ten. Yeah I don't consider Purdue or Illinois real contenders. Nebraska escaped Lincoln with a win over Northwestern and if the Cornhuskers want any chance of being a player in the West they need to upset the Gophers.
8. Virginia @ Miami (FL)
If this is really going to be Virginia's year then this is there time to make a statement win on the road and continue to lead the way in the Coastal Division. Miami (FL) has been one of the nations biggest disappointments and Manny Diaz is still looking for his first quality win.
9. Colorado @ Oregon
Oregon hasn't been too impressive to me the past couple weeks but yet they are still the team to beat in the Pac 12. Here's a nationally televised Friday night game where the Ducks can score some points with a nice win over a decent Colorado team.
10. Washington @ Arizona
No way Chris Peterson loses back to back games right? Washington is young and well that's clearly showing as the Huskies have dropped two unexpected games already thus far. Arizona is the surprise of the Pac 12 perhaps as the Wildcats currently are in first place in the Pac 12 South.
11. Florida State @ Clemson
Clemson almost lost to North Carolina and perhaps they should have. Florida State seems to be getting in together ever since they brought in defensive analyst Jim Leavitt. The offense we knew would get better each week with Kendall Briles at the helm but the Leavitt addition on defense was huge.
12. Appalachian State @ Louisiana Lafayette
The top two teams in the Sun Belt Conference going head to head in a nationally televised Wednesday night game? You gotta love it. I'll be in App State next week as the Moutaineers are still alive for the new years six group of five.
13. Memphis @ Temple
First place in their respective divisions is on the line here as Memphis hits the road to take on the Temple Owls in Philadelphia. Memphis needs this because the AAC West is looking much better than previous years with the emergence of Tulane and SMU.
14. Washington State @ Arizona State
Washington State lost its defensive coordinator during the bye week which perhaps could be a good thing. Clearly there were some differences on defensive scheme and approach so the cougars DC stepped down. Arizona State has first place in the Pac 12 South on their mind and needs a nice showing in Tempe.
15. South Carolina @ Georgia
South Carolina is on their backup QB and well Georgia isn't the type of team you want to play with a backup QB. Georgia struggled for a little bit at Tennessee before finding themselves and blowing out the Vols.
16. Louisville @ Wake Forest
Wakeleaks is back the only problem is Bobby Petrino is unemployed and probably driving random young women around on his motorcycle. Dave Clawson is undefeated and looking like perhaps the 2nd best team in the ACC. Scott Satterfield has Louisville playing much better than expected. This should be a good one.
17. Wyoming @ San Diego State
Oh man. I love this matchup. Two run heavy teams with decent defenses battling head to head with both teams being Mountain West contenders. First team to 20 wins.
18. Iowa State @ West Virginia
The Mountaineers and Neal Brown looked good last week despite losing the game to Texas and now comes a better chance at an upset as the Cyclones come to town. Matt Campbell and Iowa State need this one if they want to still be a player in the conference.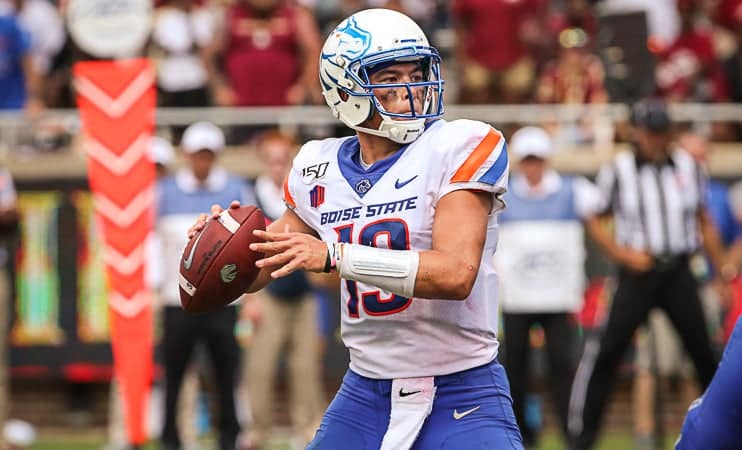 19. Hawaii @ Boise State
Are these the top 2 teams in the Mountain West? Hawaii's wins over Arizona and Oregon State early are looking better and better and the Rainbow Warriors scored a nice blowout win in Reno against Nevada. Boise State's win over Florida State is looking better and better. This one should be a good one.
20. Texas Tech @ Baylor
Where was that earlier in the year Texas Tech? The Red Raiders with a backup QB not only beat Oklahoma State in Lubbock. They destroyed them from the first snap till the last. Baylor is coming off two huge wins against Iowa State in Waco and on the road in Manhattan against Kansas State.
21. Ole Miss @ Missouri
Is Missouri really a contender in the SEC West? We'll know a little more after this weekend. Ole Miss is a little bit better than I thought they'd be at this point but they still aren't a very good football team.
22. Fresno State @ Air Force
Another Mountain West good one. Air Force had their chances to beat Navy and came up short and now return to Colorado Springs to catch Fresno State coming off a bye week. Fresno won the Mountain West a season ago and I'm sure the Air Force players know that.
23. Syracuse @ NC State
It's the ACC and we know the Conference as a whole is incredibly down which means 2nd place is still up for grabs so whoever wins this perhaps can still dream?
24. Michigan @ Illinois
Lovie Smith's time in Champaign is coming to an end if he does not find a way to score a huge upset or two. Here's a perfect opportunity. Michigan's offense has been awful which perhaps can keep the Illini in the game. Illinois starts QB Brandon Peters who was a grad transfer from Michigan and should have quite the chip on his shoulder.

25. Mississippi State @ Tennessee
Both these teams have been disappointments but it's really Tennessee who's been the one laughable program this year after so much preseason hype. The Vols still haven't beaten a FBS football team and it's the 2nd week in October. Can they finally get one here?
26. Navy @ Tulsa
Navy is much improved from a season ago and I knew that was coming after the Midshipmen barely missed out on a bowl a season ago. Tulsa is a much better football team than their record indicates. The Golden Hurricane should of beat SMU last week blowing a 21 point fourth quarter lead and missing the game winning field goal in overtime.
27. Cincinnati @ Houston
Cincinnati scored a huge win against UCF last week and now hits the road to take on the D'Eriq King-less Houston Cougars. Tread lightly Bearcats because Houston looked decent without King against North Texas and this game screams trap game after the UCF win.
28. North Texas @ Southern Miss
Two of the better teams in the Conference USA West the past couple years squaring off in a game that is huge for both teams. Both teams want to rebound from shaky starts and both these teams still are contenders for this year's Conference USA title.
29. Georgia Tech @ Duke
Duke battled all the way back and took the lead against Pitt only to blow it and now this game becomes a must win for the Blue Devils if they want any shot of winning the Coastal.
30. Utah @ Oregon State
Jonathan Smith and the Oregon State Beavers are much improved despite still only having two wins. They lost close ones to Hawaii and Stanford and just beat UCLA by double digit points in Pasadena. Utah has been underachieving after being projected as the Pac 12's best team coming into the season.
31. Arkansas @ Kentucky
If Kentucky really wants another bowl season than this game is suddenly a must win game. Arkansas and Chad Morris are still looking for their first ever SEC win.
32. Northern Illinois @ Ohio
Northern Illinois blew a 17 point lead to Ball State at home. That will keep you up at night. Here's a perfect chance for NIU to rebound against one of the MAC's best teams in Ohio.
33. Maryland @ Purdue
Purdue is one of the most injured rosters in all of FBS so Maryland should take advantage here. If Maryland can grab this one then a bowl game really could be happening in year one of the Mike Locksley era.
34. Miami (OH) @ Western Michigan
Two good MAC teams meeting up in Kalamazoo. Western Michigan needs this win after battling back but losing a close one against Toledo on the road. Miami (OH) scored a nice win against Buffalo that has the Redhawks believing they can contend for a MAC Championship this year.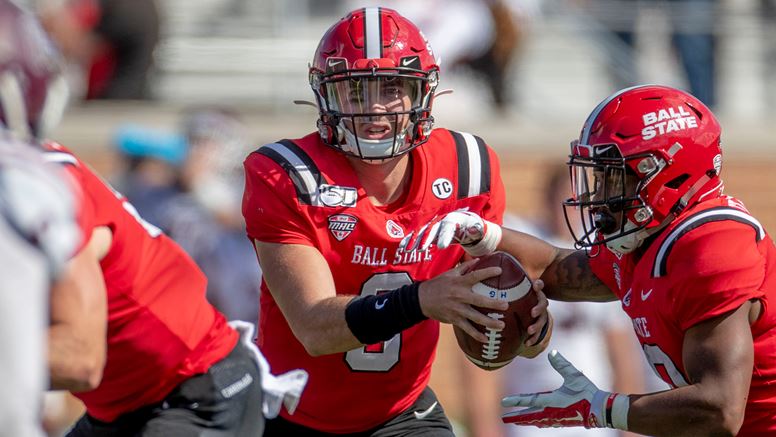 35. Ball State @ Eastern Michigan
Eastern Michigan got smacked by Central Michigan last week and now the Eagles can't afford to fall asleep again. Ball State battled back from 17 and shocked the Northern Illinois Huskies.
36. Middle Tennessee @ Florida Atlantic
Suddenly, this looks like the big game in the Conference USA East division. After Middle Tennessee beat Marshall and FAU took down Charlotte this game could be for the division.
37. BYU @ South Florida
BYU Schedules like complete maniacs we know this which if the Cougars really want to go bowling this year then this game right here is a must win game. South Florida has been awful this year and Charlie Strong is more than on the hot seat.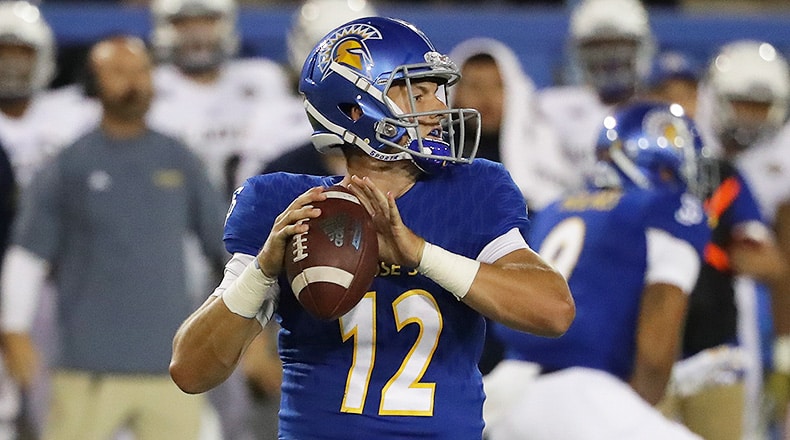 38. San Jose State @ Nevada
One of the best stories of this College Football season has been the emergence of the San Jose State Spartans. This was maybe the worst program in the country just a few seasons ago and now if they can grab a win here the Spartans might just be bowling come December.
39. Georgia State @ Coastal Carolina
A nice mid level matchup between two Sun Belt teams that have already exceeded my expectations coming into the season.
40. Colorado State @ New Mexico
Mike Bobo and Colorado State need this win so bad. The Rams are 1-5 but have played a really hard schedule. New Mexico sure could use this one as well for they know win this and maybe just maybe the Lobo's go bowling in December.
41. Army @ Western Kentucky
Army lost at home to Tulane last week and needs to rebound against a overachieving Western Kentucky team.
42. Charlotte @ Florida International
This one still means something in the Conference USA. Both these teams still could be players in the conference despite dropping early conference games.
43. Louisiana Monroe @ Texas State
If ULM wants to go bowling they are going to need this win right here.
44. Rutgers @ Indiana
Rutgers has thrown in the towel. Indiana needs as many wins as it can get to save Tom Allen's job.
45. Old Dominion @ Marshall
Marshall needs to rebound after the loss to Middle Tennessee. Old Dominion might be the best one win team in the nation.
46. Kent State @ Akron
Akron is my worst rated team in the country which is why Kent State should roll here.
47. UNLV @ Vanderbilt
Vandy still believes a bowl game can happen which means this is an absolute must win game for Vandy. UNLV should be interviewing coaches for next season already.
48. Uconn @ Tulane
Willie Fritz and the Tulane Green Wave are rolling and might just be the team to beat in the AAC West. They must take care of business against a bad Uconn team.
49. Toledo @ Bowling Green
Bowling Green is one of the 5 worst teams in America. Toledo rolls big.
50. UAB @ UTSA
If UAB really wants to contend for a C-USA title than this needs to be a blowout win in San Antonio.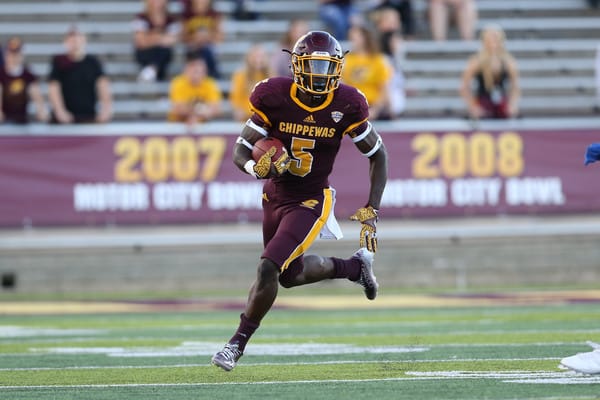 51. New Mexico State @ Central Michigan
Don't look now but Central Michigan is going to be a bowl team after just one win last season. Sure, they must take care of business against New Mexico State and a few others.
52. Umass @ Louisiana Tech
Skip Holtz has a C-USA title on his mind and although this isn't a conference game Louisiana Tech wants as many wins as it can get.
53. Rhode Island @ Virginia Tech
Virginia Tech is playing their 2nd FCS team of the year. Let that sink in. They almost lost the first one so perhaps Rhode Island is a live dog in this one.