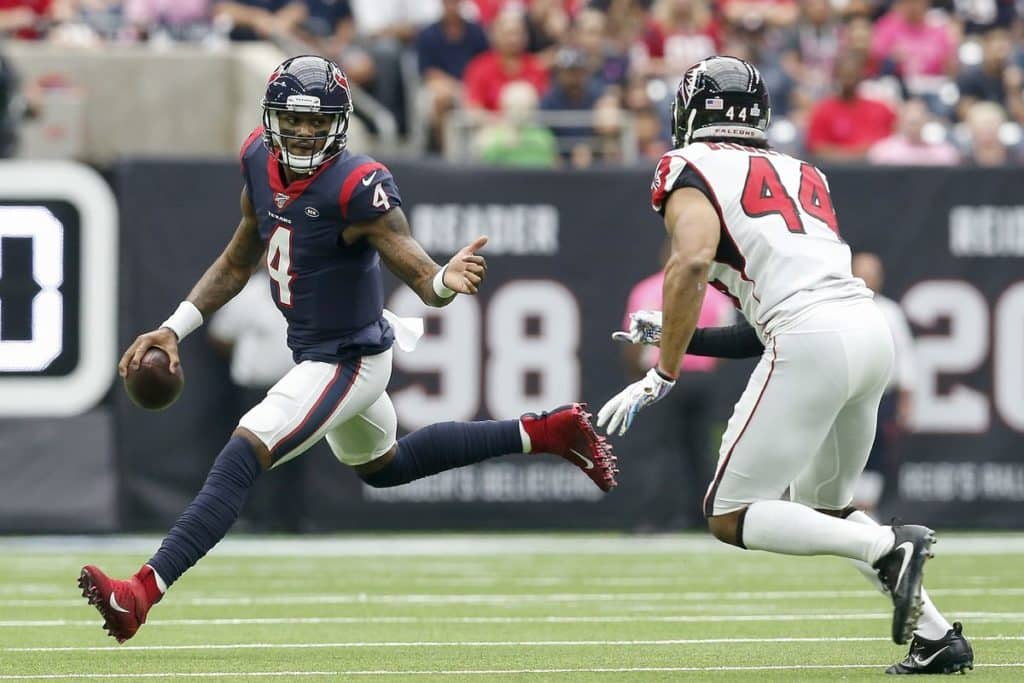 1.Deshaun Watson Is On A New Level
Deshaun Watson had himself a day on Sunday throwing for a whopping 426 yards and FIVE touchdowns. Deshaun made plays all day, moving around the pocket and finding an open receiver. Watson ended the day with a perfect 158.3 passer rating. The Texans crushed the Falcons on Sunday 53-32 and the Atlanta Falcons go back to Atlanta with a 1-4 record. The Texans did a great job of keeping Watson upright which obviously helped him make a lot of the plays that he did on Sunday. The Texans had struggled a bit to protect Watson and this was an encouraging sign against a decent Atlanta pass rush. Watson became just the third QB of the Super Bowl era with 400 passing yards, five touchdowns, and a perfect passer rating. It was just the 10th time since the merger that a QB posted 400+ yards, five TDs, and zero interceptions. Watson also continued his defensive breakdowns in post game interviews, something that went viral last week when a reporter asked him about throwing downfield and Watson calmly laid out what he sees from the eyes of a quarterback in what became a pretty funny video. This continued this week and it appears that the Houston QB is enjoying being healthy and contributing to this powerful offense.
#Texans bread and butter out of 12 personnel. ATL have 8 in coverage and three run with Hopkins across the field. They are attacking the post safety. Fuller cuts his route off so short there is so much space for that safety to make up. Look at the room for Watson to work with. https://t.co/FpIeCfxWKm pic.twitter.com/yCyTgnYRHK

— patrick (@PatDStat) October 8, 2019
2. The Raiders Are Now A "Tough" Team
In what certainly killed thousands of ML parlays, teasers, and straight bets the Chicago Bears would not get back on their flight to the US with a win on Sunday. The Raiders won their second "road" game in a row last week in London shocking the Bears and really owning the line of scrimmage all game. It was definitely a weird to see, as the Bears essentially were bullied in the trenches all day and rookie running back Josh Jacobs had a hell of a day on the ground. In what I am sure was a disappointing day for the Bears, there is one Bear in specific who must be particularly disappointed with the offensive effort on Sunday. You know that Khalil Mack was really hoping to bury this Raiders squad that traded him. Even if there appears to be no animosity between the sides, there is always that thought that, hey this team gave me away. Something I am sure Mack wishes had gone differently. 
3. I Hate To Say I Saw This Coming…
The Browns traveled to San Fran on Monday night fresh off a convincing road division win at Baltimore last week. Things did not go great for Cleveland last night as San Fran was clearly ready for this team. This 49ers team looks legit as they were clicking on both sides of the football. They face another real test in their next game as they travel to LA to take on the Rams but this was a very encouraging stepping stone for a team who's early undefeated record was met with skepticism based on their competition, which is fair, but another strong performance vs the Rams will go a long way in solidifying this teams legitimacy as an NFC Championship contender. Meanwhile the Browns also operate on a short week as they get ready to host Seattle. Never a fun opponent as Russell Wilson has demonstrated yet again just how special he is. It will be a tall task for this Cleveland team to step up for as this Seattle team is always hard to prep for. 
👀Preseason #Browns hype—>Regular season play 😬Summed up in a short clip. 😂 pic.twitter.com/gLXxAHQ4oB

— D Brown (@DBrownFF88) October 8, 2019
4. The Streak Comes To An End
In another wonderful result for the books, *rolls eyes*, the Colts went into Kansas City and shocked the Chiefs. Something that simply just does not happen, this Chiefs team has an insane record at home and are used to taking care of business. This was after Kansas City barely squeezed by Detroit on the road last week, many thought this would be a great get right spot for KC, as if they needed one. Many thought that KC would win this pretty handedly and expected many points as the total closed at 55. Neither thing happened as the Colts won a defensive battle. The upsets were not finished with the Bears in London, the Chiefs have their undefeated streak snapped by Jacoby Brisset on the road. The Chiefs will face another still test at home this week as the Texans come to town. I wonder what the total will be here after the Texans put up 53 last week. Should be a great game between these teams and could shape up to be quite the shootout. 
Here's how pass rush impacts coverage. Mahomes is looking for Kelce here (watch his eyes from the end zone angle), but by the time he's open, the rush is closing in and Mahomes checks down to the RB. More on how the Colts stopped Kelce in my film review: https://t.co/8wWUbmVI8M pic.twitter.com/yBo2NdEsuI

— Stephen Holder (@HolderStephen) October 9, 2019
5. You Can't Stop The Patriots…Only Contain Them
The Pats have started slow the last two weeks now, granted last week was against the best defense they have faced thus far in Buffalo.  The game went to halftime with the Pats up just 12-7 despite a career high 31 pass attempts in the first half. They had a lead but it felt like it should have been more considering the opponent. That was no issue for the Patriots second half as they slammed on the gas pedal and cruised past the Redskins. Washington just had no answer on offense and the injuries are piling up. The Redskins managed a touchdown in the first quarter but that became their only score of the game. The Patriots rolled in the second half 21-0. The Patriots continue to impress and cover spreads. They are a freight train and if the wins keep stacking up like this the AFC will once again likely go through New England, good luck AFC!