If there is one type of job you don't want, it's one where people bet on when you'll be fired. Even worse is a job where your boss makes you come into the office at 5:00 AM(!!!!) to tell you that your services are no longer needed. But, that's the job Jay Gruden showed up to 5:00 am this morning, at which point Washington fired him as their coach.
This didn't come as much of a surprise, with the team going 0-5 to start the season. Oddsmakers saw this coming even before this season kicked off – they had Gruden at the head of the chopping block line earlier this summer. So one man's loss (of his job) is another man's gain – anyone who bet on Gruden being the first coach axed this season got odds somewhere in the +300 range.  A nice payout.
And the beat goes on and the world keeps turning around. Which means degenerates need a new coach to bet on to be the next one to get their walking papers.
Sportsline released their updated odds today:
Odds on the next NFL head coach fired:

Dan Quinn, Falcons: 3/1
Jason Garrett, Cowboys: 4/1
Doug Marrone, Jaguars: 6/1
Adam Gase, Jets: 10/1
Pat Shurmur, Giants: 15/1
Mike Tomlin, Steelers: 20/1https://t.co/qCn6NVgB3y

Via @SportsLine Oddsmakers pic.twitter.com/qmRvE6T5OA

— SportsLine (@SportsLine) October 7, 2019
Dan Quinn – Atlanta Falcons
The Falcons' Dan Quinn takes over the ominous spot atop the list, with the same 3:1 odds Gruden was bestowed. Giving up 53 points to Houston yesterday isn't the best way to earn yourself some job security.
Their 152 points conceded this season is second worst in the NFL, behind only the tanking Dolphins. This is a really bad look for Quinn, considering he's been coaching the defensive side of the ball pretty much his whole career, including this season (he's also the team's defensive coordinator).
The 1-4 Falcons might be hard-pressed now to reach the 8.5 win range they were predicted to finish this season with. This Sunday's game at Arizona might be make or break time for the coach.
Jason Garrett – Dallas Cowboys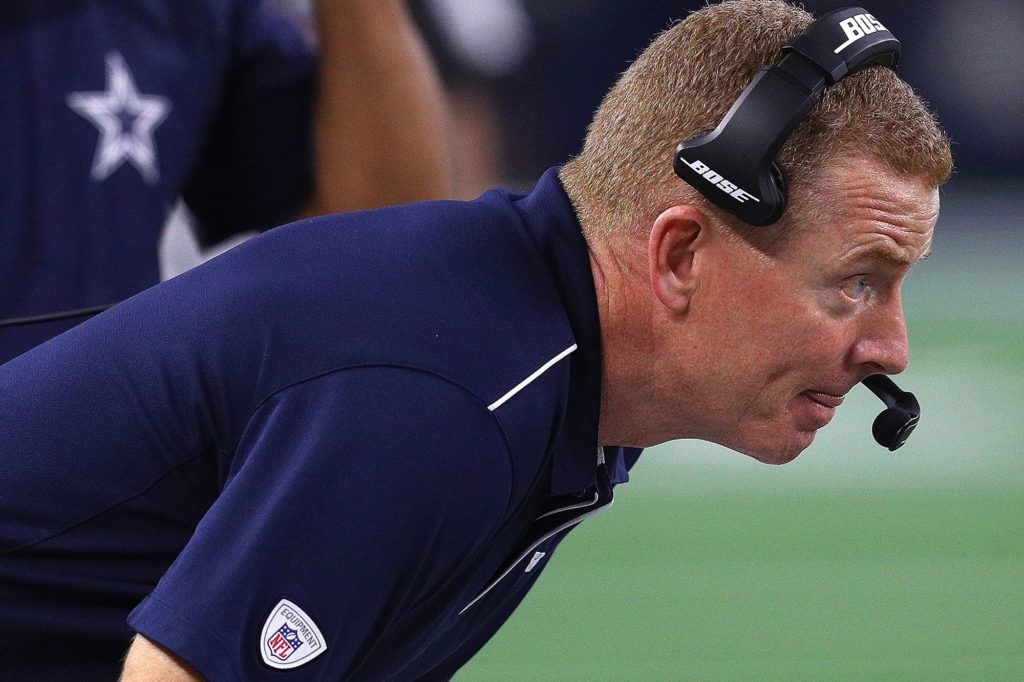 There are few coaching jobs as scrutinized as the one of head coach of "America's Team", the Dallas Cowboys. Look no further than current coach Jason Garrett being slotted in as the second-most likely coach to be fired next, with the odds at 4:1.
This despite the fact that the Boys are tied with Philly for first place in the NFC East. Losing their last two games, and only scoring 10 two week's ago in their loss to New Orleans, would explain this. Still, the bookies had them pegged as going 9-7 this year, and their current 3-2 record is right on track for that.
Doug Marrone – Jacksonville Jaquars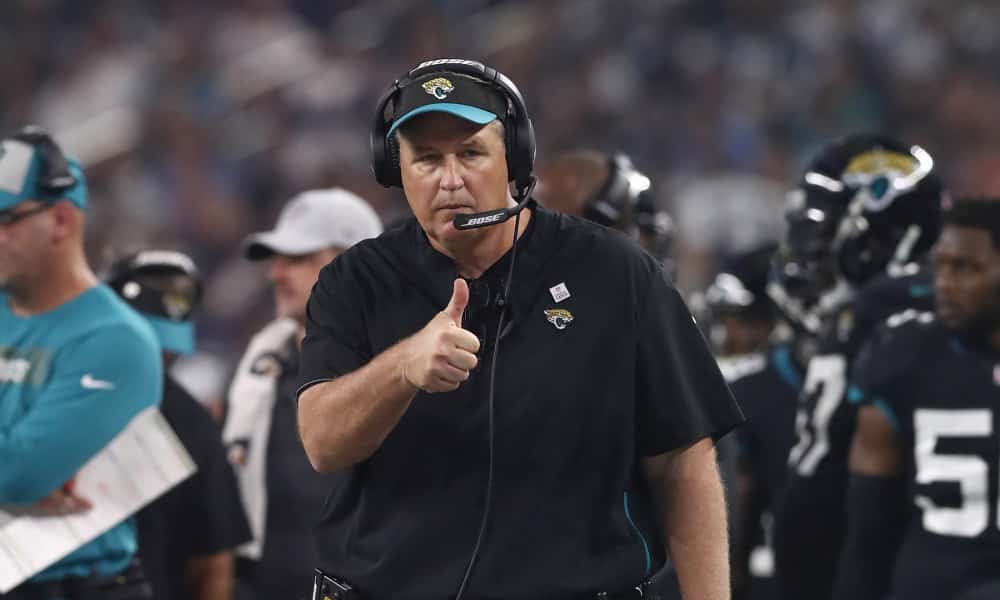 Things aren't so thumbs up now for Doug Marrone in Jacksonville, as the odds are 6:1 that he'll be axed next.
The Jags were expected to be a .500 team this year, and their 2-3 record thus far tracks to that. But, apparently the higher ups want more. The team has been streaky this year – after losing all four exhibition games, they also dropped their first two regular season ones, only to win their next two. Then they lost again yesterday. Another loss might be it for Marrone.