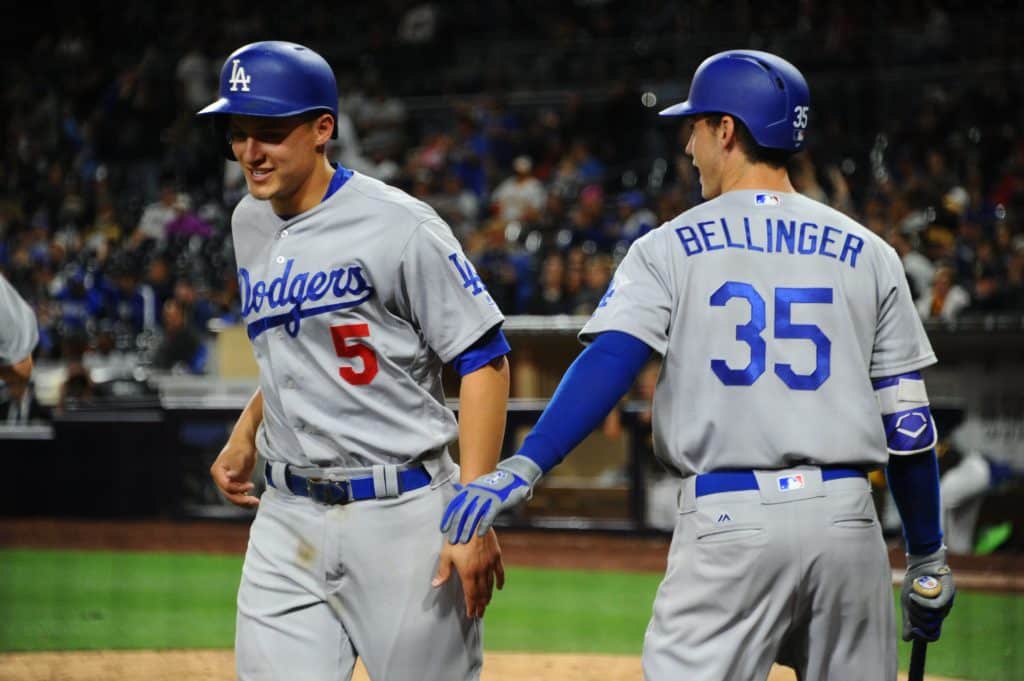 Washington Nationals vs. Los Angeles Dodgers
Series Odds: Dodgers -250, Nationals +185
The Dodgers are the clear favorite in the National League to return to the World Series for the third year in a row. Their pitching staff led the Majors in ERA (3.39) and FIP (3.73). Led by MVP-frontrunner Cody Bellinger, the Dodgers had the fourth-best wOBA (.338) and slugged the fourth-highest number of home runs (279). Three different players hit at least 35 home runs (Bellinger 47, Joc Pederson 36, Max Muncy 35)
They cruised to 106 wins, easily winning the NL West by 21 games while scoring 273 more runs than their opponents, second only to the Astros. On paper, the only team that can truly match the balance of the Dodgers is the Astros.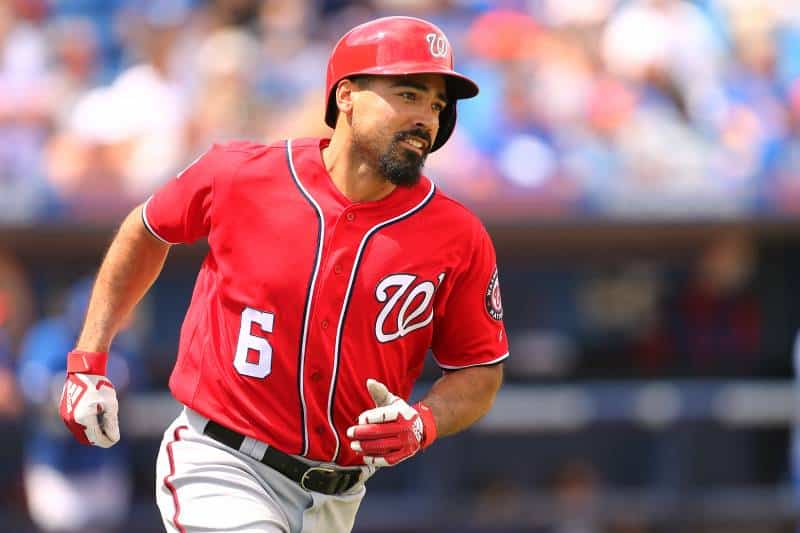 The Nationals came out of nowhere this season, nabbing the first wildcard spot before pulling off a dramatic win against the Brewers to punch their ticket to the playoffs. Led by Anthony Rendon and Juan Soto, Washington finished only slightly behind the Dodgers in wOBA (.336). Their surprisingly deep lineup doesn't boast the big names like the Dodgers but was extremely effective getting on-base, finishing second in OBP (.342). They scored 149 more runs than their opponents, an impressive number that was eclipsed by the Dodgers by a whopping 126 runs. The Nationals finished with a 4.28 ERA (13th in the Majors) and 4.14 FIP (7th overall).
The Nationals will be at a huge disadvantage, as they threw both ace Max Scherzer (77 pitches) and #2 starter Stephen Strasburg (34 pitches) in game 163. That means Scherzer will likely only be able to start game three. Strasburg, who threw his highest inning total (209 innings) since 2014, will likely start game 2 on short rest after pitching three shutout innings on Tuesday. Adding to their issues, Scherzer threw only 43 innings (with a 4.81 ERA and 3.75 FIP) in the second half because of various injuries.
Left-hander Patrick Corbin will start game one for the Nationals. Corbin had a great season with a 3.25 ERA, 3.49 FIP, and 28.5 K%. The Dodgers were not nearly as effective against lefties this year, finishing 14th in the Majors with an wOBA of .326. Their only realistic chance of winning this series is if Corbin can put together two strong performances.
The Dodgers have a well-rested trio of elite starters. They throw Walker Buehler in game one. The 25-year-old emerged as an excellent starter this season, striking 215 batters in 182 innings with a 3.26 ERA and 3.01 FIP. Clayton Kershaw, although not as dominant as in the past, put up a 3.03 ERA with a 3.86 FIP, and a 26.8% K%. Hyun-Jin Ryu was a Cy Young candidate for much of the season before a slump in August, finishing with a 2.32 ERA, 3.10 FIP, and K% of 22.5%.
As for bullpens, the Dodgers have one of the best in the Majors and the Nationals one of the worst. The Nationals had the second-worst ERA (5.68) and fifth-worst FIP (4.94) while the Dodgers had the fifth-best ERA (3.85) and sixth-best FIP (4.06). If the Nationals can't get solid performances from their starters, they will be in huge trouble.
In a best-of-five series, anything can happen. But the fact that the Nationals had to burn their top two starters only two days before game one will be a huge factor. Will Strasburg be able to perform on short rest in game two or will the Nationals decide to throw Annibal Sanchez? Sanchez had a rather average season with a 3.85 ERA and 4.44 FIP
Prediction: Dodgers in 4
The Nationals just don't have the arms to keep up with the Dodgers. They might steal game one with Corbin on the mound, but the Dodgers will cruise easily into the NLCS on the back of their elite pitching and stacked lineup.
St. Louis Cardinals vs. Atlanta Braves
Series Odds: Braves -150, Cardinals +115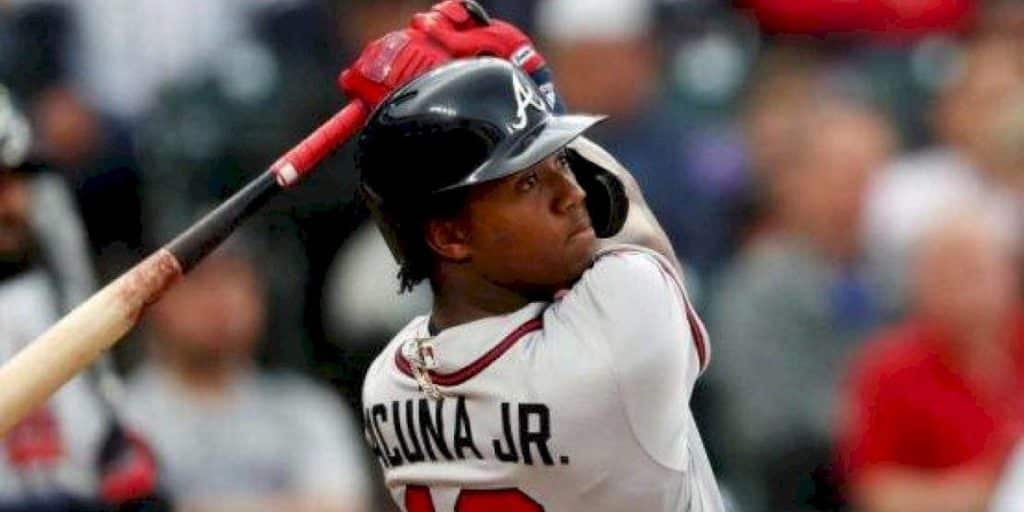 The Braves limp into the playoffs as a slight favorite to advance to the NLCS. On paper they are the better team, with a huge advantage at the plate. Atlanta finished seventh in wOBA (.332) and eighth in home runs (249). While their pitching was not stellar (4.20 ERA and 4.39 FIP, good for 10th and 14th respectively), they scored 112 runs more than their opponents. The theme for this series will be how well the injured Braves' stars can perform.
Ronald Acuña (.369 wOBA, 41 HR, 37 SB), Josh Donaldson (.377 wOBA, 37 HR), Freddie Freeman (387 wOBA, 38 HR) all enter the playoffs with injury questions. Acuña sprained his groin a little more than a week ago and had to be shutdown. Freeman has a bone spur in his elbow that he is playing through that has spades power. Donaldson missed the last game of the season with a bruised hip after being hit by a pitch and it remains to be seen if that will affect him in the playoffs.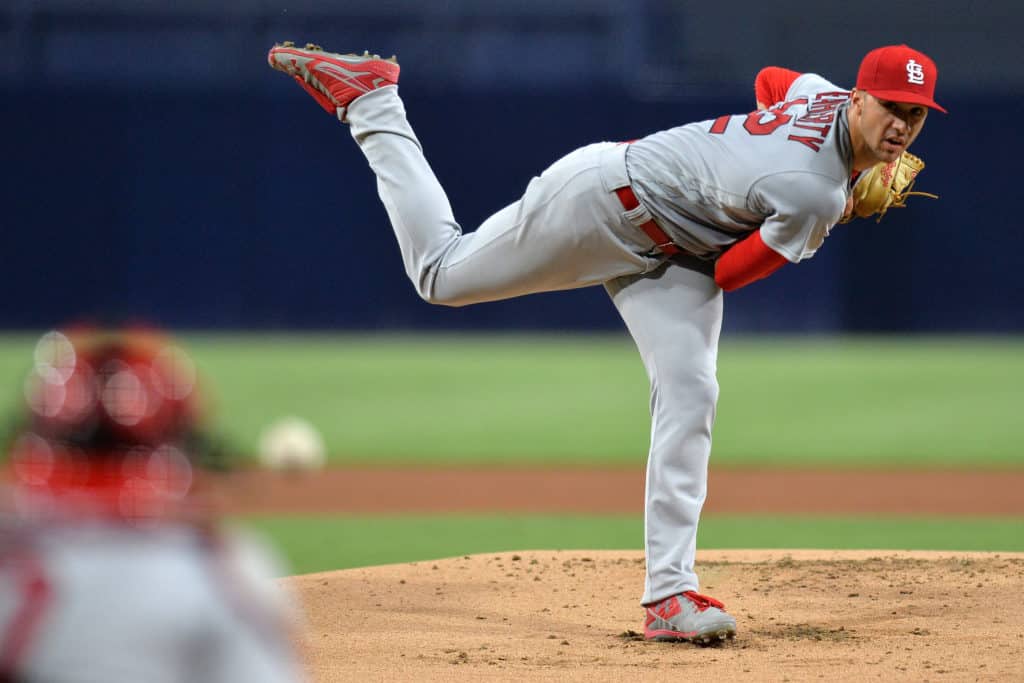 As for the Cardinals, they enter the playoffs with some momentum after a stellar second half of the season. The Cardinals were 44-44 at the All-Star break but closed the season on a 47-27 run. Led by the breakout of Jack Flaherty, St. Louis had the third-best ERA (3.44) and sixth-best FIP (3.96) in the second half.
Their season-long numbers weren't nearly as impressive with a 3.82 ERA (fifth) and 4.27 FIP (11th). At the dish they had a rather sub-par wOBA of .314, good enough for 19th place in the Majors. The Cardinals did manage to score 102 runs more than their opponents. While the Braves have several injury concerns, the Cardinals may be without the services of second baseman Kolten Wong, an excellent defender and solid batter.
Game one will feature a matchup between Cardinals' Miles Mikolas (4.16 ERA, 4.27 FIP) and the Braves' Dallas Keuchel (3.75 ERA, 4.72 FIP). Neither pitcher is particularly good so it could come down to how well the bullpens perform. Atlanta had a horrible bullpen for much of the season before trading for Shane Greene, Chris Martin, and Mark Melancon. Overall they finished with a 4.21 ERA (11th) and a FIP of 4.49 (15th) as their trade deadline acquisitions didn't seem to help very much. On the other hand the Cardinals, led by closer Carlos Martinez, have an excellent bullpen, finishing with a 3.88 ERA (sixth overall) and 4.01 WHIP (fifth).
Game two will feature a pitching mismatch as Flaherty (2.75 ERA, 3.46 FIP) squares off against Mike Foltynewicz (4.54 ERA, 4.72 FIP). Mike Soroka (2.68 ERA, 3.45 FIP) will likely start game three for the Braves while the Cardinals will likely throw Dakota Hudson (3.36 ERA, 4.92 FIP)
Prediction: Cardinals in 4
The Braves have a lot of injury questions and their starting pitching and bullpen both leave a lot to be desired. The Cardinals played excellent baseball in the second half of the season and should be able to cruise in this series thanks to their bullpen and the dominance of Flaherty.