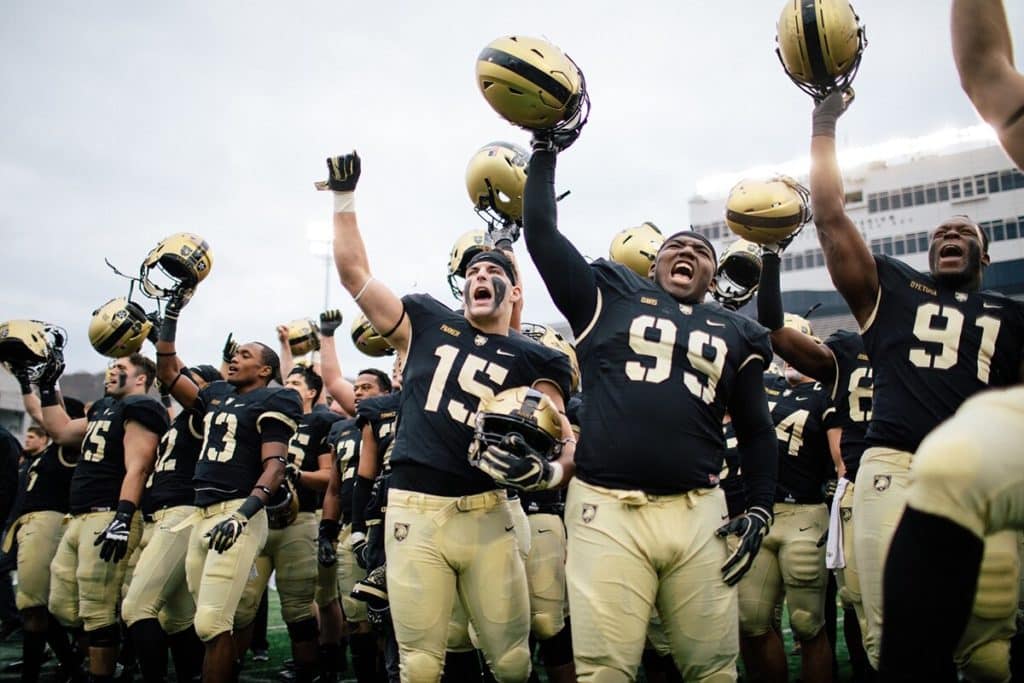 While hunting for underdogs each week, there are two great places to start searching. The first spot is home underdogs which are not completely outmatched. Next, it's a good idea to take a look at lines that have shifted a few points since they were first released as you can sometimes catch overreactions from the betting public.
This week, we'll take a look at two games from the former category and one from the latter. As always, 3-0 is the goal for underdog specials, but 2-1 will lead us to a fine profit over the long-term as well.
Tulane at Army, 12 PM, CBSSN
Spread: Tulane -3 (-110)
The Green Wave head to West Point this weekend with a record of 3-1. The Black Knights also check in at 3-1, but oddsmakers have installed them as home dogs. Part of that has to do with the status of QB Kendall Kelvin Hopkins Jr., who didn't take the field last week versus Morgan State.
They didn't need him. The run-first squad adapted quite well and racked up 403 rushing yards and six scores on the ground in a 52-21 laugher. While Tulane isn't a bad defensive team, they did allow 31 points to a Houston team which went through a week of drama while QB D'Eriq King announced his redshirt intentions.
Regardless of who is behind center, Army is going to run the ball. A lot. Chances are, they'll break through and find some success to boot. This is a team that went to Ann Arbor and took Michigan to overtime, yet they're home underdogs to a team which isn't exactly in the upper echelon of College Football? The Black Knights are very live dogs on Saturday.
Air Force at Navy, 3:30 PM, CBSSN
Spread: Air Force -3.5 (-110)
Oddsmakers aren't fans of service academies who are playing at home this weekend. Navy is a home dog as they welcome rival Air Force to town. These two squads are a near mirror-image of each other. Like Army, they don't bring much to the table in the passing game, but they run the ball a ton and do it well.
Through four games, the Falcons have scored 19 touchdowns. Just four of them have come through the air. Navy has found the end zone 15 times through three games with only three of them being passing TDs. Each side has lost once this season while playing stronger programs quite tough.
In addition to the similarities, there's the rivalry aspect to consider. For the last five years, the two programs have traded wins and losses. The home team has won each time, with Air Force picking up a big 35-7 home win last year. The Midshipmen get their revenge in a game that's a lot closer than last year's edition.
California at Oregon, 8 PM, FOX
Spread: Oregon -18 (-110)
When the opening line for this game was released, Oregon was installed as a 14-point home favorite. Fast forward to today, and the line has climbed by four points. So what gives?
Cal starting QB Chase Garbers was banged up in last Friday's home loss to Arizona State. That's a bummer for a team which was undefeated heading into the game. However, the Bears didn't make it to 4-0 off of the strength of their offense.
It happened because this is a stout defensive squad which is holding opponents to an average of 18.6 points per game. We're not talking about all cupcakes either, as the 2019 resume includes a 20-19 road win over Washington.
Oregon was ranked 13th in the latest AP Top 25 poll for a reason. This is a strong team which will have something to say about how the Pac-12 shakes out this season. The same applies for Cal, with or without Garbers. Oregon should get the home win here, but the Bears defense can keep it close and interesting.