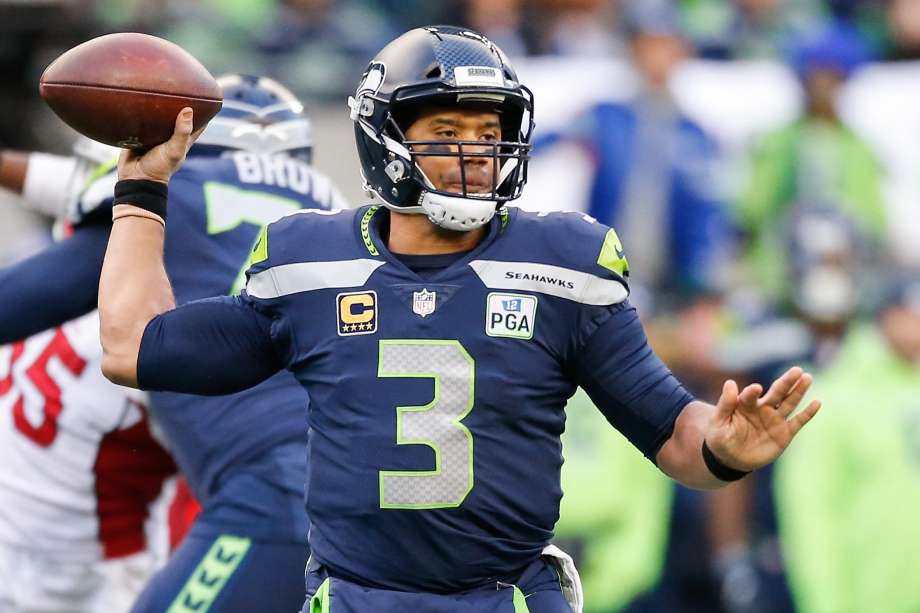 For the first four weeks of the regular season, the underdog has been the outright winner on Thursday Night Football. So that means we can all print money via underdog moneylines on TNF from here on out, right?
Not exactly. A take on this week's tilt can be found at the end of this article. For now, let's take a look at some attractive prop bet opportunities for the Week 5 edition of TNF.
Quarterback Passing Yards Head To Head
Jared Goff -150
Russell Wilson +113
In last week's upset loss to the Tampa Bay Buccaneers, Jared Goff threw for a ridiculous 517 yards. By contrast, Russell Wilson threw for 240 yards in a win over the Arizona Cardinals. Based on those numbers and the Seahawks leaning on the run more than most teams, Goff seems like a no-brainer here.
However, we're going to zag the other way. The Rams are having problems in the secondary – see last week's loss to the Bucs – but remain stout against the run with an average of 91.8 yards allowed per contest. Pete Carroll can flip the script as needed, and Wilson is more than capable of delivering as the situation warrants it.
The Pick: Russell Wilson +113
Running Back To Get
Chris Carson to get 50+ Rushing Yards -455
Chris Carson to get 75+ Rushing Yards -143
Chris Carson to get 100+ Rushing Yards +200
Chris Carson to get 125+ Rushing Yards +400
Todd Gurley to get 50+ Rushing Yards -286
Todd Gurley to get 75+ Rushing Yards +105
Todd Gurley to get 100+ Rushing Yards +260
Todd Gurley to get 125+ Rushing Yards +550
Since Seattle is pretty run-heavy and Todd Gurley is off to a less than desirable start, looking in the direction of Chris Carson makes sense. However, the Rams remain strong against the run while they try to figure out how the heck they lost a home game to the Buccaneers.
The Seahawks also have a strong run defense – 79.5 yards allowed per contest – but a game in which the script is flipped for both teams is not tough to see. That means the Rams lean on the run while the Seahawks lean on the pass, and that Gurley has a game that many have been waiting for.
The Pick: Todd Gurley to get 100+ Rushing Yards +260
Will There Be A Defensive Touchdown?
Yes +310
No -477
These teams play each other tough and hard. Last season, the Rams won both games in the set by a combined total of seven points. Heading into this tilt, the spread calls for another tight affair.
Seattle is doing its thing with a +2 turnover differential, while Los Angeles is a surprising -3 on that metric. Mistakes can happen at anytime when the whistle blows, but tight and hard-hitting affairs have a way of jarring balls loose. A defensive TD could be the difference maker on TNF.
The Pick: Yes +310
Highest Scoring Half
First Half -103
Second Half -105
Draw +1100
Looking back to last year's two meetings once again, 34 of the 64 points scored in the first meeting were scored in the first half. In the second game, it was 36 of 67 points after halftime. That doesn't help much, but it does tell us that these two strong squads can put some points up when they get together.
The total for this one is rather muted, but we'll err to the side that says last year's meetings are a strong indicator of what's to come. Both sides will put up their fair share of points while also having some signature moments on defense. Some statements from the defenses could happen early in the game, while the offenses may shine as the game gets long in the tooth.
The Pick: Second Half -103
A Take On The Game Itself
Seattle is notoriously tough place to play, but it's also not an impenetrable moat. The New Orleans Saints went up there a few weeks back with a backup signal caller at the helm and walked out with a win.
If Los Angeles had handled business versus the Buccaneers on Sunday, then this game would have the makings of a trap spot in which the undefeated record came to an end. Now that they have a blemish on their record, the opposite applies.
It's tough to see the talented Rams losing two in a row. Underdogs win and cover once again on TNF.