1. Virginia @ Notre Dame
Notre Dame played better than expected in Athens but now comes the rebound game against a Virginia team that could be flying under the radar. If Virginia wins this things might get interesting in the ACC.
2. USC @ Washington
Washington rebounded with a nice blowout win in Provo against BYU. Jacob Eason looked better than ever. USC is coming off a nice upset at home against PAC 12 favorite Utah. Washington can't afford another conference loss this early in the season.
3. Kansas State @ Oklahoma State
Oklahoma State is coming off back to back away games and have played three of four games on the road to start the season. Kansas State has more than overachieved my expectations thus far this season. If KSU can grab a win here then watch out Big 12.

4. Penn State @ Maryland
This is where we really find out if Maryland is for real in the Big Ten. Penn State also hits the road for the first time this season so we should learn a lot here.
5. Mississippi State @ Auburn
Auburn surprised me last week by controlling the game from start to finish against Texas A&M. Despite throwing for just 100 yards or so on offense the Tigers grabbed a big win. Mississippi State also surprised me a bit by beating Kentucky in Starkville with their backup QB.
6. Washington State @ Utah
Both these teams are coming off bad losses in which they were expected to win. Utah was projected to win the PAC 12 by many and were heavy favorites to win the South. This is a must win for the Utes.
7. Ohio State @ Nebraska
Nebraska has been a let down thus far this season but here's their real opportunity to show up. Last year Nebraska kept it real close and almost upset the Buckeyes in Columbus. Lincoln should be on fire for this one. Could this be the big win Scott Frost has been waiting for?
8. Iowa State @ Baylor
This is a big one for the Big 12. Both teams have big dreams of playing in the Big 12 Championship this year. Baylor hasn't been tested much this season schedule wise.
9. Arizona State @ California
Can Cal continue their winning ways? I've been really impressed with the way both sides of the ball are playing. Justin Wilcox may just have quite the sleeper of a team brewing in Berkeley. Arizona State won a huge road game two weeks ago at Michigan State but got bit by Colorado in Tempe.
10. Wake Forest @ Boston College
If Wake Forest is truly one of the top teams in the ACC then they need to handle the BC in Chestnut Hill. Sage Surat is one of the best wideouts in the country. The Demon Deacons should put up some points but can they stop AJ Dillon?
11. Northwestern @ Wisconsin
Northwestern looks to be having a down year and Wisconsin looks like a invitational contender. Can Pat Fitzgerald turn back the clock and give the Badgers a tough one at home in Madison?
12. Kentucky @ South Carolina
Kentucky has owned South Carolina of late but this year they are somewhat mirror images of each other. Both these teams are on their backup QB and both these teams need to rebound after bad road losses.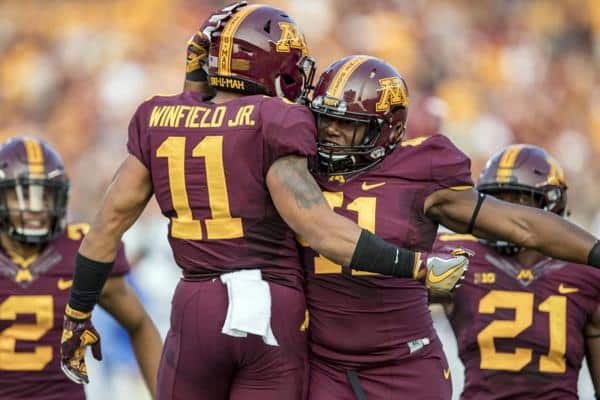 13. Minnesota @ Purdue
Minnesota is 3-0 but they could easily be 0-3. Purdue is 1-2 but probably much better than their record indicates. Can PJ Fleck work his magic yet again and row the boat in West Lafayette?
14. NC State @ Florida State
This is a huge game for both teams but I'd say it's even bigger for Willie Taggart and Florida State. Last week FSU blew a big lead to Louisville but battled back to grab the win. NC State hit the road in Morgantown earlier in the year and laid an egg.
15. Duke @ Virginia Tech
The Coastal division in the ACC appears to be up for grabs. The Hokies already have one loss in the conference which means this is a must win for the folks in Blacksburg.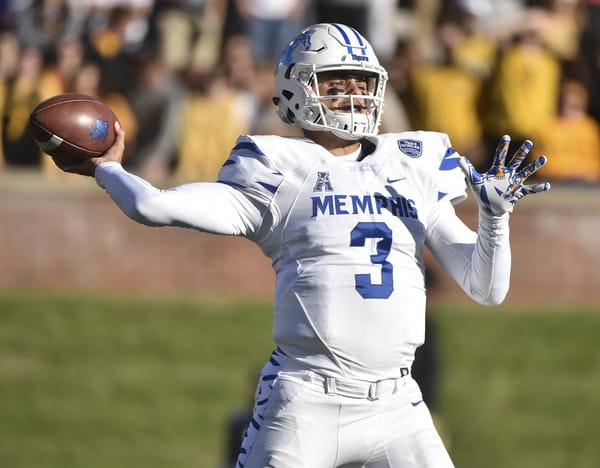 16. Navy @ Memphis
Houston appears to be waving the white flag in the AAC West Division which means this game just became huge. Memphis was the preseason favorite but Navy, SMU, Tulane and even Tulsa are better than most expected.
17. Stanford @ Oregon State
Here's your shot Jonathan Smith. Stanford is down and coming off a brutal schedule thus far and you get the Cardinals at home. Stanford is somewhat banged up too. Can this be the first signature win in the Jonathan Smith tenure?
18. Cincinnati @ Marshall
Both these teams appear to be players in their respective conferences. Cincinnati got embarrassed at Ohio State but rebounded well against Miami (OH). Marshall has looked good this season despite a really bad 2nd half at Boise State.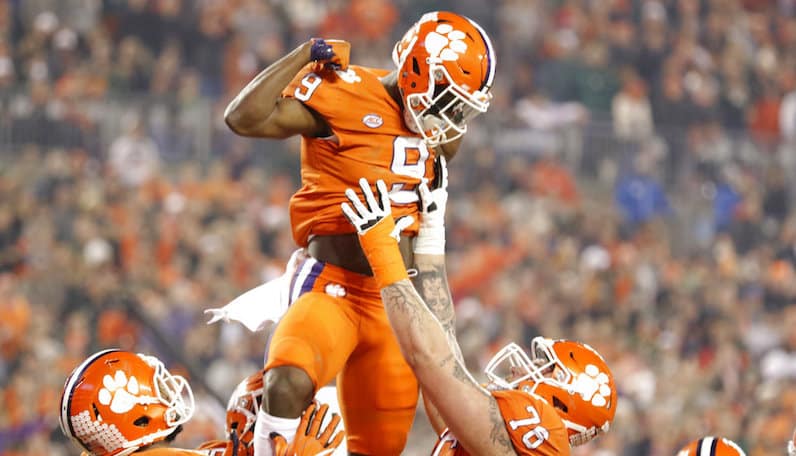 19. Clemson @ North Carolina
The ACC is incredibly down and we may not have any other chances at upsets after this one.  UNC has already overachieved where many thought they would be but the Tarheels are coming off back to back losses. Can Mack Brown and the heels keep this game close?
20. BYU @ Toledo
Danger. Danger. BYU sure schedules absolutely crazy but here's a bad trap game for them. Toledo is a few plays away from being undefeated and now they host the BYU Cougars. BYU scored some nice wins against Tennessee and USC but this should be a must win for the Cougars if they really want to make a bowl game.
21. Hawaii @ Nevada
Here's a huge one in the Mountain West. Fresno State appears to be a tad down in the West side of the conference and Hawaii seems good enough to make that run. Both these teams have a bowl game on their mind but both could perhaps be players in the conference.
22. Ole Miss @ Alabama
The real thing to watch here is the Bama run game and the Tide defense. I'd like to see improvements in those areas before they get the likes of Auburn or LSU. Ole Miss is what I thought they'd be. Not very good.
23. Louisiana Lafayette @ Georgia Southern
This is a great conference game that should really help us figure some things out in Sun Belt Conference. Lafayette appears to be the front runner in the West but here's a tough spot for them on the road against a Georgia Southern triple option team that is much better than their record indicates.
24. Indiana @ Michigan State
Michigan State somehow found their offense after scoring just 7 the last time they were at home. MSU blew out Northwestern in Evanston and now take on a Hoosiers team that has underachieved in my opinion. If Indiana can keep the game close early this could be a ballgame.
25. Kansas @ TCU
TCU laid an egg last week against their rival SMU and now I think everyone is thinking what is this TCU team? Kansas despite losing to WVU at home appears to be a little better than what I figured they would be.
26. Texas A&M vs Arkansas
Arkansas isn't just bad they've been awful under Chad Kelly and well Texas A&M hasn't looked like I thought they would this year. As a collective these have beat Portland State, Lamar, Colorado State and Texas State. That's their only wins. Something has to give here.
27. UCLA @ Arizona
I'm not sure what the hell happened last Saturday but UCLA suddenly found the offense that I thought they were going to have in the season opener at Cincinnati. Last week the Bruins came back from down 32 on the road to win. Arizona looked good the last time they stepped on the field with a pretty nice performance against Texas Tech.
28. SMU @ South Florida
The SMU Mustangs have been looking great so far this season but here comes the 2nd of a back to back road game stretch. Mix that with the fact that they beat their rival TCU in their own back yard and this game should really tell us if the Mustangs are for real in the AAC.
29. Texas Tech @ Oklahoma
The Red Raiders didn't impress me when they took a L at Arizona a couple weeks ago and they lost their starting QB for a few weeks. Oklahoma is the team to watch here. Not because their offense should put up 50 but I still want to see some improvement on the defensive side of the ball with new DC Alex Grinch.
30. Rutgers @ Michigan
I'd say this needs to be a statement game for Michigan. They haven't looked good all season despite having a winning record. Rutgers is still the worst team in the Big Ten which is all the more reason why the Wolverines need to blow this Rutgers team out.
31. Colorado State @ Utah State
A fun one in Logan, Utah. Utah State appears to be at the top of the Mountain West again and well Colorado State is probably a bit better than their record indicates. The Rams must get better on defense though if they want any shot of upsetting Jordan Love and company in Logan.
32. Arkansas State @ Troy
Arkansas State just lost their QB for the year so can the Red Wolves find a capable backup that can pull the upset on the road in Troy? If so the Red Wolves may just be contenders in the West again.
33. Florida Atlantic @ Charlotte
Willy Healy and the Charlotte 49ers have really played better than I expected thus far this year despite losing to Clemson by 42 last week. FAU appears to have found themselves a bit after a shaky start to the season. This is a big one within the conference looking forward.
34. San Jose State @ Air Force
The Spartans are not the same Spartans the MWC is used to. Senior QB Josh Love looked great in their upset at Arkansas but now comes the 2nd game of the back to back stretch. Air Force is a good team and I expect them to be a pain for the entire MWC conference including San Jose State.
35. Northern Illinois @ Vanderbilt
Both these teams have started the season with a brutal schedule and tough losses. Something has to give here.
36. Middle Tennessee @ Iowa
The Blue Raiders seem a bit down and I did project that but can MTSU just keep this game close? Iowa struggled some in week 1 against Miami (OH) until the 4th quarter came and the Hawkeyes blew the game open.
37. Coastal Carolina @ Appalachian State
Coastal Carolina is better than I thought they'd be and App State is coming off a big emotional win at Chapel Hill against North Carolina so what better time to grab App State. The Mountaineers are a experienced team though so I highly doubt they trip against Coastal.
38. Georgia Tech @ Temple
The Geoff Collins bowl. Collins is the head coach of Georgia Tech but last year at this time he was the head coach of the Temple Owls which means who knows Temple better than him? The Yellow Jackets lost to The Citadel the last time they stepped on the field though.
39. East Carolina @ Old Dominion
Last year ECU wasn't very good but they still somehow managed to beat up on ODU but that game was in Greenville. This year ECU hits the road to go for the sweep against ODU.
40. Houston @ North Texas
This game was going to be rated higher before Houston QB D'Eriq King decided to sit out the rest of the season. Now, if anything it is a must win game for North Texas and the Mean Green.
41. UNLV @ Wyoming
Can Wyoming grab the win here and start the season 4-1? Wyoming was three yards away from being undefeated and appeared to be in position to do that before their quarterback fumbled the game away.
42. Central Michigan @ Western Michigan
A nice little Maction rivalry game. I love it. Central Michigan is pretty beat up but they still played a strong game against Miami (FL). Western Michigan took a L on the road at Syracuse in a game where they lost perhaps their most explosive player for the year. This one should be fun.
43. Uconn @ Central Florida
Poor Uconn. Of course they are catching UCF off their only regular season loss in 3 years. UCF should of beat Pittsburgh but didn't kick field goals when they should of. UCF will roll big here.
44. UAB @ Western Kentucky
The Blazers still haven't landed their Komodo Dragon as a mascot unfortunately but they sure have looked great ever since the season opener where they barely got past Alabama State. This is one they'll need if the want to win the west division of the C-USA.
45. New Mexico @ Liberty
Liberty plays three games a year against teams from New Mexico. I'll never really understand that but hey perhaps this will be a fun one. Liberty seems to be playing a lot better after the first couple weeks of the season. New Mexico just landed a nice win against their rival New Mexico State last week.
46. Delaware @ Pittsburgh
Don't fall asleep at the wheel Pittsburgh. Delaware is a very good FCS team and well you just beat a very good UCF team. Don't lay an egg here.
47. Buffalo @ Miami (OH)
Another nice Maction conference game between two decent teams. Both these teams should be bowling coming December but we'll learn a bit from this game as the season rides on.
48. Nicholls @ Texas State
Texas State better not think they have this one in the bag because Nicholls is a solid FCS team that is very capable of beating the Bobcats in San Marcos.
49. UTEP @ Southern Miss
Southern Miss sure got blown out by Alabama but it's time to rebound against a bad UTEP team.
50. Louisiana Tech @ Rice
Last year Rice played Louisiana Tech better than I expected. Skip Holtz and his Bulldogs can't be looking past this one this year can they?
51. South Alabama @ Louisiana Monroe
South Alabama looked pretty good in the season opener against Nebraska but ever since then the Jaguars have looked bad. Real bad. Louisiana Monroe probably should of beaten Florida State in Tallahassee but their kicker missed an extra point. ULM just gave up 70 to Iowa State so they need to find their defense here.
52. Akron @ Umass
Oh man. The complete poop fest. I have both these teams rated as two of the five worst teams in the country so something has to give. Both these teams have brand new head coaches so perhaps thats some of it.
53. Fresno State @ New Mexico State
Jeff Tedford and his Fresno State Bulldogs hit the road for the first time since losing by 8 to USC. Fresno may be just 1-2 but this is a good team that should roll on the road against New Mexico State.
54. Towson @ Florida
Florida is playing their 2nd FCS team this year which is just retarded. How are they not penalized for this nonsense?
55. Holy Cross @ Syracuse
Syracuse needs a nice blowout win so here's their chance. Holy Cross isn't all that bad on the FCS level.