1. Michigan @ Wisconsin
This is my top rated game for several reasons. First being that it's a conference game that both teams need extremely bad if they want to make it to Indianapolis to play for the Big Ten Championship.
2. Notre Dame @ Georgia
Will Notre Dame finally show up against a top tier team? The number is high but Georgia has been dominate so far this season. Brian Kelly can really earn some stripes with a win in Athens. This place is going to be packed to the point they are bringing in extra stadium seating.
3. Oklahoma State @ Texas
Mike Gundy and his Oklahoma State Cowboys have been flying under the radar nationally and now they get a chance to send a big message to the Big 12. Texas rebounded with a nice blowout win against Rice but will really be tested by the Ok State offense.
4. Auburn @ Texas A&M
Beau Nix is just a freshman and he'll be good but I think the world might be overrating Auburn and their offense. Texas A&M's Kellen Mond must play a lot better than he did at Clemson if the Aggies are going to win this game.
5. Utah @ USC
I know USC lost a close one last week against BYU in Provo but the Trojans real test is right here. Win this game and they'll be in the drivers seat in the Pac 12 south.
6. Michigan State @ Northwestern
Michigan State is going to need to score more than 7 points this week. The Spartans defense has been up to the task so far this season but Northwestern has won the last three against the Spartans.
7. Central Florida @ Pittsburgh
Well here we go. If UCF wins this one then they should be off and running at a shot at another perfect season. Sure, Temple, Cincinnati and a couple others could test them but these two weeks are the biggest. Pitt lost a close rivalry game last week where their head coach made some questionable decisions late in the game.
8. Oregon @ Stanford
I'm on record saying this is not the Stanford teams of the past and this one should be the one that proves it. Sure, Stanford is 1-2 but I had the Cardinals rated as the toughest schedule in all of college football. Then came the injuries and well now it's time for them to step up. Oregon can't afford a loss here to a 1-2 team.
9. Tennessee @ Florida
I know Tennessee has been awful this year but I haven't been too impressed with the Florida Gators either. The Gators are favored by 14 and I just can't see them winning by more than that number. Tennessee can really begin to turn around their season here if they can knock off the Gators.
10. Washington @ BYU
Don't look now but BYU is really playing good ball and with their brutal schedule that's saying something. Washington is 2-1 and lost a weird night lightning game that ended at nearly 2am. Chris Peterson knows his Huskies can't afford another loss with Oregon, USC, Utah and Washington State still on the schedule.
11. Utah State @ San Diego State
This is a big one in the Mountain West Conference. Both teams are legit contenders and this is the conference opener. San Diego State is coming off back to back road wins and Utah State has perhaps the conferences best QB in Jordan Love. Can the Rocky Long Aztec defense keep Love in check?
12. Colorado @ Arizona State
Herm Edwards is doing a remarkable job in Tempe but he needs to avoid the let down game here after winning a big one in East Lansing. Colorado couldn't avoid the let down loss after their big Nebraska win. The Buffs lost at home in overtime to in state rival Air Force.
13. Kentucky @ Mississippi State
Both these teams played backup quarterbacks last week. Kentucky's Sawyer Smith looked the part. Miss State starting QB Tommy Stevens should be back under center for the Bulldogs in a big SEC conference game.
14. South Carolina @ Missouri
South Carolina backup QB freshman Ryan Hilinski played better than I thought he would at home against Alabama but now comes his first road test against a Missouri team thats looked great ever since the opening loss at Wyoming.
15. Appalachian State @ North Carolina
Classic little brother against big brother situation happening in Chapel Hill this Saturday. Appalachian State has been the best program in North Carolina over the past decade or two. UNC has a breath of fresh air in their lives with new head coach Mack Brown coming back to Chapel Hill.
16. Louisville @ Florida State
I'm not sure what is happening at Florida State. They looked better than I expected for most of the Virginia game but when it came to final couple drives they looked like the Florida State of the past two seasons. Then Willie Taggart buried his OC in his post game speech. Louisville used to be what FSU is now but new head coach Scott Satterfield has changed the culture in Louisville.
17. California @ Ole Miss
The Golden Bears of California already won one huge game on the road in Seattle in Week 2 against Washington. Now they go cross country to take on a Ole Miss team that struggled last week against SE Louisiana.
18. Air Force @ Boise State
Air Force's triple option and control the clock style worked for them last week in Boulder in a nice upset against Colorado. Can the Falcons do that again on the smurf turf? Back to back road games are hard in college football but the Falcons seem to always play Boise tough.
19. Nebraska @ Illinois
Well things were looking good in Champaign, Illinois until Eastern Michigan came to town and pulled the big upset now Lovie Smith will take on the double digit home underdog roll. Lovie will need some upsets if his Illini want any shot at a bowl game.
20. Houston @ Tulane
This is a underrated AAC West Conference game that could really mean something when November hits. Houston has had a brutal early season schedule and must focus on this one because it's not only a conference game it's a Tulane team thats in their own division.
21. Boston College @ Rutgers
Perhaps the most shocking game of the 2019 season is what Kansas did to Boston College last week. Boston College had the whole college football world thinking "hey they could be a sleeper in the ACC" and then they laid an egg. Is BC really that bad? Rutgers opened up the season nice against Umass but then got skunked by Iowa. Something has to give here.
22. LSU @ Vanderbilt
LSU has looked amazing thus far this season but can they stay consistent against a Vanderbilt team that has struggled all year.
23. Louisiana Lafayette @ Ohio
A nice little mid major matchup against two teams that should certainly be bowling come December. Ohio played Pittsburgh and Marshall tough but couldn't make enough plays to win the game. Louisiana Lafayette did the same against Miss State.
24. Toledo @ Colorado State
Colorado State had Arkansas on the ropes late in the game and then the Rams got tired and their defense collapsed. Toledo is coming off a blowout win against Murray State.
25. UCLA @ Washington State
Who knew UCLA would be this bad? Washington State is looking to be another power in the Pac 12 north. The real question is here is can UCLA just put together a decent game and make this close?
26. West Virginia @ Kansas
Both of these teams surprised most of the college football world last week and now someone's gotta win this? If Les Miles wins this game Kansas will be one of the better stories of the early college football season. If WVU wins then perhaps the Neal Brown hire is already panning out despite laying an egg at Missouri.
27. SMU @ TCU
TCU had a great showing on the road against Purdue in West Lafayette despite Purdue being without their starting QB. TCU took care of business and perhaps are a sleeper in the Big 12 this year. Speaking of sleepers no one is talking about Sonny Dykes and his SMU Mustangs who undefeated and playing some good football in the AAC. Can the Mustangs pull the upset right up the road in Fort Worth?
28. Western Michigan @ Syracuse
Syracuse was supposed to be the team everyone in the ACC should be watching out for but preseason rankings are for the birds. Dino Babers is a good coach and perhaps they are just in the middle of a bad two game stretch against two solid opponents. Whatever it is this is a must win for the Orange if they want any chance on a good season.
29. Temple @ Buffalo
Buffalo is coming off back to back road games where they went 0-2 but played Penn State tough for the most part. Temple is coming off a win against Maryland in Philadelphia. Temple could be a real sleeper in the AAC. Lance Leipold should get the Buffalo Bulls back on track at some point this year he's too good of a coach.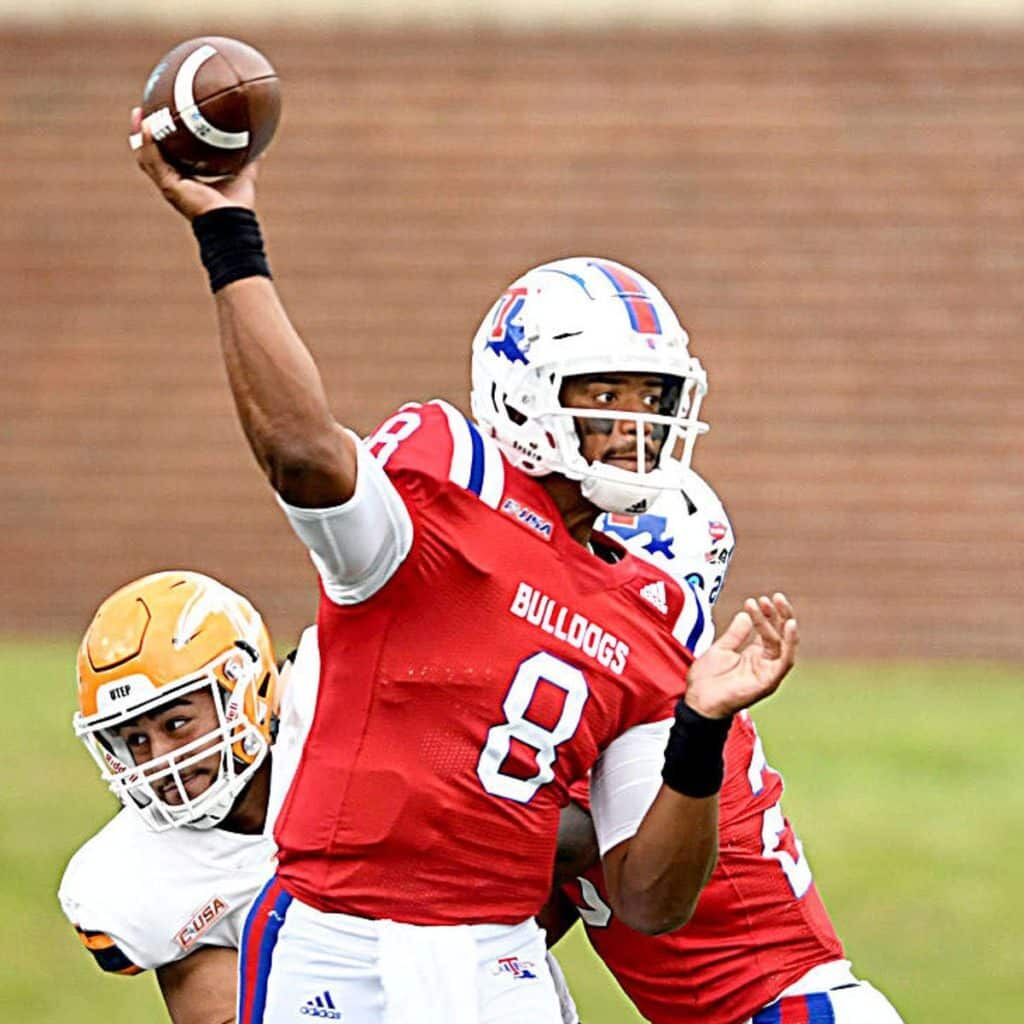 30. Florida International @ Louisiana Tech
FIU has been one of the bigger let downs in the group of 5 this year but maybe they can turn it all around. The Panthers got their first win last week against a good FCS opponent. Skip Holtz and Louisiana Tech have another bowl season on their mind and would love to start of the conference slate with a nice home win.
31. Wyoming @ Tulsa
This is a compelling game to me. Two teams with completely different offensive and defensive styles going head to head. Wyoming thinks they can be a contender in the Mountain West and would sure love to be 4-0 when conference play starts. Tulsa is 1-2 but they're much better than their record indicates they just had Michigan State and Oklahoma State on their schedule.
32. Central Michigan @ Miami (FL)
Miami has laid an egg for the most part of this season. The Hurricane got their first win last week against Bethune Cookman and now have another must win game against a beat up MAC team in Central Michigan.
33. Old Dominion @ Virginia
Virginia looks like perhaps the 2nd best team in the ACC but they need not sleep on Old Dominion. I know ODU isn't what they were a couple years ago but lets not forget ODU beat down Virginia Tech last year when the Hokies thought they had something going.
34. Charlotte @ Clemson
The Clemson defense looks amazing and the offense has had its moments but all in all I'm not sure anyone will test the Tigers much this regular season. Charlotte and new head coach Will Healy are really looking good for a team that hasn't done much the past two years. Healy is in year one in Charlotte and the offense is playing some good football.
35. Southern Miss @ Alabama
Southern Miss barely got past Troy last week and well here comes Alabama. Alabama won a nice road game at South Carolina where they much controlled the entire game. If you're a Tide fan you'd love to see them run the ball better this week. Defensively it'd be nice if they stepped up a bit more as well.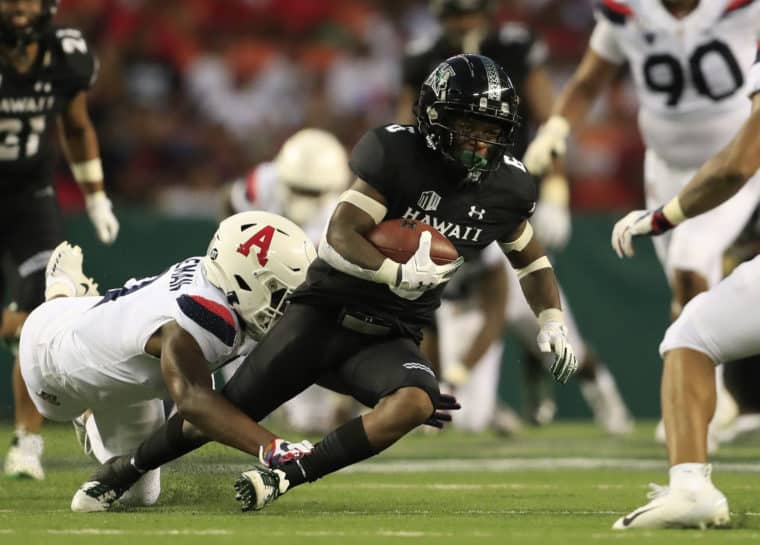 36. Central Arkansas @ Hawaii
Central Arkansas has already done it once beating a FBS opponent Western Kentucky in their own backyard opening week. Can they do it again? I have my doubts as this is a extremely far trip for Central Arkansas and Hawaii has been money at home this season.
37. Uconn @ Indiana
Indiana didn't play Ohio State as well as perhaps I thought they would and I'm not the biggest fan of their coaches decision to have start at quarterback. UCONN is perhaps a bit better than they were last year but I'm not sure that means they'll be able to contend with Indiana.
38. Baylor @ Rice
Sure, Baylor has played no one thus far this year but Matt Rhule and the Bears still could be flying under the radar in Waco. Rice had something going the first game against Army but hasn't looked the same since that game.
39. Ball State @ NC State
NC State laid an egg last week in Morgantown and Dave Doeren continues to look awful on the road as NC State head coach. Luckily for Doeren he's back in Raleigh to take on Ball State of the MAC.
40. Georgia State @ Texas State
What in the world happened to Georgia State last week? The same team that beat Tennessee in Knoxville went up to Kalamazoo, Michigan and got beat by over 40 points by Western Michigan? Texas State is winless but appears to be getting more and more familiar with their new offense.
41. New Mexico State @ New Mexico
Both these teams probably aren't very good but it's hard to tell since they've already played at Alabama, Washington State and Notre Dame. Regardless, it's a classic rivalry against two teams that don't like each other much.
42. Bowling Green @ Kent State
We got MACtion coming at you early in the year with this matchup. Bowling Green looks awful but Kent State doesn't look that much better. Then again the schedules have been tough for both these guys. Give me Kent State to take care of business here.
43. Troy @ Akron
Perhaps Akron should of thought about theirs a bit more before they fired former Auburn head coach Terry Bowden. Sure Akron won just 4 games last year but one of the 4 was at Northwestern. Plus Akron played for the MAC championship just two years ago. Beware what you wish for. Troy should roll here.
44. Louisiana Monroe @ Iowa State
Matt Campbell can't seem to get the monkey off his back in the rivalry game against Iowa. He's been so close but hasn't found a way to get the win. Louisiana Monroe could be undefeated here perhaps if their kicker would of made an extra point against Florida State two weeks ago.
45. Coastal Carolina @ Umass
Coastal Carolina is perhaps better than I figured and Umass is a bit worse than well everyone. Coastal needs to not look past this one if they want any shot at a bowl game this year.
46. Miami (OH) @ Ohio State
Ohio State looks great so far this season. Miami (OH) was looking good against Cincinnati for the first half but then things fell off the track and Cincy rolled. Ohio State played Cincinnati a few weeks back and the Buckeyes destroyed them. See what I'm getting at.
47. South Alabama @ UAB
Could this be a rivalry game? Who knows? UAB is looking to continue their winning ways and South Alabama after playing Nebraska tough in week 1 really looked bad last week. This would be the perfect game for UAB to break out the Komodo Dragon.
48. Southern Illinois @ Arkansas State
Southern Illinois beat FBS Umass in their own back yard by over 20 points so don't take this FCS lightly. Arkansas State is better than their record they've just had some tough opponents with SMU and Georgia. The Red Wolves went to Vegas and took care of UNLV so i expect this team to rebound and get to a bowl.
49. Hampton @ Liberty
I hope this game is close. Two Virginia schools battling it out. Liberty is looking for their first ever bowl game this year and sure would love to move to 2-2. Hampton thinks they can be a player on the FCS level. Hampton starting QB is a little guy named DeAndre Francios formerly of Florida State.
50. Sacramento State @ Fresno State
Sacramento State is on the right track when they hired former Utah OC Troy Taylor. Sac State played Arizona State pretty well a few weeks back and they are a team on the rise on the FCS level. Fresno State should of beat Minnesota and played USC tough but now they need to focus and grab the wins they should get.
51. San Jose State @ Arkansas
Arkansas had a scare with Colorado State last week before they pulled away late. San Jose State doesn't have the talent Colorado State has so the Razorbacks should be good here.
52. UTSA @ North Texas
Seth Littrell and North Texas have had a tough schedule to start the season and perhaps the Mean Green are much better than their record indicates which makes this game a must win for Littrell and star QB Mason Fine.
53. Nevada @ UTEP
Last time Nevada hit the road they got destroyed by Oregon in Eugene. Now they play one of the worst FBS teams in UTEP. If Nevada wants a bowl game this is a must win.
54. William & Mary @ East Carolina
William & Mary covered against UVA a few weeks back and head coach Mike London has proven to be a decent coach on the FCS level. East Carolina got destroyed by Navy last week really could use this win.
55. Central Connecticut State @ Eastern Michigan
Eastern Michigan has a bowl game on their mind and perhaps much more which means this game right here is for sure a must win game for the Eagles who are coming off three road games to start the season.
56. Wagner @ Florida Atlantic
FAU finally looked the part against Ball State and maybe they can get things going back to say two years ago when Lane Kiffin won double digit games with the Owls.
57. Elon @ Wake Forest
Wake looks like one of the best teams in the ACC so far this season which means they can't lay an egg here.
58. Morgan State @ Army
Morgan State is one of the worst FCS teams so this game should be over by the first quarter.