The 2019-2020 season rolls on as the PGA Tour heads south for the Sanderson Farms Championship at the Country Club of Jackson in Mississippi.
With most big names either across the pond or taking some much needed time off, this event is a great opportunity for recent graduates of the Korn Ferry Tour or middling PGA Tour veterans to break through with a great finish and secure plenty of FedEx Cup points to help them keep their cards for next year. That means a wide open field of golfers with a very high variance of week to week results, which can make betting on the event quite the challenge.
Here's everything there is to know before placing any wagers on the Sanderson Farms Championship.
The Field
Traditionally this event had been opposite the WGC-HSBC Champions over in Shanghai, meaning that not only did almost all top players in the world skip the tournament but it wasn't pushed as hard by the PGA Tour in terms of exposure. But starting this year, the PGA Tour moved the Sanderson to September as a standalone event. That gave some hope that a once overlooked event might attract a few bigger names.
But while you can take the Sanderson away from opposite field status on the PGA Tour, you can't take opposite field status away from the Sanderson, at least figuratively. The field teeing it up at the Country Club of Jackson is comically poor and the tournament's marketing department surely has its hands full to try and sell tickets and secure sponsorship dollars. Compounding matters that this event still is in Fall Season Purgatory, and it shares a weekend with one of the top European Tour events of the year that drew 20 of the world's Top 50 players.
The most recognizable name in the field is Brandt Snedeker, who despite being past his prime can still put up good results on golf courses more accommodating to his best attributes. Other notables in the field are 2019 PGA Tour Rookie of the Year Sungjae Im, 2009 U.S. Open Champion Lucas Glover and last week's winner Joaquin Niemann. But as you can see, the fact that these players are the highlights of the field goes to show just how hard a sell it is to garner a lot of buzz for the tournament.
Similar to last week, almost all recent Korn Ferry Tour graduates will tee it up this week to try to either maintain or improve upon their position in the PGA Tour priority rankings. The fall series events are the most important events of the year for these guys, as a good start ensures they'll get a spot in events early in 2020 that are of higher stature.
The Golf Course
The Country Club of Jackson was built in 1914 in the downtown area by a group of wealthy local business owners. In the 1960's, the country club was relocated to Northeast Jackson where the site remains today.
In terms of golf, the country club underwent a significant renovation in 2008 by John Fought, who has designed or restored dozens of golf courses around the United States. His vision was to incorporate classic Donald Ross design features into the property and reconstruct and expand the greens with new bermuda turfgrass to help withstand the Mississippi heat.  After the renovation, the club successfully lobbied the PGA Tour to move the Sanderson Farms Championship away from the Annandale Golf Club and hosted the tournament on its Dogwood and Azalea Championship Courses for the first time in 2015.
Last week I fawned over the quirkiness and interesting features of the Old White TPC and it's incorporation of classic Scottish links golf characteristics. Unfortunately, I can't really do the same for the golf course this week.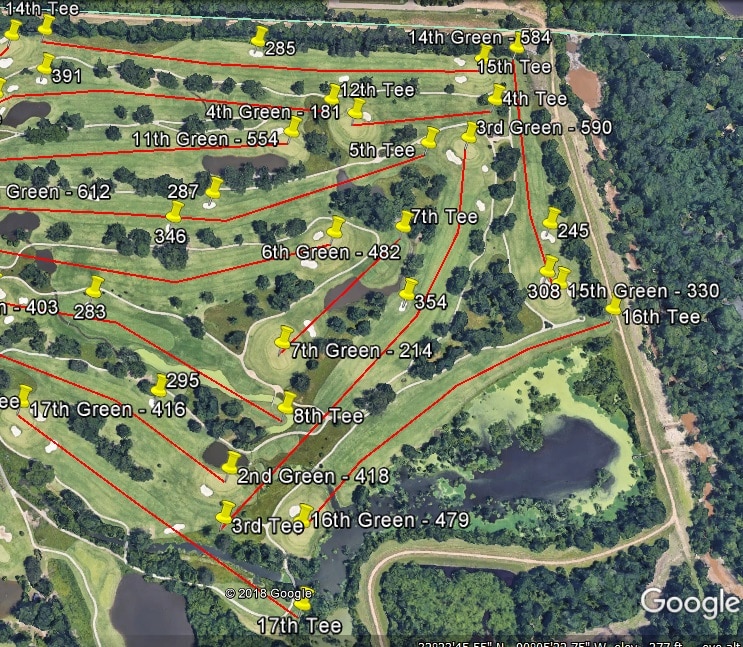 That's not to say the golf course is bad. It's a perfectly fine one. You can definitely see some classic Donald Ross principles in each golf course, from the out to in routing, a good mixture of left and right dog legged holes that'll force players to hit the ball off the tee both ways, and nice positioning and undulation of greens that'll force players to hit the correct sides of fairways to get the best angle into the pin.
But unless Fought wanted to move a ton of dirt there isn't a whole lot that could be done to the flat, swampy piece of property to make it any more interesting. For what he had to work with, though, there's definitely worse places the PGA Tour professionals play during the year. He didn't try to force anything on the golf course and focused simply on creating a solid and no-nonsense track. Just temper your expectations if you want a break from football and tune into Golf Channel to check out the golf course. It's certainly not going to pop on the television.
Betting Strategies
Because the field is annually so weak, it's not easy to look at past leaderboards and try and pin down exactly the types of players that do well at the Country Club of Jackson. The vast majority of guys teeing this up this week are below average ball strikers on the PGA Tour who are very up and down week to week with their results. It's a tough proposition to try and identify from this crop of golfers who's peaking and who's fading because of how inconsistent they can be.
There's a few things about the golf course, however, that does give clues as to who should play well there. For one, there's a lot of room to navigate off the tee and unlike last week at the Greenbrier it's not quite as imperative to be accurate. Most of the fairway bunkers are a nuissance for shorter hitters, but someone who can carry the ball 295+ off the tee can easily carry them, especially with temperatures expected to be in the 90's all weekend. And despite of the relatively short scorecard yardage, there will be plenty of important approach shots from greater than 200 yards away, especially on the Par 3's. In case of ties, break them in favor of a longer hitter who either can set themselves up with a short wedge or utilize a higher lofted club on long approach shots.
Additionally, players who historically rank highly in putting categories have fared well in this tournament since it was moved to the Country Club of Jackson. Part of that has to do with the profile of players who make regular appearances at the golf course, as it's primarily those who are below average ball strikers and make up for it with good short games and putting. Another reason is that when the tournament was played in November the bermuda greens had less grain in it, meaning that they rolled very smooth and true. When that happens, stronger putters can take advantage of the truer rolling greens better than weaker ones. The importance of putting can also be seen when looking at where strokes have been gained at the Country Club of Jackson in comparison to a typical PGA Tour stop:
Per DataGolf
With the move back to September and the hot temperatures expected this weekend, however, the greens should be a little bumpier and trickier than they would be than when this event was played in late October or early Novembers. That may level the playing field a bit between average putters and strong ones. While putting statistics will still be an important metric to look at, I don't expect it to be quite as strong of an indicator as last year and expect a little better results from the good ball-strikers.
Lastly, I wouldn't be too pressured to try and max out the budget for a DFS lineup. The top players will all see very high ownerships this weekend because of the weak field, and many people will try to do a stars and scrubs strategy with their roster construction. While that was a good strategy to have last week, the top of the field just isn't very strong to really pay off this week. You may be better off leaving  some money on the table in favor of cheaper, more contrarian high risk/high reward plays.