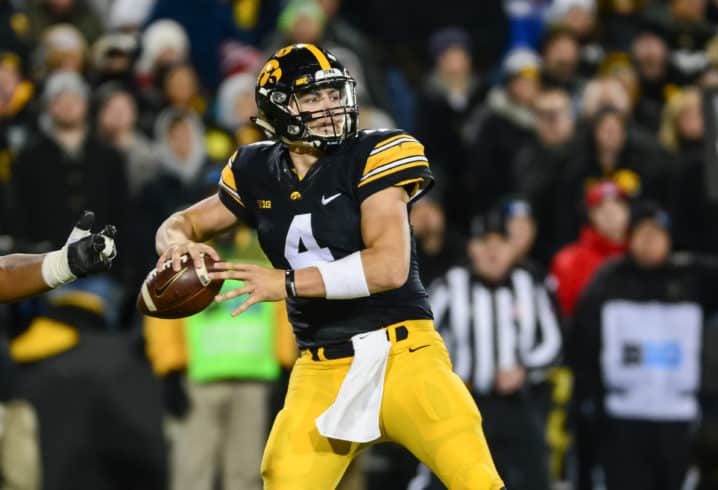 1. Iowa @ Iowa State
The battle of the cornfields. These games are always fun and wild. College Gameday going to Ames, Iowa for the first time ever should be great as well.
2. Pittsburgh @ Penn State
Rivalry's are always fun and here we have the battle for Pennsylvania. Penn State was down at the half last week to Buffalo but somehow still managed to cover in the 2nd half. Pitt is coming off a nice win over Ohio.
3. Stanford @ Central Florida
KJ Costello should be back at QB for the Cardinals as they travel cross country to take on a team that hasn't lost a home game since 2016. UCF surprised many by not starting Notre Dame QB grad transfer Brandon Wimbush last week against Florida Atlantic.
4. Florida @ Kentucky
This game would of been a bit higher had Kentucky QB Terry Wilson not be declared out for the season. Still, Florida has had it's struggles on offense the past couple years and Kentucky backup QB Sawyer Smith was a starter on a good Troy team a year ago.
5. Arizona State @ Michigan State
Michigan State has looked absolutely money the first two games. Their defense looks to be one of the best in the nation. Arizona State has taken care of business against Kent State and Sacramento State but not they must hit the road against a real opponent. Sun Devils Freshman QB Jayden Daniels will be playing his first road game of his college career.
6. North Carolina @ Wake Forest
Dave Clawson is doing an amazing job at Wake Forest as they look to move to 3-0 but the real talk of the state of North Carolina and the college football world is what Mack Brown is doing at UNC. We knew Brown was a good hire but who knew he would be working his magic this fast in Chapel Hill.
7. TCU @ Purdue
Jeff Brohm rebounded strong after the upset loss in Reno to Nevada with a nice double digit win against Vanderbilt and now we'll see what happens as Gary Patterson and TCU come to West Lafayette.
8. Kansas State @ Mississippi State
Kansas State has been really impressive the first two weeks despite the competition they have been playing. Mississippi State is 2-0 but hasn't looked nearly as good as people had them projected. This could be a game in Starkville.
9. Clemson @ Syracuse
This was supposed to be the top game of the week a month ago but Syracuse getting destroyed at Maryland ruined that. Clemson dominated Texas A&M a week ago and perhaps could be sleeping at the wheel for a bit when this one kicks.

10. Alabama @ South Carolina
This game would of been higher up had South Carolina senior QB Jake Bentley not gotten injured for the year. Instead a freshman QB will be making his 2nd start against a Crimson Tide defense. This won't end well.
11. Washington State @ Houston
Mike Leach travels to Houston to take on his former assistant at Texas Tech Dana Holgorsen. Wazzu has been lighting up the scoreboard in Pullman against some weaker teams and now comes the first road test of the season. Houston has got to get better defensively if this is going to be a game.

12. USC @ BYU
Just like that USC athletic director Lynn Swann is gone and so could Clay Helton's job if he losses this game because on deck is Utah, Washington, Notre Dame and Oregon. Just win baby as Al Davis once said. BYU is coming off a nice overtime win at Tennessee.
13. Ohio State @ Indiana
For some reason Indiana plays Ohio State really well in the first half of games lately. Then OSU realizes they can't lose to Indiana and they go on a crazy run to end the game and win by double digits. That's normally how things work out when these two get together.
14. Maryland @ Temple
Maryland is certainly one of the teams everyone is talking about and with great reason. They look absolutely money in their first two games but now we'll see a nice test when they hit the road to play a decent Temple team. Temple beat the Terps bad last year in College Park so revenge should be on the mind.
15. Florida State @ Virginia
Willie Taggart is coaching for his job here. Bronco Mendenhall has done wonders in Charlottesville and now he gets a chance to bury a ACC power from the past. Taggart went out and hired former DC and South Florida head coach Jim Leavitt as a defensive analyst so that should help the Seminoles down the line.
16. Texas Tech @ Arizona
Matt Wells has looked good at Texas Tech early on but now they hit the road in what should be a winable game in Tucson against Kevin Sumlin's Arizona Wildcats. Khalil Tate is exciting but the Wildcats defense has been awful thus far.

17. Oklahoma @ UCLA
I don't know why I have this game so high up but I do. Last year UCLA somehow covered in Norman and well this year UCLA looks like they are even worse from that performance a year ago. The Bruins held a players only meeting during the week but I'm not sure that's going to make a difference against Oklahoma.
18. East Carolina @ Navy
ECU won it's first game last week for new head coach Mike Houston and now hit the road to take on a good Navy squad in a nice early season conference game. This should be a good one.
19. Duke @ Middle Tennessee
Interesting road game here for the Blue Devils. Middle Tennessee is certainly capable of winning this game in Murfeesboro but David Cutcliffe is normally pretty good in these games against solid group of 5 teams.

20. Air Force @ Colorado
It's about time this game come back. Air Force and the triple option come to Boulder to take on a surprising Buffs team that rallied to beat arch rival Nebraska last week.
21. Eastern Michigan @ Illinois
Eastern Michigan is playing their third road game in as many weeks and well that's brutal. Chris Creighton is one of my favorite coaches in the country so if there's anyone who can win two of three on the road it's Creighton. Illinois rallied at Uconn last week to move the Illini to 2-0 for the season. A win here and folks in Champaign will be thinking bowl game.
22. NC State @ West Virginia
A few years ago this looked like a great matchup. WVU looked awful last week and must find a way to get up for a NC State team that's looking much better than I projected them to be.
23. Kansas @ Boston College
If Les Miles thinks Coastal Carolina was a tough game then good luck on the road in Chestnut Hill because AJ Dillon the Golden Eagles are looking pretty darn good so far this season.
24. Oklahoma State @ Tulsa
I appreciate the Cowboys playing a road game against little brother Tulsa. Tulsa might keep it close for a little with Baylor transfer Zach Smith at QB but the Cowboys should rip it open as the game goes on.
25. Hawaii @ Washington
Last week's Cal Washington game was a weird game but the Huskies need to wake up and handle this Hawaii team who happens to be 2-0 with both wins being against the Pac 12.
26. Colorado State @ Arkansas
Arkansas looks like absolute dog shit thus far this season despite being 1-1. Beating a 4-7 FCS Portland State by 7 in week 1 wasn't necessarily a great way to start the season.

27. North Texas @ California
Seth Littrell and UNT struggled against SMU last week and well things aren't going to get easier for Littrell as the Mean Green and their air raid take on perhaps the best secondary in all of college football and the Cal Golden Bears. Cal needs to not look past this game because North Texas is still a solid team.
28. Ohio @ Marshall
A nice little mid major power game here. Marshall only lost by 7 on the smurf turf in Boise and Ohio fought Pitt decently well on the road. This should be a fun one.
29. Georgia Southern @ Minnesota
PJ Fleck must have a horseshoe or something because Minnesota very well could be 0-2 here but instead the Golden Gophers are 2-0 and here comes the triple option. Minnesota defended the option well in bowl season as they knocked off Paul Johnson and Georgia Tech.
30. Southern Miss @ Troy
Another great group of 5 power matchup here. Love both these programs and despite Troy breaking in a new head coach after Neal Brown left for West Virginia this should still be a good one.
31. Miami (OH) @ Cincinnati
Cincinnati looked awful last week in Columbus and if the Bearcats really want to make this season a success this is a must win in my mind.
32. Memphis @ South Alabama
A nice little road matchup for Memphis. South Alabama looked much better than I thought they would in their week 1 matchup against Nebraska.
33. Northern Illinois @ Nebraska
Last time these teams met in Lincoln, Nebraska the Huskies of NIU won the game outright. NIU played Utah in Salt Lake City last week better than I expected so watch out Nebraska. Nebraska needs to respond with a big win and they need to develop a kicker asap.
34. Louisville vs Western Kentucky (Nashville)
Not sure why this game is being played in Nashville, Tennessee but whatever. Satterfield has Louisville much better than I projected at this point.
35. Weber State @ Nevada
Nevada upset Purdue but then got destroyed at Oregon and now comes a nice game against a good FCS team in Weber State. Don't fall asleep at the wheel Nevada or you will lose this game.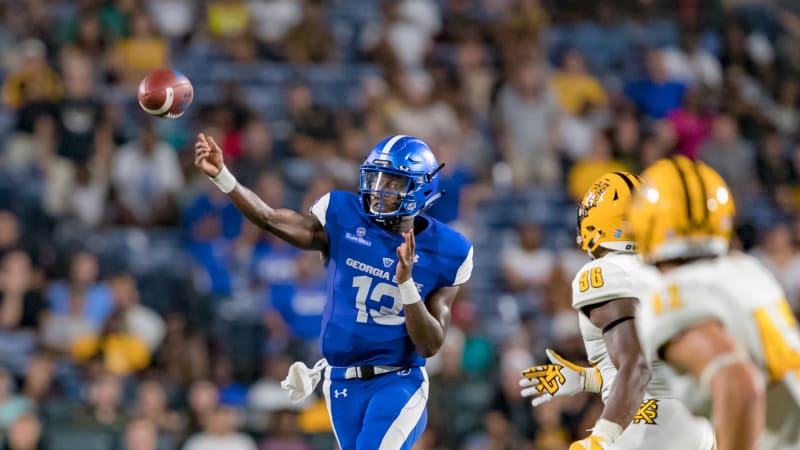 36. Georgia State @ Western Michigan
Can Georgia State hit the road and score another big win as a double digit dog?
37. Buffalo @ Liberty
Buffalo was beating Penn State at the half and then the storm came and they got destroyed. Now they hit the road again to take on Hugh Freeze and Liberty. The real question is where will Hugh Freeze be coaching from? A hospital bed? a wheelchair? A strip club? who knows.
38. UNLV @ Northwestern
This shouldn't be much a game but then I remember that a 3 win Akron team beat Northwestern in Evanston last year. Not again right?
39. Florida Atlantic @ Ball State
Lane Kiffin is the most overrated coach in America I've been saying it all along. His FAU Owls better win this road matchup in Muncie or this season might get real ugly.

40. The Citadel @ Georgia Tech
Yes. The Citadel triple option against the former triple option team. I find this compelling.
41. New Hampshire @ Florida International
I'm not sure what is happening in Miami with FIU. I had this team projected to be a player in the Conference USA this year and then the season started and FIU looks absolutely awful. This is a must win against a good FCS team.
42. Akron @ Central Michigan
The basement MAC battle perhaps? Last year these teams were awful. Central Michigan is banged up and Akron still hasn't gotten on the same page.

43. Army @ UTSA
Could Army go 11-1 with their one loss being an overtime game at the big house?
44. Furman @ Virginia Tech
Fuente job watch is going on in Blacksburg. Furman is a decent FCS. That kinda makes this game interesting.
45. New Mexico @ Notre Dame
Bob Davie was going to return to his former job in South Bend but he had a really bad health scare and he's missing the trip for New Mexico.
46. Arkansas State @ Georgia
Arkansas State is playing for their coach who is on leave after his wife passed away from cancer. Can the Red Wolves somehow make this a game? I doubt it but stranger things have happened.
47. Louisiana Tech @ Bowling Green
Skip Holtz needs a nice statement win here after barely beating Grambling and getting destroyed by Texas.
48. Chattanooga @ Tennessee
It can't happen again can it?
49. Texas @ Rice
Rebound week in Houston. Texas wins big.
50. San Diego State @ New Mexico State
Rocky Long and the Aztecs would sure love to move to 3-0 on the season with Utah State on deck.
51. Umass @ Charlotte
52. Cal Poly @ Oregon State
53. Norfolk State @ Coastal Carolina
54. Idaho @ Wyoming
55. South Carolina State @ South Florida
56. Texas State @ SMU
57. Missouri State @ Tulane
58. Portland State @ Boise State
59. Montana @ Oregon
60. Murray State @ Toledo
61. Texas Southern @ Louisiana Lafayette
62. Idaho State @ Utah
63. Kent State @ Auburn
64. SE Missouri State @ Missouri
65. SE Louisiana @ Ole Miss
66. Lamar @ Texas A&M
67. Bethune Cookman @ Miami (FL)
68. Northwestern State @ LSU