1. LSU @ Texas
We Tigers. Coach O sure looked good week one against Georgia Southern. Then again despite Georgia Southern being a 10 win team last season. They run the triple option and having a month to prepare for that is more than a gift. Texas covered the big line against Louisiana Tech and Tom Herman has an incredible record as a dog and well the Longhorns happen to be a dog.
2. Texas A&M @ Clemson
Clemson handled Georgia Tech but we knew that was going to happen. Texas A&M blew out Texas State but once again we knew that would happen. Last year Clemson narrowly escaped College Station with a win and now we get part 2 but this one in Clemson, South Carolina. Clemson is much younger and inexperienced this year as opposed to last year. Texas A&M is now in year two of the Jimbo era. This should be a good one.
3. Stanford @ USC
Stanford beat Northwestern in Palo Alto despite losing their star QB KJ Costello. USC barely survived Fresno State despite losing their star QB J.T. Daniels for the season. Costello is questionable for the game and if he can't go the talent favors Stanford.
4. Nebraska @ Colorado
The rivalry that should happen every year the day after Thanksgiving. We'll have to settle for September. Last year's game came down the final play. Colorado's defense looked shaky against Colorado State but the offense looks pretty good. Everyone is high on Nebraska this year but they sure didn't look the part at home against South Alabama. Scott Frost knows all about this rivalry and I'm sure he'll have his team ready.

5. California @ Washington
Last year Cal shocked the Pac 12 by beating Washington in Berkeley. Jake Browning had a tough day against the blistering Cal defense. Browning is gone and in my opinion the Huskies have gotten much better at QB thanks to Georgia transfer Jacob Eason. Plus, this game is in Seattle which obviously gives Chris Peterson and company a nice home field advantage.
Looking for more than college football previews? Go here for college football picks.
6. Miami (FL) @ North Carolina
Suddenly this is a game! Miami sure blew their chance to beat Florida in week zero and this one looked like a for sure win a month or so ago but Mack Brown didn't take long to sprinkle some fairy dust on the Tar Heels. UNC not only covered the double digit spread against South Carolina they beat the Gamecocks straight up. Now we suddenly have a big time ACC Coastal conference game.
7. Cincinnati @ Ohio State
The battle of Ohio! Yes, I'm well aware this isn't much of a battle if you are looking at history but this game has something more to it. Luke Fickell the Bearcats head coach was passed over as head coach at Ohio State. Fickell was a longtime assistant in Columbus and I'm sure has a chip on his shoulder with this one.
8. Army @ Michigan
I know Army struggled last week in their opening game against Rice but Rice had the benefit of having a month or so to prepare for the triple option. Army has a star QB in Kelvin Hopkins and the Black Knights almost beat Oklahoma in Norman last year. Michigan handled business in week 1 despite looking pretty rusty against Middle Tennessee. Michigan should handle Army but the triple option can somewhat be the equalizer if the Black Knights get the ball moving some and control the clock.
9. BYU @ Tennessee
I'm not sure I would of had this game ranked 8th had Tennessee gotten beat down by 26 point underdog Georgia State. Things are getting really bad in Knoxville and this is suddenly a must win for their fan base. BYU is coming off a bad loss to arch rival Utah but the Cougars have pulled a few upsets on the road the past few years can they do it one more time?
10. Minnesota @ Fresno State
Minnesota got the win against South Dakota State but they sure got fortunate after the Jackrabbits fumbled the game away after what seemed to be a potential game winning drive. Fresno State covered against USC but got better as the game went along. The Bulldogs were breaking in a new QB and new offensive coordinator so that makes sense. This is another huge opportunity for the Mountain West to make some more noise.
11. Syracuse @ Maryland
Mike Locksley sure looked good week 1 when the Terps dropped 79 points against FCS Howard. I still question how much that win actually means but there's one thing I can't deny is that Maryland has a talented roster. Syracuse shut out Liberty on the road which was really impressive but the Orange somewhat struggled on offense. The stats aren't kind on teams playing back to back road games but Dino Babers is one of the best coaches in America.
12. Vanderbilt @ Purdue
Purdue somehow some way blew that 17 point lead to Nevada in Reno and went back to West Lafayette with a L. Jeff Brohm surprised many when he stayed at Purdue and I'm guessing he's going to have his team ready after a bad loss like that. Derek Mason and Vanderbilt are coming off a blowout loss to Georgia but I think we all knew that was coming. This could be a good one and one perhaps the SEC might really need.
13. Marshall @ Boise State
Two quality mid majors on the smurf turf? Sign me up. Boise State made another big statement against the Power 5 by going cross country with a freshman quarterback and beating Florida State in their own backyard. Marshall took care of FCS VMI and now they get to play the part of going cross country in search of a upset win. This is a fun one. Boise could be a player to make a run at the new years six bowl if they can get past this one and a few others.
14. West Virginia @ Missouri
Neal Brown took his time but the Mountaineers found a way to beat James Madison. JMU is a real quality FCS team but they'll need to be better this week if they want to win on the road. Missouri knows a thing or two about getting beat up on the road since they went to Wyoming and got beat down by the Cowboys. This is a big game for the Tigers and the state of the SEC.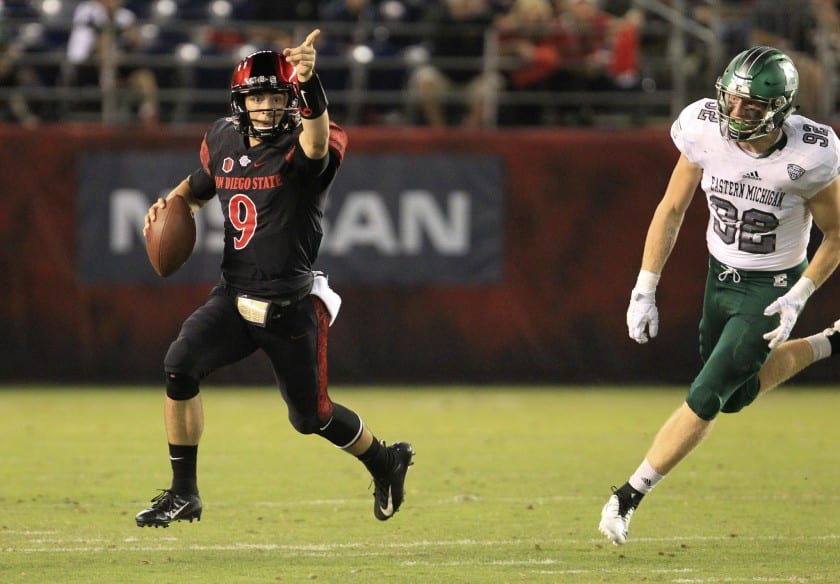 15. San Diego State @ UCLA
The Aztecs took down FCS Weber State who's another really good FCS team but it sure wasn't pretty winning 6-0 in San Diego. Rocky Long sure won't be upset with shutting out an opposing team but their going to need more points than 6 if they want to beat UCLA. UCLA should have their star RB Joshua Kelly healthy for this game and boy do they need them after looking awful week 1 in Cincinnati.
16. Ohio @ Pittsburgh
Pitt lost a tough conference game to Virginia in week 1 and their out of conference schedule is a bit brutal so they really need this game. Ohio is poised to be one of the MAC's best teams and Frank Solich is one of the longest tenured coaches in America. The Bobcats have a stud QB in Nathan Rourke and sure would love to pull the upset in Pittsburgh.
17. Arkansas @ Ole Miss
Huge game in the SEC West. Well sorta if one of these teams want any shot at somehow making a bowl game. The Razorbacks barely beat a bad FCS team in Portland State and Ole Miss lost for a 2nd straight time in Memphis.
18. Oregon State @ Hawaii
I really believe Jonathan Smith has the Oregon State Beavers playing at a higher level than the past two years but I still don't know if they win enough games for him to get recognized for the job he is doing. Hawaii is tough at home just ask Arizona and Kevin Sumlin. Cole McDonald should light up the scoreboard and the Rainbow Warriors are favored but they need to limit the turnovers if they want to grab the home win. The Mountain West could score another power five win here.
19. Eastern Michigan @ Kentucky
These teams played a couple years ago and it was a close game. Kentucky struggled with Toledo last week but pulled away really late and actually got the cover. Eastern Michigan went on the road to Conway, South Carolina last week and covered against Coastal Carolina. Back to back road games is hard but Eastern Michigan may actually lineup better against Kentucky than Toledo did.
20. Tulane @ Auburn
Slightly under the radar was Tulane's blowout win at home over a good Florida International team. Willie Fritz has the Green Wave believing after a nice bowl season last year. Auburn is in love with Beau Nix and rightfully so but don't get it twisted he struggled for a good amount of the game and well I'm betting they are looking past the Tulane Green Wave.
21. Rutgers @ Iowa
Woah Rutgers actually blew out somebody in Umass. The Scarlett Knights did it mostly because they finally have a QB in Texas Tech transfer McLane Carter. Iowa struggled with Miami (OH) at home but pulled away late to get the cover. This is a conference game and Iowa should win but hey Rutgers actually looked good last week.
22. Southern Miss @ Mississippi State
I was not too impressed with Mississippi State last week and they almost paid the ultimate price. This week the game is in Starkville and not New Orleans so perhaps they should play better. They'll need to because Southern Miss is a better team than Louisiana Lafayette.
23. North Texas @ SMU
The battle of the air raid. Both these teams looked good in week 1 and both these teams are sure to light up the scoreboard on Saturday. Mason Fine and Seth Littrell sure have been doing wonders at North Texas. Sonny Dykes the head coach of SMU is trying to build the same type thing at SMU and well he's got some talent to do so. This should be a barnburner.
24. South Florida @ Georgia Tech
Charlie Strong should be on the hot seat after that awful performance at home against Wisconsin last week. Last year Strong and the Bulls came from behind to beat Georgia Tech but can they do that again? The Bulls have lost a bunch in a row and they seem to be a mess of a team. Georgia Tech and new head coach Geoff Collins are trying to build something but don't have the players after overhauling Paul Johnson's triple option attack from a year ago.
25. Coastal Carolina @ Kansas
Can Les Miles pull out some magic again? It didn't take long for Miles to work his magic as the Jayhawks pulled a late come from behind win against FCS Indiana State in week 1. Coastal Carolina is coming off a loss at home to a bowl team last year in Eastern Michigan. Kansas is not as good as Eastern Michigan so watch out Jayhawks fans.
26. Nevada @ Oregon
Can Nevada do it two weeks in a row? With a backup quarterback and a backup kicker? That would certainly be the craziest story of the season but I have my doubts. Oregon outplayed Auburn but got way too conservative in Dallas. The Ducks roll big in Eugene.
27. Buffalo @ Penn State
Penn State destroyed Idaho 79-7 but Idaho hasn't been very good on the FCS level of late and well Buffalo won 10 games last year. The Bulls sure lost a lot of talent but Lance Leipold is one of the best kept coaching secrets in America. Penn State should get the win but I think the Bulls hang around for a little bit.
28. Western Michigan @ Michigan State
Michigan State sure looked great on defense against Tulsa and now they shift to Western Michigan. Western Michigan should be better this season than last but I highly doubt they have the horses to keep up with the Spartans.

29. Old Dominion @ Virginia Tech
No way this can happen again right? Last year Old Dominion pulled one of the biggest upsets of the past few years when they beat the Hokies by double digits. Virginia Tech seems like they've lost a step and Justin Fuente is entering the hot seat era of his tenure in Blacksburg. This is a must win for the Hokies.
30. Northern Illinois @ Utah
Utah should roll. The Utes are pretty money in Salt Lake City but yet this game still somewhat interests me. Northern Illinois has always had a great defense for a group of 5 and with that defense they can hang around in games.
31. Illinois @ Uconn
Finally Lovie Smith and his Fighting Illini showed up and blew out a MAC team in Akron. Brandon Peters at QB perhaps was the missing piece Smith needed. Uconn still looks suspect after beating Wagner at home. Randy Edsall better get his Huskies together fast or he may just be unemployed in a few months.
32. Central Florida @ Florida Atlantic
Perhaps this game should be ranked higher but I'm a bit of a skeptic on Lane Kiffin and what he's doing in Boca Raton. UCF is rolling again and yeah I'm well aware Florida A&M isn't a very good FCS team but I like the pieces UCF has to go and grab this win on the road.
33. Charlotte @ Appalachian State
Charlotte is a program that could really be on the rise with Will Healy at the helm. Appalachian State should be a fined tuned machine despite breaking in new head coach Eli Drinkwitz. App State should roll but I like the future of both these programs.
34. Central Michigan @ Wisconsin
Wisconsin looked amazing last week and that's an understatement. The Badgers should roll here again but Central Michigan is already at their win total from a season ago led by their star RB Jonathan Ward.
35. Maine @ Georgia Southern
Georgia Southern sure got handed a royal ass beating last week against LSU and they better not fall asleep on this one because the Maine Black Bears are a really good FCS team.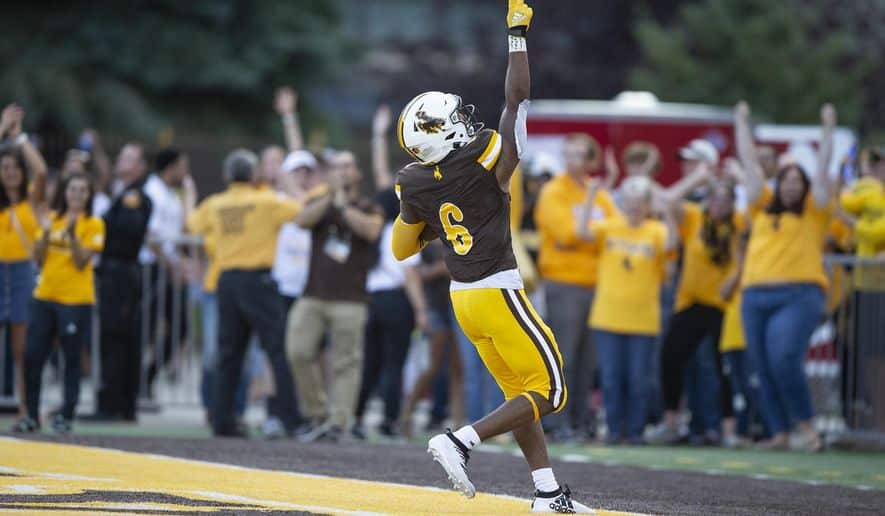 36. Wyoming @ Texas State
The Cowboys need to avoid the come down game on the road. Texas State is coming off a beating at Texas A&M but the offense should be able to move the ball some against Wyoming. The Cowboys should be able to run down Texas State's throat though.
37. Liberty @ Louisiana Lafayette
Will Hugh Freeze be coaching from another hospital bed? Who knows but Louisiana Lafayette looked pretty good against Mississippi State in New Orleans last week. Liberty and their QB Buckshot Calvert were shutout last week so Freeze has got to find a way to get that offense moving.
38. Wake Forest @ Rice
Dave Clawson is doing wonders at Wake Forest including a nice come from behind win against Utah State. Rice played Army extremely well and but their QB play has got to get better. Wake should roll in this one but its on the road so maybe Rice can hang around a bit.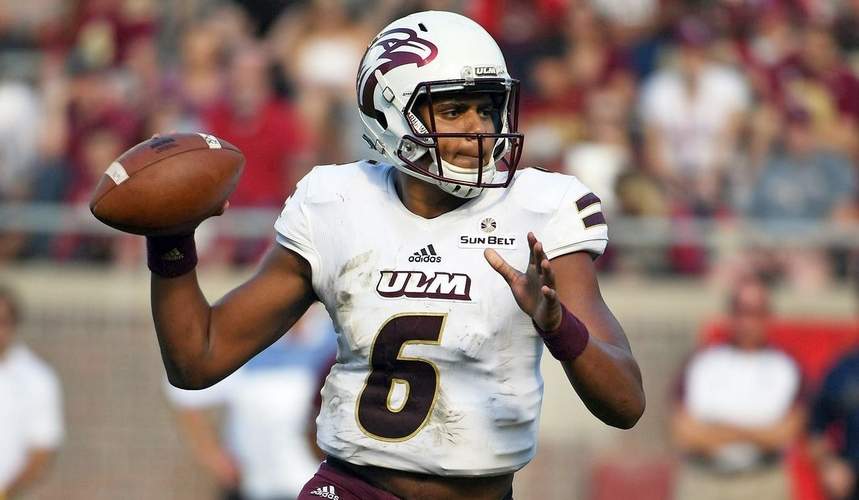 39. Louisiana Monroe @ Florida State
Um time to hit the panic button in Tallahassee which is why this game perhaps could be entertaining. Willie Taggart needs this one or his job is done which means could things be too tense at FSU. Caleb Evans is a solid QB at ULM now can they put a scare into the Seminoles? I doubt it but stranger things have happened.
40. North Carolina A&T @ Duke
Talk about a scary rebound game from Alabama. North Carolina A&T not only beat East Carolina a year ago this team has been winning Championships on the FCS level. Duke should handle this but they need not look too far ahead.
41. Furman @ Georgia State
This game probably shouldn't be rated this high but I want to see how the Panthers of Georgia State handle the rebound week. Furman is a decent FCS who could take down Georgia State if they aren't on top of their game.
42. UTSA @ Baylor
What is happening at UTSA? Sure, they won in week 1 but it sure wasn't pretty and this team has recruited fairly well. Baylor and Matt Rhule are a sleeper in the Big 12 that should roll big here.
43. Arkansas State @ UNLV
Arkansas State lost last week to SMU and I'm sure them not having their head coach Blake Anderson sure played a part. Anderson's wife is suffering from cancer so he probably won't be back any time soon. UNLV looked good against Southern Utah but that's still Southern Utah. Armani Rogers is a stud QB that should be a problem for ASU.
44. UAB @ Akron
UAB survived quite the scare against Alabama State and needs to put that one in the rearview mirror because this is somewhat of a far trip. Akron looked pretty bad against Illinois last week and now they'll look to rebound in their home opener.
45. Bowling Green @ Kansas State
K State looked great against FCS Nicholls last week and now get Bowling Green who despite the Falcons being 1-0 are most likely one of the worst teams in the FBS. K State needs to grab the gimme wins like this before they head to Starkville.
46. Kennesaw State @ Kent State
Kennesaw State is a pretty money FCS school who almost beat Georgia State last year. Kent State is a team thats improving despite their double digit loss at Arizona State. This is one the FCS really could score.
47. Tulsa @ San Jose State
Tulsa was pathetic running the ball last week against Michigan State and perhaps even more pathetic snapping the ball to their own QB Zach Smith. San Jose State actually won a game so their is plenty of optimism going on in San Jose perhaps. Tulsa should rebound and roll big in this one.
48. UTEP @ Texas Tech
Matt Wells and Texas Tech looked pretty good week 1 against a decent FCS team in Montana State and now they'll look to be 2-0. UTEP finally beat a FCS team and are currently undefeated. Red Raiders blowout the Miners.
49. Western Kentucky @ Florida International
WKU lost to Central Arkansas in their home opener that's not a good look considering Central Arkansas is a FCS team. Florida International and Butch Davis are coming off a surprising beat down from the Tulane Green Wave and they look to get things back on track at home against a bad Western Kentucky team. FIU rolls big I'm betting.
50. Grambling @ Louisiana Tech
A little back yard brawl for La Tech. The Bulldogs got owned by Texas but Skip Holtz should have them back to their winning ways against Grambling who's a decent FCS team.
51. Southern Illinois @ Umass
Umass got owned by Rutgers. That's not a good look despite Rutgers being a power 5 program. Southern Illinois is a somewhat decent FCS team. That means this should and could be a ballgame.
52. Richmond @ Boston College
BC should roll big over the Spiders but not too long ago the Spiders upset Virginia in Charlottesville. BC will roll big here but the Spiders are a decent FCS program.
53. Fordham @ Ball State
Ball State played Indiana better than I expected but they need not got bit on the rebound game against a Fordham team who wasn't very good last year.
54. Northern Arizona @ Arizona
Kevin Sumlin needs any win he can get at this point even if it's Northern Arizona of the FCS. NAU isn't a awful FCS team but the Wildcats should still be able to take care of business here.
55. Tennessee State @ Middle Tennessee
MTSU should roll here but you never know with the whole in state battle going on here. MTSU looked decent against Michigan and perhaps they'll be a player again in the Conference USA.
56. Eastern Kentucky @ Louisville
Louisville and new head coach Scott Satterfield scored probably the best loss of week 1 and now they get EKU. Satterfield scores his first win as the Cardinals roll.
57. Jackson State @ South Alabama
South Alabama played much better than I expected last week in Lincoln, Nebraska. They should roll Jackson State.
58. Gardner Webb @ East Carolina
Is this game going to be in the middle of hurricane? ECU got handled by NC State in a game I was way off on. They got to limit the turnovers and they'll be fine to beat GW.
59. William & Mary @ Virginia
William & Mary head coach Mike London not only played at UVA he once coached them a few years back. I'm sure London will want to show up his former team but Bronco Mendenhall is really bringing back this UVA program.
60. Western Illinois @ Colorado State
Mike Bobo let the Colorado game get away from him. Lost in that rocky mountain showdown loss was a somewhat nice performance by his offense and QB Collin Hill. I'm higher on Colorado State than I thought I'd be and for that reason alone I think the Rams roll in Fort Collins.
61. Eastern Illinois @ Indiana
Indiana struggled with Ball State some but then opened it up in Indianapolis last week. Now they have their home opener against Eastern Illinois and they should roll in this one.
62. Tennessee Tech @ Miami (OH)
Miami (OH) put up a good fight in Iowa City but the game found a way to get away from them late. Head coach Chuck Martin will need to rally the team here and take down FCS Tennessee Tech.
63. Western Carolina @ NC State
NC State looked much better than I expected and well this game should be over by halftime if Western Carolina is anything like the Western Carolina from a season ago.
64. Sacramento State @ Arizona State
The Hornets of Sacramento on the road in Tempe? No it won't happen. Not even for a little bit. ASU rolls big.
65. Prairie View @ Houston
Houston's defense still looks god awful. For that reason alone perhaps PV has chance. Just kidding. The Houston offense should put up big big numbers here.
66. Stony Brook @ Utah State
Jordan Love came up just short on the road in Winston Salem against Wake Forest in a game they probably should of won. Now it's time to for Utah State to go back to work.
67. South Dakota @ Oklahoma
I have this game ranked higher than I thought it would be simply because there is a chance South Dakota actually has a better defense than Houston.
68. Southern @ Memphis
Memphis didn't really find its offense last week but still got the win against Ole Miss. This week they will find their offense that I will guarantee.
69. Charleston Southern @ South Carolina
Sure, Jake Bentley is injured and out for a while but who you kidding? Charleston Southern can't win in Columbia, South Carolina this week. Muschamp will be fired for sure if so but mark my words it's not happening.
70. Northern Colorado @ Washington State
Wazzu is fresh off destroying New Mexico State and now comes FCS Northern Colorado. Wazzu drops 50 again at least as the Cougars move to 2-0.
71. McNeese @ Oklahoma State
Oklahoma State has an offense that will be putting up a ton of points this year. That you can bet on. OK State wins big in Stillwater.
72. New Mexico State @ Alabama
Why does New Mexico State always play SEC teams? This game should never be played. Bama rolls.
73. UT Martin @ Florida
Florida plays two FCS teams this season. This is the first of the two. What a terrible schedule. Florida wins big.
74. Murray State @ Georgia
This game is already over. Frank Beamer could come back to Murray State and coach and this game would still be over. Dawgs win big in Athens.