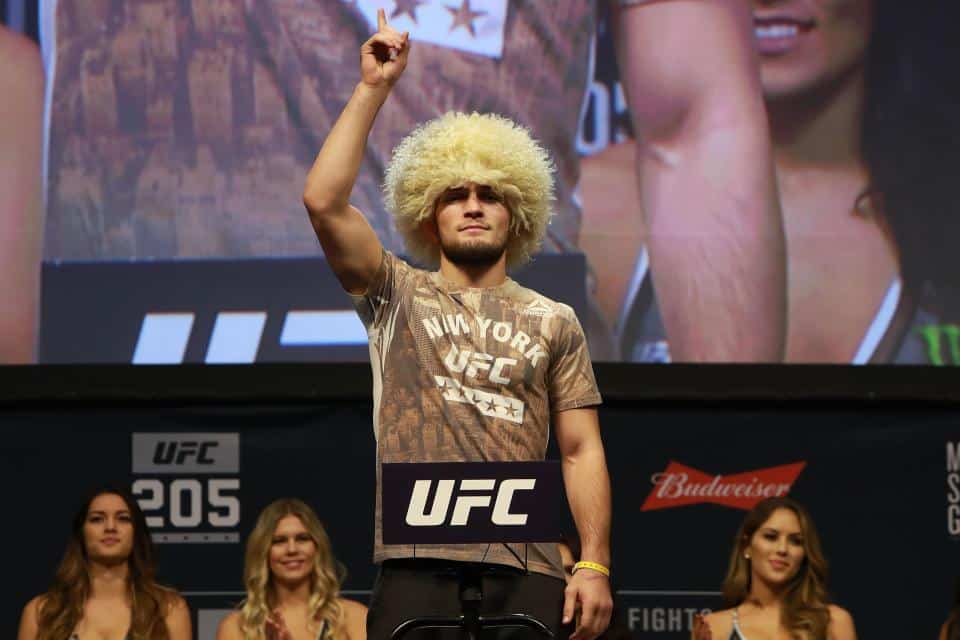 Is Khabib Nurmagomedov a draw without Conor McGregor on the A-side of a fight? We shall see this Saturday, as the UFC octagon returns to Abu Dhabi. Like last week's event in China, this is another UFC card with an odd start time. Unlike the normal UFC PPV start time of 10:00 pm Eastern, the main card of this Saturday's event starts at 2:00 pm (early prelims at 10:15 am Eastern).
The main event is of course the aforementioned UFC Lightweight Champion, Khabib Nurmagomedov, who will be making his second title defense (and first since crushing Conor McGregor last fall) against interim champ Dustin Poirier. The UFC would like you to believe this is a champ vs champ fight, but we know that interim titles are promotional crap, right? The bookies don't expect this to be much of a competitive matchup, as MyBookie has the champ as a huge -440 favorite. Probably rightfully so, as none of his previous 27 opponents have yet to figure out how to solve the puzzle the Dagestani destroyer presents in the cage.
If the professionals are on point, the co-main event should be a more competitive affair, as Edson Barboza is only a -155 favorite over Paul Felder.
While the fight card is short on "big name" fighters (other than Khabib), it is long on talent – it's an above average fight lineup, from top to bottom. Here's where the smart money is going this weekend – not a fan of many underdogs this week, so a few big favorite picks here (so just bet more money to make it worth your time, degenerate!).fe
Curtis Blaydes (-485) vs Shamil Abdurakhimov
"Razor" Blaydes is a massive favorite here, and for good reason. Blaydes has lost to one man in his career – the terrifying Francis Ngannou, twice. He's got a four inch reach advantage, is 10 years younger than Abdurakhimov, and will take down his opponent with ease.
Belal Muhammad (-345) vs Takashi Sato
In Takashi Sato's UFC debut, he might have gotten the W over Ben Saunders, but he was outstruck in the fight. Belal "Remember The Name" Muhammad (yes, that's his actual nickname) throws as many strikes as Sato does, but gets hit half as often as Sato. He also often takes his opponent to the mat and works them over there. His all-around game, plus vast experience edge, makes him a solid lock here.
Don Madge (-190) vs Fares Ziam
Don "Magic Man" Madge is in the midst of a five-fight stoppage streak, with four (T)KOs and one submission during this span. This includes the head kick pictured above, which sent Te Edwards to la-la land in Madge's UFC debut last October. Madge's opponent Saturday, the debuting Fares Ziam, has tapped out to rear-naked chokes in both of his career losses, while Magic Man has won three fights via this choke. He'll look to wave his magic wand (or magic leg, or magic choking arms)  and make Ziam go to sleep in Abu Dhabi.
Overall Results for This Column
Record: 12-13
Earnings (based on $100 bet per): ($245.08)
Return on Investment: N/A