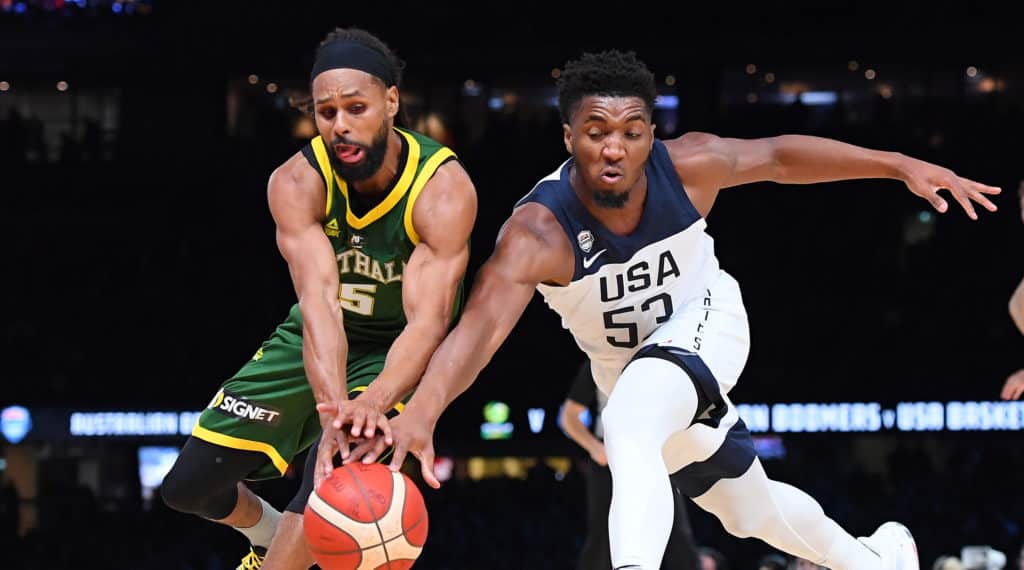 For a large number of us who happen to be year-round Daily Fantasy players spanning a variety of sports (which differ uniquely in annual preference per individual), the niche catalog of sporting subcategories has become a rather educational and multi-pronged vice serving to pacify the gaming needs of many of us between off-seasons of our favorite ritually occurring sports.
In this case scenario, those of us yearning for the NBA regular season are gifted the FIBA Basketball World Cup! And this isn't anywhere near the exhibition that is the NBA Summer League…there are actually Olympic berths on the line for each of these countries outside of Japan (who's the only country guaranteed a spot in the Olympics next year since they're hosting it in Tokyo).
And naturally, world supremacy is on the table in the Championship match!
For a limited time at DraftKings.com, both new and existing users can get a deposit bonus up to $500! Enter promo code SGP!
New users ALSO get a FREE shot at ONE MILLION DOLLARS with your first deposit! Just enter promo code SGP!
A Little Bit Of Background
Of the seven remaining berths to be awarded here: the top two teams from the Americas and Europe, along with the one winner out of Africa, Asia, and Oceania. Those will be determined in this summer's tournament. Following those seeds, there are four additional wild card teams that duke it out in four separate tournaments leading up to the Olympics thereafter.
There are 32 teams spread into eight groups, with four teams per group: the two best members in each respective group moves on. These survivor team pairings are then grouped with another pair to form a group…and then those two top teams in each group advance, and so on and so forth, with elimination shifting to guillotine rounds at that point forward until the Championship on Sept. 15th.
The Gameplan
Whether you're playing Cash Games or GPP's, one thing is certain: most people entering lineups will be vulturing NBA names. And hey, rightfully so! Those names are playing in the NBA for a reason, and will certainly garner productivity…along with ownership based solely on namesake value. I'm by no means suggesting to avoid any of these players, but to simply find ways to get a bit different in large-field tournaments.
On this initial slate, I plan to target a mix of the obvious plays along with a fair share of the differentials, but nothing insanely crazy because of the smaller sized GPPs that are only available. This isn't like baseball where chalk often doesn't hit and you need to get to outlier plays more often to account for variance and hedging. With basketball, there are far greater consistent measures. It's just going to be a matter of how much playing time and usage is distributed, so don't be afraid to be different.
Guard
Ricky Rubio (ESP, $8,800)
In their most recent preparation game with Argentina, Ricky Rubio dazzled with Spain missing Marc Gasol in action, putting up 25 points and 8 assists. It wasn't until the fourth quarter that he erupted for 17 of these points in the final ten minutes to beat Argentina, 84-76. This outstanding performance also featured his career-high in points with Spain.
He will be featured as one of the cornerstones of this Spanish National Team and should easily be a Cash Game lock, along with a solid play in GPP's.
Amedeo Della Valle (ITL, $5,300)
While Danilo Gallinari is the flagship name in Italy, the widely-considered wild card for the Azzurri is guard Amedeo Della Valle. His no-hesitation, icy-veined notoriety as a three-point shooter has proven his ability to put up double-digit point totals with ease in his span in the Italian leagues since returning from his collegiate stint in the US at Ohio State University.
At his price point he allows for several of the spend-up options we'll mostly want to be getting to, and I would roster him without hesitation being that we could be in store for one of his scoring onslaughts.
Ra Guna, aka: Ricardo Ratliffe (KOR, $6,400)
Born in Hampton, Virginia where he went on to play collegiate ball at College of Central Florida (not to be confused with UCF) before transferring to Missouri, Ra Guna is an absolute beast down low in the post and I should suspect some pretty high usage going this guy's direction considering his dominant skill set that South Korea's team has leaned heavily on.
And oddly somehow melded into the Shooting Guard category (Luka Doncic will be listed as a Center on DraftKings or FanDuel next NBA regular season at this rate), I will be looking to roster tons of this guy with him actually playing the Center position.
Forward
Danilo Gallinari (ITL, $8,000)
…and speaking of which, this is the guy you'll likely want to get to a substantial share of. Despite being the certain chalk talk, Gallinari is a no-brainer as he will be the focal point of this Italian offense seeking to earn the first FIBA title ever for his home country Italy. In the 2014 FIBA World Cup, this Italian national team missed the cut and Danilo will be the focal point of their attack throughout this tournament.
He's also coming off a NBA season where he put up 19.8 pts, 6.1 rebounds, and 2.6 assists with a 23.8 Usage percentage while with the Clippers (now with the Thunder since the Westbrook and Paul George blockbuster trade) and should be heavily-owned throughout the entire tournament.
And I think you should roster at will, because the guy is damn good and usage is usage. Plain and simple. Hardly anybody on the floor is going to carry an equivalent or comparable skill set.
Juancho Hernangomez (ESP, $5,800)
Despite the tumultuous stint with the Denver Nuggets thus far, Juancho Hernangomez is going to draw some significant playing time through the FIBA Tournament for the Spanish National Team and is considered part of the future of their organization (alongside his brother, Guillermo; Willy for the lamen).
In his two games back with them he has been faring a mediocre stat line averaging 10.5 points per game and shooting 20% from three-point territory (36% overall), but considering his usage should be increasing his price point won't be difficult to pay off.
Luis Scola (ARG, $9,600)
At 39-years of age and what feels like an eternity since we've seen him in an NBA uniform, Luis Scola will be the leader of this Argentina National Team throughout the FIBA World Cup serving as their Captain. Shooting fade-aways like he was back in his early twenties, Scola will be in his natural element with this Argentinian squad and the usage appears to be headed his way.
In their recent hard-fought loss to Spain a couple of days ago, Scola put up 24 points and nine rebounds while demonstrating his newfound consistency for this Argentina squad. At the beginning of August in the Pan-American Games, he helped Argentina hoist a gold medal on his 28 points, regardless of being the oldest player on the roster by over a decade.
I oddly feel like people will avoid him based on his price point melded with age, so I wouldn't be shy to roster away with this dude.
For a limited time at DraftKings.com, both new and existing users can get a deposit bonus up to $500! Enter promo code SGP!
New users ALSO get a FREE shot at ONE MILLION DOLLARS with your first deposit! Just enter promo code SGP!
Center
Marc Gasol (ESP, $9,900)
A whole lot of the obvious stated here, but allow it to serve as a reminder that this dude isn't going to baby himself too much as the leader of this Spanish National Team and won't see anybody on the court to match his capabilities in this opening match with Tunesia. He missed the recent preparation game against Argentina (which Rubio handled for him), but should not warrant any roster concerns because of it.
The likes of Salah Mejri (if you don't recall him being DFS relevant in NBA in his time with the Dallas Mavericks, it's because the playing time was limited and circumstantial) won't be able to keep up with Gasol by a long shot and rostering Gasol should ultimately be widely considered here. I would go with the chalk at the Center position and get different elsewhere.
Other Picks
• Sergio Llull, Shooting Guard (ESP, $4,700)
• Junghyun Lee, Point Guard (KOR, $5,100)
• Gabriel Deck, Small Forward (ARG, $5,000)
• Michael Roll, Shooting Guard (TUN, $6,200)
• Andray Blatche, Power Forward (PHI, $6,000)
• Guillermo Hernangomez, Center (ESP, $6,300)