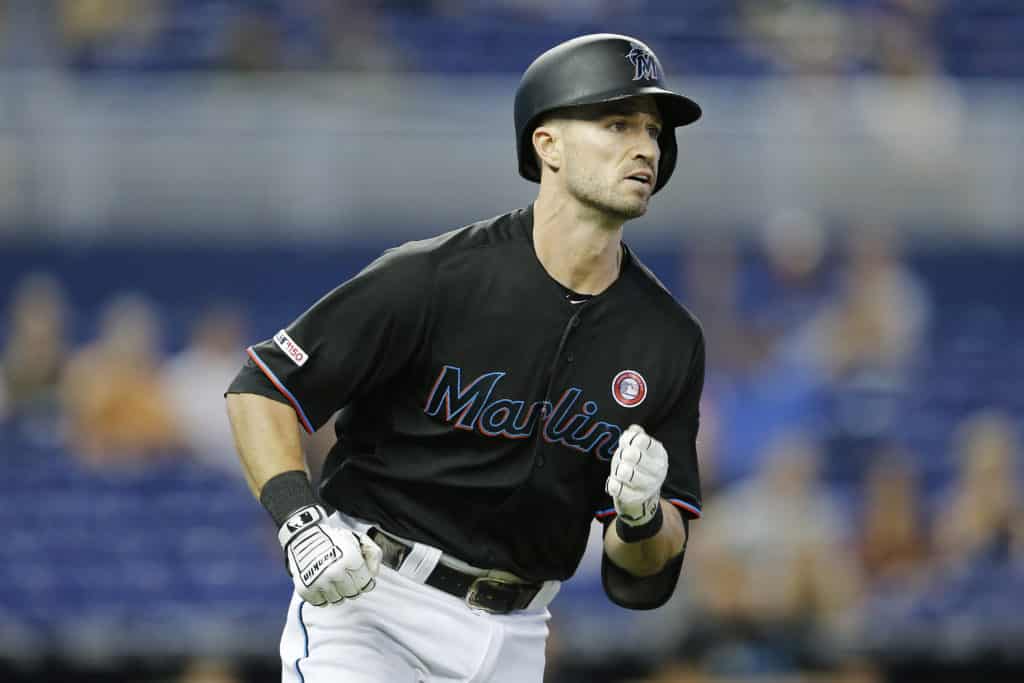 Risers
Jon Berti, 2B/SS/3B/OF, MIA
Berti has a boring name and plays for maybe the worst team in the baseball. But he is actually an exciting player and should be squarely on your radar with his positional eligibility across the diamond and his potential to contribute a bit in all categories.
He's not the sexiest player either. A 29-year-old journeyman seeing his first extended time in the bigs, Berti has never been on any prospect radar. But Berti is quietly putting solid numbers in Miami. In only 163 plate appearances, Berti is batting .280 with seven stolen bases and five home runs. Those numbers are quite playable considering you can plug him in almost everywhere on the diamond besides first base and catcher.
Berti has a solid approach at the plate with a 8.1% BB% and 20.8% K%, as he has an OBP of .362. While Berti's BABIP is a tad high at .333, he has the speed and Hard% (41.1%) to support it. Based on his minor league numbers, Berti is a lock for 20 to 30 stolen bases over the course of a full season.
Berti is pretty lightly-owned right now: 12% in CBS leagues, 11% in Yahoo leagues, and 4% in ESPN leagues. I'm grabbing Berti in all my leagues because his speed and solid batting average will allow me to plug him in over the final weeks of the season as injuries pile up.
Kevin Pillar, OF, SFG
While the Giants quietly fall out of contention, Kevin Pillar is putting himself back on the fantasy map. Pillar is batting .360 with three stolen bases, 17 RBIs, and seven home runs in the last month. That's raised his season line to a batting average of .260 with 19 home runs and 11 stolen bases.
With the scarcity of stolen bases in today's game, hitters that can produce 20 home runs and 15 stolen bases (like Pillar is likely to do) are quite valuable. Pillar has a solid Hard% of 37.3% and has actually been unlucky on balls in play. His BABIP of .270 is on the low side and should tick up a bit in the final month of the regular season.
Like Berti, at 30 years old, he doesn't have exciting upside. But at this point in the season, you won't find many players that can fill up the home run and stolen bases column like Pillar.
Fallers
Mike Tauchman, OF, NYY
The Yankees have gotten stellar performances from a bunch of guys this year they picked up off the scrap heap. Tauchman has been one of one those guys. Tauchman is batting .295 with 12 home runs and five stolen bases. Chances are you picked him up a few months ago and you have been enjoying his hot (and unsustainable) streak.
So let's dig into why you should be dropping Tauchman. First of all he has a ridiculously high BABIP of .365, which isn't supported by his average Hard% of 35%. His HR/FB% is also quite high at 22.2%. Tauchman is not a prodigious power hitter so we can expect that number to fall closer towards the league average of 15%. We're looking at a player who has already peaked and there really is nowhere to go but down.
Tauchman is still highly owned: 54% in CBS leagues, 49% in Yahoo leagues, and 39% in ESPN leagues. Drop him now and grab the flavor of the week with more upside.
Ideally this helps with all your online betting and DFS action!