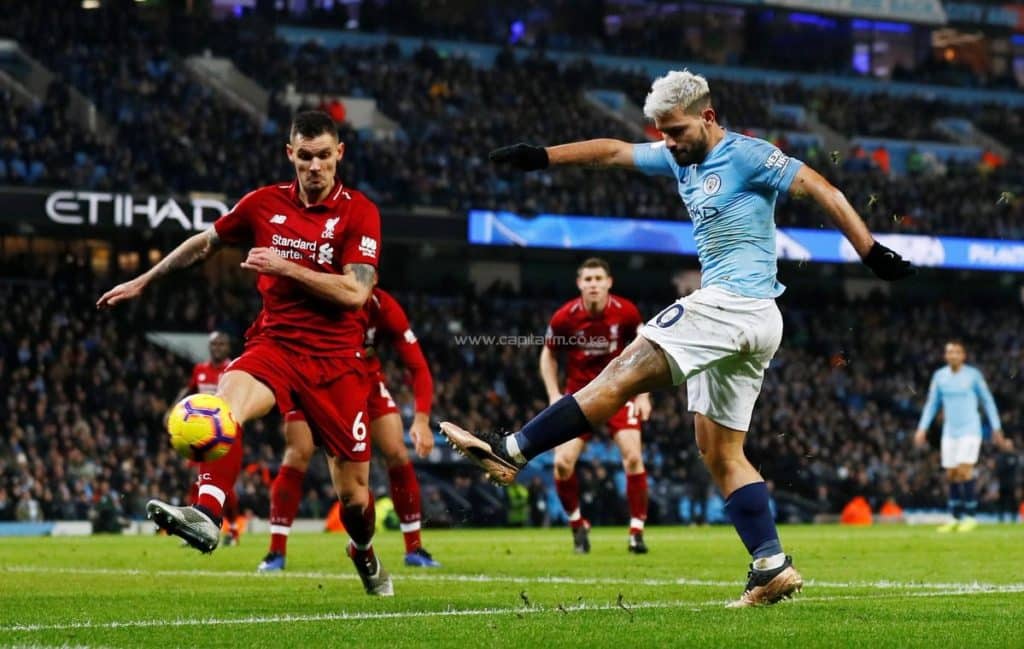 After what is undeniably the shortest offseason in major professional sports, the English Premier League is back in action this weekend!
We have plenty of DFS soccer contests to look forward to from now until May of 2020. Players have come and gone from the league this offseason, but do not worry, we have a comprehensive guide to help you win all your DFS contests in the 2019/2020 season.
Sign up for DraftKings.com and use promo code SGP!
We'll show you the players we think will be guaranteed fantasy studs every week, the high value sleepers to keep an eye on, and the big money players you should keep out of your lineups. Here's to hoping for 38 straight weeks of finishing in the money!
READ ALSO
Premier League Season 2019/20: Futures, Odds, Best Bets to Win EPL Title
English Premier League: Best Best to Be Relegated
Guaranteed Fantasy Studs
Forward
Sergio Aguero MCI
The 31-year-old striker is a perennial contender for the golden boot. He finished one goal off the pace last year with 21 goals and is showing no signs of slowing down with age. He is the lone true forward on one of the most high-powered offenses in the league. His usage and opportunities will only go up after the injury to fellow forward/midfielder Leroy Sane.
Midfield
Luka Milivojevic CRY
The Crystal Palace midfielder was a fantasy standout last year and was a true picture of consistency. So far in the 2019 calendar year Milivojevic has double digit fantasy points on FanDuel in all but one match. Palace lost another fantasy standout this offseason in Aaron Wan-Bissaka which should lead to even more usage for Luka Milivojevic this season.
Defense
Trent Alexander-Arnold LIV
A defender that takes a majority of the set pieces on a team is always great value. Trent Alexander-Arnold is a defender who takes a majority of the set pieces on a team that scored the second most goals in the Premier League last year and conceded the fewest goals last year. Starting him is a no brainer.
Goalkeeper
Alisson Becker LIV
The Liverpool keeper is returning to the club after a brilliant first season. Returning with him is the same back line that allowed the least goals in the Premier League last season at 22. The unit has only had more time to gel and could be even better this season.
Sign up for DraftKings.com and use promo code SGP!
High Value Sleepers
Forward
Raul Jimenez WOL
The first two players here were my every week starters down the stretch last year. Raul Jimenez and Wolves had a great first season in the Premier League last year. Jimenez lead the team in goals with 13 and remained under the radar because he was playing outside the top six. He will continue to be one of the best value strikers this season.
Midfield
James Maddison LEI
Maddison was another weekly starter for me last season. He took all the free kicks and set pieces in his first season with Leicester city and also flew under the radar because he was outside the top six as well. The 22-year-old has all the potential in the world to pick up where he left off last season and build on it as well. Leicester signed  Ayoze Perez from Newcastle this offseason to help Maddison and Vardy up front which should help make their attack even better.
Defense
Aaron Wan-Bissaka MUN
Wan-Bissaka was one of the young standouts last season. He stood out so much that he was signed to a 5 year contract by Manchester United last week worth up to 50 million pounds. He performed well fantasy wise at Crystal Palace last year and with all the talent he'll be playing with this year at Man United the sky is the limit for Wan-Bissaka.
Goalkeeper
Vicente Guaita CR
No goalkeeper came on stronger at the end of last season than Vincent Gauita. The Crystal Palace keeper took over for Wayne Hennessey at in the middle of last season and shined in just about every performance. He scored double digit points on FanDuel seven times in his last eight games and in three of those games he had 20, 32, and 32.
Sign up for DraftKings.com and use promo code SGP!
Players to Avoid (Duds)
Forward
Olivier Giroud CHE
Chelsea is going to have a brand-new look up front this year and things are not going to look anywhere near as good as they have in previous seasons. Chelsea are serving a transfer ban and because of the ban they were not able to pick up any help during the transfer window (Pulisic was picked up before the ban). A unit that was not in top form last season lost one of the top players in the world when Eden Hazard left for Real Madrid. On top of that Giroud hardly played last season, and with Hazard gone defenders will be able to key in on him and limit the 32-year-old's DFS production for sure.
Midfield
Christian Pulisic CHE
If you haven't already heard, Chelsea added American Midfielder Christian Pulisic in the offseason. There is a ton of hype around this signing, especially in the American media. Pulisic was signed to replace Eden Hazard in the Chelsea midfield and those are huge shoes to fill given Hazard is one of the best players in the world and has been for some time now. Pulisic will undoubtedly have growing pains adjusting to the English game. And given the amount of American DFS soccer players, I think Pulisic will be overvalued and should be avoided.
Defense
Kyle Walker MCI
Kyle Walker has not been the great DFS defender that many predicted he would be with Manchester City. He does have the speed to go up and down the wings and put crosses into the box but he has not lived up to all the hype. He had one match with 5 crosses last season and two matches where he created three chances. In every other match he was significantly worse. Walker will be a low floor/low ceiling player again this season.
Goalkeeper
David de Gea MUN
Nobody let me down more consistently last season than David de Gea. He was frequently the most expensive goalkeeper on the board and he rarely outperformed the other keepers who were available for less. United had a weak back line last year and only added Wan-Bissaka who is more of an attack minded player. I do not see things getting any better for de Gea's fantasy value this season.
READ ALSO
Premier League Season 2019/20: Futures, Odds, Best Bets to Win EPL Title
English Premier League: Best Best to Be Relegated