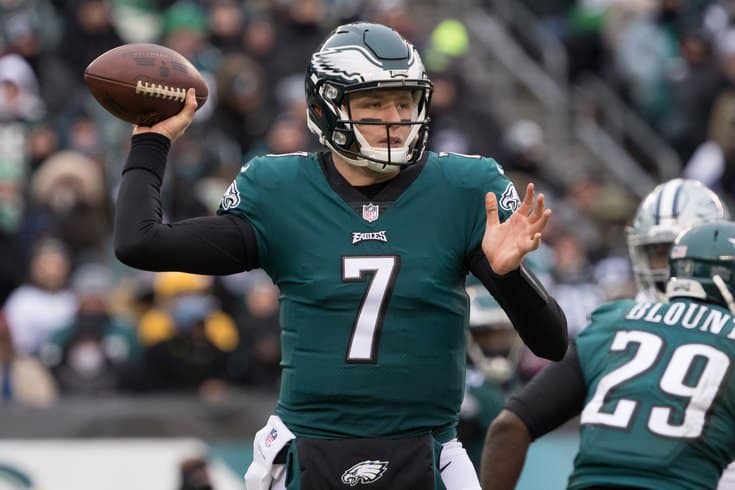 With our first full evening of NFL football upon us as the official Week 1 of Preseason begins Thursday, we're looking at a full slate of Daily Fantasy Football! And nothing reeks of true fantasy fandom more than depth-chart diving to make a dollar.
Setting rosters in Preseason is a challenge for many casual players: flattened-out pricing on DraftKings (use promo code SGP) for all player salaries, the process of selecting players of unfamiliarity, and the unknown playing time for players.
But training camps have been producing some standouts, and beat writers have a job to do, thus we are able to gain a pleasant periscope into the talent within the depth charts beneath the starters who consume a majority of our regular season attention spans.
And something to keep in mind when setting lineups for Week 1 of Preseason is that you'll see second-stringers for no more than the first half, and third-stringers (and beyond) solely taking snaps on the field for the remainder of this action. This provides a very interesting angle of approach when anticipating game flow, reading into camp positional battles, and then letting your mind wander in endless possibility with your roster construction.
Sign up for DraftKings.com and use promo code SGP!
Core Plays
Nate Sudfeld, QB (PHI)
Doug Pederson has spoken publicly of his indecision to play his starters in this first game back to action, and this should mean a steady share of the backup man under center known as 'Studfeld'.
Not only is he acclimated with this Eagles offense under Pederson, but he's got some clout coming out of camp about his strides occurring by the day under center. He's making difficult passes in tight windows and should easily get close to two quarters with some other standout weapons on offense like Miles Sanders, Mack Hollins, and JJ Arcega-Whiteside.
T.J. Hockenson, TE (DET)
Proving himself to be a safety net so far after hauling in a game-winning touchdown in joint practice with the Patriots, T.J. Hockenson is looking like he's going to be making some noise throughout the Preseason. With hands that don't seem to drop any difficult pass thrown his way, Hockenson has been the talk of Lions camp and should see his share of targets in this opening matchup against the Pats.
Gus Edwards, RB (BAL)
Getting the bulk of carries this time last year and smashing at training camp again this year, Gus Edwards will be looking to get a solid share of carries in this first exhibition run back to action. He scored a touchdown besting Myles Jack during a joint practice with the Jaguars and has made significant strides in camp in the receiving game as well.
Nyheim Hines, RB (IND)
The second-year Indianapolis Colts running back could be poised to make some big waves this preseason and has been doing everything right in the offseason to not only stay in shape but improve his already-potent speed on the field. He's second on the depth chart behind Marlon Mack, who likely won't risk playing, and should provide a concrete number of carries to anchor DFS rosters.
Jake Kumerow, WR (GB)
He's being raved about by Aaron Rodgers from practice, and particularly his ability to pull the ball in last second after running full speed. He's practicing more with the first-team offense and I imagine he would be focal in the receiving game with Adams and Valdes-Scantling likely sidelined for most of the game, if not the entire thing.
Tom Savage, QB (DET)
With only David Fales vying for the backup position to Matthew Stafford, Tom Savage had a full offseason program with the Lions and should get a majority of the snaps here in this first outing. There's a lot of competition going on at wide receiver as well, along with the emergence of Hockenson, so one could imagine that he'll get more of his share of passing attempts to consider him a core play here.
Justin Jackson, RB (LAC)
With Melvin Gordon holding out, and Austin Ekeler as the clear passing-downs back and not really having the frame for a 3-down back, Justin Jackson is in a spot to blow the doors off to impress and he has the explosiveness to do so. His stout performance during the regular season turned plenty of heads last year while filling in when Gordon was hurt. He should factor into the offense early on.
Longshot Plays
Tyler Ervin, RB (BAL)  
Not featured as much in camp, but every play where he's touched the ball he's been explosive and a major play-maker. Has the potential to bust out for a big play on Thursday if he gets the opportunity.
Artavis Scott, WR (LAC)
Vying for one of the remaining wide receiver spots alongside Geremy Davis, both have shown much promise in camp and should receive plenty of opportunity to compete for the job.
Ishmael Hyman, WR (CLE)  
Getting mixed into some first-team reps along with plenty of catches on second-team offense, Ishmael Hyman could be in for the deep haul considering he caught a 50-yard bomb from Baker Mayfield in practice. Derrick Willies caught a touchdown from Mayfield also, as Beckham was missing from practice (he was present for the next practice).
Parker Hesse, TE (TEN) 
With Jonnu Smith injured and Delanie Walker as the clear first-team starter at tight end, the remaining positions are being fought for in Tennessee and Hesse appears to be making some headway. He caught a touchdown from quarterback Logan Woodside in a red zone drill.
Sign up for DraftKings.com and use promo code SGP!
One Lineup I'm Playing…